When Beth Sekula attempted to take her son Dillan to his first Summerville Miracle League baseball game, she said she practically dragged him "kicking and screaming." But the morning of his second match, he couldn't get to the field fast enough.
"He jumped off that bed and ran to the door," Sekula said with a laugh.
Fast forward a near-decade later and the Saturday games each season at Laurel Street's Saul Alexander Park are the highlight of the family's week. The community support and Dillan's freedom to be himself among other individuals with special needs has been vital for the mother-son duo.
"Any kid can play baseball," Sekula said.
The league is for adults and children with physical and developmental disabilities.
Born with Down syndrome, 26-year-old Dillan is one of 225 participants between the league's two teams: major—for adults—and minor—for youth, according to Steve Hatton, the Summerville league's founder. But only about 180 play regularly, he said. Celebrating its 10th year, the league boasts players as young as age 5. The oldest participant is 72, according to league board member Michelle Savell.
"We allow them to play as long as they want to play," she said.
Years ago Hatton was part of the board for the league's Charleston chapter, and When the Holy City teams grew too large, Hatton established the Flowertown chapter.
While he isn't a father to a special needs child, Hatton views the league's players as his own and said maybe the reason he doesn't is so he can offer his time to multiple special needs individuals in his community. It's his passion to help the specific population that drives Hatton's devotion to the league—his favorite moments watching and joining crowd members cheer loudly from the stands.
"These kids will steal your heart," Hatton said. "It's been absolutely life-changing."
Most importantly, the league offers freedom for players to be themselves.
"You are never wrong," said Goose Creek resident Patricia Rice Johnson. "Some of these kids go through life and every moment are told, 'What's wrong with you?'"
Johnson said her 18-year-old son Tristan Seay, who lives with autism, plays in the league—his sister Gwendolyn serving as his volunteer "buddy," as part of the league's Junior Board.
"It gives my daughter that extra opportunity to support her brother," Johnson said. "They (junior board members) provide social support to literally be a friend during the game."
And that freedom sometimes includes a run around the bases multiple times. During each hour-long game, every player gets the chance to hit and run around the bases at least once. But the atmosphere's contagious excitement often encourages players to circle the field a second or third time.
"They may go around the bases two times—and everyone's cheering," Johnson said.
For Dillan, stepping on home plate at the league's first-ever All-Star game Saturday was his proud moment. Hands in the air, he celebrated his play with the crowd. Sekula said while her son doesn't talk much, he loves to move and dance and always keeps the crowd entertained—the reason for his catchy nickname "Shake-and-Bake Sekula."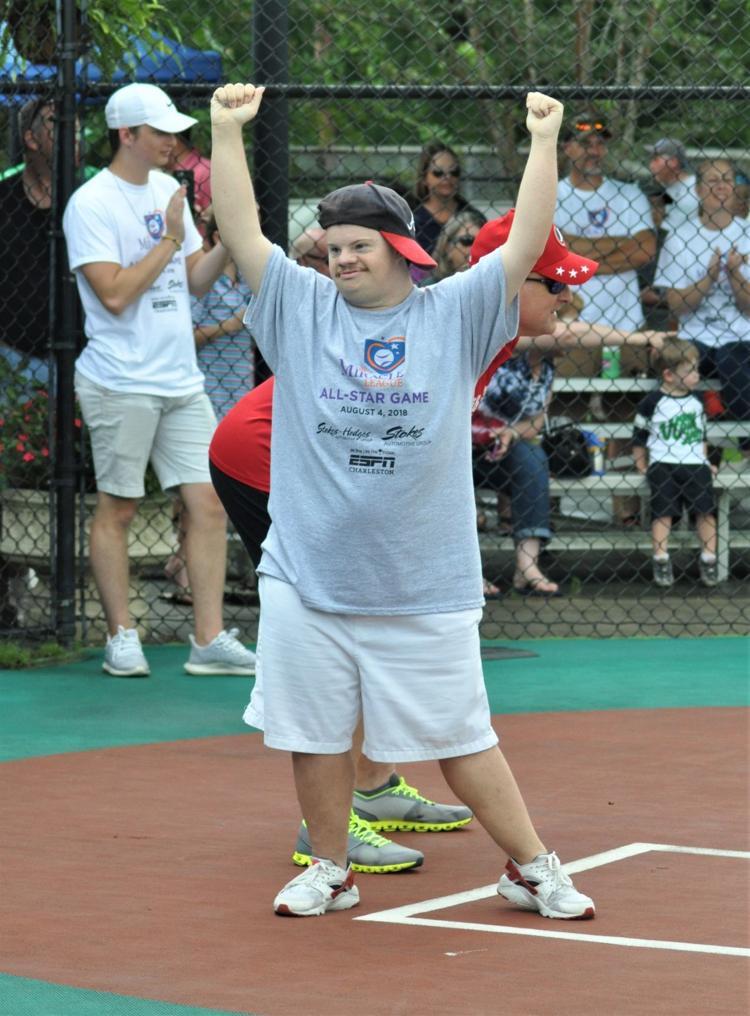 Hatton said each game nearly 40 volunteers are needed to assist players, whether it be to cheer, high-five them at bases, pitch, catch, or push an immobile player's wheelchair around the field. During the All-Star game, state legislators, Rep. Katie Arrington and Sen. Sean Bennett, were part of the volunteer group.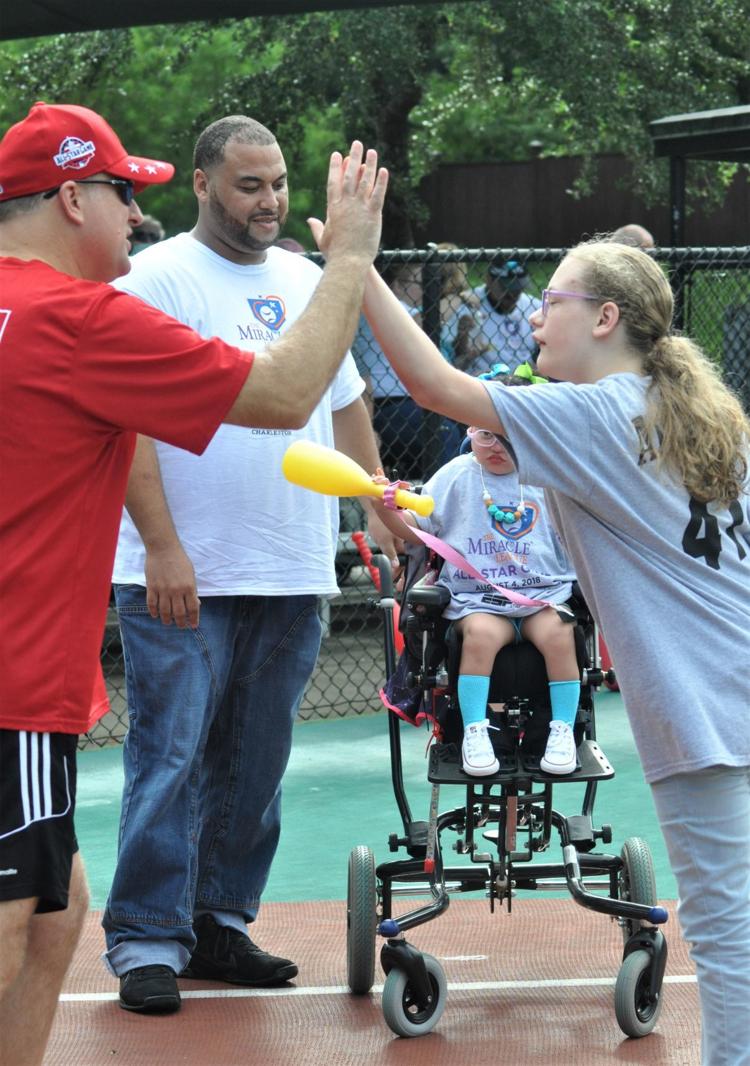 After throwing out the first pitch, Arrington served as third-base coach—even with her leg still in a cast from her June crash—and Bennett stood behind home plate, helping players bat and celebrating their runs across home plate.
"This is what this town—this community—is all about," Arrington said. "If you ever doubt God's love…you look right out here."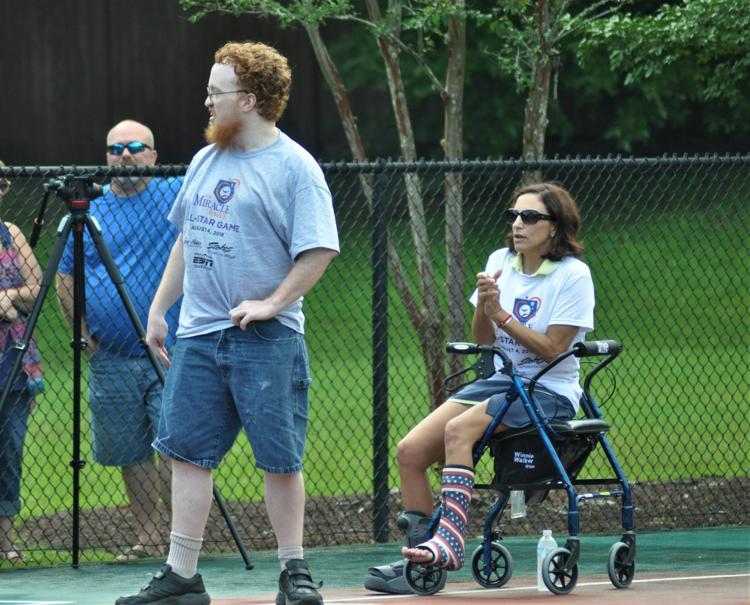 The game was also broadcast live on 98.9 FM, Charleston's ESPN sports radio channel.
In addition to players, families feel the local love, too, and express gratitude for the opportunity to bond with each other.
"It gives our families a chance to sit down with each other and get to know people with similar challenges," Hatton said.
Sekula agreed.
"We get to speak to other parents and share," she said, sitting in the bleachers between Johnson and a third mom, Aleta Haynes.
Haynes said she put her son William, 25, in the league about five years ago. Her favorite moment of each match?—watching William "smack that ball."
"He just comes out and has a good time," Haynes said.
Leadership Dorchester project
A makeover to parts of the park are planned for this year, according to league officials, who've presented their needs and budgetary constraints to the 2018 Leadership Dorchester class.
Each year the leadership class, comprised of community members wishing to learn more about the place they live and work, focuses its charitable efforts on one local organization. It seemed a no-brainier to choose the Summerville Miracle League this year, according to the class's co-leader Stephanie Bennett.
"They tugged at the heartstrings this year," Bennett said. "I really believe it was fate. Everybody was on board with it."
During the year the class hears pleas from various organizations around the area. They present their needs and related costs, and the class decides on one.
Bennett said the class not only plans to install Wi-Fi throughout the park—allowing anyone, especially players' out-of-town relatives, to tune in to watch the games—but to also build a new wheel-chair accessible press box near the third base line.
Bennett said the class is also looking into constructing a handicap-accessible pathway from the parking lot at St. Paul's Church, next to the park, to the field.
"If they could have an access and just go to the game themselves…the freedom in that," Bennett said of players. "Everyone wants to be independent."
The plans are drawn up and the town is on board with the idea, but depending on funding the path may or may not get built. Bennett estimated total project costs to be roughly $35,000.
To help offset the expense, Leadership Dorchester is holding a fundraiser on Aug. 24. The event will be a wiffle ball tournament and home run derby open to anyone. For more information or to sign up, visit the class's Dorchester Miracles website or on Facebook under "Dorchester Miracles."