Under the least expected circumstances, a local pair opened their family-owned restaurant in the heart of Summerville's historic downtown district last month.
Linda Weber and Donnie Frier were prepared for the usual types of hiccups that new restaurant owners face but a global pandemic was not one of the obstacles they imagined.
They first opened their restaurant, This Little Piggy, for curbside pickup orders. Soon after statewide restrictions were lifted by the governor's office, they began to offer outside dining.
"People have been so encouraging and supportive and business has been steady," Weber said. "We'll just go ahead and make lemonade out of lemons because nobody knows how long the business community is going to be impacted by COVID-19."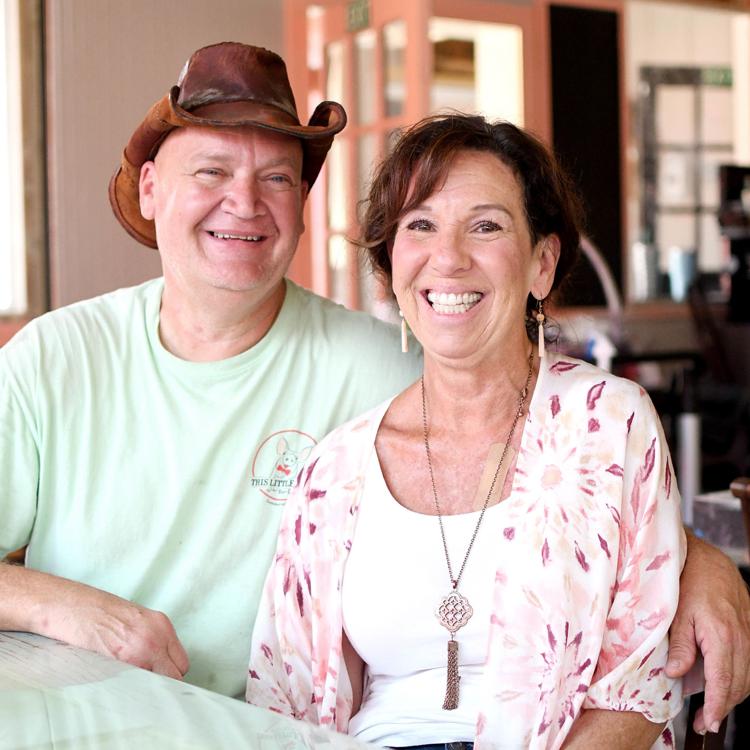 Located at 100 Central Avenue, This Little Piggy is impossible to miss on account of a mouth- watering aroma wafting onto the street from two large custom built smokers located on the side of the building. Beef Brisket and spare ribs cook slowly, seasoned with a speciality blend of 14 spices.
Those stainless steel smokers, named Porky and Petunia, operate overnight to produce the signature slow pit-cooked flavor and texture of This Little Piggy's barbecue. It's a process mastered by Frier who has spent decades smoking meat for family gatherings and events.
Weber said the meat is cooked in a way that it is typical of old fashioned barbecue restaurants. The process is meticulous and time consuming.
"It is slow, it is fresh," Weber said. "It is not unusual to every once and awhile run out of ribs and brisket because you can't go in the kitchen and whip it up again in 20 minutes. That is what makes a locally-owned restaurant different because we can't call somebody and get more-we have what we have. I really like that and people seem to understand that and appreciate that."
Side dishes at This Little Piggy are all homemade. They include broccoli casserole, hash and rice, potato salad, baked beans, cole slaw and more.
"We want it to be comfort food- we take a lot of pride in that," Weber said.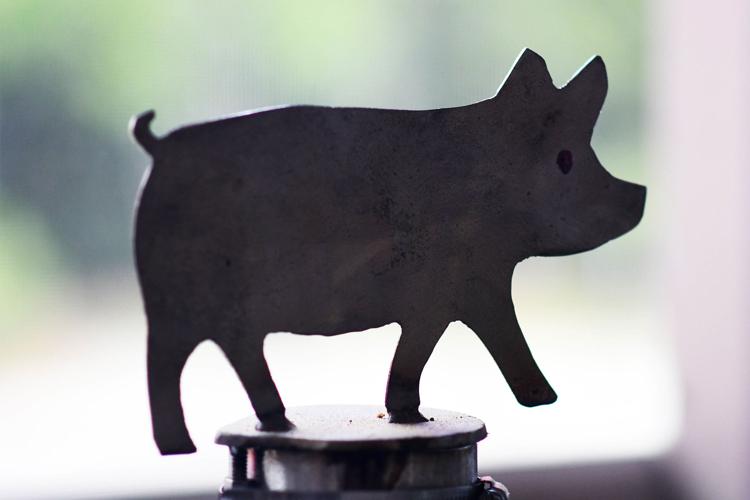 The idea for This Little Piggy came about after Weber and Frier met in Summerville in 2014 and later fell in love. They plan to get married in July. Weber comes from a foodservice family and worked for decades in corporate communications and events management. She said she always wanted to open a restaurant. Frier operated his own HVAC company and Weber said he devoted most of his free time to perfecting the art of the smoker.
Almost one year ago, the couple committed to the property formerly occupied by Caffe Italia, on the corner of Short Central and West Richardson Street. They immediately began renovating the space and changed almost everything. The building was repainted inside and out, windows were replaced and redesigned and the outdoor dining area was enlarged. Weber said the inside dining area was renovated in a way that the windows can open and latch on the ceiling to create an open air space.
"It was absolutely wonderful for us both to be able to do this and to work together on this great project," Weber said.
As she researched the location, Weber discovered that the building was once a gas station in the 1950s and 1960s.
This Little Piggy is located near other locally-owned retail shops and restaurants in the downtown area. Weber said the business community has been very welcoming.
"Everybody has been tremendously encouraging, supportive and excited," Weber said. "The other merchants have been fabulous. None of us feel competitive- we all feel like the more options there are, the better it is for everybody."
Just like all of the businesses in Summerville, This Little Piggy is navigating the strange new world of COVID-19. Just before the pandemic hit, Weber and Frier had hired almost all of their staff but the restaurant was not yet open, so they did not qualify for federal assistance such as the payroll protection program. Some of the employees they had recently hired decided not to work while the pandemic remains a threat.
After resolving the staffing dilemma, Weber and Frier worked on their own strategy to operate the business as safely as possible. All employees now wear masks and gloves while interacting with customers. Food is served on disposables in an effort to minimize touch points. Hand sanitizer is placed on every table and all surfaces are cleaned between customers.
Weber said the restaurant is allowed to serve groups of eight but has decided to serve groups no larger than four. While indoor dining is now permitted, Weber said the restaurant will continue outdoor dining only for the time being.
"We decided to take more precautions than we were required to," Weber said. "I just really felt like it was the right thing to do to keep our staff and customers safe."
Despite the economic downturn caused by the global pandemic, Weber said she is confident that people will continue to support local businesses like This Little Piggy. She said the key to building a successful business is to establish a relationship with the community.
"We are in food and beverage business but at the end of the day, it is really really important to us that people feel good when they come here; that they feel like they've built a relationship with us," Weber said.
Frier and all of the servers and kitchen staff members are hometown, community-minded people she said.
"I always tell new employees that every single element goes into that total customer experience and every one of them is equally important," Weber said. "We want to know our customers' names, we want them to feel comfortable just coming in and having a glass of tea and chatting. We want those relationships."