Paddlers have navigated the gentle current of the Edisto River for centuries, but a new website promises to enhance the experience for modern day canoers and kayakers.
Unveiled Wednesday at Givhans Ferry State Park, the new website ERCKTrail.org includes features to help visitors learn more about the historic river and the countryside around it.
The project came to fruition as an initiative between Colleton County, Dorchester County and the South Carolina National Heritage Corridor.
It includes online maps and detailed paddling information as well as printed guides on waterproof paper available for sale through the website.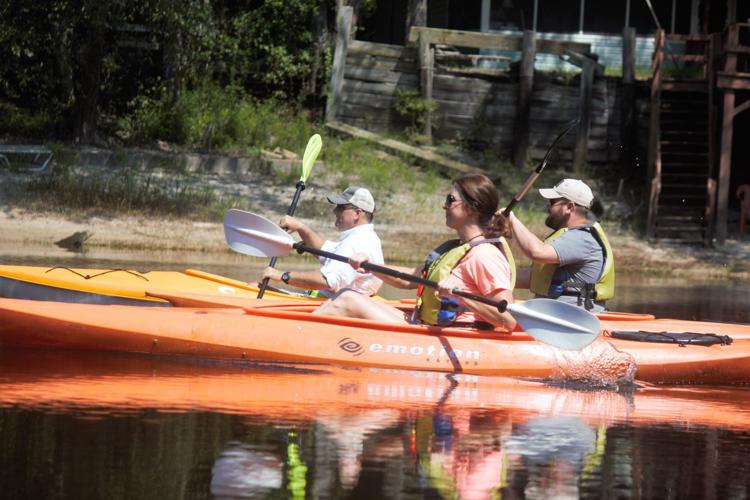 "The ERCK (Edisto River Canoe and Kayak) Trail website details access points, river safety, camping opportunities, and activities along the 62-mile paddling trail," said Eric Davis, Dorchester County Parrks and Recreation Director.
Wednesday's event included a number of people with an interest in Edisto River conservation and recreation.
Michelle McCollum, president and CEO of The South Carolina National Heritage Corridor, spoke about the economic value the river brings to the state. She pointed to the 201,000 jobs directly related to the outdoor industry.
McCollum praised the effort to draw more attention to the Edisto River and encouraged visitors to come back often.
"Dorchester County is the natural playground of the Lowcountry," McCollum said. "We want to do everything we can to help people enjoy an authentic Lowcountry experience."
Dorchester County Council Chairman Jay Byars thanked those who partnered with the county to help launch the site, including Friends of the Edisto River, SC Department of Natural Resources, Colleton County, SC National Heritage Corridor, Givhans Ferry State Park, Colleton County State Park and the Summerville Visitors Center.
Businesses that helped with the website launch included Blueway Adventures, Carolina Heritage Outfitters, Edisto River Adventures and Nature Adventures Outfitters, all of which have links on the ERCKTrail.org website.
After Wednesday's official web launch, Edisto River Adventures provided kayaks for a short paddle on the river.