Development at Nexton is showing no signs of slowing. Sightings of new commercial, business and residential units have been common the last couple years, and plans for more are stacking up.
The master planned community already provides a variety of homes, retail, schools, hotels and office space; and in the coming weeks, the community will officially open its destination retail center named Nexton Square.
Brent Gibadlo, Nexton's vice president and regional manager, described the shopping center as "the next big milestone for Nexton." He recently spoke about the project at a monthly "Power Hour" meeting sponsored by the Greater Summerville/Dorchester County Chamber of Commerce. The event took place Wednesday at the SCRA office on Sigma Drive.
According to Gibadlo, the retail site will not be a typical shopping and dining hub; it'll be a "destination center" all about providing an assortment of commercial experiences.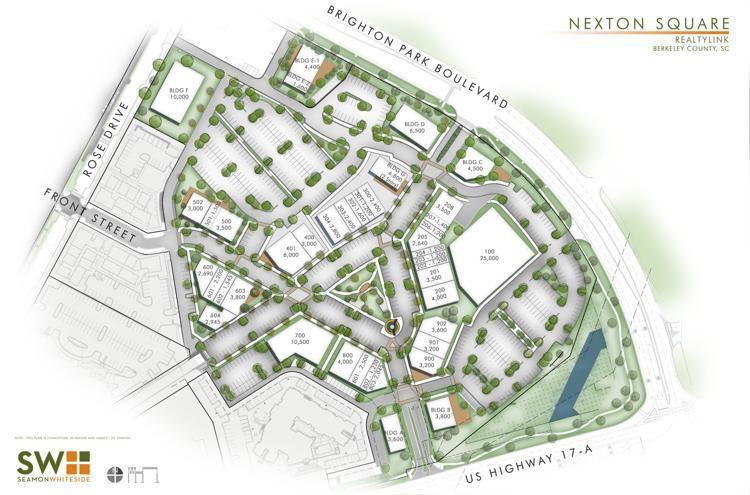 So far, 22 businesses have been selected for the 140,000-square-foot space of neighborhood, retail and dining amenities. Popular restaurants including Halls Chophouse, Vicious Biscuit, and Taco Boy are among the mix. Retail shops opening this summer include Bey + Eloise Apparel, Summerville's own Simple to Sublime and The Bicycle Shoppe.
Due to the site's triangular design, shoppers will be able to stroll through the square and take time to explore and visit more than one store.
"We're really excited about this; it has been a great success," Gibadlo said.
Nexton will host the first concert in a summer series at Nexton Square on June 21.
Sounds on the Square, a family friendly summer concert series in partnership with the Town of Summerville, will hold concerts every other Friday through September. The location will alternate between Nexton Square and historic downtown Summerville's Hutchinson Square.
The next big phase of residential for Nexton will be its Northeast Village. Located between two major connector roads, Nexton Parkway and Highway 176, the 1,491-acre property is expected to fully develop across 10 years and feature walkable, mixed-use properties.
The village will be situated near the future 128-bed hospital Medical University of South Carolina is planning to open by the end of 2021, along with an office building, a commercial village center and a central gathering green space. Adding a middle school to the mix is also a possibility Gibadlo said he'd like to see become a reality.
He went on to boast about Nexton's Parkway District, where Gibadlo said companies are realizing now, more than ever, how vital it is to keep quality of life a central focus for workforce members. He said employees want to work in an area where they can walk to lunch, take a short run on a nearby trail or bike to-and-from their workplace.
The Parkway District is located along a four-mile stretch of Nexton Parkway and is anchored by a proposed grocery store and the site of the future hospital. The property is comprised of 200 developed acres suitable for office and retail space.