With a taste for cuisine from his own home town—nearly 5,000 miles away—Ciro Damiano got creative in his kitchen four years ago.
Unable to satisfy a nagging craving for authentic, Neapolitan-style pizza, the Italian native didn't give up on treating himself to one of his favorite dishes. Instead, he got down to business, working to create his own recipe at home.
"In the Charleston area, there are wood-fired pizza (places), but none of them follow that style," Damiano said.
He's talking about the Neapolitan-style pizza he grew up feasting on in his boot-shaped, Mediterranean Motherland. And according to Damiano, Naples-style pizza is unlike any other.
"Very, very basic ingredients," Damiano said.
He described the pizza as almost having an uncooked appearance and how diving hands first into a 12-inch pie almost always results in mozzarella cheese, tomato sauce and other toppings—imported from Naples—sliding off each slice.
"When you grab the slice, the tip of the slice is going to fold down so it's not a straight line," he said. "(The ingredients) are not very well put together...but they cook. Everything is going to fall."
Damiano explained the pizza type not only includes very specific ingredients but also a specific way of cooking the dough—the edges even tailored to a certain size. But perhaps most unique is the wood-fired oven—built in Naples and shipped here—used to rapidly melt the ingredients into an edible, mouthwatering creation. Damiano said commonly the pies are cooked quickly—just 60 to 90 seconds—and at temperatures ranging between 800 and 830 degrees. However, temperatures can exceed 1,000 degrees.
For a time, Damiano concocted his own delectable product at home, preparing pizzas for hangouts with friends and eventually friends of friends, as word of his circular creations quickly spread throughout the community.
"That's when I started to play at my house…and get some friends over and do some parties at the house," Damiano said. "After that, I said, 'OK, people like it.'"
After a year, his cooking's humble beginnings turned into a popular food truck operation. He secured a trailer from a friend in the food industry and outfitted it to travel to local events, parties, breweries and festivals—his first the Summerville Italian Feast.
But the seemingly seasoned pizza chef doesn't have a resume littered with culinary experience. In fact, Damiano's background is in aerospace engineering; that's what prompted his move to the United States.
At 21, he uprooted his life in Naples for a job in Seattle, Washington. He said the Italian company he was working for at the time contracted with Boeing. After living on the West Coast for five years, Damiano transferred to South Carolina's Boeing plant. But after eight years Stateside, his company called him back to Italy—except he opted not to leave the Southern residence he'd grown to love and instead chase an exciting, new career venture.
"It was a little hard to go back (with) such short notice so I decided to leave the company and pursue the American Dream," Damiano said.
However, for the first year he operated the food truck he still worked a job in the aerospace field. His days were characterized by long hours and little sleep; but Damiano has no regrets about his food career's humble beginnings. He said for at least a year he would work his aerospace job 5 a.m. to 1:30 p.m. then prep food in the truck and sell eats from 4:30-9 p.m. After cleanup and heading home by 11, he would wake up at 4 a.m. and repeat.
And a month ago, Damiano's food truck fans were given just that—a brick and mortar site to dine on Neapolitan pizza any time they want—except Mondays, when the eatery is closed.
"Everybody was asking, 'Where can I come find you guys and eat your pizza?'" he said. "People were looking for a solid location."
Located in the Oakbrook area at 4650 Ladson Road, Suite 210, Antica Napoli Pizzeria officially opened last month but has yet to celebrate a grand opening. So far, the community has responded well to the new dining spot, Damiano said, and seeing the project come together has been surreal for him.
"Once you see it open and get the OK from DHEC and all the bureaucracy—the town, the county—they all give you the thumbs up, it definitely was a great feeling where the dream was coming true."
And choosing Summerville as the place to setup shop was an easy decision for Damiano.
"Summerville was the first place I moved to when I came to South Carolina," he said. "I got that connection, and Joe (Scotto) has been around town for long time. It was a good feeling knowing the people around."
Scotto is also a Naples native and Damiano's business partner—though don't call him that; he prefers the simple title of "pizza maker." Scotto previously owned Italian Bistro in Summerville and another pizzeria in the Knightsville area.
While the pair have now opened a permanent pie-making site, that doesn't mean the food truck is obsolete. It's often parked out back and still wheels around the Lowcountry catering private events and festivals, when time allows, Damiano said.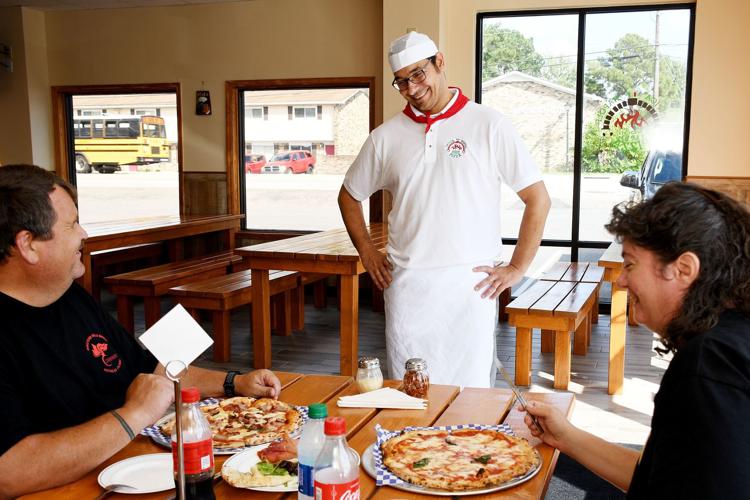 After all, it was through the traveling pizza endeavor that Damiano found a niche customer base, including Jackie and Ken Dasen. They said they've been feasting on the food truck's eats since its inception.
"Friends of (Damiano's) are friends of ours so we did a little group trip and we all went there, and I discovered it," Jackie Dasen said of the food truck pizza. "It is just like the pizza you get in Italy."
—"We've been to Italy so that's why we know the difference," Ken Dasen said.
His wife continued applauding the eatery.
"Whenever I get my Italian fix for pizza, I'll message (Damiano) and say, 'Where you gonna be this weekend?'" Jackie Dasen said. "We don't know any other place in Charleston that was really—that we found that we liked and we (say)…'Oo!' when we want pizza."
Though they live on Edisto Island, the couple said no distance is too far—except maybe overseas—to traverse to dine on their favorite cuisine.
"It's no different for us to drive from Edisto to Charleston than it is to here," Jackie Dasen said.
They're excited to now have a place to sit down and eat Damiano's pizza any time they want.
"It's a lot more convenient for us to come to and find because we know exactly where he's going to be and what hours he's going to be," Ken Dasen said. "We'll come here more often."
While Damiano said his favorite pizza type to make is the basic Margherita—fresh mozzarella, basil, olive oil and tomato sauce—his menu's most popular type is the meat-lover—sausage, bacon, ham and salami, instead of pepperoni.
Other unique menu items include "pizze fritta," a deep-fried calzone or "calzoni"—also part of the Napolitano culture—and wood-fired sandwiches. If you choose, wash down each bit with a cold beer or glass of wine.
But save room for dessert! Kitchen hands serve handmade tiramisu and cannoli, along with chocolate cheesecake and a special Italian treat called "sfogliatella." Damiano described it as side-by-side layers of a crunchy outside and ricotta cheese center—sweetened by sugar and small, dried pieces of orange peels.
So why pizza? According to Damiano, it's a little slice of home.
"Pizza, because it's something that connects us to our culture," he said of Naples. "(To) transfer part of the culture to the customer that transfers into a dish—in this case the pizza—that's the part I enjoy the most."
Antica Napoli Pizzeria is open 4-8 p.m. Tuesday through Thursday, 4-10 p.m. Friday and Saturday and 4-9 p.m. on Sunday.