Squash, blueberries, potatoes – the supply seemed endless Saturday morning as residents lined up in front of Knightsville Elementary to gather free, fresh produce.
"Fresh for All" is a community event that Knightsville Elementary has participated in for about three years now. The Lowcountry Food Bank brings fresh produce and, at no cost, residents can come and take home as much food as they can carry.
Knightsville Elementary physical education teacher Kyle Dorsey coordinates the event twice a year at his school, but the Lowcountry Food Bank does weekend Fresh for All events at different locations throughout the year; Dorsey's wife, Casey Dorsey, is a second-grade teacher at Eagle Nest Elementary and most recently coordinated a Fresh for All event Feb. 24.
The produce comes from local farmers. Dorsey said his school's event usually serves more than 250 families in a two-hour timespan. The goal, he said, is to get rid of all the food.
Saturday's event included Lowcountry food bank and school volunteers helping residents bag food to take home.
"As long as they offer it we'll continue to do it," Dorsey said.
Knightsville holds a Fresh for All twice a year -- a second 2018 date has yet to be determined.
Dorsey has worked with Lowcountry Food Bank to coordinate Backpack Buddies. When Lowcountry Food Bank approached him with the offer of hosting a Fresh for All event, Dorsey agreed.
"From that point, it is as simple as planning a date and getting enough volunteers to come out to the event to pass out food," he said. "As long as they are able to provide the food, it's pretty easy after that."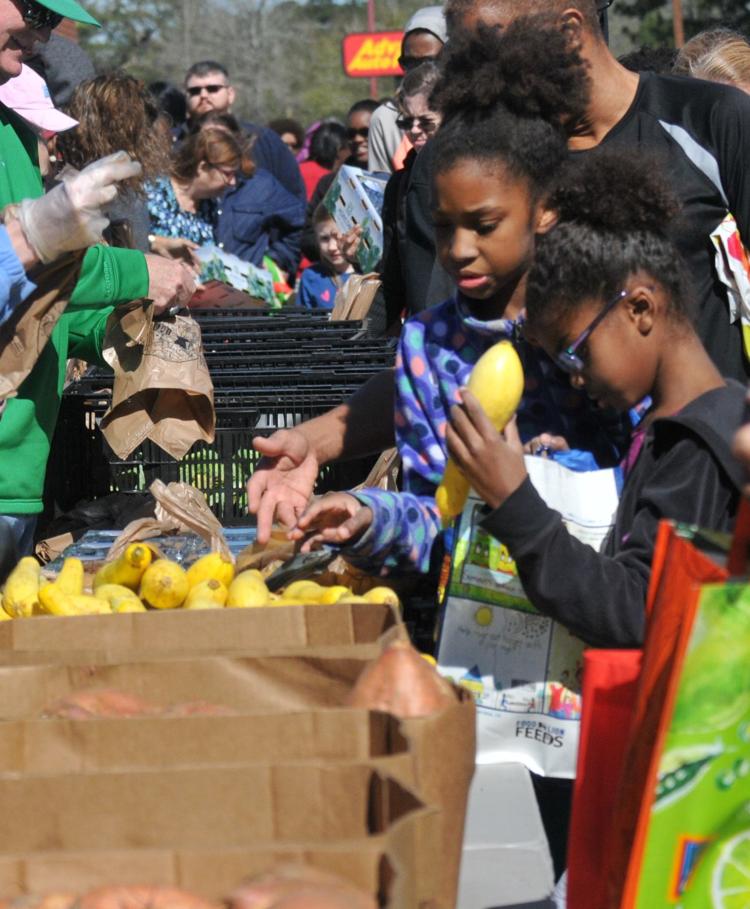 Jackie Grant, AmeriCorps distribution member with Lowcountry Food Bank, said the Fresh for All event goes all over – and typically they have a full calendar of events in March.
"It's been really good," she said.
Knightsville Elementary Assistant Principal Carey Hodge said it was "an amazing day".
"Kyle does a good job leading this," she said.
Nicole Shaffer and her mother, Debbie Hickey, were among the family members stocking up on produce: Shaffer and her three children gathered blueberries, sweet potatoes, squash, onions and collards, to name a few.
All the food, Shaffer said, helps feed a family of five. She and Hickey said it also means the family will be eating healthy food for a while.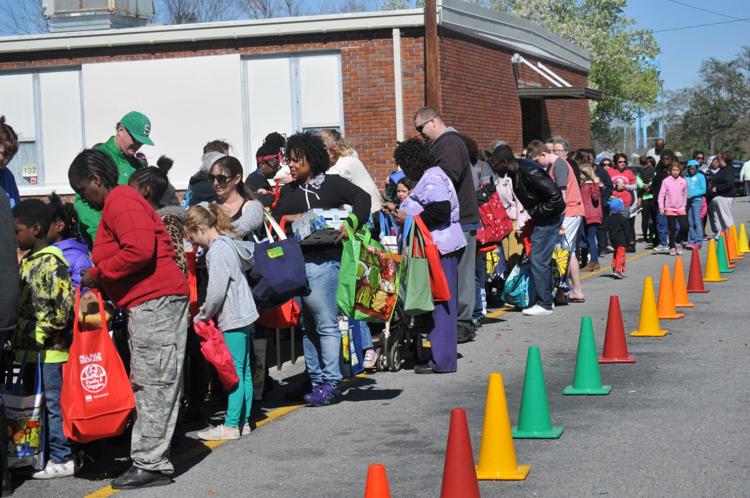 "I think it is a great service to the community, and it's helpful," Hickey said.
Gerard Jones joined his children and collected produce as well. He said they stocked up on vegetables.
"It's very nice…it's a neat program," Jones said.
Janice Mead's 2-year-old grandson, Trenton Logan, particularly enjoyed munching on blueberries his grandmother picked up. Mead said she picked up a little extra food to share with a friend who is going through a tough time.
Mead said Fresh for All was a way to get to know neighbors.
"I think it's an awesome gift for the community, through the community," she said.