A rural Dorchester County intersection, considered the "last gateway" to scenic and historic resources, is undergoing design testing to determine the best possible guidelines for its future development.
On April 11, a team with Urban Design Associates unveiled potential development plans for Cooks Crossroads. It was a first look for local leaders and project stakeholders. In addition to the county's Planning and Zoning Department, representatives were on hand from the Dorchester Historic Trust Foundation, Lowcountry Open Land Trust, Town of Summerville, County Council, and Ashley Scenic River Advisory Council, among others.
The eager crowd gathered for the sneak peak inside the Greater Summerville/Dorchester County Chamber of Commerce building. Initial design drawings littered the room's walls, and the project's lead consultant Rob Robinson explained his team's vision for the intersection and its surrounding acreage.
Robinson told Planning Commission members at a meeting on Thursday that his team is "layering in the design guidelines" they "think the zoning will allow," while also working with landowners in that area to ensure they are on board with the process.
"My hope is that we can accomplish this in a way that enhances the properties for the owners and does not hinder their use or marketability in the future," said Russ Touchberry, a commission member. "I am excited about the opportunity to develop criteria that embraces and reflects the essence of the...plantation charm and character."
And Lowcountry character is certainly a topic Robinson said his team noticed from the start and has been careful to heed throughout the design process. For weeks they've been studying the architecture of other structures in the county and region.
"This is like no other place on the planet," Robinson said. "You own 'Lowcountry'—the brand."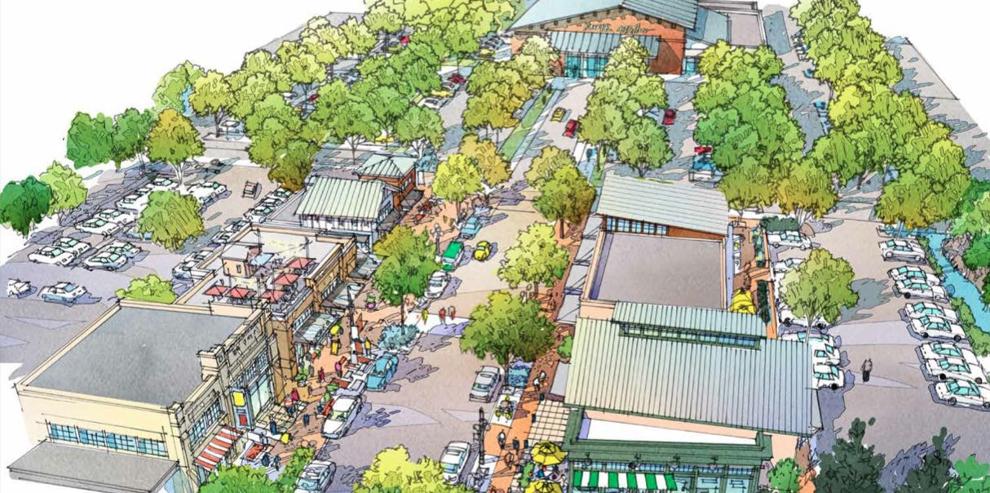 By the end of the design initiative, slated for sometime in June when guidelines will go to County Council for review, Robinson said the goal for local residents is simple. The design team wants people in the future to visit the developed intersection and feel right at home.
"Do you feel like you're in Dorchester County, and it's special?" Robinson said.
He and local leaders have agreed the area is unique in its historical and scenic appeal.
"It's the last opportunity for a gateway, in that area, to the unique combination of the natural and historical resources of the Ashley River," said George McDaniel.
McDaniel is with both the Dorchester Historic Trust Foundation and Ashley Scenic River Advisory Council. He said in every direction, stemming out from Cooks Crossroads, there are opportunities to learn about history, connect with nature and encounter some of the region's top attractions—namely the Ashley River, Drayton Hall, Colonial Dorchester and Middleton Place, among others.
Last year the county approved an added layer of relaxed zoning to the intersection by creating a fifth subdistrict within the Ashley River Historic Overlay District. Part of the intersection already resided inside the Overlay District's strict zoning; other parts of the new subdistrict were included for the first time.
According to Planning Commission Director Kiera Reinertson, the county hopes to maintain the character of the community while simultaneously making accommodations for denser development in the vacant location.
But adding density doesn't mean simply plopping buildings across the area, according to Robinson. He said the development must be carefully crafted to fit with the Lowcountry vibe, make way for future development and create a "communal environment," not chaotic urban sprawl.
"It's about the buildings' form and arrangement, not so much the building use," he said.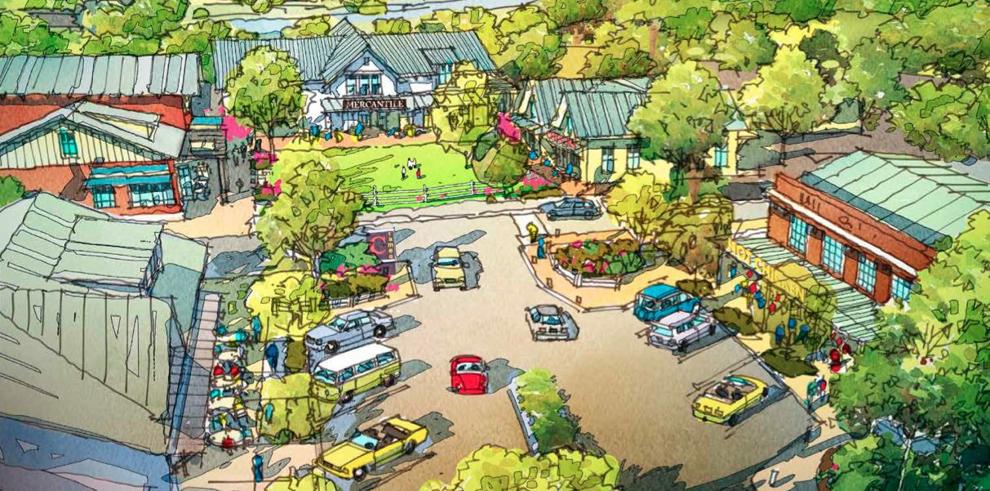 Right now the design team is looking at three different development plans. One plan envisions disconnected properties and zero land sharing among parcels—a world where "everyone is doing their own thing," Robinson said.
A second plan shows development with consolidation and minimal sharing of land accesses; it's a less "hodge podge" development, according to designers.
Lastly, a third design connects parcels but eliminates a current connector road to Highway 61 that designers have dubbed a "jug handle ramp." Officials with the South Carolina Department of Transportation have called the ramp dangerous, Robinson said, though he told county leaders the solution might lie in realigning the roadway, not eliminating it.
Connectivity is a prime point of interest and concern as designers consider using bike and pedestrian trails to link up properties, specifically Rosebrock Park and the future Ashley River Park, off Bacons Bridge Road.
"The connectivity to these sites could be transforming," Robinson said. "Should all the sites accommodate a trail connection, and where's it all going?"
Safety is certainly part of the design process as density continues to increase along Highway 61—traffic revving up in response. State leaders said safety improvements are coming to the highway but there's currently no official timeline for construction.
"This is a growing and very busy intersection. ...Are we creating a nightmare here, or are we thinking of ways to consolidate and provide better access?" Robinson said. "(We) don't want to go to dangerous (S.C.) 61 if (you) can't (safely) cross that road."
Designers are most concerned with the impact nearby developments like Summers Corner, located in portions of Dorchester and Charleston counties, and Watson Hill will have on Cooks Crossroads. Watson Hill is a land tract zoned inside the county but in North Charleston territory; and WestRock recently sold 4,000 acres of the property to a developer, according to the Post and Courier.
With regard to allowable structure types that designers are testing for the Cooks Crossroads, possibilities include single-family homes no greater than 1,500 square feet and varying sizes of commercial retail buildings and businesses—a giant grocery chain not out of the question. However, based on zoning guidelines it would have to blend in with the area's natural aesthetics. That can be accomplished through robust trees and buffers around the buildings, according to designers.
"I think we can get big buildings in there without destroying the footprint," Robinson said. "A large grocer not out of the question; what you don't want here...is something so out of character with this last gateway."
Commission member Robert Pratt said that was the main reason behind the commission's decision about eight years ago to deny the request for a grocery there.
"It was killed because of the Overlay District requirement then," he said.
At that time the topic of Cooks Crossroads development was a heated one that Council Chair Jay Byars said he's thankful has cooled down in recent years so that development can occur while also "protecting the character of why we all live here."
"This was a very contentious issue not long ago," Byars said. "This has really changed in a great way."
Pratt said zoning is never a topic all can agree on but that Robinson and his team, so far, seem "mindful of design standards" in a way that works for everyone.
"It appears (he) and his staff are getting it right by staying away from dictating the use, leaving that to the planning and zoning folks, while concentrating on design, appropriateness and buffers that do not hinder commerce," Pratt said.
Touchberry is also hopeful of the design potential at play.
"If we can get this right, it is a win-win for our area and the property owners," he said.