When I first visited the Carnes Crossroads Artist Cooperative (CCAC) space at the Public Works Art Center in late summer, Pam Shanley's work got my attention.
As I had written about quilt artist Diane Frankenberger on Sept. 23, I thought this is the time to share Pam's versatility as a fiber textile artist as winter is coming.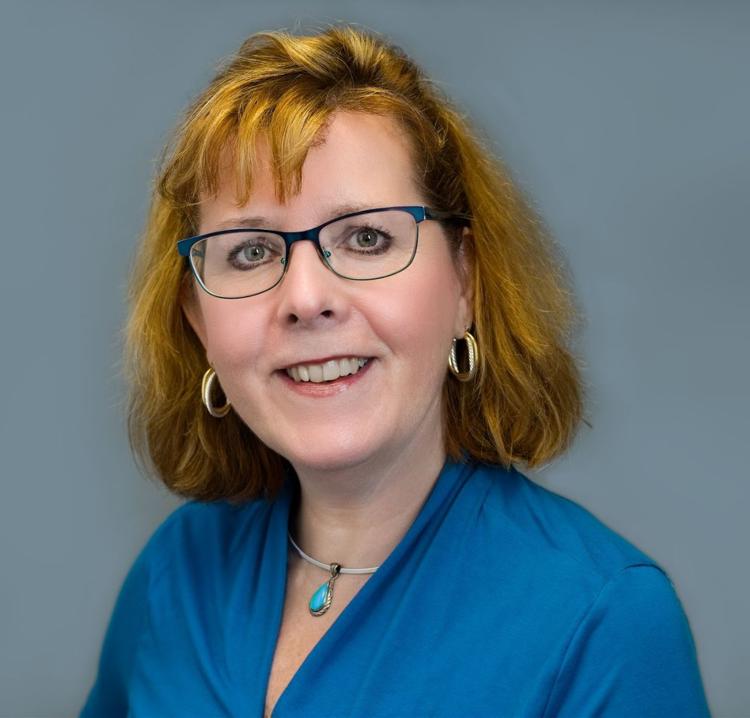 A native of Canfield, Ohio, Pam lived in Virginia and Kentucky before returning to South Carolina three years ago to retire after 25 years in education.
She keeps busy.
Pam specializes in home décor, art quilts, and wearable items such as scarves and shawls woven on floor looms to ensure quality and design.
She is the president of the Charleston Palmetto Fiber Arts Guild, has had her work exhibited at various locales such as the Palmetto Hands Exhibit and volunteers at Middleton Place showing weaving, spinning and talking about indigo.
Regan: How many different techniques are there in fiber art? You said your favorite is weaving—why?
Shanley: The main focus of a fiber artist is to play with color and texture. To me, that means yarn, fiber, beads, felting and hand stitching. I explored a lot of different techniques, and my favorite is weaving. I enjoy the logical part of setting up a loom and then the creative part of weaving with fabulous yarns. I returned to expanding my weaving after exploring art quilting with a very active group in Virginia. In my heart, I knew I wanted to focus on including weaving in my art as much as possible. I think because I sewed my own clothing for so long, I wondered more about how creating garments all began. Since a person can weave with anything from grasses, fibers, wire, metal and other things, weaving does not get boring. It can be flat, or it can be dimensional. The skill of working threads together is in everything, even computers.
Regan: Did you do arts and crafts as a child so that you grew up with a natural inclination toward this art type? You are self-taught?
Shanley: My memories of working with textiles at an early age was when I made doll outfits with my dad's old ties. My father encouraged me to be creative and bought me my first sewing machine. I sewed my own clothes for many years. I read many books about weaving, sewing and quilting.
Regan: Can you explain indigo to us, as there is a rich history here. Eliza Lucas Pinckney developed indigo in South Carolina as one of its most important cash crops in the 1700s.
Shanley: It is this rich history here that inspires me to talk about indigo. It has been utilized by worldwide cultures. Indigo was used for anti-bacterial applications in addition to repelling insects, applied to burns, and for cultural tattoos. Japanese Samurai wore garments dyed with indigo under their armor. Textiles from 6,000 years ago were found in Peru to have been dyed in indigo. It is no wonder it fascinates the world to this day. The process of indigo dyeing is amazing to watch. An item turns blue right out of a pot of water that is pea green.
Regan: Tell us about your training on Appalachian crafts and also about your special Moon quilt.
Shanley: I am a librarian and educator, so I always sought out learning. Schools such as the John C. Campbell Folk Art School, The Arrowmont School of Arts and Crafts, and the Penland School are amazing places that will change your life. Not only do you learn these folk life crafts, but you also realize you are going back in human existence to understand how things are made by hand and heart.
I was part of an invitational art quilt exhibit to celebrate the 50th landing on the moon. I chose to do craters as I work in wool fibers, felting, beading, quilting and hand stitching. I knew I could offer a piece that could express my theme, "What If Craters Were in Color?" During a showing of the quilt show, an individual from the Library of Congress viewed the exhibit and chose my Moon quilt in addition to several others to be showcased at the Library to celebrate the historic moon event. I am deeply honored she enjoyed my interpretation of our moon. That quilt travelled in quilt shows for three years all over the states.
Regan: Is there a particular fiber or folk artist you look up to for inspiration?
Shanley: I am very interested in Anni Albers and how the Bauhaus abstract, graphic style continues to influence so many fiber artists. I am so pleased weaving has become popular again. I am amazed by new artists' creativity. Charleston is blessed with many young artists who explore beautiful woven wall art and dyeing techniques. I hope more people will see textiles as an art form.
Regan: You also hand weave with your own hand spun yarn and other natural fibers. Plus, you make craft basketry — hand-made coiled baskets which often feature your home-grown indigo dye and hand spun yarns?
Shanley: Yes. Since hand spinning for me is more for fun than for trying to produce a truly commercial product, I make small items to showcase the creative texture and color — another way of saying artistic license.
Regan: Do you have details yet on when you will soon start to teach felting and weaving at the Public Works Art Center?
Shanley: Yes. I will be teaching Introduction to Wet Felting at the Public Works Art Center from 10 a.m. to noon on Dec. 5. I hope to offer weaving, macramé, rug punching, locker hooking and other fiber art techniques. It is very exciting to have this Arts Center and gallery space with Carnes Crossroads Artist Cooperative. I hope the community continues to embrace the opportunities there.
Mary E. Regan, columnist, is a publicist with her ProPublicist consultancy and is seeking more clients. Story ideas? Email: Mary@ProPublicist.com.