When the new ART on the Square at Nexton in Summerville opened, I had walked around the gallery there to take in all the artist's work. Please note that the gallery is closed until April 1 when it will reassess when to reopen due to the COVID-19 issue.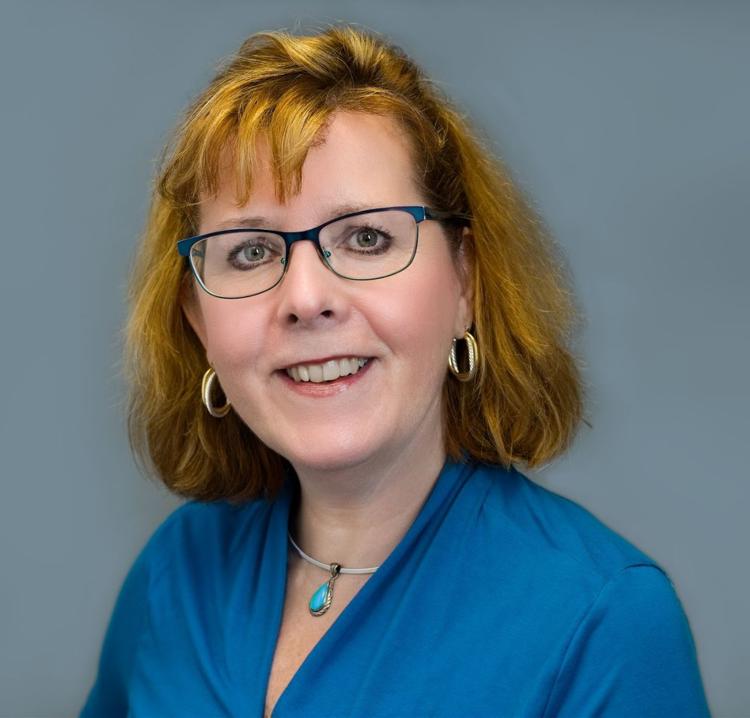 Linda Scavio's fabric artwork really caught my eye for its wonderful colors, layers of detail, and range of subjects. She conducted a 4-hour long March 7 Fabric Art Workshop which I took that afternoon. I will say during this time of dealing with worrying about the coronavirus, getting absorbed in a hobby like art or music or writing or acting really helps get rid of stress because you are fully immersed in doing something you love, so I highly recommend that.
For More Information, see: https://www.facebook.com/profile.php?id=1161105765
Regan: Linda, how did you find out about and get involved with creating fabric art?
Scavio: In the Spring of 2017, I was in a transition period. The Charleston gallery I had been part of had closed. I was ready for a new direction. In the process of researching new techniques and possibilities, I became aware of the amazing work being done by fiber and textile artists, especially in the field of art quilts and textile collage. I looked at different methods and artists and found one that looked appealing. Susan Carlson is a textile artist from Maine who has published several instructional books, teaches workshops all over the world, and blogs weekly about her art. I bought one of her books, made my first textile collage, and fell in love with the process. Textile collage has become my medium of choice.
R: Are you self-taught or did you go to school for art? Did you say you used to teach art?
S: I started my adult work life as a registered nurse. After several years and some difficult experiences, it was easy to see that nursing and I were not a good match. I went back to school and earned a Master's degree in Art and Education. I taught art to high school students in Dorchester District 2 schools for 28 years. There is no better way to improve your own art than to teach it to someone else! I loved teaching…the challenge of developing interesting lessons, the amazing work produced by the students, but especially the relationships I had with my kids. I am still in touch with many of them.
R: What other mediums do you work with aside from fabric? What is your favorite medium to work in and why?
S: Once I read that one should choose one thing and try to become an expert at that one thing. At one point, my choice was colored pencils and my work was primarily in that medium. Over the years, I have also worked with paper collage and watercolor on canvas. At this point, textile collage is my favorite medium. Fabric is now my "paint." There is something new to learn with each piece and I think it will be a long time before I will consider myself an "expert" at it.
R: I see you hail from Massachusetts—another Northerner like me from Maine. What brought you to SC?
S: I have lived in South Carolina since being discharged from the Army Nurse Corps in 1972. I love the early springs and could never go back to shoveling snow and long winters! I do go back home every year to visit family and my sister has been very supportive and encouraging as she comes along with me exploring the fabric shops in Massachusetts and New Hampshire. There is also a wonderful quilting / fabric shop in Portland, Maine, your hometown!
R: Where have you traveled that has added a source of inspiration for you? (example: like when you found fabrics at various stores in several states)?
S: In the Fall of 2017, I took a 'bucket list' trip to Newfoundland to visit where my grandparents were born and raised. I was traveling alone so no one was inconvenienced when I stopped at what seemed like every quilt and fabric shop along the east coast and all over Newfoundland. It was an inspiring trip as I met many accomplished textile artists and talked with them about their love of fabric and dedication to their work. In 2018, I was fortunate to be able to visit the Quilt Museum in Lowell, Massachusetts where there was an exhibit of Susan Carlson's work.
R: Do you plan to teach other workshops this year?
S: I am looking forward to teaching more workshops at the ART on the Square gallery at Nexton here. The next one will probably be scheduled for some time in June. Currently, I am only showing my work there at Nexton and on my Facebook page, LindaScavioArt.