Well, 2019 was certainly… something. Looking back on all of the memes from this year, our team realized that t̶i̶m̶e̶ ̶i̶s̶ ̶a̶ ̶f̶l̶a̶t̶ ̶c̶i̶r̶c̶l̶e̶ it's hard to keep track of whether these things happened yesterday or months ago. "Wait, that was this year??," we found ourselves questioning multiple times throughout this process. Overall, 2019 provided some delightful memes. Here they are.
January
Fyre Festival Confession
Remember the burn-it-all-to-the-ground disaster that was Fyre Festival waaay back in April 2017? Billed as a luxury music festival in the Bahamas, the event was a complete catastrophe, with attendees becoming stranded in FEMA tents with prepackaged sandwiches — and no live music at all.
Fast forward to January 2019 when Netflix dropped its documentary about the mess, and you may recall Andy King, an event producer working to get the festival off the ground. Although I'm sure he sacrificed a lot over the course of his time working on the festival, he became inescapably linked to one moment in particular — when he confessed he was prepared to perform oral sex on a man to get the Fyre team out of a sticky situation. 
Twitter ran wild with all sorts of hypothetical problems that could only be solved by King, our unlikely hero. We thank him for his service to the culture. -Matt
Powerful Shaggy
The first live-action Scooby-Doo film came out in the early 2000s. So why is there a meme about it now? Honestly, I have no clue, but I am here for it.
The gist is that Matthew Lillard, who plays Shaggy in the live-action movies, is an all-powerful entity with the ability to destroy the universe if he really wanted to.
The meme stitches together interviews with the cast of the films, including Lillard himself, who all revere and fear his sheer power. Thankfully, he only uses 1 percent of it. Most of the time.-Taylor
February
The "Sonic the Hedgehog" trailer
Sonic the Hedgehog is unbelievably simple. He runs fast. He has attitude. He fights The Eggman. That's it. This trailer dared interrogate that central premise by asking, "What if he was also a computer-generated homunculus?" This is the answer. I've already preordered my ticket. -Bryan
March
The Boyboy West Coast 
Three songs defined 2019: "Bad guy" by Billie Eilish, "Old Town Road" by Lil Nas X and "Juice" by Lizzo. 
"U Was at the Club (Bottoms Up)" by The BoyBoy West Coast peaked on Instagram as a 60-second lip-sync clip and did not define 2019. It's arguably not even a meme. But the performance — in which The BoyBoy pretends to sip with gusto from a clearly empty styrofoam cup — landed him a major label deal with Republic Records. I call that a monument to art and commerce. -Bryan
April
Focus group guy
"I Think You Should Leave with Tim Robinson" was without a doubt the best show to come out in 2019. 
The sketch show was chock full of laughs from start to finish, but the true pièce de résistance is the focus group guy. His outfit. His attitude. His absurd answers. Everything about it is *chef's kiss.*
And if you don't agree that a car should have a great steering wheel that doesn't fly off when you're driving, you can go marry your mother-in-law. -Taylor
Jonathan Frakes telling you everything is a lie
Truth was a nebulous concept in 2019. I'm grateful that Jonathan Frakes, of "Star Trek: The Next Generation" fame, called it from two decades away and that his soothsaying echoed across that vast temporal gulf to my TL. His dogged fact-checking kept me grounded, in a way. -Bryan
May
Woman Yelling at Cat
What do you get when you mash-up a screencap from The Real Housewives of Beverly Hills with a photo of a confused-looking cat? One of the most evocative memes of 2019, of course. Tensions run high in this photo, leading one to wonder just what the cat did to deserve such vitriol. It wouldn't be the World Wide Web if we didn't try to assign meaning to this image ad nauseum. So that's what we did. What better way is there to vent our frustrations and fears than through memery? -Kristen
Vita Coco Jar
Brands have spent the latter half of the past decade becoming increasingly more online. We've all seen the classics — @Wendys roasting people on Twitter, @MoonPie's delightful weirdness amid perpetual pleas to destroy the sun — but in my mind, @VitaCoco this year reached the pinnacle of today's media hellscape of brands competing for attention.
When one Twitter user proclaimed he'd rather drink @VitaCoco's social media manager's urine than coconut water itself, the beverage brand didn't hold back. "Address?" was the reply, alongside a photo of a woman in a bathroom stall, cradling a jar of yellow liquid.
Shocking, disgusting and hilarious — this is the world we live in now. Here's hoping brands in 2020 will only get weirder. -Matt
June
No laws when you're drinking claws
Love 'em or hate 'em, hard seltzers took the nation by storm in summer 2019. I, for one, haven't looked back. You can catch me in January 2020 still pounding mango White Claws on some patio on a random Tuesday. That's chaotic energy, but who's to stop me? There's no laws, and I think the world's better off for it. -Matt
Just kidding… Unless?

Life is short. Shoot your shot. But retract it at even the smallest sign of rejection, whether expressed by the other person or just constructed in your lil' over-thinking noggin. That's what this meme is all about. Maybe in 2020, we'll be able to fully embrace the full-tilt energy of going for it, whatever it is, without reservations. Just kidding… unless…? -Kristen
July
Storm Area 51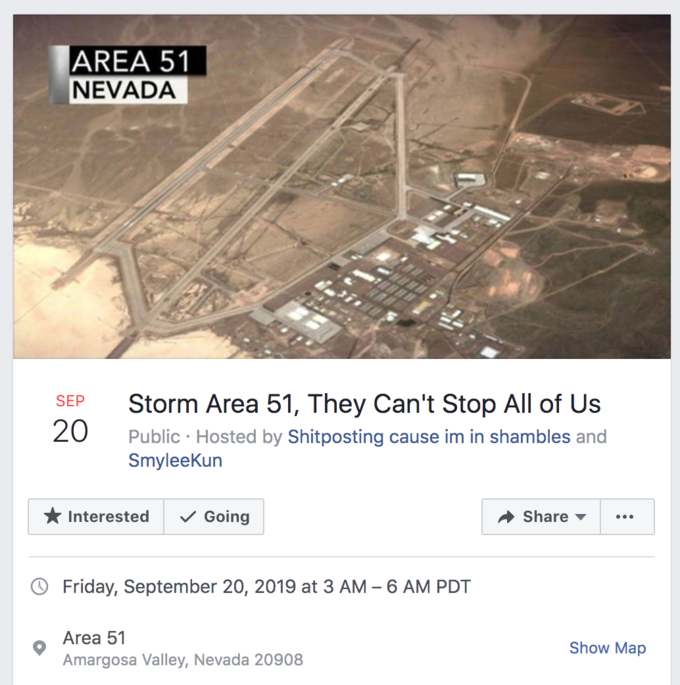 Sometimes, a funny joke becomes too real and it's not funny anymore. That's not what happened here. After an anonymous Facebook event page titled "Storm Area 51, They Can't Stop All of Us" quickly reached over a million 'Going' RSVPs, several media outlets reported on the story seemingly without realizing it was a joke.
Some participants claimed to be motivated simply by curiosity or an effort to expose government secrets. For other more lecherous participants it was merely an opportunity to get some alien cheeks clapping. Eventually, news coverage of the meme led to an official warning from the US Air Force. From there, the meme was out of control, Naruto running straight into the zeitgeist and our hearts. -Emory
Big Chungus
We at the digital desk, gurus of content promotion that we are, believe in the power of the Long Tail. We also believe in the power of Big Chungus, a meme which technically began in late 2018 but gave us content well into 2019. I wish I could call Big Chungus our Meme of the Year, but I can't; the digital team is not ranking, and thus all memes listed here are equally primo. And I wish I could call Big Chungus our Game of the Year, but I can't do that either because Big Chungus on Playstation 4 does not exist. -Bryan
Ight imma head out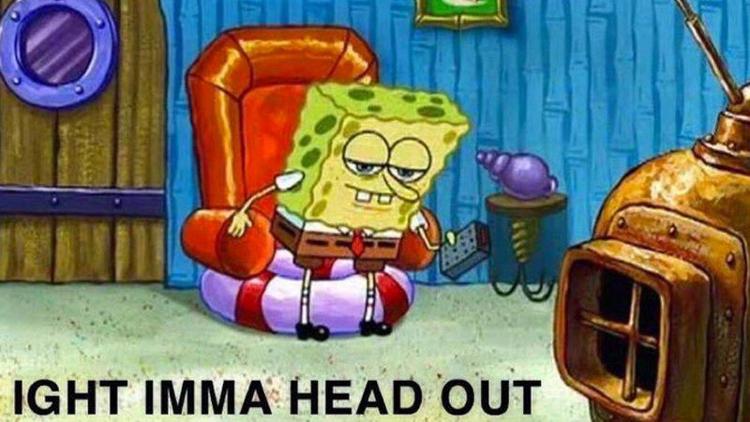 Big energy at the end of 2019. Spongebob gives off a general vibe of disappointment and resignation here, and it's hard not to feel the same way. We're exhausted. We're anxious. We've seen enough from this year. What's left to do at this point but to head out? -Kristen
August
The Fish Tube
Some memes are really complicated with multiple layers of irony and context necessary to understand them. This isn't one. It's a tube that blasts unsuspecting fish over a dam. And it's set to the "Slide" theme from Super Mario 64. That's it, that's the tweet. -Emory
Shredding Joker
One of the most magnificent, sublime, monumental, extraordinary scenes in Thrasher history. -Bryan
30-50 Feral Hogs
If you're on here arguing the definition of "assault weapon" today you are part of the problem. You know what an assault weapon is, and you know you don't need one.

— Jason Isbell (@JasonIsbell) August 4, 2019
This is truly the meme that brought America together. For a few beautiful days, I could imagine world peace thanks to this meme.
It all started because country singer Jason Isbell tweeted in earnest about assault weapons. The question on everyone's mind, obviously, is what should you do then if 30 to 50 feral hogs run into your yard while your small children play. Well that's at least what one random man asked.
That's a recipe for meme gold, and the resulting jokes did not disappoint. -Taylor
Kombucha Girl
I still haven't tried kombucha, but I expect that my reaction would be exactly the same as Brittany Tomlinson's.
In her viral TikTok, she takes a sip and pauses. She looks disgusted, then pensive, then disgusted again. It's a roller coaster of emotions.
The best part is that her reaction can be applied to pretty much anything. Like, should I go on a third date with someone even though the first two didn't go well? Or, should I still hang out with friends after checking my abysmal bank account? The possibilities are endless. -Taylor
September
Sorry to this man
Avoidance is my primary coping mechanism when I'm confronted with difficult situations. So I'm eternally grateful for Keke Palmer and the simple, concise response she gifted us this year for times when I'd really just rather not deal with something. -Matt
October
Ok Boomer
The life of a meme can be interesting. "Ok Boomer" was born long before 2019 but it really reached its cultural zenith when it was covered by the New York Times. Suddenly it was everywhere. The devastating simplicity of the phrase was hard to resist. And the angry reactions were hilarious. But wasn't meant to last. "OK Booker" died an unceremonious death on December 1, 2019 when it was covered on "CBS Sunday Morning." - Emory
Rise and Shine
Did this actually happen? Much like many things the Kardashians do on camera, this felt like a fever dream. This clip is from a promotional video Kylie did for her cosmetics line. That's right. This clip wasn't even the point of this video. But the internet is a cruel machine, and we never let a chance to ridicule someone into memery pass us by.
We see Kylie Jenner slowly open the door to her daughter Stormi's bedroom, regaling her with a gentle (and interestingly pitched) "rise and shine" as she flips the lights on. Never mind the fact that Stormi is fully awake, sitting in her bed and looking at her mother expectantly. Probably not the first take of that shot, huh? -Kristen
November
Gonna tell my kids this was
A template commonly used on Twitter this year, this meme has it all: absurdity, fandom in-jokes, hyperbole, the optimism that the world will be habitable long enough for millennials to have kids — amazing stuff. This meme fits in nicely with the content canon of 2019: weird, unexpected, off-the-wall drivel that makes no sense but somehow… completely does. -Kristen
December
Baby Yoda
Technically not an infant Yoda but nonetheless: He's baby, and he's of the same unnamed species as Yoda. He's Baby Yoda, and I firmly believe he's the most-successful addition to the post-Disney Star Wars canon. -Bryan
2020 ASCII Art
┏━━┓┏━━┓┏━━┓┏━━┓
┗━┓┃┃┏┓┃┗━┓┃┃┏┓┃
┏━┛┃┃┃┃┃┏━┛┃┃┃┃┃
[insert words here]
┃┏━┛┃┃┃┃┃┏━┛┃┃┃┃
┃┗━┓┃┗┛┃┃┗━┓┃┗┛┃
┗━━┛┗━━┛┗━━┛┗━━┛
As 2019 loosens its grip on our necks and as 2020 approaches, a feeling of uncertainty hangs in the air. What does the year ahead hold for us? Who can say? 
For better or for worse, a new year holds the promise of a fresh start. A clean slate. And that's the genius of this meme format — here, 2020 has the room to hold anything we think it should. I just think that's beautiful. -Kristen