Hurricane Dorian left tens of thousands without power and baking in a withering heat Friday as the sprawling, sloth-like storm finally spun its way out of South Carolina and came ashore in the Outer Banks.
Blue sky and a broiling summer sun returned to the Lowcountry as the coast grappled with scores of downed trees and power lines left in Dorian's wake.
More than 500 trees went down in the Charleston metro area alone, felled by Dorian's buffeting winds and relentless rain as the storm pounded the region for more than a day with its long reach.
Some 91,000 utility customers remained without power across the state as temperatures climbed into the upper 80s and humidity clung like a wet angora sweater. Charleston County customers accounted for the vast majority of those without power, and some could remain in the dark until Sunday night despite a small army of crews working on repairs.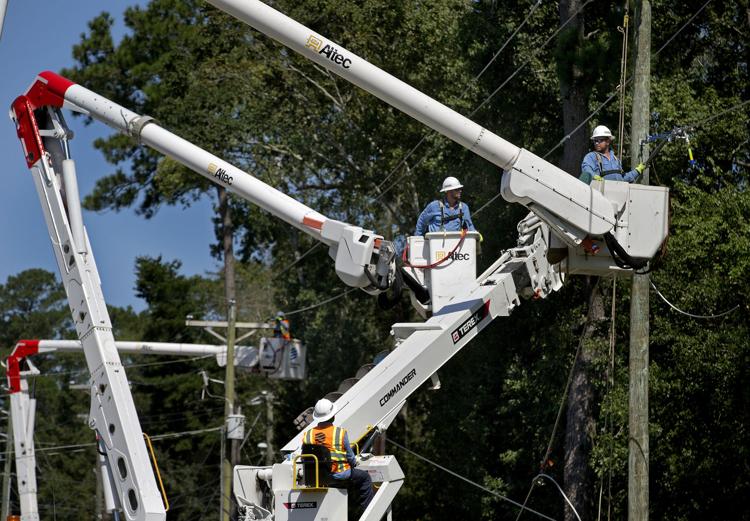 "We know they're frustrated," said Paul Fischer, a spokesman for Dominion Energy, which had 248,000 customers impacted statewide in the storm's wake. "We understand it's going to be a hot day in Charleston today, but that number is going to continue to drop as the crews get out there."
Still, the overwhelming sentiment among residents and officials was one of relief after the region dodged a disaster.
Dorian decimated the Bahamas before arriving to the Palmetto State as a Category 3 monster. Yet the worst of the storm stayed off-shore, sparing the South Carolina coast the massive flooding, erosion and wind damage some had predicted.
Two people died in a Mount Pleasant house fire during the storm, possibly sparked by a lightning strike. A tornado touched down in the city of North Myrtle Beach, damaging at least nine condominium buildings and displacing eight families. More than a dozen boats broke their moorings or sunk in the Charleston area. And some trees toppled on homes and cars.
For most, however, the storm's damage was confined to downed trees and branches and clumps of leaves strewn about roadways and lawns.
Charleston Mayor John Tecklenburg rode aboard a U.S. Coast Guard helicopter just before noon Friday and was mostly struck by how normal everything looked.
"We're really blessed," he said. "From the air, it confirms the damage was not nearly what it could have been. We've got some cleaning up to do, but it could have been worse."
Returning home
Those who fled from Dorian's approach began to return to the Lowcountry even before Gov. Henry McMaster lifted the remaining evacuation orders Friday morning.
State Department of Transportation Secretary Christy Hall urged motorists to "pack your patience" for the journey as a long parade of returning travelers took to the interstates.
Some 215 state roads were closed, complicating the return for those who evacuated. The reasons varied, from 3 feet of sand piled along one Pawley's Island route to downed trees on a road serving Edisto Beach. But the re-population proceeded nonetheless.
Charleston International Airport was back in business as well, resuming operations at 7 a.m. Friday after about 116 outgoing flights were canceled during the storm. The Port of Charleston also came back on line, its damage limited to several empty containers knocked over by strong winds.
Gov. Henry McMaster toured the state by helicopter and made stops at emergency operations centers in Horry, Georgetown, and Charleston counties to receive briefings from local officials. Like Tecklenburg, he said things could have been much worse.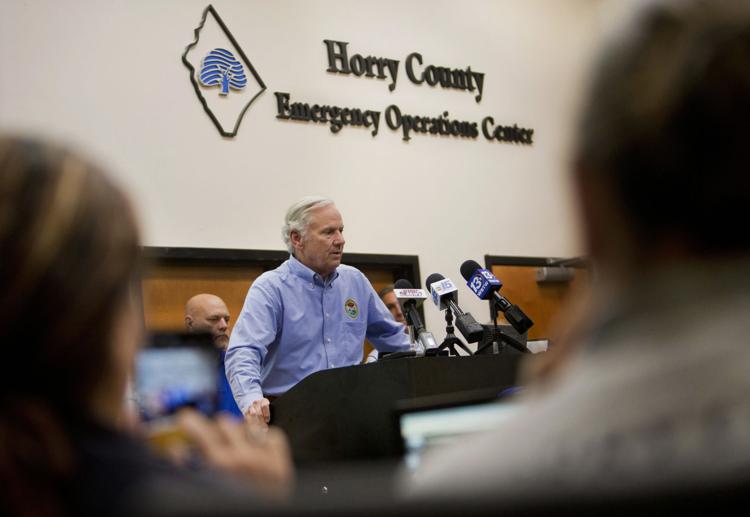 "We did get some wind; we do have some damage, but we can handle it," McMaster said.
McMaster said he was satisfied with how the evacuation, which started at noon Monday, played out, describing the lane reversals in Charleston and Hilton Head Island as "smooth as silk."
Myrtle Beach Mayor Brenda Bethune said the city was able to successfully evacuate about 100,000 visitors who had been in the area.
The city of Charleston, so dark and empty-looking Thursday, stirred to life Friday as Dorian whirled ashore at North Carolina's Cape Hatteras as a Category 1 storm. Though government offices and schools remained closed, plenty of restaurants and bars opened their doors and tourists again milled through the streets. By mid-day, parking again was at a premium, a sure sign of life returning to normal in the Holy City.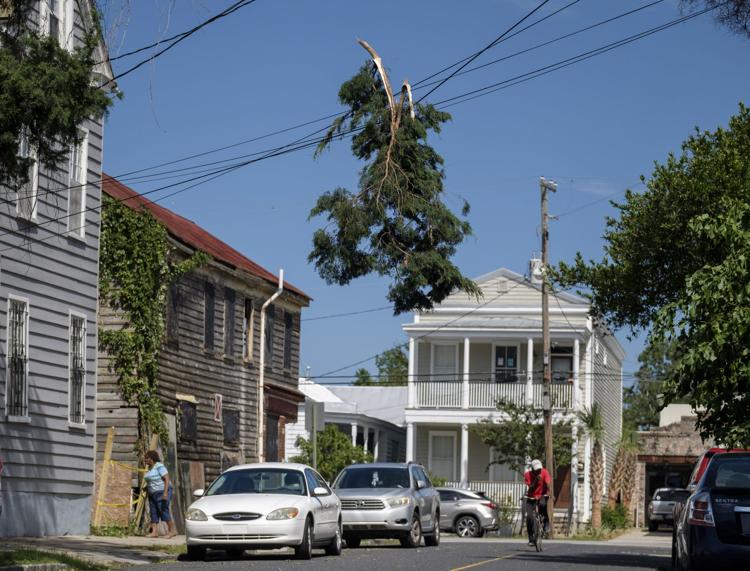 There and elsewhere, the sounds of chainsaws, hammers and leaf blowers replaced the howl of Dorian's winds as people set to work clearing debris, pulling plywood from boarded windows and carting off sandbags.
David Lee, who rode out the storm on James Island, was among those pleasantly surprised when he emerged from his home and inspected for damage.
"It really wasn't too bad, just a lot of wind," Lee said. "I was on the roof this morning and there was nothing major. We're good to go."
Flooding fears
Many had feared the worst after forecasts predicted Dorian would swamp the region with a historic surge that would drown the barrier islands and leave much of the Charleston peninsula under 3 feet of water.
At one point in its journey, after all, Dorian had been the most powerful Atlantic hurricane in modern history. And though it had weakened by the time if reached the South Carolina coast, its dangerous core still passed within an uncomfortably close 45 miles of Charleston, dumping upward of 7 inches of rain on the city, according to unofficial reports.
In the end, a favorable shift in wind direction and an arrival at low tide helped spare the region the deluge many had feared.
In Charleston, flooding was isolated and limited to areas that often see overflow during king tides and heavy rains.
The medical district, which has experienced heavy flooding in the past, saw fewer problems than in previous storms, such as 2017's Hurricane Irma, when National Guard trucks were needed to transport staff members to the Medical University of South Carolina.
MUSC spokeswoman Heather Woolwine said the hospital's emergency team employees were in-house well before Dorian arrived. More than 600 patients sheltered in place during the storm, and MUSC was prepared to provide care for up to 96 hours, she said.
The storm also did nothing to delay the anticipated opening next month of the new $389 million MUSC Shawn Jenkins Children's Hospital, Woolwine said.
Fitz Dove, who owns a home on Water Street in downtown Charleston, evacuated for the storm. But he left behind a novel defense against rising flood waters: water-filled walls that sealed the perimeter of his house.
Dove, whose home flooded during storms in 2016 and 2017, said Dorian didn't give his new barriers much of a test.
"I don't even know if the wall got wet," he said.
On the islands
Several barrier islands also came through relatively unscathed, spared the type of damaging surge that carts away acres of sand, eroding beaches and dunes.
On Edisto Beach, hit hard in three of the past four years by Hurricanes Matthew, Irma and Florence, Mayor Jane Darby said the town was rejoicing even with trees down and no power.
"We are so thankful," she said. "We came through without major damages."
Sullivan's Island and Folly Beach also reported few problems, and families and children were back out enjoying the sun and surf Friday, making it difficult to believe a major hurricane had passed by less than 24 hours earlier.
"We're mostly in good shape," Folly Beach Mayor Tim Goodwin said. "There's nothing really major."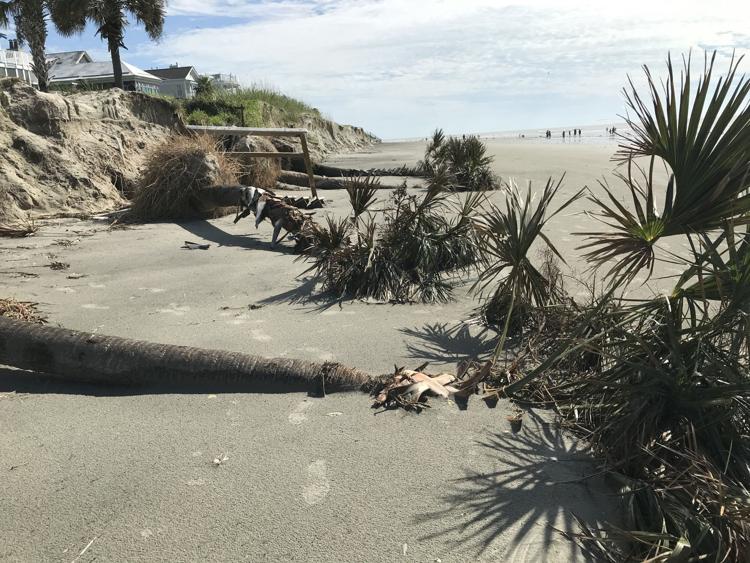 On the Isle of Palms side of Breach Inlet, though, the erosion was significant and visible. Water had run all the way up the dunes, and homeowners who had not constructed small fence groins to help hold the sand in place, saw increased threats to their properties. One home lost four palm trees and its wooden steps leading down to the beach. The dunes themselves had been sheered by the storm and likely lost several feet.
Up the coast 
Further up the coast in the city of Georgetown, the lights came back on Friday after Dorian knocked out power the previous day. A section of Front Street that had been submerged in a few feet of water was re-opened.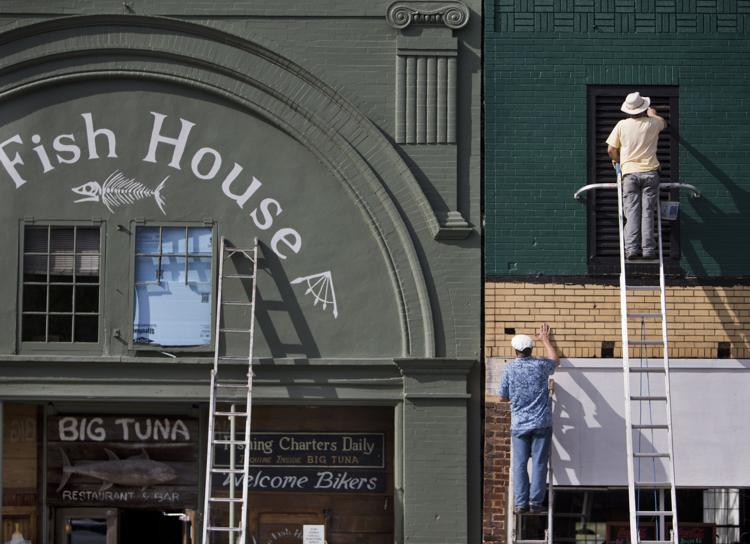 The damage was a little worse than expected, though, for hair salon owners Alma Owens and Angie Powers. About 4 inches of water covered the floor of their shop, New Beginnings, Thursday night.
"We thought it was going to be another annual cleanup," Powers said, "but we didn't expect this."
Just up the road, the tourist mecca of Myrtle Beach had its souvenir and swimwear shops back open for business, with its visitors bureau declaring on social media that "the coast is clear and the weekend forecast is great."
But not far off the main drag of businesses, some residents were dealing with the aftermath of another storm, one that arrived hours before Dorian's eye reached the Grand Strand.
North Myrtle Beach Mayor Marilyn Hatley confirmed that a tornado had touched down. It tossed shingles and siding off several buildings in the Carolina Keyes condominium complex, causing at least a couple of damaged buildings to be fully evacuated. Roofs, underskirts and windows were torn from mobile homes in a neighborhood of more than 100 units adjacent to the condos.
Carolina Keyes resident Tara Galloway said the tornado shook her building and filled the complex with a sound like thunder. "Compared to that," she said, "the hurricane was a walk in the park."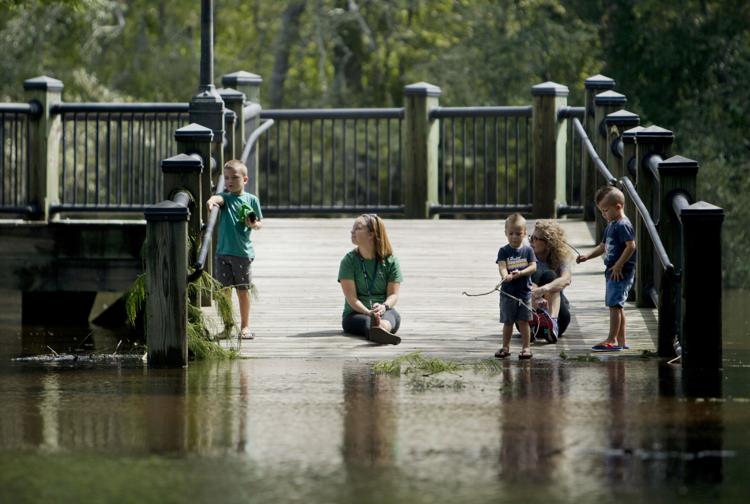 In the Horry County seat of Conway, which was devastated by floodwaters from Florence last fall, the Waccamaw River rose to flood levels Friday, spilling over into some areas immediately around the river and closing a few low-lying roads.
At the marina, the water rose high enough to cover some parts of the waterfront path and submerge at least one park bench. But enough of the path was clear that Anna Kennedy and her three children — Presley, Silas and Zen — had plenty of space to play. Kennedy, who lives near the beach, had come to Conway during the storm so she and her children could stay with their grandmother.
Kennedy said her kids had been cooped up inside during the storm, and "they needed to get muddy."
Emily Williams, Conner Mitchell, Seanna Adcox, Adam Parker, Jenna Schiferl, Chloe Johnson, Lauren Sausser, Stephen Hobbs, Robert Behre, David Wren, and Warren Wise contributed to this story.