MEXICO BEACH, Fla. — Horrific winds in the eyewall of Hurricane Michael tore a mobile home park to shreds as the storm made landfall in Florida last October. Gusts ripped off the roofs and walls of homes across the street.
In between were five low-income homes built by volunteers. A few siding panels were lost, and a window or two.
But, remarkably, the homes at the edge of Panama City stood.
Ask Lance Rettig why and the Bay County Habitat for Humanity director gives the same exact answer that million-dollar beach home owner Russell King gives you from nearby, heavily damaged Mexico Beach.
"Above code."
Habitat built the homes with stronger support reinforcement and windows than the local code required: no-right-angle hipped roofs and countless other upgrades — and did it for $75,000 in construction costs total. (Labor was free from volunteers).
In other words, the homes were no more expensive than any other middle class home would be.
King's 40-feet tall, three-story contemporary beach house was built with poured concrete — which the Habitat homes weren't — but otherwise had roughly the same upgrades.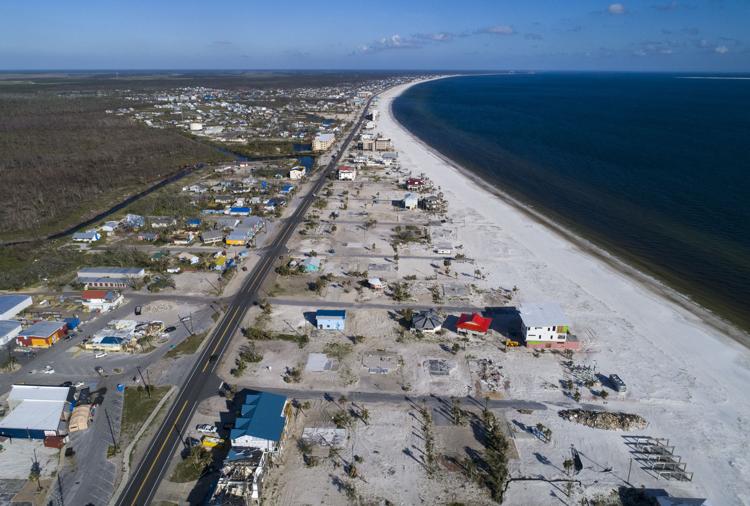 As the 2019 hurricane season commences June 1, that might be the biggest takeaway for South Carolina coastal residents from Michael, a devastating Category 5 monster whose 160-mph winds are now estimated to have wreaked some $25 billion in damage:
Do more than the minimum to prepare.
"Every incremental improvement you make in terms of fortifying your house will improve its resilience," Rettig said.
 Forecasters are predicting a near "average" season for 2019. That means about a dozen tropical storms with a half-dozen becoming hurricanes and about half of those becoming hurricanes capable of major destruction.
People who have moved to the beaches in South Carolina since the last devastating hurricane, Hugo in 1989, have no idea of how destructive a force it can be. People who have moved to the area have little concept of how far inland the damage can reach.
Mexico Beach homes were built to withstand 115 mph winds. Building codes in the Charleston area have been made stricter since Hugo killed 13 people and did more than $6 billion in damages.
The codes on the barrier islands near Charleston call for roofs to withstand from 130 to 150 mph winds. At one point offshore, Hurricane Florence carried winds of 140 mph, just 20 mph shy of Michael at its landfall, before crossing the coast at 90 mph.
Mexico Beach
Desolate might still be the best description of this modest beach town southwest of Tallahassee in the seven months since Michael dismembered the place.
It will be years before Mexico Beach recovers. It might never be restored to what it used to be. There's a lesson here for anyone who lives along the Southeast coast.
In Mexico Beach, you walk streets of cracked concrete slabs where homes used to stand, past piles of rubble and debris, to reach a dune-flattened beach. A kitchen mixer beater sticks out of the sand. A lone fork lies a few feet away.
Of an estimated $25 billion in damage from the storm, about 60 percent was in Bay County, which includes Mexico Beach, as well as Panama City.
On a recent weekday, Mexico Beach had only five businesses operating: a plumbing store, a hardware store, a pizza parlor, a coffee shop and a Caribbean restaurant, which was actually the restaurant's food truck working from the parking lot of the ruined building.
Most of the 1,000 or so residents now stay somewhere else. 
"Our local people are overwhelmed. They can't handle this," said Mayor Al Cathey, sitting half exhausted on a stack of concrete mix in the hardware store, which he owns. "We have no bank, no gas, no grocery store."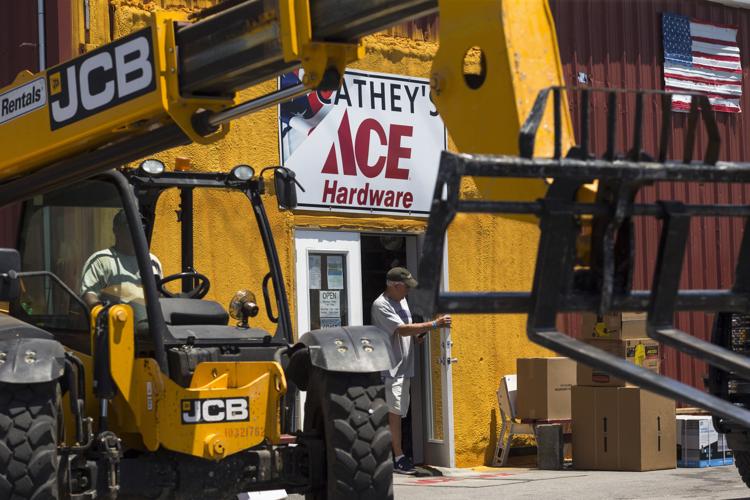 Cathey's neighbor called over to him the other morning and told him excitedly that she finally had a contractor to repair her home. Then she told him the rest: She's sixth on the list and the workers won't get to her place for at least another 18 months.
"I think Michael could have gone anywhere it wanted and the results would still have been the same," Cathey said. "There's no place on the coast that's prepared for this."
The Habitat home
Christina Harding rode out Michael in one of those $75,000 Habitat homes with her family, including her mom and dad, who came over from their own places guessing hers would be safer.
The scariest moment was when a chunk of debris smashed through her daughter's bedroom window and they had to tie the bedroom door with an electric cord to keep the wind from pulling it open.
"It sounded like Michael was trying to come in the house," she said. "It got a little nerve wracking. My daughter started crying. She said, 'Can we go? Can we just go?'"
A large tree from across the street fell into the tree in her yard that she worried would collapse on the roof. But her tree, like her home, stood.
"I love my house even more now than I did before," she said.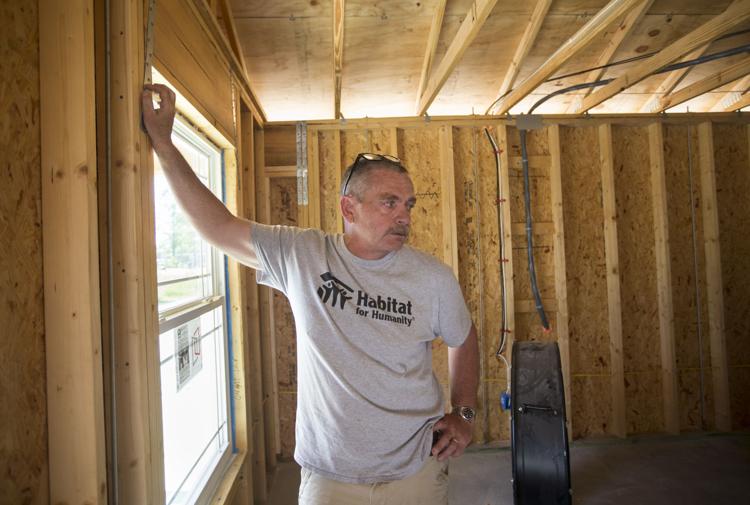 Rettig, the Habitat director, also chairs the Bay County Long Term Disaster Recovery Organization.
Of 49,000 low- to middle-income homes damaged in the county, 14,000 were destroyed or severely damaged and 20 percent had no insurance, he said. The estimated cost to restore or rebuild them is $120 million. Nearly nine of every 10 owners have filed with FEMA and many of them are still wading through the red tape.
Harding's home was built using twice as many nails as the building code required, twice as many steel rod supports anchored with bolts in the concrete slab, thicker gauges to the wood. Rettig and construction manager Russ Potts pointed out the upgrades as they walked through a Habitat home under construction with a reporter and photographer from The Post and Courier. 
"Stunned," Potts said, was his reaction when he saw what all went into the homes. He's from Minnesota, where his Habitat crews had to build for brutal winters, and the work on the Mexico Beach homes is a lot sturdier than they did up north, he said.
The Bay County Habitat board is no longer sure that's enough. Rettig's staff is doing cost analyses on building with steel-reinforced poured concrete, as well as fortified roofs, similar to what King's builder used in Mexico Beach.
"We'll have almost fortresses at that point," Rettig said.
The house that didn't fall
The landmark Mexico Beach Pier that was next door to Russell King is gone. Nothing is left now but two pink-ribboned stakes to mark where it stood.
King keeps the stub of one of its pilings in a bucket. He found it walking down the beach.
"Pilings broke off like toothpicks," he said.
King's beach house became famous shortly after the storm when someone posted a drone video scanning the beachfront destruction and the house stood among the rubble, apparently undamaged.
The Chattanooga, Tenn., personal injury attorney had wanted a fancier beach house, dormers and all. His engineer told him, "no, you don't," then told him why. Down the road from King now is a home with holes in the roof where its dormers were ripped away by winds.
The breakaway concrete that walled King's bottom floor collapsed as designed, allowing storm surge to pass through. Something hit the window in the third-floor master bedroom shower and shattered it like a spider web. But the window stayed put.
The storm was playing on the computer screen at King's Chattanooga home from a remote camera mounted on the beach house porch. He couldn't stand watching and walked away. Then the camera snapped off and someone said, "There goes the porch."
But the porch held.
You'd think he'd be pleased. He's anything but. King is a direct, take-no-nonsense man who strides with a pace that matches the gruffness of his voice. He takes you through the home pointing out the improvements he will make now.
He's reinforcing the concrete pillars with steel plating, adding steel on the roof trusses. He wants stronger windows. It will cost about another quarter million dollars in upgrades.
He looks around at the devastation surrounding his place. Brand new homes that were beside him were blown back across the town's main street, he said.
"Is this one going to survive the next storm? Who knows? I'm scared to death," he said. "You want to make it through the next one? Don't build on the beach."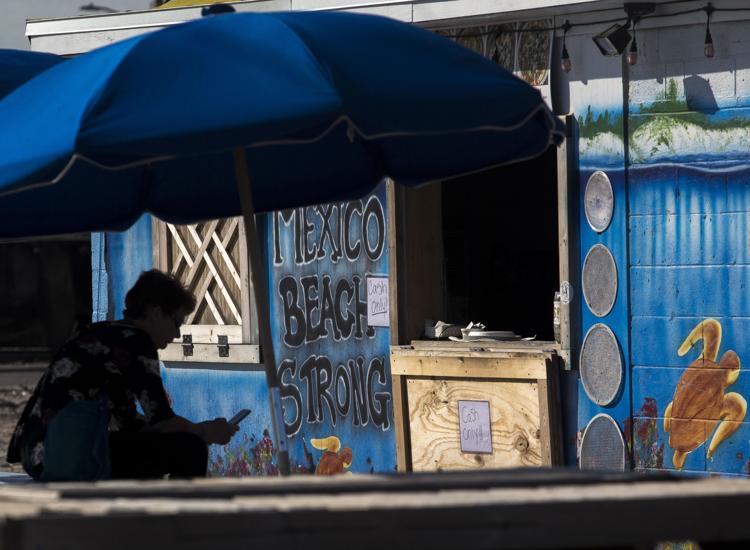 Rebuild
The irony of it all puts a tired smile on Mayor Cathey's face.
His hardware store was flattened during the storm. But an older barn-like warehouse behind it stood without crippling damage. He's operating the business from there.
"That old red warehouse held together. We don't know how or why. But we got it up and running," he said. And business, as you might expect, is very good.
"Hell of a way to be busy, but it is what it is," Cathey said. 
Mexico Beach's 1,200 residents are about the population of Sullivan's Island. Folly Beach is twice as big.
The Florida city has a $3 million annual budget, 80 percent of which comes from taxes on properties that are now largely ruins. Cathey is faced with $60 million in debris removal costs alone. The city lost its police and fire station. The town has consolidated all its funds and savings into a single bucket, Cathey said, in order to keep operating.
Partisan political wrangling and other delays have stalled both state and federal aid except for preliminary FEMA benefits. 
"We can't recover if we can't pay our bills," Cathey said.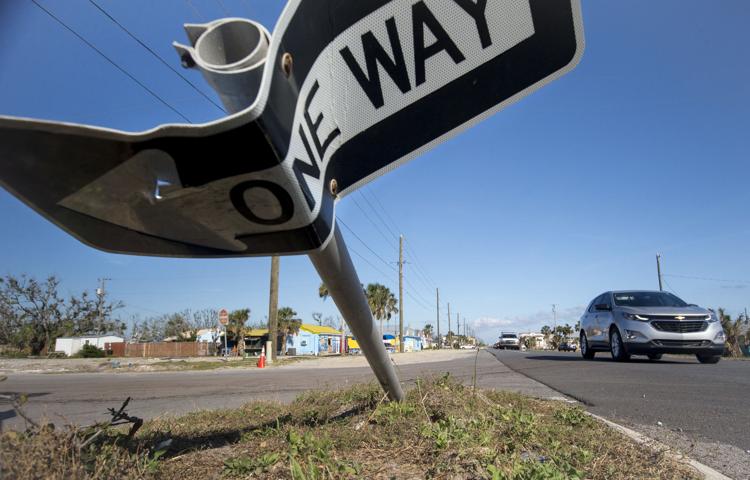 But homemade signs posted in front of the empty slabs read "not for sale" or "no trespassing," as if there were anything to trespass except sand and debris. It's the residents' response to high dollar developers who have been cruising to buy large swaths of property on the cheap.
The word Cathey and others like to use about Mexico Beach is charm. It didn't have the Myrtle Beach-style glitz of Panama Beach. It was more laid back, a family beach destination, a place where vacationers made friends and returned year after year.
They want that back.
"We don't need to be big and tall and bright lights," Cathey said. "You can't get too bug-eyed. You have to stay in front of what you're dealing with."
To get back to where the city was, "we're going to have our paddle in the water a long time," he said.