You're seeing the Post and Courier's weekly and breaking storm newsletter, Hurricane Wire. We walk you through what's brewing in the Atlantic, what the experts are saying this season, some history from past storms and even provide special maps and data visualizations to help you make sense of it all. Sign up here.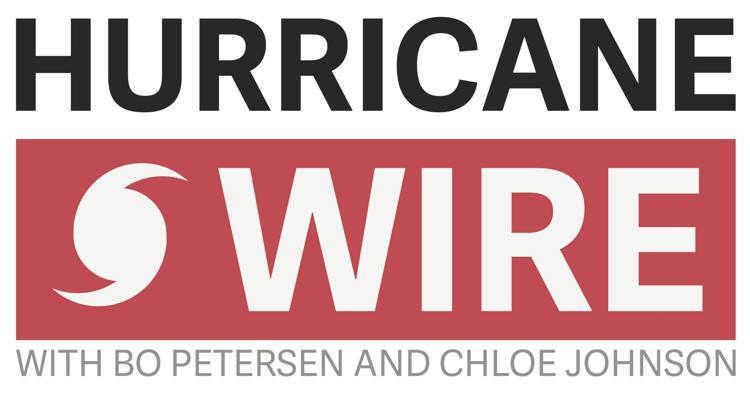 Don't let the quiet start to this year's hurricane season lull you. The leading computer models suggest that sometime next week a potential hurricane will be strengthening as it crosses the Atlantic, powerful enough that it came off Africa already spinning.
Game on.
It's that time of year — the Cape Verde period when storms whirling off the west African coast turn into major hurricanes that pose the greatest threat to the Southeast and Gulf coasts.
Two of every three tropical systems develop in the weeks from Aug. 20 to Oct. 10.
Meanwhile, a cluster of thunderstorms could become a tropical storm early next week as it moves up the Southeast coast from the Bahamas. That storm is forecast to douse the Carolinas with heavy rain.
And Tropical Storm Chantal formed earlier this week, farther north in the Atlantic than any named storm since 1988.
Before Chantal, no tropical storm or worse had emerged since Hurricane Barry in mid-July, simply because winds in the Atlantic have been knocking down the unsettled weather that would produce them. The phenomenon is pretty unusual but not unprecedented.
As recently as 2014, it took until Aug. 24 for the third tropical system, Hurricane Cristobel, to form, said Phil Klotzbach, lead scientist of the Tropical Meteorology Project.
Some years it's taken until September.
In 1992, after a similar "quiet" mid-season, Hurricane Bonnie emerged in late August and blasted South Carolina before making landfall in North Carolina with winds stronger than 100 mph. More than 200,000 people evacuated from the Myrtle Beach area and an estimated $25 million in damage was done in the Palmetto State alone.
What's brewing?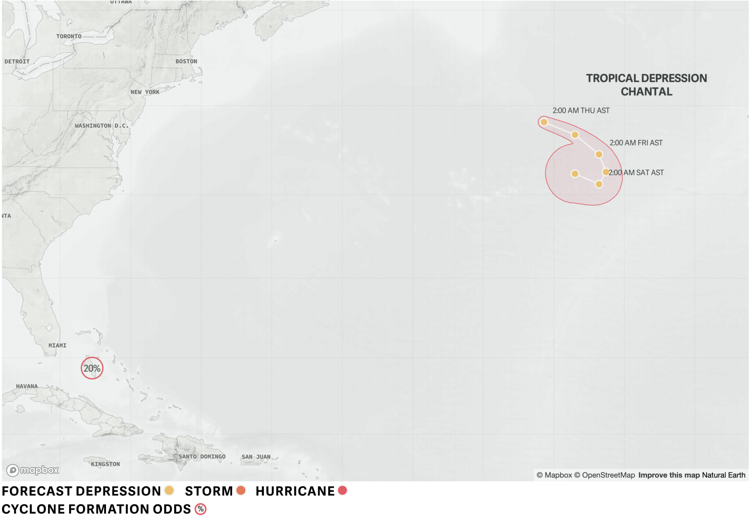 Conditions: The seas continue to be a mess of hot water and winds that seem primed to produce a storm and just as primed to knock one down.
Computer models: They're beginning to register trouble. The hurricane predicted to form crossing the Atlantic emerged from a series of African monsoons that came off the coast already spinning.
Outlook: In addition to that line of monsoon rains, forecasters are keeping an eye on the northern stretch of the Gulf of Mexico along the U.S. coast, said meteorologist Jeff Masters with the forecasting company Weather Underground.
What we're talking about
As the climate gets warmer and storms become more frequent, you can expect South Carolina spiders to get more aggressive (and cannibalistic). Read the study here.


Could a hurricane lash Los Angeles? A deadly storm came close 80 years ago.


Hurricane Camille hit Virginia 50 years ago on Monday. Capital Weather Gang has a look back at the storm, which was the state's deadliest natural disaster ever. 
Where are the most dangerous storms likely to form during peak hurricane season?
We're moving into hurricane season's peak, and while the season has remained quiet so far, there's no guarantee that it will stay that way. So where are the most dangerous storms likely to form?
A Post and Courier analysis of the National Hurricane Center's HURDAT database — inspired by this tweet — reveals that it's the eastern and central tropical Atlantic that you'll want to keep an eye on this time of year. Generally speaking, the farther out from South Carolina's coast a storm is, the higher the chance it has to strengthen into a major hurricane.
Hurricanes in history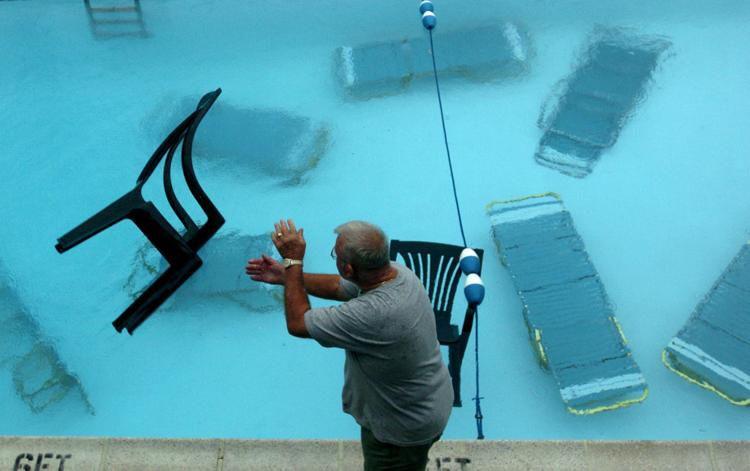 Davis Edge, owner of the Venture In Motel in Myrtle Beach, tosses a chair into a swimming pool as he prepares for Hurricane Charley on Saturday, August 14, 2004. Edge placed the chairs in the pool to prevent them from flying and scattering in Charley's winds. The stronger-than-expected hurricane roared over Florida's Gulf Coast as a Category 4 storm, resulting in at least 10 U.S. deaths. Charley then moved north, missing the westward curving coast of Georgia, and made a second landfall in South Carolina's Grand Strand with winds at 75 mph. The Venture In Motel has since closed. File/Staff
Your questions, answered
Have a question about how hurricanes work, how we cover them or any other storm-related questions? Email bopete@postandcourier.com and cjohnson@postandcourier.com and we may feature your question in an upcoming newsletter.