As scientists work on putting together an accurate picture of how climate change will alter hurricanes and tropical storms, some researchers are going backward in time — but the data they find is no less valuable.  
The process of re-constructing past hurricanes from the historical data is painstaking, requiring the patience to interpret centuries-old records and a detective's intuition on where to find the next clue.
There's also a little bit of globetrotting. 
Two of the most prominent American scientists in the field are Mike Chenoweth, an independent scholar, and Cary Mock, a climatologist at the University of South Carolina. The men have combed through boxes of old ship logs, plantation diaries, letters and even the work of treasure hunters as they attempt to complete the record of tropical storms. 
Chenoweth, who has a doctorate from the University of Reading in England, isn't associated with a research institution. By day, the Elkridge, Md., resident is a civilian employee for the Department of Defense; in his off time, he hunts for historical data on hurricanes. 
"You've got to get creative, and you've got to dig and dig and dig," Chenoweth said. "And the good news is there's actually more out there than I would have thought originally."​
For both men, the allure of telling a complete story of hurricanes in the Atlantic is their own treasure hunt. It also has big implications as scientists continue to develop their understanding of how climate change will alter tropical storms. 
By studying older storms, "Maybe we can identify some hurricanes that were much bigger or much more unique than what we ever thought, or whether some occur earlier in the season or later in the season," Mock said. 
Other scientific fields tracking ancient climatology have looked to variations in stone, ice and tree rings to try and track shifts in weather. 
However, documents, while more limited in the time period they cover, offer a degree of detail that simply can't be found in other records. 
"I can't go back a thousand or 5,000 years like (researchers in other fields) can, but I've got the documents and I can tell you, by God, what day and what hour that storm hit," Chenoweth said. 
'Working on a puzzle'
The primary sources for tracking old hurricanes are ship log books, which recorded vessels' locations and the weather conditions they encountered. 
Finding these documents often involves travelling to distant archives. Anything from the colonial period can usually be found in London, at the United Kingdom's national archives. Both men travel there multiple times a year and have already amassed a huge amount of data from its records. 
"For the 1700s, I've (read) essentially every British log book for Charleston that there was," Mock said. 
Other sources include old shipping newspapers, which are scattered around New England, Chenoweth said.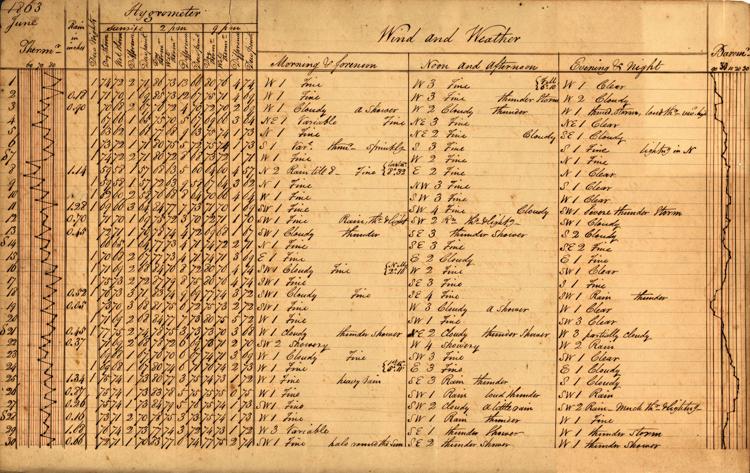 Other important sources for reconstructing hurricanes in the Carolinas are the papers of Alexander Glennie, a pastor at All Saints Episcopal Church, near Pawleys Island. He took detailed weather observations in his journal from 1828 to 1880 — a crucial half-century document created by a careful climate watcher. 
Treasure troves like the Glennie documents, however, are few and far between. Confirming a storm is actually a hurricane and pinning down its track is a big undertaking. It requires observations over a large area to sketch out a tropical system's telltale rotation.
Rarely will an observer catch the eye of a storm, Mock said, but a log book might show a sudden change in wind direction as a cyclone passes. That makes discoveries confirming or debunking a possible storm all the more satisfying, Chenoweth said. 
"It's like when you're working on a puzzle," he said. "Aha! I found the stupid piece! And you put it in."
Mock and Chenoweth have already published work on some of their discoveries, including the previously unrecorded 1863 cyclone they dubbed Hurricane "Amanda." 
The storm made landfall on the Florida panhandle in the midst of the Civil War. It was a notable find because it had not previously been recorded in the National Weather Service's HURDAT database of storms and because the researchers suggest it made landfall as a major hurricane — Category 3 or higher — in May, before the official start of Atlantic hurricane season. 
Both men said their goal goes beyond finding overlooked storms or other interesting anecdotes. They intend to compile the most complete records of Atlantic hurricanes possible. 
September gales
For much of the time period that Mock and Chenoweth study, the experience of anticipating a hurricane was far different from today.
Modern forecasts have become remarkably accurate in predicting the tracks of storms, leading to at least a week of anticipation and preparation for those in the projected path. Residents of colonies and the early United States often had little warning, however.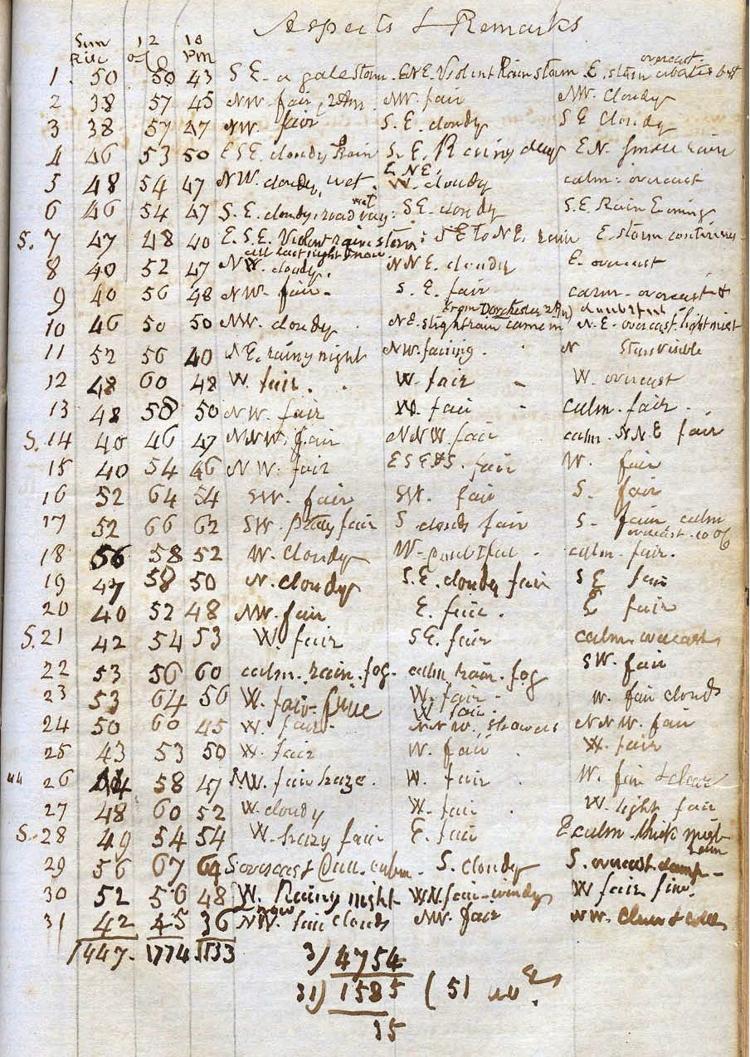 "Before 1870, they were kind of speculative, the tides and the phase of the moon or things like that," Mock said. "They just kind of guessed." 
Still, people living in coastal areas still had some sense of when a storm might hit. Journals, letters and other documentation often mention "September gales" or "equinoctial gales." 
Seeing either phrase doesn't mean that a storm was definitely a hurricane or even tropical storm.
"Scientifically, you have to look at the wind directions and things like that and look at them over a large area," Mock said.
The usage shows a general understanding that storms might arrive in early autumn — the peak of hurricane season.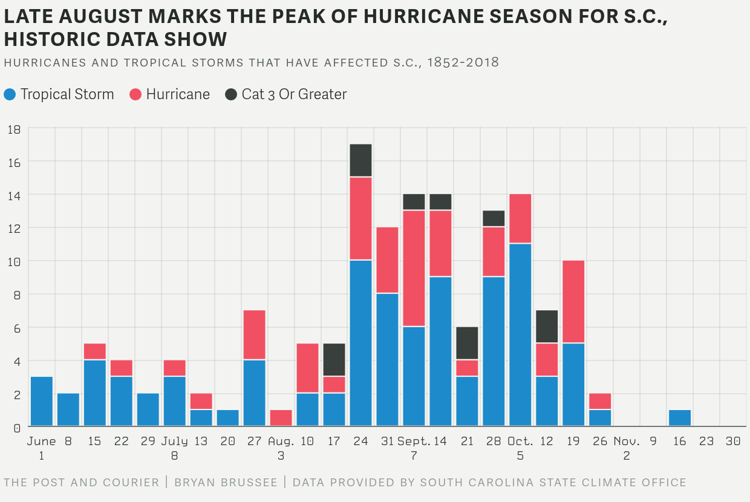 By the mid-19th century, a network of weather observers sprang up across the country, and, in 1870, the U.S. Weather Bureau, precursor to today's weather service, was established. 
Even as prediction science developed, human hubris sometimes got in the way. One of the most notorious examples is the 1900 Galveston hurricane, which killed between 6,000 and 12,000 people and devastated the previously prosperous port town. 
The storm still stands as the deadliest natural disaster in American history, in part because the fledgling U.S. Weather Bureau ignored warnings of a coming tempest from observers in Cuba. 
Connecting past to future
Part of the problem in Galveston, Chenoweth said, was deeply held prejudices against scientists in Cuba. He said another problem was that residents had lived on the barrier island for only about 60 years, "not enough time to find out how bad a hurricane strike can be at any one spot."
"That's kind of what's going to happen today with climate change now. People think they've seen all they can already. Well, the game hasn't even started yet," he said. "One human lifetime is not enough to witness all the variability."
Even for recent storms, a second look can be valuable. The National Hurricane Center routinely re-examines weather data and re-categorizes storms, as it did with last year's Hurricane Michael, upgrading the storm to a Category 5. The National Oceanic and Atmospheric Administration are also in the midst of re-analyzing storms dating back to 1851. 
All that data will help researchers better understand the way in which storms are changing. Already, research has shown that hurricanes are getting more intense, and they hold more water as the air and oceans warm. That's resulted in storms like hurricanes Harvey and Florence, both of which pummeled their areas of landfall with record-setting rainfall. 
Mock and Chenoweth are both still collecting and assessing data. Chenoweth said he's planning to start work on a book in the next year that he hopes will serve as the authoritative compendium of storms in the Atlantic Basin. 
Both men say it's too early to draw broad conclusions from their work. One trend that's apparent in Mock's research: In recent years, tropical storms are forming far earlier in the year than they did centuries ago. 
"I don't know if that's caused by global warming or something else. It's not clear enough yet," Mock said. "But you wouldn't know that's a longer-term trend if you didn't have a longer record."