Another storm means more worry.
Coastal South Carolina is bracing for another round of erosion, just over a month after surge from Hurricane Ian damaged dunes and washed away sand from several beaches along the Atlantic Ocean. 
Large breaking waves up to 6 feet from Tropical Storm Nicole — which made landfall in Florida as a hurricane and is expected to weaken to a tropical depression before its core passes over South Carolina — are expected for parts of the coast until early Nov. 12. The rush could lead to significant erosion on beaches that aren't equipped to handle much more. 
Ann Wilson has worked as a park ranger for Myrtle Beach State Park since 1994. She said Ian's dune destruction was the worst she has seen, even worse than Hurricane Matthew, which hit as a reduced Category 1 in 2016.
"If we had an Ian right now, everybody's in trouble," Wilson said.
She likened the protective role of sand dunes in storms to the role of offensive linemen protecting the quarterback in a football game.
"Sand dunes are our first line of defense against storms, wind and waves," Wilson said. "The sand dunes did their job during Ian. It was a really rough game, and a lot of our players went out on injured reserve. If we had a Super Bowl tomorrow, we're barely going to show up."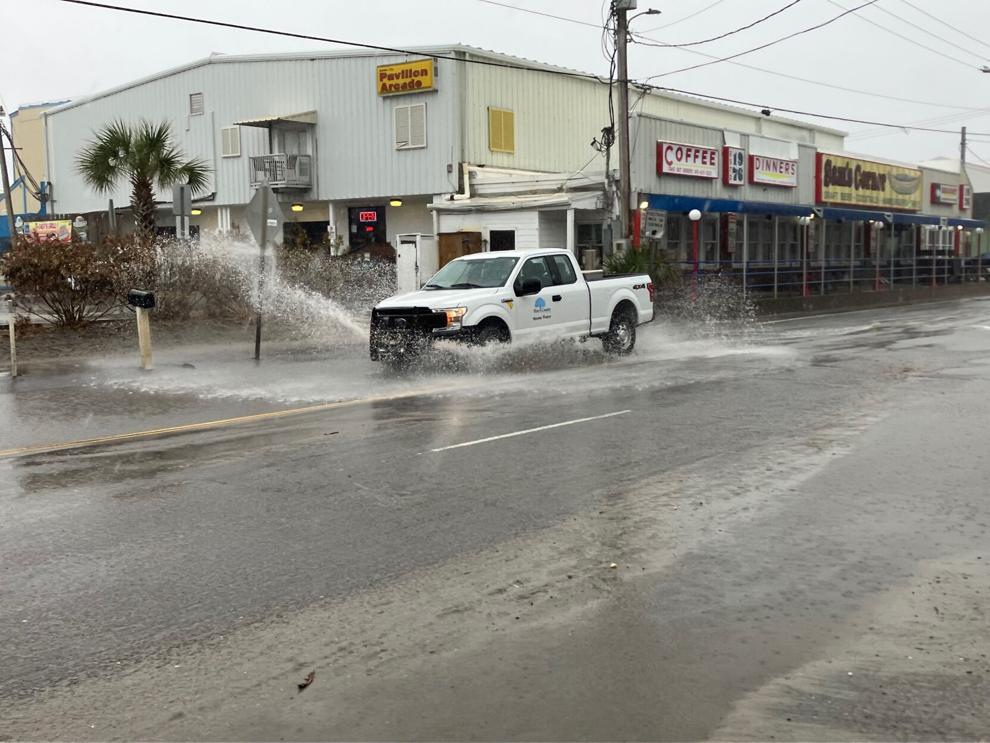 After Hurricane Hugo decimated the dunes in 1989, regrowth efforts took place along the coastline. But Ian destroyed 20 to 30 feet of sand dunes off the park's shoreline, which equate to decades' worth of regrowth.
Because Nicole is not expected to hit the coast as directly or as forcefully as Ian, Wilson said she does not anticipate many issues related to flooding beyond areas where flooding typically occurs during storms, like in Garden City or Cherry Grove in North Myrtle Beach.
"The dunes will rebuild, but it's not up to us on a timeframe," Wilson said.
The U.S. Geological Survey said 55 percent of South Carolina's dunes are forecast to face some level or erosion and about one percent could become inundated.
Pawleys Island, bordered to the west by Pawleys Creek and to the east by the Atlantic Ocean, saw several feet of storm surge brought on by Ian that washed sand and debris into the roads and collapsed the Georgetown County town's pier.
Nicole's march toward the Upstate on its way to the mid-Atlantic region and beyond brought street-level flooding during high tide the morning of Nov. 10, with similar flooding seen on the Charleston peninsula.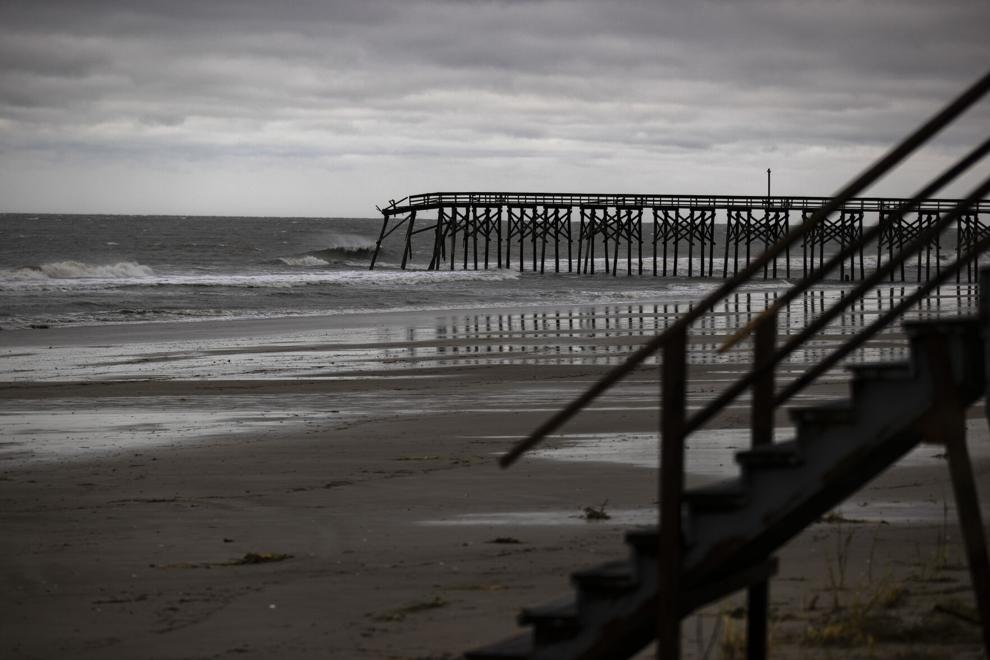 Subsequent high tides on Pawleys Island should be less severe, said Town Administrator Daniel Newquist.
"I think it's what we anticipated," Newquist said. "We anticipated, during the high tide period, water coming over the creek bank and into the roadways."
Newquist said he planned to inspect the town's beaches during the afternoon low tide. In an email to island property owners, he said the town is "certainly" concerned about the potential for beach erosion so soon after Ian.
Of beach damage from Ian, Newquist said "fairly significant" erosion occurred and that beach renourishment undertaken in previous years was vital in protecting seaside properties. The Army Corps of Engineers began surveying the sands of Pawleys Island days after Ian's landfall.
"We're going to leverage whatever resources are available to us to get the beach back in good shape, but we did get a decent start, I think, with the dune repair work that's been done with our contractor," Newquist said.
Folly Beach also lost a good bit of sand during Ian. And the city had already hit its renourishment triggers prior to the storm, said Eric Lutz, the city's director of building, facilities and public works.
But Lutz said the Charleston County beach should be OK during Nicole. 
"There will just be less of it to sit on at each high tide," he said in an email.
Flooding from Ian was mostly under elevated houses on the east end of the island and the marsh side.
The city also expected flooding on the back of the island from Nicole. To prep, staff was checking storm drains and putting barricades and cones in place for possible road closures. 
Nicole Elko, president of Elko Coastal Consulting, said Folly Beach has little to no capacity to withstand additional erosion from another storm. She is working as a coastal consultant for the city.
"Fortunately, the dune system is robust along most of the island, and that will help protect the upland infrastructure," Elko said.
The city is in the process of requesting federal emergency rehabilitation assistance, partly because of the lack of storm protection and flood mitigation in place to buffer from another hurricane, Elko said. 
Other beaches in the Lowcountry also noted damage to dunes and loss of sand during Ian, but they weren't particularly worried this time around.
"We're not really doing anything to prevent that situation other than warning residents to be careful if they go in the ocean," said Andy Benke, Sullivan's Island town administrator.
Officials in Kiawah Island and Edisto Beach said they did not see measurable impacts from Ian.
Although coastal erosion wasn't a big issue on Hilton Head Island either, the town started preparing for Nicole this week by removing beach mats, wooden trash bins and umbrella boxes up to the dune lines in beach areas.
Town officials reported high tide coupled with storm surge on Nov. 10 brought "considerable flooding" along some roads and island beaches. Along with flooding, officials warned residents about beach erosion, rough surf and dangerous rip currents.
Nicole Ziege contributed from Myrtle Beach and Mike Woodel from Georgetown County.