Irma's eye may have not entered the state, but it's massive bands stretching 415 miles from its center plowed through the Charleston area Monday, wreaking havoc with heavy flooding and multiple tornado warnings in parts of the Lowcountry.
Big takeaways so far today:
-FLOODING: Our reporter, Gregory Yee, attempted to do a Facebook live from The Battery around 10:30 a.m. Monday morning. Conditions were so bad he had to cut the broadcast short.
-The Charleston area experienced a large amount of flooding, since Irma's approach happen to coincide with high tide, which occurred at approximately 1:25 p.m. the Charleston Police Department advised that citizens avoid downtown all together until conditions subside. (Read more.) 
-Many roads in the Charleston area have been closed due to flooding. See the updated list, here.
-TORNADOES: The National Weather Service issued multiple tornado warnings around the Lowcountry starting at 12:30 p.m. Monday.  The most recent warnings included  several communities in the Charleston area and to the south on the South Carolina coast until 3:15 p.m. Eleven South Carolina counties, including Charleston are under a tornado watch until 10 p.m. (Read more.)
IOP Resident shared photo taken of water spout near 5th Ave, no damage. It dissapated dumping lots of water in that area. #Irma2017 pic.twitter.com/QShwO5beEa

— IsleofPalmsPD (@IsleofPalmsPD) September 11, 2017
About Five Minutes Ago A Tornado Formed Over The Ocean Here At Isle Of Palms! @ABCNews4 pic.twitter.com/0YJBc5Gs0C

— Ar'Darius Stewart (@darius_dreams) September 11, 2017
SCOPE: 147,00 power outages, 83 road closures, 2,081 roads clearers, 25 shelters for 885 evacuees
-The Isle of Palms Police Department said in a tweet that a water spout developed off the beach near fifth avenue earlier Sunday afternoon. The spout dissipated, dumping lots of water into the area. However, it caused no damage. 
- ELECTRICITY: More than 140,000 power outages have been reported across South Carolina due to damage from Irma as of 2:30 p.m. Monday.  
- At 1 p.m. Monday, power on Folly Beach was out, and the road to the beach was shut because of flooding. (Read more.) 
- MCMASTER: At a 2 p.m. news conference, Gov. Henry McMaster and state emergency officials said that the storm is not over yet. They advised to stay indoors even after the rain stops and called flooding in Charleston severe.
- McMaster was also asked about a tree that fell on an apartment he owns in Columbia. He said that college students rented the home and that they were "safe and accounted for."  
Current conditions and forecast: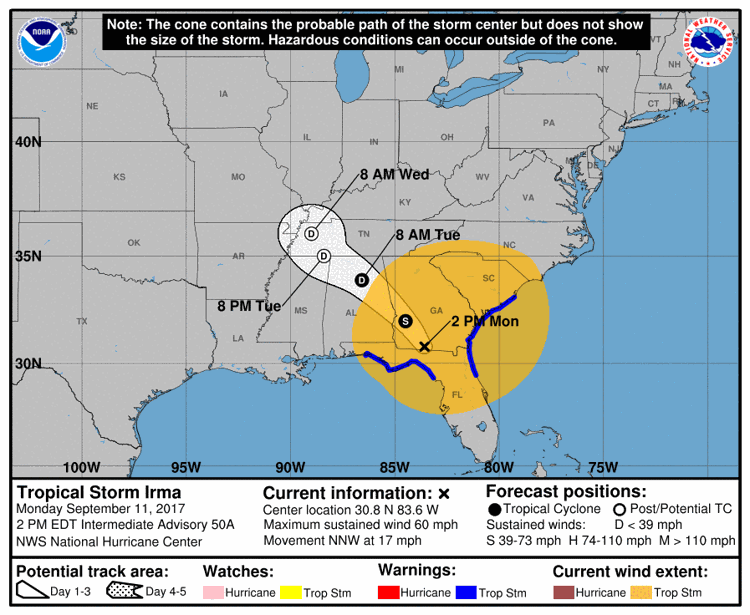 - As of 2 p.m., Irma remained a large tropical cyclone with winds extending 415 miles from the center, according to an advisory from the National Hurricane Center. 
- The advisory said that South Carolina should expect to accumulate 2 to 4 inches of rain through Wednesday. The advisory also cautioned that tornadoes are possible today in South Carolina. 
Other tidbits:
- The iconic Folly Beach boat, which Hugo washed up ashore 28 years ago, was washed away by Irma Monday. (Read more.) 
- Edisto Island, a town that got slammed during Hurricane Matthew, is yet again getting hit with a severe storm surge. Our reporter has been chasing the effects in Edisto. His Facebook Live shows a bit of what's been going on there: (Read more.)
Hurricane Matthew eye went over Charleston County. #Irma's is 200 mi away. Appears that Matthew's impact on SC coast nothing compared w Irma

— Andrew Knapp (@offlede) September 11, 2017
What to do when you encounter moving water on the road: back up and get out. Connector from Edisto Beach. #chswx #Irma pic.twitter.com/hdVRpAYTJR

— Andrew Knapp (@offlede) September 11, 2017
- As Irma's impacts arrive in downtown Charleston, residents find ways to stay entertained (Read more.) 
The Post and Courier Staff contributed to this report.