As Irma blasted through Florida Sunday, Charleston already felt some effects of the massive storm from hundreds of miles away.
But forecasters say that Monday will be the worst day for Irma's effect on the Lowcountry, when the area could experience a 6-foot storm surge mid-afternoon.
Today's big takeaways:
-FLOODING: Even though Irma's path is predicted to stay far west of Charleston, the storm's wind directions will likely still cause storm surge in the Lowcountry. Despite minimal rainfall, several parts of downtown Charleston began to experience flooding during high tide Sunday afternoon, when the storm surge was expected to be 2 to 4 feet above ground. On Monday it could reach 6 feet. (Read more about what this means.)
For an idea of 4-6 ft of inundation, check out the Sea Level Rise Viewer from @NOAADigCoast. #scwx #gawx https://t.co/n9HPBnJEk6 pic.twitter.com/sjf9lmAKtu

— NWS Charleston, SC (@NWSCharlestonSC) September 10, 2017
-Berkeley County officials have asked residents near the French Quarter Creek in Huger to temporarily relocate due to flooding that could exceed levels experienced during Hurricane Matthew.
-MCMASTER: During a news conference Sunday, Gov. Henry McMaster said that he was worried Irma could cause as much damage as Hurricane Matthew did in some parts of the state. "Our main concern is safety of the people," he said.
-McMaster also said that President Donald Trump called him Sunday morning and assured the governor he was will to do anything he needed. (Read more.)
-WATCHES/WARNINGS: The Charleston area remains under both a tropical storm warning and storm surge warning from the National Weather Service. Evacuation orders remain in place, per McMaster, for barrier islands in Beaufort, Colleton and Jasper counties. 
-HAZARDS IN S.C.: The National Weather Service noted in a 5:30 p.m. briefing that parts of South Carolina should be prepared for storm surge, high wind, flash flooding, tornadoes and life-threatening surf conditions. (Read more about what these conditions could mean for the Lowcountry.)
-SHELTERS: The city of Charleston has opened two shelters at 3765 Leeds Ave. and 3841 Leeds Ave. Buses will resume free transportation to the shelter at 8 a.m. Monday and will continue as wind speeds allow. See the list of pick-up locations here.
-FLORIDA: According to the Associated Press, Irma barreled through Florida Sunday with winds up to 130 mph, swamping homes and boats, knocking out power to millions and toppling massive construction cranes over the Miami skyline. Irma is expected to hit the Tampa-St. Petersburg area early Monday, though in a much-weakened state.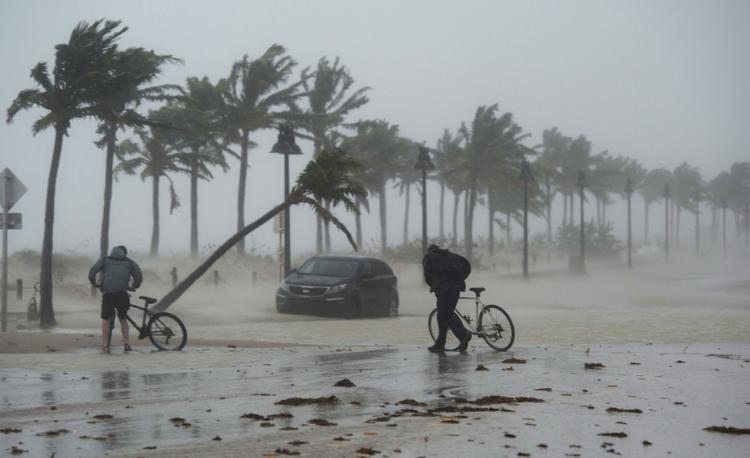 Current conditions and forecast:
-As of 8 p.m. Sunday night, Irma had downgraded to a category 2 hurricane. (It hit Florida initially as a category 4 storm). It was located just north of Fort Myers, Fla, according to the National Weather Service.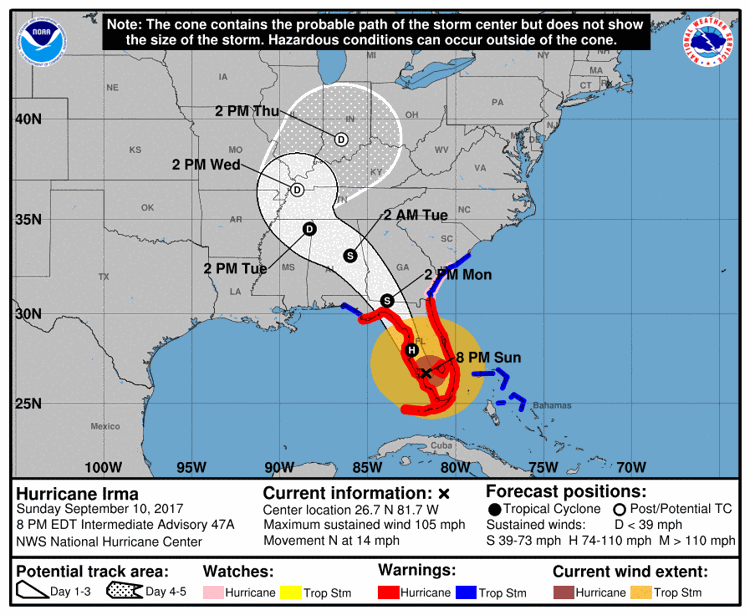 -Irma's maximum sustained wind speeds were near 105 miles per hour, with higher gusts. Irma was expected to continue weakening but remain a hurricane at least through Monday Morning.  
-Irma's path gets closest to the Lowcountry early Monday afternoon. High tide will occur around 1:30 p.m. 
Other tidbits:
-In today's Brian Hicks column, Hicks points out that over the past five years, many of S.C.'s representatives in Washington have voted against hurricane aid. "Paybacks could be hell," Hicks says. (Read more.) 
-On Saturday and Sunday, Charleston's available C-17s helped transport about 300 health care professionals from Washington Dulles International Airport to Florida's Orlando International Airport in preparation for disaster response operations. (Read more.) 
The Post and Courier staff and The Associated Press contributed to this report. 
To help keep you up to speed with Irma's rapid forecast updates, we will be posting quick round-ups of the latest news three times daily: 9 a.m., 3 p.m., 9 p.m.