Despite an evacuation ordered by the governor and a storm surge watch, most residents of Charleston's barrier islands have decided to stay put for Hurricane Florence.
On Thursday morning — less than 48 hours before the hurricane was projected to make landfall as a Category 2 storm — surfers on Folly Beach and Isle of Palms took advantage of 3- to 5-foot waves. Elderly couples lounged in beach chairs. Parents walked the shoreline with their children. 
Residents said they were expecting flooding, but they were not expecting hurricane-force winds to tear their houses down. 
"We're staying," said Mount Pleasant resident David Daigneault, who was on the Isle of Palms beach with his wife and the youngest two of their four children. "Everyone I know is staying."
Residents on Folly Beach believed most of their neighbors planned to stay. The same went for Isle of Palms residents. 
Isle of Palms Mayor Jimmy Carroll said most vacationers staying at rental properties had left the island by late Thursday morning, but not residents.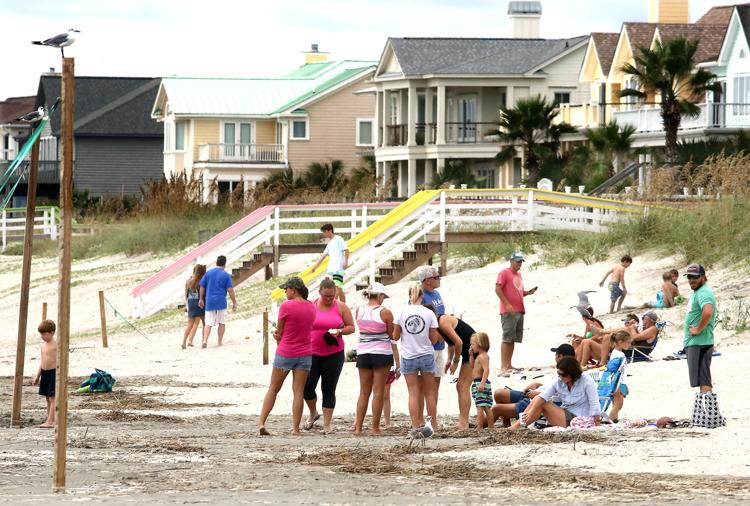 "If I said 25 percent of the people left, I'd be exaggerating," he said. 
By contrast, about 425,000 of the roughly 750,000 people who live in areas under the evacuation order have fled the coast, Gov. Henry McMaster said Thursday. 
Christina Speciale, a meteorologist with the National Weather Service, predicted on Thursday afternoon that as the hurricane moves southwest over the weekend, its spin will push prevailing winds in the direction of Isle of Palms. Such an event could bring 2 to 4 feet of storm surge to the Sea Islands, Speciale said. 
'We got lucky'
A piano player, Daigneault said that as Hurricane Florence is expected to move inland Friday evening, he'll be busy performing at Carolina Ale House in Summerville. His family considered leaving earlier in the week, when the forecast looked more threatening for the Charleston area.
"I think we got lucky," he said.
One of his older children, a teenager, is heading to Orlando, Fla., with friends for what the family dubbed a "hurrication."
In Mount Pleasant, just across the marsh from Sullivan's Island and Isle of Palms, officials conducted surveys on social media to see if residents were heeding McMaster's evacuation order and Mayor Will Haynie's video urging people to leave.
The result? Just over a third of the people who responded to the town's polling on Facebook, Twitter, Instagram and NextDoor said they were evacuating. More than half said they weren't and the rest were undecided, after 2,735 votes.
"Yesterday, when we started polling, we saw a higher number of undecideds," said Allison Lane, a town Recreation Department employee handing the social media effort. "That has been trending towards 'no.' "
The likely culprit for the trend was updated Hurricane Florence forecasts Wednesday night and Thursday morning that said the hurricane had weakened and would make landfall in North Carolina, north of previous forecasts.
David and Christine Magnarella Ray moved to Mount Pleasant from Colorado a month ago, and they are among the town residents who were evacuating.
David Ray was checking the tire pressure of their car at a Ben Sawyer Boulevard gas station Thursday, about to head for Greenville with his wife and 15-year-old daughter.
"We had checked with our friends who live here, and they are leaving today," Christine Ray said, adding that they live near the marsh where flooding is likely.
They'll make the most of evacuation by taking their daughter to the World Equestrian Games in North Carolina, near Greenville — another teenager getting a "hurrication."
Battened hatches 
At The Co-Op, a small Sullivan's Island eatery that was among few businesses open Thursday on the barrier island, owner Jess Patterson was working alone as a steady stream of customers came in for sandwiches and drinks.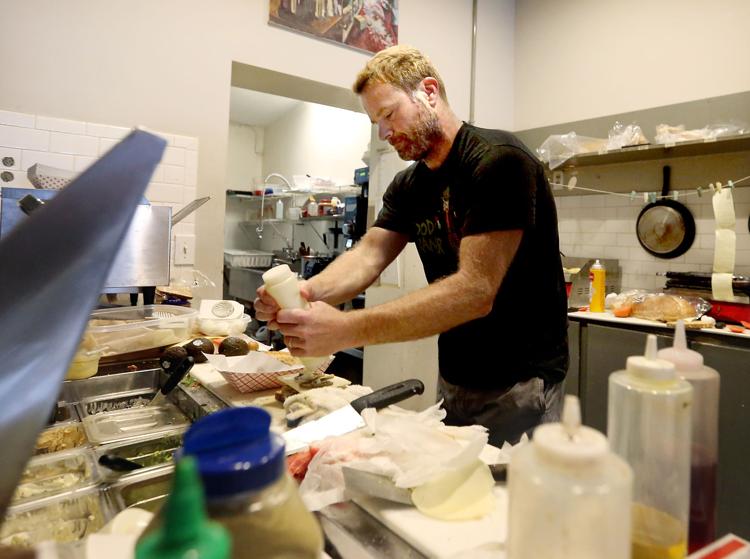 "We're the cafe on the island," he said. "We stayed open during (Tropical Storm) Irma until we had about a foot of water inside."
"We sandbag both doors," Patterson said. "It does help, but if the water's going to come through, it's going to come through."
Patterson and his wife live on Isle of Palms, at Wild Dunes, and don't plan to leave. 
Co-Op customer Julian Greim grew up on Sullivan's Island — he was 9 years old when Hurricane Hugo hit as a Category 4 storm in 1989, destroying neighbors' homes but sparing his parent's house at Station 29. He and his wife plan to ride out Hurricane Florence at a house they bought on the island four years ago.
He's not a die-hard. Greim did evacuate for Hurricane Matthew, and made a hotel reservation for Irma, but didn't go. His house is elevated, and the windows are hurricane-rated.
"I feel like the mandatory evacuation on Tuesday was premature, especially for the whole coast," said Greim, who had dropped in for some jerky and a bottle of water. "If it were headed right for us, I'd be out of here."
State Rep. Mike Sottile was Isle of Palms' mayor from 2001 through 2008 and a councilman for 11 years before that, so he's been through plenty of hurricane scares. As a child, his family left the island ahead of Hurricane Hugo, sheltering in Mount Pleasant.
"I've run from a lot of hurricanes in my time," he said.
But Sottile isn't evacuating for Florence, and most fellow residents on the island appear to have made the same decision.
"I wouldn't fault anybody (who stays)," Sottile said. "If it wasn't going to be a direct hit, I probably wasn't going to leave. You have to deal with the inconvenience of leaving, and the inconvenience of going back."
'Super emotional'
Andy Lassiter, a Folly Beach resident and business owner, adjusted a tripod on the beach as water rolled up on its legs. He filmed some of the roughly 30 surfers who had come out to take advantage of the hurricane-fueled swells. 
"I'm the unofficial Folly Beach documentarian," he joked. 
Lassiter has lived on Folly Beach for the last eight years. He was not planning to evacuate, and he said most of his neighbors were not either. 
"I see a lot less boards on windows than I would have expected," he said. "More people probably waited 'til the last minute." 
Not all beach-side residents were as confident in their decision to stay put. 
On Folly Beach, Hunter Lawrence adjusted her sunglasses as she ran after her 22-month-old son, who had wobbled gleefully toward 5-foot waves at Folly Beach. 
The mother and son matched; he donned a striped blue T-shirt that said "Ocean is Endless" while she wore a bright blue tank top sporting an image of a surfboard and black running shorts. His wispy blond hair blew in the breeze. Her blond hair was pulled into a neat bun. 
Until recent years, Lawrence had never considered evacuating because of a hurricane. She grew up on Isle of Palms, where she weathered Hurricane Hugo in 1989. She and her husband defiantly rode out Hurricane Matthew and Tropical Storm Irma at their Folly Beach home. 
But things have changed, she said. She is 15-weeks pregnant. 
"I'm super emotional," she said. "I'm hyper-emotional, thinking, 'We gotta get out of here!' "
During Irma, about 6 inches of floodwater seeped into the family's Folly Beach house, which is about three blocks from the beach. On Thursday morning, her husband boarded windows and laid sandbags. No matter what, he plans to stay. Most of their neighbors are staying put, too.
Lawrence continued to eye the forecast and wondered if she should leave.
"This storm has been so unprecedented," she said. "The storm surge is what we need to worry about." 
To the south of Folly Beach on Kiawah Island, farther from the hurricane's projected path, the day was much quieter. Most of Kiawah's residents had evacuated and most businesses had closed, said Mayor Craig Weaver. 
Bo Petersen and Andy Shain contributed to this report.