BEAUFORT — Challenges to books in school libraries have usually been one-off affairs, in which a parent files a complaint over a single text. 
But late last month, Beaufort County was the latest school district to see a fundamental shift in how materials are challenged. 
A small-but-vocal faction of community members exhorted the Beaufort County School District to pull 97 titles from its library shelves. 
Ivie Szalai, a 51-year-old Seabrook resident with a daughter in the district, asserted that the books include passages inappropriate for children and even teenagers.
"I know that many of the books in question may have extremely helpful material for many students, but that does not negate the fact that many of them contain explicit sexuality, even some pornographic, X-rated scenes," Szalai recently told the school board. 
Late in October, Superintendent Frank Rodriguez opted to take the books out of circulation until they can be evaluated by a library materials review committee. 
A few days later, parents showed up at a school board meeting to protest the decision. However, the board did not direct the district to reverse course.
Residents' lump-sum objections to books come at a time when political candidates are calling for parents to have more say about what children are learning. Republican Ellen Weaver, who on Nov. 8 was elected South Carolina superintendent of education, campaigned on increasing parental control over school curriculums.
A nationwide trend
The challenge to the district's libraries is hardly unique to Beaufort County. Similar scenes are playing out across the state as parents and community members attempt to remove titles to which they object from libraries. 
Josh Malkin, an American Civil Liberties Union legal fellow, told The Post and Courier that the ACLU was monitoring similar challenges in Aiken, Greenville, Horry, Lexington, Pickens and Spartanburg counties. Some of those counties are facing multiple challenges.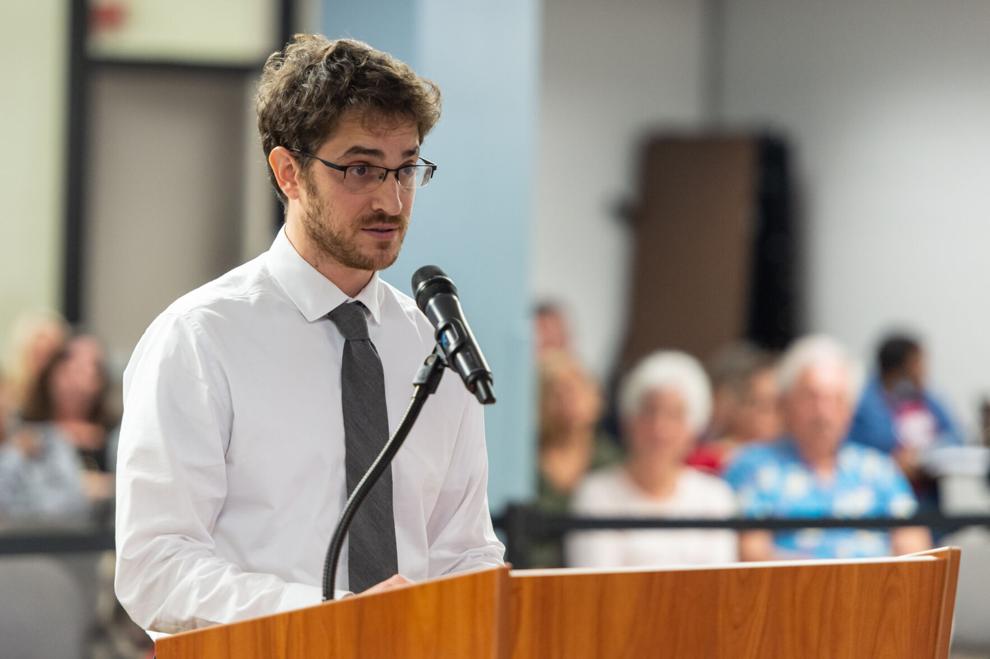 The American Library Association reported that 2022 will likely see record attempts to ban or restrict library resources nationwide. 
The ALA documented 681 such attempts in 2022 through the end of August. Those efforts targeted 1,651 unique titles.
In 2021, the ALA reported 729 attempts to censor library resources, targeting 1,597 books. That was the highest number of attempted book bans since ALA began tracking this data more than 20 years ago.
More than 70 percent of the attempts made in 2022 to restrict library resources targeted multiple titles. 
"The unprecedented number of challenges we're seeing already this year reflects coordinated, national efforts to silence marginalized or historically underrepresented voices and deprive all of us — young people, in particular — of the chance to explore a world beyond the confines of personal experience," said ALA President Lessa Kananiʻopua Pelayo-Lozada.
But those challenging library titles at Beaufort County schools frame their thinking differently. Their public comments centered on protecting children. 
"For those of you who speak about banning books, you speak out of ignorance, because if my child was in your home and you gave them one of these books, I would have you arrested and rightfully so," said David Cook during the Nov. 1 board meeting. 
Parents protest decision
In Beaufort County, the district's decision to pull the books sparked a swift reaction. At the next school board meeting, held on Nov. 1, nearly two dozen people spoke out in protest, calling for the books to be returned to the shelves. 
"Book banning is just a veil to promote racism, homophobia and sexism to stop the acceptance of diversity in our culture," said Barbara Berry, a retired high school English teacher who said that she had read 25 of the 97 books. 
Also speaking during the Nov. 1 school board meeting, Emily Mayer noted the diversity of the district's students.
"What message do we send to the students of Beaufort County schools who see themselves represented in the books you seek to ban?" Mayer asked. 
Although speakers objecting to removing the books outnumbered those in favor 10 to one that evening, school Superintendent Frank Rodriguez remained firm that the district would continue with its plan. 
A set of 15 seven-member committees — to include educators, librarians, district administrators, school parents and community members — will be assigned several titles to assess for accordance with the district's guidelines.  
McMaster sets the tone
The showdown at the Nov. 1 board meeting had been long in coming. 
A year ago, Gov. Henry McMaster weighed in on "Gender Queer: A Memoir" by Maia Kobabe.
In a Nov. 10, 2021, letter to Superintendent of Education Molly Spearman, McMaster objected to parents in York County having to petition the district to remove the book from a school's library. He said that "even a cursory review" would have revealed that it contained sexually explicit and pornographic depictions. 
In her response, Spearmen noted that the state does not have authority over texts purchased by the school districts.
But she did suggest to superintendents they they review their materials for age and content appropriateness. 
Reacting to Spearman's comments, Beaufort County schools in early 2022 set about revising its policies for acquiring new material and creating a process to allow parents to challenge library materials.
The district's process requires parents to submit a reconsideration form. The three-page form asks complainants if they've read the book and requires a detailed critique of the material. 
Speaking to The Post and Courier, Szalai complained that the form was cumbersome.
"In my opinion, it was designed to discourage submittal," she said.
The review process also includes an opt-out option allowing parents to prevent their children from accessing library materials to which the parents might object. 
Criminal complaint filed
The people objecting to books in Beaufort County school libraries did not use the district's protocols. 
As classes were getting underway this fall, the district received a list of 16 titles with material considered objectionable. The school district has not disclosed who submitted that list. 
During the Oct. 18 school board meeting, three people complained to Rodriguez, senior district staff and the board about the sexual content of books available to students. 
During the public comment period, two people read explicit passages from books they said were available in the district's libraries. 
One of those speakers, Bluffton resident Joseph Castagnino, also alleged that providing the books to students constituted distribution of pornography to a minor, a criminal act. He and another speaker threatened to file a criminal complaint with law enforcement.
"The school district, the administration and the librarians need to be held accountable for these books in our schools," Castagnino said.
A week later, Castagnino filed a complaint with the Beaufort County Sheriff's Office. It stated that he wanted the school district to be held criminally liable for making books — identified in a list he provided — available to minors. 
"We received a complaint. However, we are not investigating the matter," said Maj. Angela Viens, a Sheriff's Office spokeswoman. "The report was written for documentation purposes only." 
The 97-book list 
The day after the three speakers addressed the school board, Szalai emailed the district. The message included a list of 96 titles that she wanted removed, including some used in the high school's advanced placement classes. Those included "The Handmaid's Tale," "The Perks of Being a Wallflower," "Speak" and "The Kite Runner."
"This needs to be addressed immediately by district staff without any direction from the board," Szalai wrote to Rodriguez, district Chief Instructional Officer Mary Stratos and school board members. "There are parents who are ready to escalate this to authorities."
Another community member, who has not been identified by the district, sent the district a list with 97 titles the same day. It mirrored Szalai's list except that it added the book "Stamped" by Jason Reynolds and Ibram X. Kendi. The book discusses racism and is available in four different versions targeting different age groups.
Cathy Robine, who represents District 8 on the school board, responded to Szalai via email, stating the books would be removed for review once Szalai completed a reconsideration form for each title on her list.
Szalai protested. Rodriguez allowed her to complete a single form for the entirety of her list. 
The district removes books from shelves 
Speaking to The Post and Courier after the Nov. 1 board meeting, Rodriguez explained his decision to remove the materials, stating that newly approved rules gave the district explicit authority to initiate administrative reviews. 
The district has always had the right to pull materials any time objections are brought to their attention, said Candace Bruder, BCSD director of communications.
In addition, district officials wanted to protect educators, Bruder said. Officials were concerned about potential harassment and intimidation of staff. She said that the district had received several Freedom of Information Act requests for the names of district librarians and media specialists.
Moms for Liberty
Despite the urgency they express, not everyone is convinced that those calling for books to be reviewed have organically arising concerns. 
Mare Deckard, who protested the district's decision during the Nov. 1 meeting, followed up her comments by filing a challenge. In it, Deckard said organizations with political agendas were directing community members' efforts to remove books from Beaufort County schools. Permitting the influence of political ideologies violates the district's rules for handling challenges, she said. 
Deckard specifically mentioned Moms for Liberty, a conservative-leaning group based out of Florida that advocates for parental involvement in government and school policy.
The organization has 240 chapters across 42 states and over 100,000 members. There are 16 chapters across South Carolina from Charleston in the Lowcountry, to Lexington in the Midlands and Florence in the Pee Dee and Pickens in the Upstate.
Representatives of Moms for Liberty did not respond to a request for an interview for this article.
Following the Nov. 8 election, its founder did tell The Post and Courier that the group wants children to read books they consider age-appropriate, as well as ones they feel do not violate state and federal obscenity laws.
"If it has explicit graphic sexual material, then it has no place in a school," said Tiffany Justice.
Deckard also pointed to Szalai as being a central coordinating figure.
As evidence, Deckard provided a screenshot of an Oct. 19 Facebook post in which Szalai seeks volunteers from across the state to begin searching local school libraries for books considered objectionable.
"I, for now, will be your point of contact to compile the list for our entire state," Szalai wrote.
Szalai confirmed that she was a member of Moms for Liberty, but she denied the organization was behind the efforts to remove books from Beaufort County schools. She further denied that the list of books she provided was sourced from Moms for Liberty.
Szalai said she created her list by crosschecking titles on the booklooks.org website with the district's database, a process that she said took more than 30 hours. On her Oct. 19 Facebook post, Szalai also identifies booklooks.org as her source for potentially objectionable titles.
Information on booklooks.org states that the site provides ratings centered around objectionable content, including profanity, nudity and sexual content.
McKinley Person, speaking during the Nov. 1 board meeting, called Moms for Liberty a far-right organization that uses theatrics at school board meetings and threatens criminal actions to have books removed from libraries across the country.
He went on to note that, while complaints by community members have focused on concerns about sexual content, the book "Stamped" has no sexual content. 
"This is evidence that their motive is not pure, but driven by an agenda that includes racism and anti-LGBTQ bigotry," Person said. 
Despite objections from Person and others, the district has made no move to change its decision to pull the books.  
"Prior to (the Nov. 1) meeting, only the voice of the complainants had been heard at board meetings on this topic," Bruder told The Post and Courier. "Only after the 97 books were removed for temporary review did the participation in public comments significantly increase and shift in a different direction."
Since the Nov. 1 school board meeting, more than 100 community members have volunteered to serve on a library materials review committee, Bruder said.