HILTON HEAD ISLAND — A few guys stopped to pick up a Sam Adams from the cooler by the door, but most just slipped straight into the white folding chairs at the Spanish Wells Club on Oct. 20. 
Meetings of 100 Men Who Care start and end on time. That is one of its appealing features, along with the brevity of its events (one hour); the infrequency of its gatherings (four times a year); and the enormity of its gifts (between $10,000 and $20,000 a pop).   
"Time is a precious resource for all of us, you know?" said Mike Bruce, one of the group's three founders. 
When he and Terry Millard and Beau Bruce launched the group in 2021, they thought their gatherings would be more social. "Like the ladies'," Bruce said.
Their wives had told them about 100 Women Who Care. At quarterly gatherings, scores of women chatted over wine and hors d'oeuvres before settling in to learn about three local nonprofits. After brief presentations, the women cast ballots on which organization to support. Since each woman committed to giving $100, the group could raise $10,000 or more in one convivial afternoon. 
Impressed by the impact the women made, Bruce and his buddies contacted the group's umbrella organization, the 100 Who Care Alliance, about setting up their own chapter. 
The model, called a giving circle, is flexible.   
"They do 100 Kids Who Care, 100 People Who Care, whatever structure you would like to have," Bruce said. 
Bruce and his friends had recruited enough guys to start a counterpart to the local women's group, using the simplicity of the structure as a selling point. 
Collective giving has exploded across the country in the past 15 years, in part because of its attractive combination of ease and effectiveness. Over 150,000 donors nationally have given more than $1 billion through giving circles, and Bruce's group has already granted more than $100,000 to local causes. 
But Hilton Head's 100 Men Who Care bucks some trends. More than half of giving circles nationally are women-only. Beyond that, women make up the majority of mixed-gender groups. 
"This idea of 100 men coming together for the sole purpose of generosity is fairly unusual," said Jacqueline Ackerman, the associate director of the Women's Philanthropy Institute at Indiana University. 
The reason is not that men aren't generous. It's that in the history of philanthropy, men and women have not tended to show generosity the same way. 
Men came early to philanthropy
Male philanthropists played a role in American society even before the United States formed.
Jessica Elfenbein, a history professor at the University of South Carolina, said established churches and other organized religious groups fostered philanthropic activity during the Colonial period. After 1789, the limited government laid out in the U.S. Constitution further created opportunities for individuals to put time and money toward community needs. 
"Men were involved very early," Elfenbein said. "It's women who come to it a little bit later as part of alternative power structures."
She explained that women often built on the frameworks men had put in place, and then created new frameworks. 
For example, men started the Young Men's Christian Association in 1844 in London — in 1850 in Boston — to take care of working men who'd come from farms to the city. 
The women's association in the U.S. formed a little bit later, in 1858 in New York City.  
"They took what the men had done yet another several steps," Elfenbein said. 
By the late 19th century women had taken center stage in the field of social work, using it as a way to address a range of public issues despite not having much political or financial power. In comparison, the best-known philanthropists in the 19th and 20th centuries tended to be wealthy men who directed their already-formidable influence toward one or two causes. 
Even now, women tend to spread smaller gifts to many organizations, whereas men tend to focus a higher single amount on a narrower range. 
"I think that men's and women's philanthropy has been on separate paths, for the most part," Ackerman said. 
But Hilton Head's all-male giving circle suggests that those lanes are less fixed than they used to be.
Giving itself is motivating
At the Spanish Wells Club in October, the couple of dozen men in folding chairs did not seem to be contemplating the novelty of their gathering.  
They appeared focused on the speakers in front of them. 
Three members had asked to speak on behalf of a worthy organization. To determine who presented first, each pulled a marked golf ball out of a discarded gift bag.
The no-frills style of the meeting conformed to what Ackerman called the transactional nature of a lot of male giving.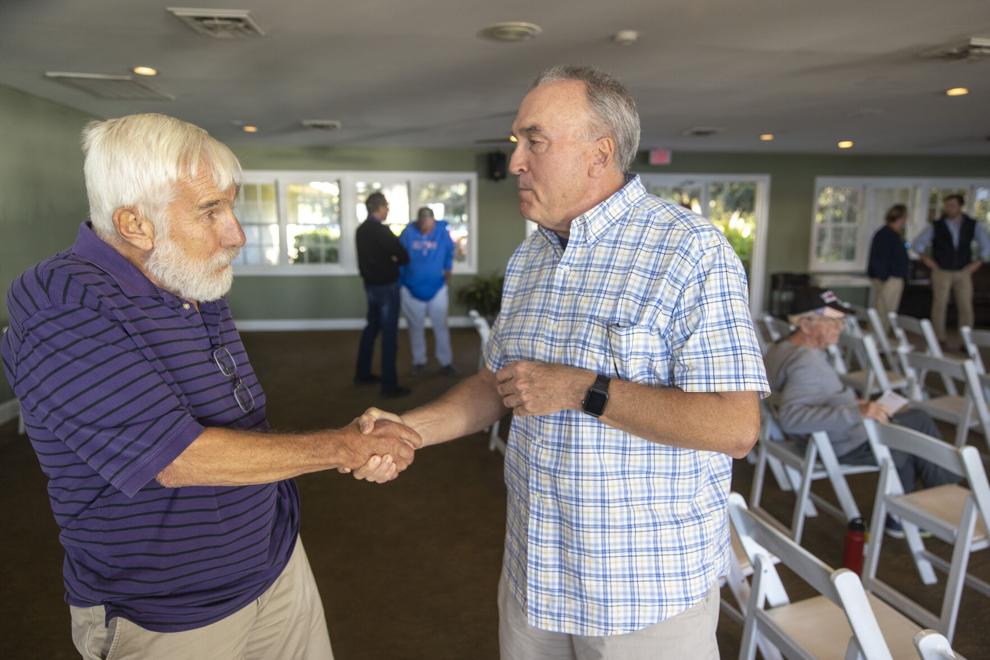 Even Bruce said he was surprised by how pared-down the meetings have become.
"We typically get in and get out," he said.
Most members don't even attend but watch the presentations later, on the videos Bruce records. Few seem motivated by the networking component a giving circle can provide.
Instead, Bruce believes that giving itself is motivating.
"I know people that are out of work that feel like this is a vehicle for them to still give back to the community while they're looking for jobs," he said.
Other members have told him they've been so focused on retaining every dollar they earned that they hadn't developed a habit of donating. Now that they're retired, they're grateful for the chance to learn about their community and help meet its needs. 
Ackerman said this straightforward approach to philanthropy has real merits.
"There are so many positives about the way that men give. I mean, honestly, sometimes more transactional giving, it's just easier," she said. 
The recipient of the previous quarter's gift, a Hilton Head nonprofit called Safe Harbour, testified to the benefit of receiving a boost of cash simply by asking for it. 
With the $17,000 donated by 100 Men Who Care, the group could replace some of the volunteers they'd lost during the pandemic, and train them to help island residents age safely in place, said Angie Stone, the organization's community development coordinator. 
"The impact of the donation from 100 Men will be substantial not only to Safe Harbour ... but also to the community," she said.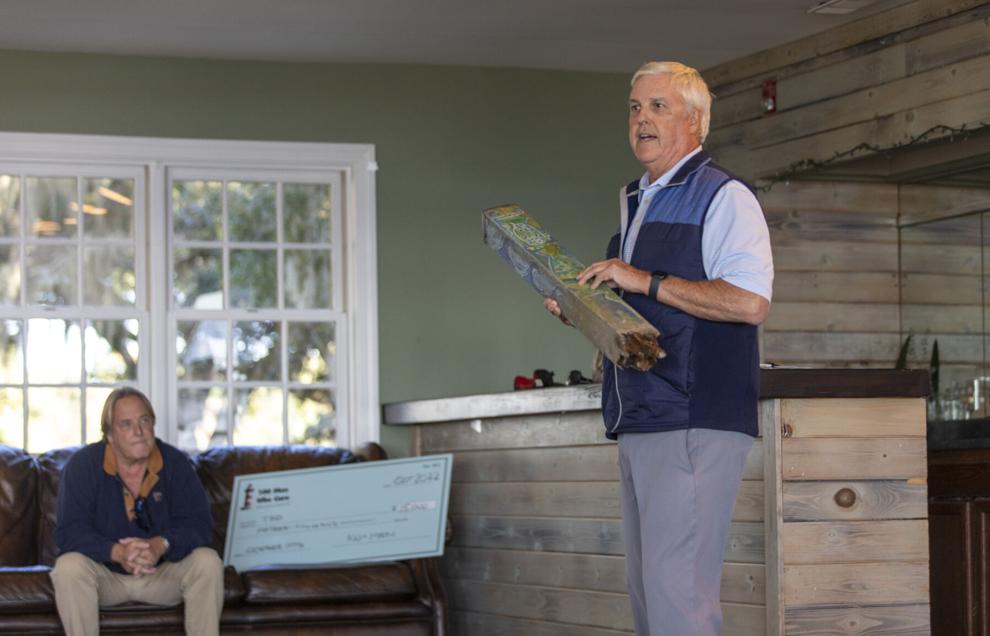 Needs that tug at the heart
For the fall quarter's gift, the men were considering three organizations with very different missions.
Gary Bezilla spoke about a nonprofit that organizes social activities for adults with disabilities. Bezilla learned about the group, called Pockets Full of Sunshine, through a friend who has a grown special needs child.
He described joining one of the group's outings and having an unexpectedly wonderful time. 
"I'm not an expert," Bezilla said. "I'm just here to talk from my heart about what it means for me to watch those people just do so many great things with their lives."
The mostly gray-haired audience, many in cotton pants and collared shirts, listened politely. 
The second speaker, Bob Elliott, addressed a completely unrelated topic: the shortage of nurses on Hilton Head.
For years he'd chaired the hospital auxiliary golf tournament, which raised scholarship money for local nursing students. But eventually he realized that few stayed in Beaufort County to work.
In response, Elliott helped create the South Carolina Nurse Retention Initiative, which pays nursing graduates who take local jobs several thousand dollars on top of their salaries. 
"What's different about our program here is it impacts all of us," Elliott said. 
A few deep voices called out with questions.
"How is that taxed?"
"What's your golf handicap?"
At the front of the room, Bruce smiled at the joke but did not invite the group to break their focus. Instead, before introducing the next speaker, he acknowledged the diversity of needs island nonprofits were trying to address.
"They all tug at my heart. I may go outside," he said.
The last speaker, Craig Ostergard, addressed veteran suicide. 
"In my opinion, our military does a great job of training our troops to go into combat. We do not, however, do a very good job of the assimilation of those folks back into society," said Ostergard, himself a Vietnam veteran. 
Although he didn't dwell on his service, he noted, "There's only about 500,000 of us left now."
After he finished asking the room to support his organization, Operation Patriots Forward Operating Base, which supports outdoor recreation for vets, the audience made their way to the front of the room to cast their ballots. 
For about five minutes the Spanish Wells Club was filled with the shuffling of boat shoes, a single pair of Birkenstocks, and a couple of sneakers. The real Stan Smith was there, wearing an actual pair of Stan Smiths. Tall and lanky, the tennis champion moved gracefully out the door when he was done, along with most of the other members.
Few ever stayed to discuss the choices, Bruce said. But Peter Traver lingered, in part because he hadn't yet made up his mind.
"Honestly, this is really hard," he said. In the past he'd been torn between two organizations. "But three this strong is a first for me."
A gray zone
The conventional wisdom about men and philanthropy would suggest that 100 Men Who Care would opt to direct their money to the nurses, or maybe the veterans.
"Men are more motivated by self-interest," said Ackerman, speaking generally about research findings. 
In contrast, she said, "Women are more motivated out of empathy and altruism. So, really just focusing on the beneficiary of generosity."
Over the next few days, Bruce collected the votes. Group members who didn't attend the meeting could cast ballots online, and some didn't make their final decision until the last minute. Nearly every contest had been a nail-biter, he said.
But this quarter turned up a clear winner. Nearly half the votes went to Pockets Full of Sunshine, even though neither its advocate nor the audience had an obvious personal stake in an organization serving adults with special needs.   
Ackerman said the result surprised her. "Maybe there's something there that causes them to blur the lines on what causes they would normally support," she said. 
Although, she added, researchers have started to see female philanthropists act unexpectedly, too, now that they are becoming more equal to men in many aspects of society. 
"Women have access to the same financial tools, the same tax benefits, and often access to similar amounts of wealth and income," she said.
She called the unpredictable space that both male and female philanthropists were moving into "a gray zone."
In January, Bruce's group will be entering a gray zone, too — or at least a gender nonspecific one. Some of the members' wives and female friends had asked to join 100 Men Who Care, in part because the women's chapter had stopped meeting, and because some women preferred the men's more informal, low-key style.
The male membership saw no reason to object, save for the group name, which they are updating to 100+ Men & Women Who Care.
As a historian, Elfenbein wasn't as struck by the fluidity of the giving circle as by the long American tradition of community investment.
"It's always good to celebrate people voluntarily giving their time or their money," she said. "I think that the idea that you imitate another group's success, that's a good story."