If someone were to ask what the No. 1 cancer killer is, most would say breast or colon cancer.
But if the number of those deaths are combined, lung cancer still beats them by thousands every year.
And many of those diagnosed are much sicker because they have waited later to seek help because of the stigma associated with the disease.
"A lot of lung cancer patients suffer their disease quietly," said Dr. John Wrangle, an oncologist with the Medical University of South Carolina's Hollings Cancer Center. "It's because of that association with lung cancer and tobacco."
The Center for Disease Control for Prevention reports that around 200,000 people are diagnosed with lung cancer every year. And about 150,000 die from the disease.
In South Carolina, the state health department reports that the lung cancer incidence and mortality rate are both over five points higher than the national rates. 
The majority of all lung cancer cases are directly associated with cigarette smoking, and campaigns against smoking are everywhere. But in building that awareness of the dangers of smoking, lung cancer patients have been shamed.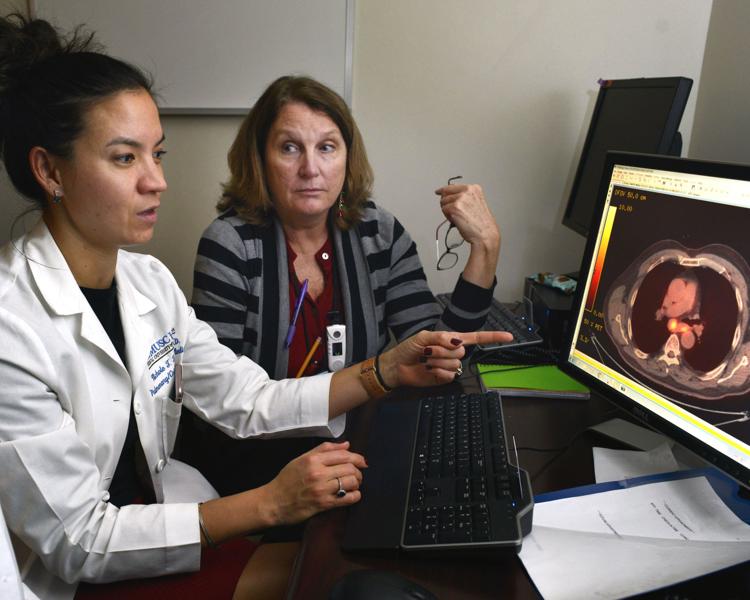 "There's more of a stigma that they did it to themselves," said Dr. Nichole Tanner, a pulmonologist with the Ralph H. Johnson VA Medical Center. 
A 2014 survey by the Journal of Multidisciplinary Healthcare on public attitudes toward lung cancer found that most people felt lung cancer patients were at least partly to blame for their illness.
Wrangle said this mindset leaves out the 15 percent of lung cancer patients who have never smoked. Exposure to asbestos, radon gas and second-hand smoke have been linked to lung cancer in non-smokers. If there is a family history of lung cancer, that too puts non-smokers at risk. 
The mindset also prevents people from sympathizing with patients, he said, which directly impacts awareness and advocacy.
For instance, most people don't know that the official color of awareness for the disease is white. 
The result of this stigma has been years of neglect in funding and scientific advancement compared with other cancers, such as breast.
The National Cancer Institute reported in 2017 that breast cancer received nearly $550 million in research funding. Lung cancer received over $300 million.
"Everybody wears pink in October," Tanner said, reflecting on breast cancer's longtime campaign with the Susan G. Komen Foundation and the annual Race for the Cure, which raises millions of dollars nationally to fund research.  
But experts say that more women have lost their lives to lung cancer than breast cancer.
There also isn't the same push for early detection in lung cancer that there is with breast cancer. In fact, lung cancer is often detected at later, riskier stages in patients, which leads to poorer outcomes.
So experts, advocates and researchers want to see it get just as much attention as breast cancer. This means erasing the stigma placed on lung cancer patients because of smoking. 
"Even with perfect tobacco control, we will never drop to zero (lung cancer patients)," Wrangle said.
The layout now
For 65-year-old Kathy Plourde, her cancer screening was pretty straightforward. The Murrells Inlet resident and Marine Corps veteran came in one morning for several tests, including a lung cancer CT scan at the Ralph H. Johnson VA Medical Center. 
The center now routinely screens veterans if they have a history of smoking. She'll come back on a later date to review the results with a physician. And she is hopeful.
"I'm not too worried about it," she said. 
Most of the people in her family make it to their 90s, she said. Still, she did the screening because she smoked on and off for years.
Today, she said it's been a long time since she smoked and she has no symptoms of any kind. 
Plourde's experience is what most physicians want the cancer screening experience to be, just like the routine mammograms for breast cancer or the colonoscopy to detect colon cancer. 
But because of the stigma, this hasn't always been the case. CT screening programs for lung cancer, such as the VA's, are fairly new compared with screenings for other cancer types.
The VA program emerged when around 75 percent of lung cancer patients were being diagnosed at later cancer stages, which are harder to treat. 
"For a long while we didn't have anything new to treat lung cancer," Tanner said, but recent advances are saving more lives.
Part of it has been issues with funding. Past studies have shown that while lung cancer accounted for over 30 percent of cancer deaths, it was receiving 10 percent of cancer research funding. And more research and funding is needed.
Researchers are still looking for biomarkers, or ways to identify the cancer through blood and other body fluids. Tanner explained.
There are also the groups outside of smokers that need to be looked at, too. Tanner thinks that in general lung cancer in women needs to be investigated, not just the cases associated with smoking. 
Reaching the smoking population also isn't always easy, she explained. It's a demographic that often doesn't have a relationship with a primary care physician. With veterans it can be helpful if they are already in the system. 
The American Lung Association reports that less than 20 percent of the general population are aware of lung cancer screenings. 
"Screening is one of the greatest tools we have," said Dr. Elizabeth Kline, a thoracic surgeon with Roper St. Francis Healthcare. "We need to improve education about screening, so they (smokers) don't feel ashamed."
But smokers are also an easy group to identify as having a lung cancer risk. This makes them an ideal research source if they are willing and able to consult with researchers and physicians. 
And more research helps all lung cancer patients, not just smokers. It's also needed because lung cancer has been notoriously hard to detect. Most people wouldn't notice anything abnormal in the lungs. 
"You just don't feel a nodule in your lung," Wrangle said.
Recently, Tanner and Wrangle said there have been some improvements. There is more work in immunotherapy for treatments. There is also more research being done for screenings. 
"People are living longer," Tanner said. "But we're not there yet."
Going forward
Elaine Natoli, a local communications director and Mount Pleasant resident, traveled to Washington, D.C., in April to advocate for the need for continued research funding. She, along with other lung cancer survivors and their loved ones, were there with the American Lung Association.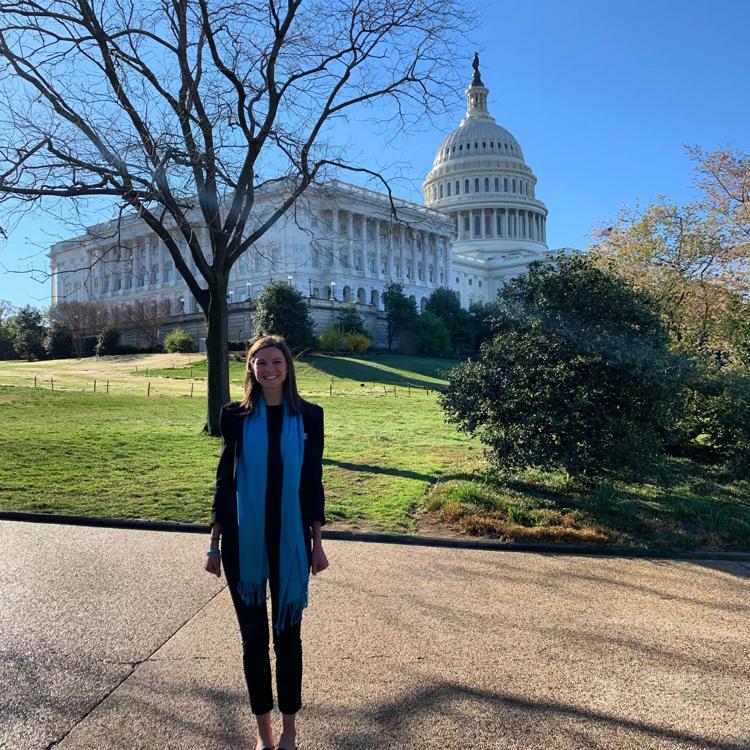 She was representing her father, Philip Frederick Natoli, who died from the disease in 2012 at age 65. He was originally diagnosed with stage four lung cancer in 2007 when she was in the eighth grade.
Natoli said there have been improvements with lung cancer treatment, but she is aware that a lot more research and funding is still needed. She said she knows there is a stigma.  
She also saw her father spend years battling the disease while also continuing to smoke. As a teenager, she and her siblings would sometimes scold their father over his continuing habit. 
"But then you have to realize it is an addiction," she said. 
She wants people to understand the need for awareness beyond the smoking habit. Her father tried his best to battle the disease, but eventually it spread to more places in his body. 
When she was in D.C., she said she met a 25-year-old woman who had never smoked and was diagnosed with lung cancer. 
"I think you have to let go of that stigma,"she said. 
While experts want the stigma eased, they also need people to understand that cigarette smoking is a real addiction. Natoli's father started smoking when he was a teenager.
Tanner explained many older patients developed the habit during a time where there wasn't enough research on the risks and can't kick the nicotine. This is why most lung cancer screening programs today also include a smoking cessation program. 
Experts believe it is possible to address lung cancer and help smokers without the stigma or ridicule when they are battling for their lives. By not doing so, the public runs the risk of neglecting a large demographic that's in need. 
"The end result is a lack of sympathy for people with lung cancer," Wrangle said.