At a reception at Bon Secours St. Francis Hospital, retired Army Command Sgt. Maj. Ben Scott took a bouquet of flowers intended for his mother, Frances, and handed them off to his younger brother sitting at a table nearby.
"Tim, will you hold these?" Ben Scott asked.
"Sure," said U.S. Sen. Tim Scott, R-S.C. Even as someone viewed as a potential presidential candidate in 2024, he understood he was not the star attraction.
Frances Scott was honored for 50 years as a nursing assistant at the hospital and praised as a steady and compassionate caregiver who uplifted both patients and colleagues with an ever-present smile.
"As you see her today, that's how she's always been, with that beautiful smile on her face," said Pennie Peralta, a retired vice president and chief nursing officer at the hospital who worked alongside her for more than 40 years. "One thing I remember as a nurse working with her is she is that ultimate teammate. She was always willing to help. She never once would ever utter, 'That's not my job,' or, 'Let me go find somebody else to do that.' She would jump right in."
But even at a party in her honor, Frances Scott wasn't ready to catalogue her success.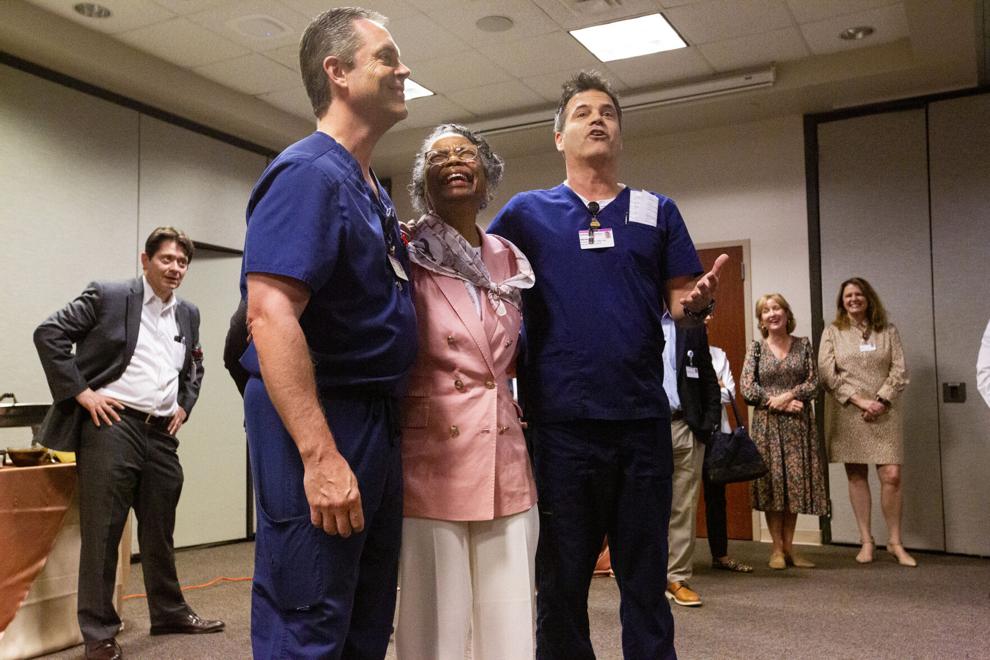 "I really and truly didn't think it was necessary," she said. "And then I had one other person tell me, 'Oh, we're going to keep it very small.'" A room full of people around her erupted in laughter.
"She's humble," Peralta said. So Ben Scott stepped up to sing her praises.
"The docs are important, they really are, but who is there holding your hand when things go awry?" he asked. "Who is there crying with you when things go awry? Who is there saying, 'Hey, it's good news.' It's the nurse. The legacies of the families you have touched, that is huge."
People still come up to her when she is out shopping and say, "You were my nurse. You took care of me," Frances Scott said, which she finds touching.
"You just sit there and you go, 'Wow, you still remember me?'" she said.
But it has always just been her calling.
"I love taking care of people," Frances Scott said. "It's a passion of mine. I have always loved taking care of people, from a little girl."
The hospital was a special place for her to do that.
"This is a family," Frances Scott said. "We've always considered ourselves family. We take care of patients and we take care of ourselves, we take care of one another. I never thought about working anyplace else."
It is where she has made her mark since 1973. Tim Scott said "her DNA has been redefined by her ability to make a difference." And he appreciated his mother's colleagues for helping her do that.
"Thank you all for giving your love, thank you all for giving your happiness and your joy and thank you all for investing it in the most important person in my life, my Mom," Tim Scott said.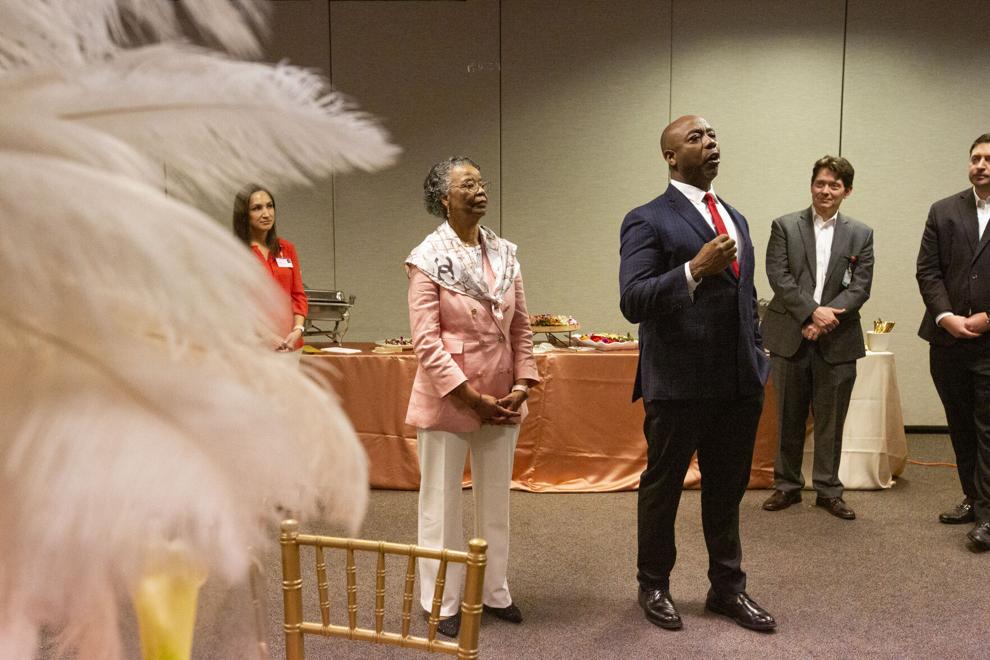 But her struggles as a single mother also inspired Frances Scott to start her own foundation for single mothers, Raising Up The Lowcountry. It provides things like classes in financial literacy and goal-setting, things she never had.
She talks about Beth, a young single mother who was scared to walk into her first meeting but walked out with a vision board of her family's future that included owning their own home. When the young mother shared it with her daughter, the daughter asked, "Mama, we can buy a house?" Beth said yes.
"A year later, she was able to buy a home," Frances Scott said. The foundation is part of her legacy, too.
"Once again, I'm taking care of people," she said, laughing. Ben Scott said the goal is not just to help the current generation, but the next one as well, and others beyond that, which he called "the butterfly effect."
With two successful sons, she also counsels young mothers on raising children.
"Talking to your children, that's very important," Frances Scott said. "That's what I did with my boys. We sit down and we talk, we communicate with one another. I think trust is very important. When you say something, mean what you say when you say it. Kids learn that."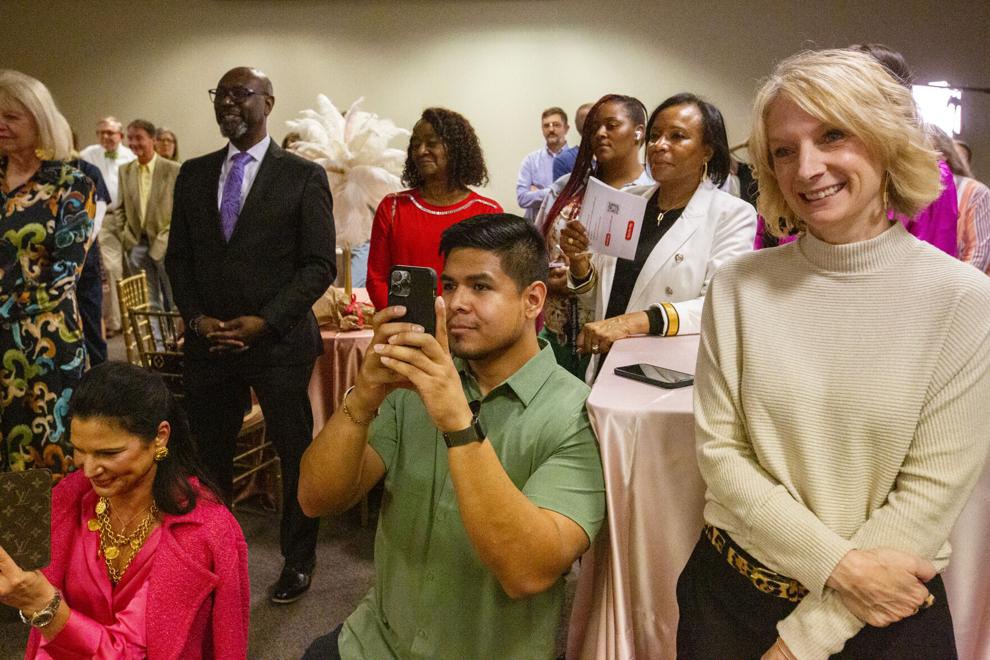 She realizes that would not sit well with some parents now.
"Society will say today that I am very strict, that I was very strict," Frances Scott said. "But it worked. It worked. Being a single mom raising two boys, it worked. I thank God I never had any problems with them whatsoever."
They were the reason she did it, all of the hard work and sacrifice.
"I didn't want to have my children go through what I went through," Frances Scott said. "I wanted them to do better and to do more than I did. And thank God, it was accomplished. It was done."
Part of her will continue on at the hospital — Roper St. Francis Healthcare CEO Jeffrey DiLisi said there will be a permanent spot in the hospital's atrium for her and other employees who have 50 years with the health system.
Still, even after all of that time, it is hard for her to think about leaving.
"Because it is family," Frances Scott said. "How do you leave your family? How do you walk away from your family after 50 years? That's very bittersweet to me."