Scott Heller and Sara Woods were strangers to each other. 
One, a 29-year-old accountant who lives in New York City.
The other, a 19-year-old College of Charleston undergraduate studying computer programming. 
Their paths might never have crossed if not for an identical cancer diagnosis, an article published by The Post and Courier and, finally, a Google alert. 
"I was shocked and surprised," Sara said of finding out about Scott. "As far as the doctors told me, this is an extremely rare thing."
Sara was diagnosed with cancer almost two years ago. During a church mission trip to Guatemala, she started experiencing stomach pain that required emergency surgery in the foreign country.
Doctors found a malignant tumor in her digestive tract. Eventually, her cancer was identified as clear cell sarcoma — formerly called "malignant melanoma of the soft parts" — with the EWSR1-ATF1 gene fusion. The disease does not typically respond to chemotherapy and radiation. Surgery was Sara's best and only option. 
Doctors successfully removed Sara's tumor, but then the cancer came back. Earlier this year, Sara required another operation at Memorial Sloan Kettering Cancer Center in New York. Today, her scans show no evidence of cancer in her body. 
But her parents aren't taking Sara's good health for granted. Lennie and Denny Woods want to raise hundreds of thousands of dollars to fund promising research and clinical trials that could cure the disease. Because Sara's cancer is so rare, pharmaceutical companies aren't investing money into developing a drug to combat it. 
Sara doesn't need that drug now, but she might in the future. Long-term survival rates are low because clear cell sarcoma is prone to relapse. 
That's why the Woods hosted a fundraiser at St. John's Yacht Club in April. All of the money the family is raising will be donated to scientists at Memorial Sloan Kettering and Oregon Health & Science University who are working to develop a drug to fight this disease. It will likely take millions of dollars to bring such a drug to market. 
The Post and Courier published a short story about the fundraising event. Hundreds of miles away in New York, Scott Heller read it. 
Heller had previously set up a Google alert to search the internet for any mention of clear cell sarcoma of the digestive tract. He had been diagnosed with this same cancer in 2017. 
But the disease is so rare that Heller couldn't find anyone else in the country who had been diagnosed and was still alive. 
"I would search these cancer boards," said Scott, whose disease is considered "stable" at this point. "I knew it was rare, but I wasn't able to find anyone."
Then, he read the article about Sara's fundraiser and almost immediately reached out to the Woods family. 
"When I found out about her — it's a bad word — I was excited," he said. Before, Scott said he'd felt so alone. "Seeing that article was like, 'Wow.'"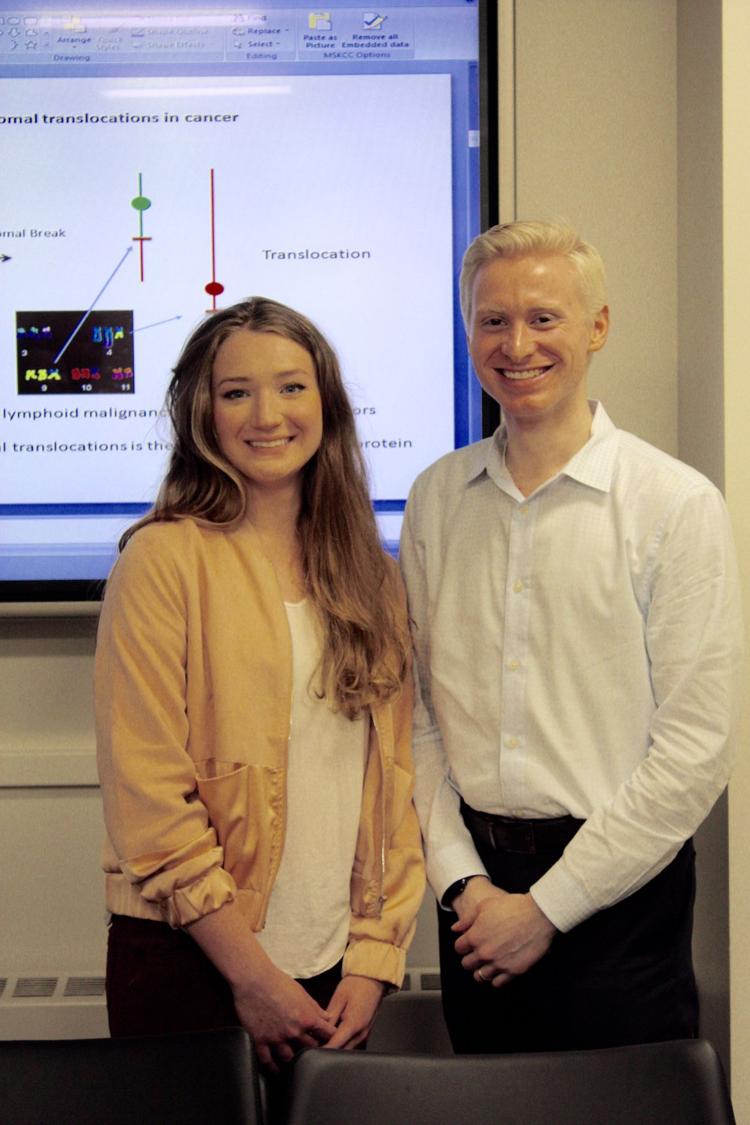 The Woods family recently met Scott and his wife in New York.
"Hearing their stories," Scott said, "it's much more comforting and reassuring."
Scott and Sara continue to text and chat every few days. Both acknowledged that it's been heartening to meet someone else facing this scary journey. 
"They're in very different places, but they're both the same," said Lennie Woods.