Arionna McKnight was looking at six months or more without a set of teeth at just 15 years old after a dentist found a tumor growing in her jaw.
But a surgery new to the Medical University of South Carolina gave her a new jaw built from her leg bone in one day.
The procedure that saved McKnight the stress of months without teeth, coined "Jaw in a Day," is unusually complex and requires a team of multiple specialists working on the patient in the operating room at the same time.
For McKnight, a West Ashley resident and student at Charleston Charter School for Math and Science, it lasted about 12 hours.
First, they removed the tumor, then took a part of her leg bone, split it into three sections, and built and implanted a new jaw.
Dr. Baber Khatib, her surgeon, began at MUSC in August after training first as a dentist then a physician specializing in oral and maxillofacial surgery. He was recruited to MUSC in part because of his ability to do "Jaw in a Day."
McKnight is his second patient at MUSC to have the procedure. He's since completed a third.
"I can't think of another surgery where you truly combine everything that you were taught ... into one surgery," Khatib said. "I don't think there is anything that compares to that." 
McKnight, for her part, is unphased by the whole ordeal.
"I was just ready to get it over with," she said.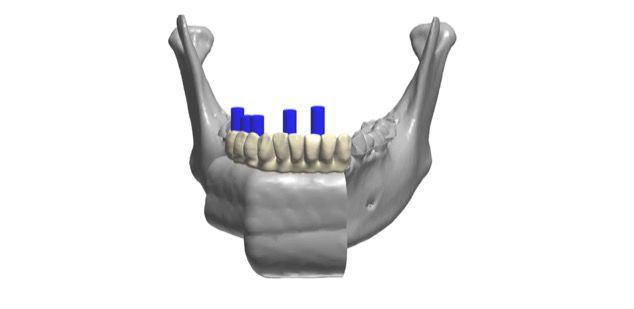 It has been about four months since the surgery. McKnight said she feels no different about her new jaw now. She can chew normally, though she still has to wait a while before she can have harder foods.
She wouldn't have known she had a tumor at all unless a dentist who was assessing her for braces noticed what looked like a cyst. Later, the family found out it was actually a tumor.
The kind of tumor McKnight had, called an ameloblastoma, is rare, making up only 1 percent of tumors found in the head and neck. The tumors are almost always benign. Left untreated, though, McKnight's tumor would have grown and become disfiguring. Treated the typical way, patients face six months to a year without teeth.
The process "can have a major psychological impact on patients who are suddenly faced with the reality of having to lose a part of their jaw and teeth," doctors at the University of Mississippi Medical Center wrote in a 2016 paper.
The surgery has been done before, but McKnight is the youngest patient to have it done to her mandible.
The strategy of taking part of the fibula bone to repair the jaw has been around for about 30 years. The innovation lies in how fast surgeons are able to reconstruct the patient's jaw and screw in a new set of teeth. That dates to 2012, when a group at New York University Medical Center published a study.
The surgery required is a lengthy one. 
Weight-loss surgery usually requires several hours. Removing a brain tumor requires between four and six hours. A double lung transplant takes around eight to 12 hours. 
"Jaw in a Day" combines several steps that used to be done separately. But ultimately it can save patients money and grief from having to undergo multiple procedures, Khatib said.
Hearing about what it would require, Tonya Dessaline, Arionna's mother, was worried. She even called to cancel the surgery about a week in advance. The cancellation didn't take, however, which Tonya found out when the surgeon called her just a few days before to make sure they were ready to go. Many prayers on Tonya's part followed. Ultimately she agreed to go forward.
"When I got my peace I called them back," Tonya said.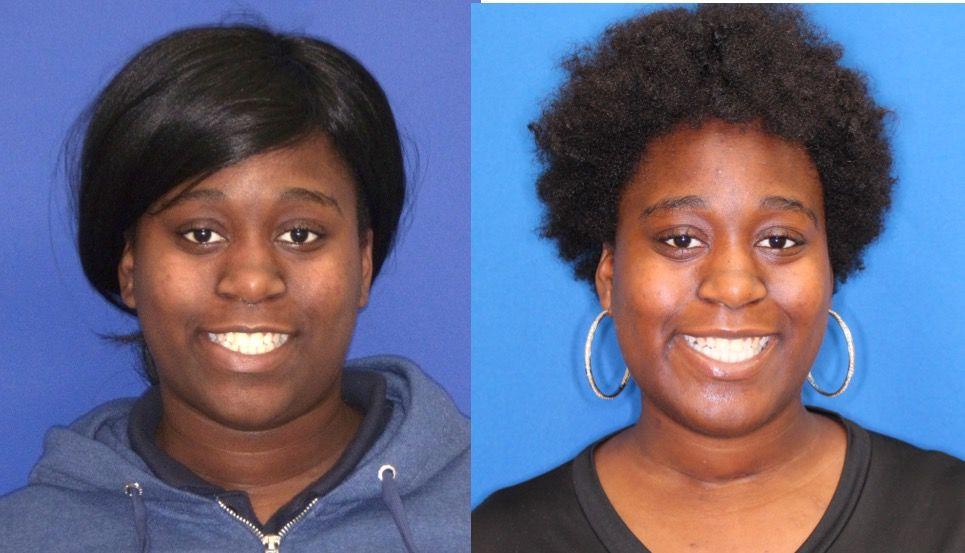 Still, the whole family remained anxious, so much so that they all went to bed late the night before the appointment. Arionna woke up first, but they were already running late. They rushed to the hospital and Arionna was prepped and then sent into surgery. A long wait began. They wouldn't see Arionna for more than 13 hours.
Removing the tumor takes the biggest chunk of time, Khatib said. 
While other surgeons handle removing the mass, Khatib cuts the leg bone into a few pieces and uses tiny titanium alloy lugs and screws to attach the new jaw's skeleton. Prosthetic teeth are screwed in to the new jaw, which are finally put in place in the patient's mouth.
One risk is that the tissue in the removed bone could die, meaning they would have to start back at square one. And the jaw and teeth must be perfectly adjusted for the patient.
"There are multiple moving parts," Khatib said. "You're thinking in microns when it comes to dentistry, because if you're off by a millimeter, you'll feel it." 
The entire procedure is planned and practiced in advance using a 3-D-printed model of the patient's jaw. Guides to help the surgeon know exactly where to cut out the tumor are also 3-D printed.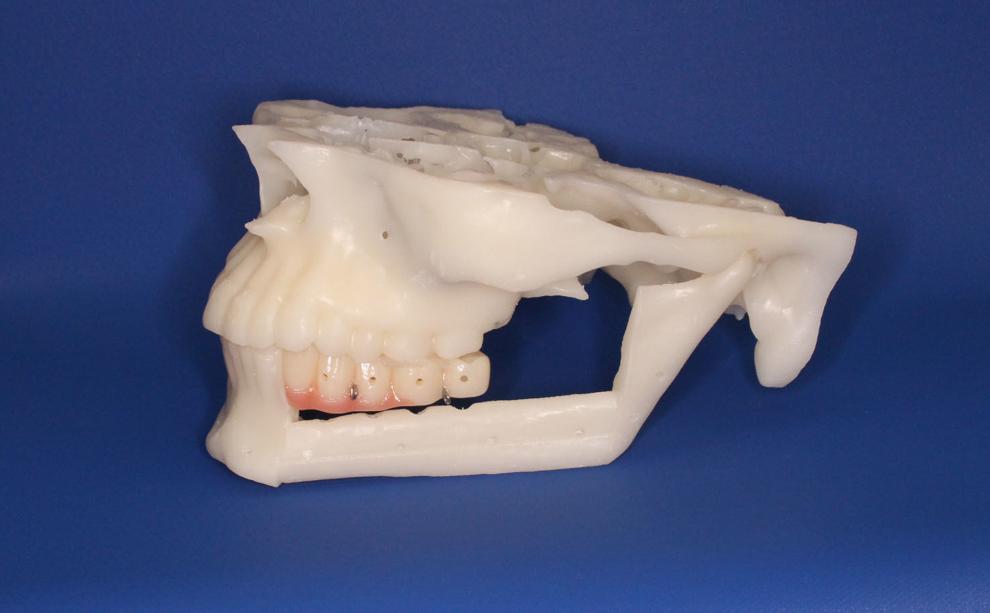 Finally, about six months later, the temporary prosthesis is replaced with a permanent one. 
The procedure isn't just for patients with tumors like McKnight's. It can work for people with gunshot wounds to the face or other trauma. 
When McKnight woke up from the surgery, she remembers beginning to sing a Fantasia song. She would have to spend 10 days in the children's hospital, face swollen and listening to the crying of younger patients. McKnight and her parents said she could move without a walker by the third day.
Even after going home, she had to keep a feeding tube for a month, and she missed weeks of school.
But she graduated from her freshman year of high school anyway and is headed into her sophomore year — one more step to her goal of being an FBI agent.