The state's Department of Insurance is hoping to keep younger employees on board by allowing them to bring their babies to work. So far, it appears to be working.
The state agency announced a trial of the program to its employees in March. Since then, one baby has graduated from the program and another just started coming to work.
The verdict? Employees said the babies put a smile on their face, and the two mothers said the policy has helped them feel better about returning to work.
Rachel Johnson, who lives in Irmo and works in special licensing, brought Cassian to work until he recently turned 6 months old. For her, having her baby nearby was key in his early months because he was having a hard time gaining weight. 
It will be hard to let her time with Cassian go, Johnson said. But she's been able to ease into it with the department's policy. 
"He's such a happy baby," she said. "It's such a morale booster."
South Carolina state employees don't have a parental leave allowance. Parents have to use their sick and vacation leave to take time off. That's not necessarily unusual for the private or public sector. The United States is the only developed country without a universal parental leave policy. 
Even so, it's become a major political talking point. The topic of paid leave took a step in a bipartisan direction when U.S. Sen. Marco Rubio, R-Fla., proposed a bill in August that would give parents time off to care for their children by dipping into their Social Security benefits. 
Ivanka Trump, the president's daughter and adviser, has defended another proposal that would require employers to give parents six weeks of time off from work to care for new children. 
Ray Farmer, director of the Department of Insurance, said he got the idea to allow moms to bring their infants into work from the National Association of Insurance Commissioners, which has had a similar policy of its own for about 20 years. Farmer currently serves on that group's national executive committee.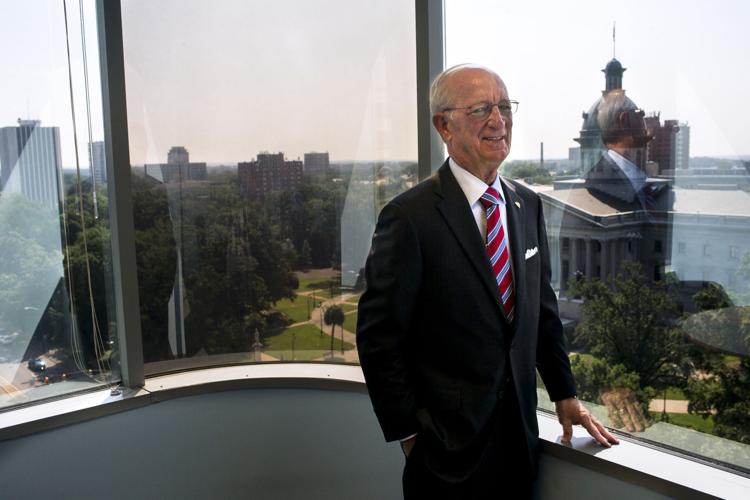 The policy is seen as a retention tool. Farmer said when he took office as the state's insurance commissioner in 2012, he learned a third of his new employees would be able to retire within five years. He hopes the policy will help keep younger people working for the department.
"It relieves some anxiety with the young parent," Farmer said. 
The policy applies to mothers and fathers, but only mothers have opted into it so far. Adoptive parents can also use it. Such policies could also help to address a shortage of women in the workplace. In South Carolina, about a third of women don't have jobs even during their prime working years, The Post and Courier reported.
Farmer said he converted a closet into a cozy quiet room, at his own expense. Mothers can take their babies there to change them or rock them when they're fussy. 
There is also a "buddy system," that designates two other employees who can take care of the child if the parent is busy.
Casey Clyburn, who lives in Lexington, had already approved her "buddies" before returning to work. 
Annie is 7 weeks old. Clyburn also has a 4-year-old. When she had her first child, returning to work was difficult. 
"Knowing that I could bring her with me has eased the process," she said. 
It also helped her cut down on child care expenses. The cost of having both her children in daycare would surpass the cost of her mortgage. Neither she nor her husband ever considered staying home with the children, she said. 
For now, Annie sleeps for the majority of the day. Clyburn will need to feed her every three hours. 
"She was with me for nine months and three days," she said. "The longer I can keep that bond, the better."
Farmer said he will extend the policy beyond the trial period if he continues to see positive results. He said he has seen nothing but benefits so far. But he might be biased: He is a grandfather himself.