At 43 years old, Erinn Stampe attributed her constant fatigue and lagging energy levels to being the single mother of an active 11-year-old boy, Lucas, and two rambunctious poodle mixes.  
But after two failed iron infusions due to her low energy levels, doctors urged her to undergo a colorectal screening to further investigate why her body wasn't responding to treatment. 
Awake but still groggy from the anesthesia used during her colonoscopy, Stampe digested the sobering diagnosis — stage three colon cancer.
"My life was turned upside down," Stampe said as her voice crackled from the tears brewing in her eyes. 
Stampe is part of a growing trend of younger adults diagnosed with colorectal cancer, the third-leading cause of cancer-related deaths in the U.S.
And according to the American Cancer Society, the cancer is expected to cause over 50,000 deaths in 2023. 
The overall rate of people diagnosed with the disease has steadily dropped by about 1 percent each year from 2011 to 2019. However, this downtrend is mostly in older adults, who the cancer typically affects.
But rates of colon cancer in people 50 years old and younger have increased since the mid-1990s. 
The spike in cases was so concerning, in 2021, the U.S. Preventive Services Task Force recommended colorectal screenings for people at average risk of the disease start at age 45, a five-year jump from the previously recommended age of 50.
"In a lot of cases colon cancer is a preventable disease," Dr. Gabriel Chedister said, colorectal surgeon for Roper St. Francis Hospital.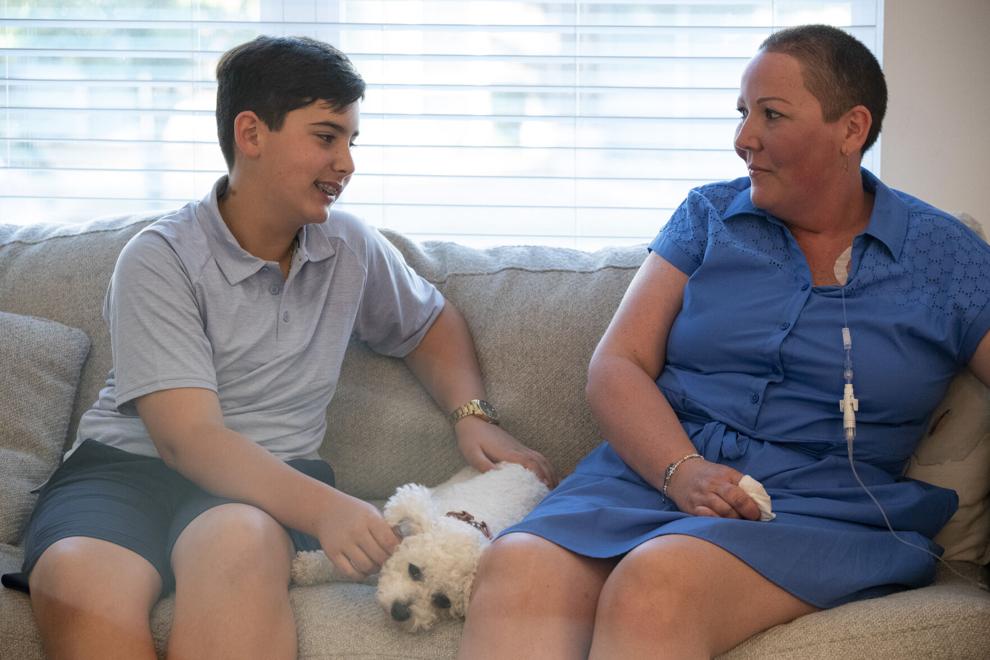 However, in many cases with younger people, Chedister said the disease can be more aggressive than ones seen in older patients.   
"We don't really know why that is the case," Chedister told The Post and Courier, as he recalled seeing patients in their 30s devastated by aggressive forms of colon cancer. 
The disease affects the large intestine and is characterized by rectal bleeding, persistent abdominal discomfort such as cramps or gas, unexplained weight loss, weakness or fatigue and a persistent change in bowel habits. 
Chedister said many younger people, like Stampe, attribute their symptoms to just normal aches and pains. Rarely do they think these symptoms are early signs of cancer.
A new way of living
Stampe seems to juggle her new way of life well, corralling her two dogs competing for attention, while moving her chemotherapy pump still infusing medication from her previous treatment to behind a pillow on her couch.
Due to a demanding chemotherapy schedule that zaps her energy for weeks at a time, she isn't able to do many of her old activities like travelling with Lucas, outdoor events, school drop-offs and in-person parent-teacher conferences. 
Before being diagnosed, Stampe, a New York native and Mount Pleasant transplant, worked full time as an English as a second language teacher.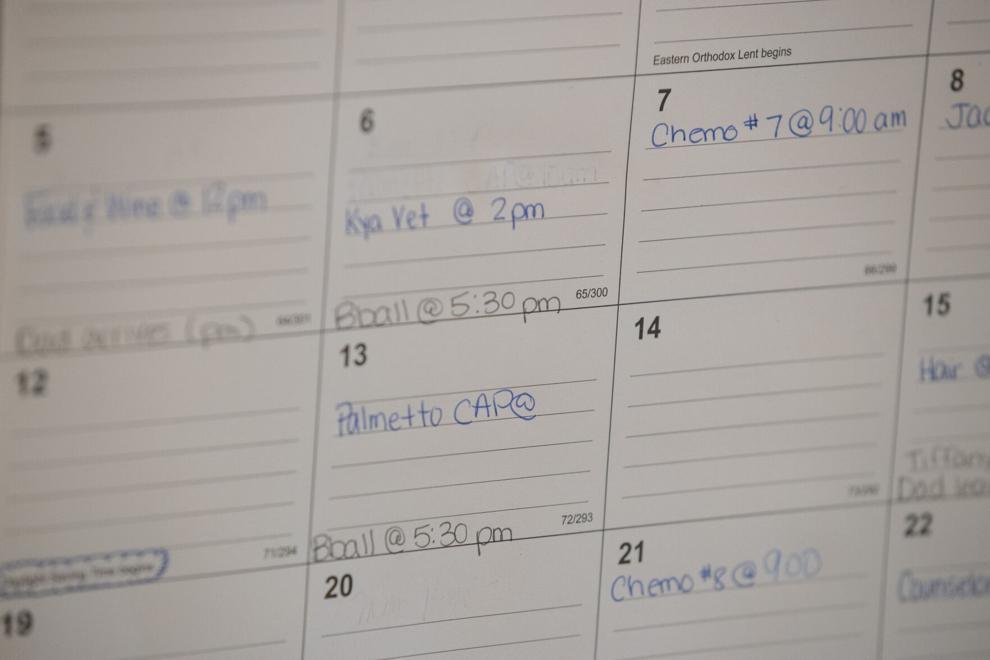 But after losing a number of friends to COVID-19, she took a leave of absence from teaching. 
"The risk was just too much," Stampe said. 
Now, she works part time as a home school instructor and dog breeder of her bichon frise, Kya, a pup she acquired during the COVID-19 pandemic.
"I walk a lot of dogs, can we put my port on my the left side," Stampe recalled asking her nurse at her first chemotherapy treatment. 
Early detection
Stampe said she didn't have many of the cancer's traditional symptoms. 
But a lot of people in the early stages of the disease are asymptomatic, which is why doctors rely heavily on screenings to catch the disease as early as possible. 
"I didn't think I was even old enough to get a colonoscopy," Stampe said. 
Colonoscopy exams are the most popular diagnostic tool for colon and rectal cancers. During the exam, doctors insert a tiny video camera attached to a long flexible tube into the rectum. The goal is to look for any changes to the large intestine or rectum such as swollen, irritated tissues or potentially cancerous polyps.
Stampe was diagnosed on Oct. 1 after doctors found two malignant tumors on her colon during a colonoscopy. 
On Oct. 31, Stampe underwent surgery to remove the affected areas of her colon before they were able to spread to other areas of her body. 
"Lucas calls me semicolon," Stampe said chuckling. "He's not wrong either, I only have half a colon now." 
Other screening tools like Cologuard, an at-home screening tool for both colon and rectal cancer, are less invasive. The test detects altered DNA, abnormal growths or polyps and blood in the stool through a stool sample.
Depending on your insurance plan, Cologuard test kits can be a covered expense. Without insurance, the test can run upwards of $500. 
Since the USPSTF's recent recommendation moved the screening age to 45, American insurances companies are now required to fully cover colorectal screenings for patients age 45 and above. 
And for those without insurance or who are underinsured, there are opportunities to get screened for free throughout the state. 
Where to get screened
Currently, Roper St. Francis Hospital is offering free colorectal screenings for uninsured and underinsured residents in the Lowcountry. 
Patients of average risk of the disease are those without a family history of colon or rectal cancer. 
For people with a family history of the disease, doctors recommend getting screened 10 years before their family member was diagnosed. 
But genetics is only one of the factors to consider. Others include obesity, inflammatory bowel disease, smoking and heavy alcohol use. 
And Black, Latino and Native American people are at an even greater risk of developing colorectal cancer than their White counterparts. 
"Much of the population, especially the underinsured go without screenings," Dr. Jorge Lagares-Garcia said in a recent press release, colorectal surgeon for RSFH. 
According to a recent press release from Roper St. Francis Hospital, those eligible for a free screening must be 45 years or older, or 10 years younger than the age of your family member who had colorectal cancer. 
For example, someone who's mother had colorectal cancer at age 45 would need a screening at age 35. 
"It's so important to get screened," Garcia added, as the the disease is highly preventable when detected early. 
To sign up for a free colon cancer screening, call 843-402-CARE. 
You may also be eligible for screening through the Colorectal Cancer Prevention Network at the University of South Carolina. 
For information call 803-777-1231 or visit www.crcfacts.com. 
And for more information on colon cancer and when you should get screened, visit www.cancer.gov.