The flu may have fallen slightly from its peak in South Carolina, but the disease is still considered widespread and continues to impact thousands of patients across the state. 
New numbers published by the state health department on Wednesday show that 18,372 people in South Carolina tested positive for the flu between Feb. 4 and Feb. 10, a decrease of 622 cases from the previous week. All told, nearly 100,000 South Carolinians have tested positive for the flu since early October. 
Meanwhile, the number of flu-related hospitalizations and deaths are holding steady. 
The S.C. Department of Health and Environmental Control reported Wednesday another 22 people have died from the flu, bringing total deaths to 128 since the start of flu season in October. The latest flu report indicates that one of those deaths was a child younger than 5 years old. The state agency reported last week that the child lived in the Midlands.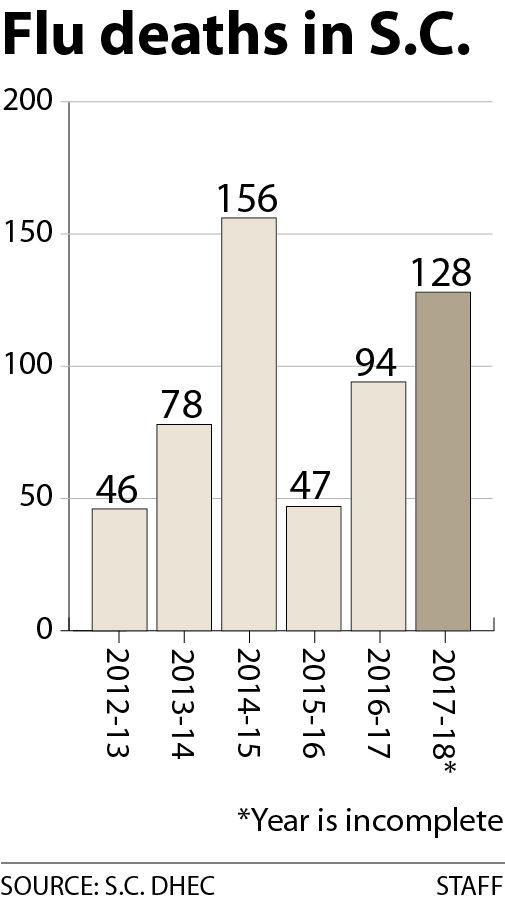 Flu deaths in South Carolina this season have already topped the number of flu deaths recorded during the previous flu season, when 94 people in South Carolina died. But this season's total still falls short of flu fatalities during the 2014-2015 season, when 156 people died. 
Flu season typically runs October through May. 
Dr. Noelle Jennings, an emergency room doctor for Roper St. Francis, confirmed that she is seeing fewer flu patients now than she has seen in recent weeks. 
During the height of flu season, Jennings estimated one-third of all patients in the ER were suffering from the flu. They have been showing up to the hospital in droves, she said, because many of them have never felt so sick before. 
"A lot of people feel like they're going to die from the flu. It makes you feel really, really bad," she said on Wednesday. "Two weeks ago, it was the most I've ever seen in a week."
A national flu activity map published by the Centers for Disease Control and Prevention on Friday shows that the disease continues to run high across most of the country. The prevalent strain this season — H3N2, or Influenza A — tends to strike patients with particular severe symptoms. 
But patients aren't the only ones suffering from a harsh season. 
Maya Franklin, a spokeswoman for the American Red Cross, said blood donations in South Carolina and across the country have diminished in 2018 as potential donors keep getting sick. 
The snowstorm in early January also forced organizations to cancel nearly two dozen blood drives in South Carolina, "resulting in more than 650 donations uncollected," Franklin said. "Healthy donors are urged to roll up their sleeves as soon as possible to help maintain the blood supply."
And while the latest DHEC numbers suggest that flu may be abating in South Carolina, a different strain of the disease may still gain traction before the season is finished. 
Health officials continue to urge children and adults to get a flu vaccine because it may offer some protection against strains circulating both now and later this flu season.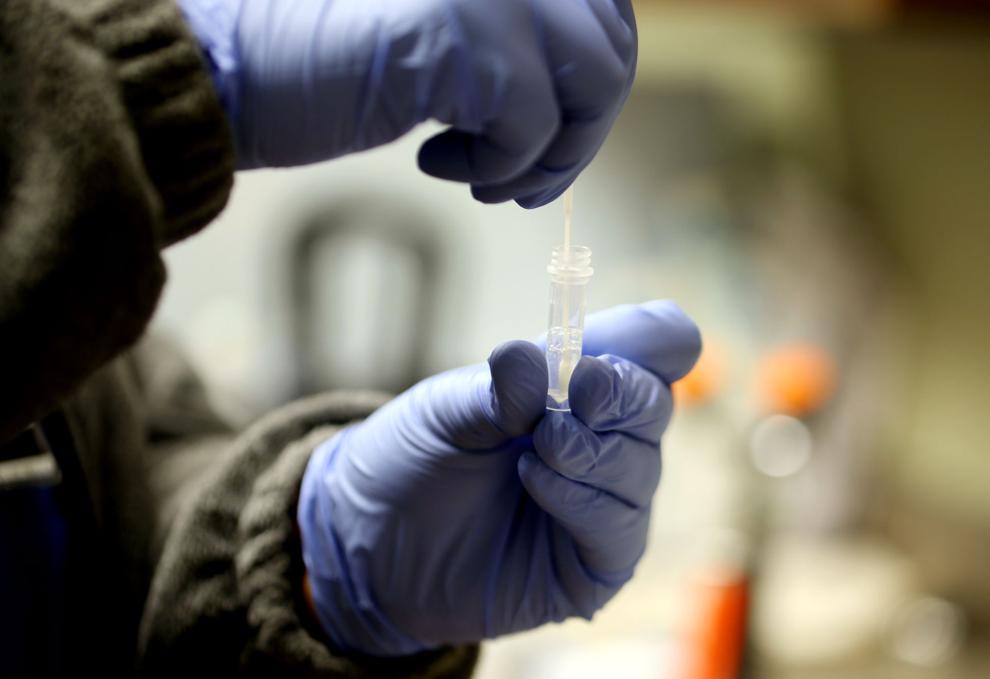 Jennings anticipated that the severity of the flu this year may prompt more people to seek out the new vaccine in the fall. While patients who have been vaccinated can still contract the flu, health professionals agree that the vaccine may lessen the severity of symptoms. 
"Most of my patients have not had the flu shot," Jennings said. "A lot of them seem to be like, 'Oh, yeah. This is so bad I'm definitely getting it next year.'"