After serving in three wars, it wasn't armed conflict that killed Rear Adm. Emmett Bonner. It was cancer, possibly caused by the herbicide Agent Orange.
Bonner had already served in World War II and the Korean War when he came to Vietnam. There, he commanded the USS Oklahoma City. The ship was stationed at the southern end of the Gulf of Tonkin during the 1964 incident. He died at 57 of cancer only a few years after retiring from the service. 
Years later, the Department of Veterans Affairs would acknowledge his cancer could have been caused by Agent Orange. Still, his wife, Elizabeth Bonner, fought a decades-long battle for the benefits owed to veterans exposed to the chemical defoliant.
Bonner's story has become a source of interest for Frank Hamilton, a volunteer at the College of Charleston's Addlestone Library. Bonner was stationed in Charleston for part of his service. Hamilton has been curating a collection of Bonner's reports and private documents.
Hamilton said it struck him how hard Bonner's wife had to fight for benefits. He said he hopes studying Bonner's story will inform veterans whose claims for exposure have been dismissed.
Tens of thousands of veterans' benefits are on the line as legislators and lawyers weigh whether they should compensate veterans for possible exposure to Agent Orange. The Air Force sprayed at least 11 million gallons of Agent Orange on the Vietnamese countryside between 1962 and 1971, according to the Institute of Medicine.
While it was meant to deny the enemy cover, the herbicide is known to cause a range of illnesses, including cancer, heart disease and diabetes.
VA leaders say there is not enough scientific evidence to support giving the benefits to Navy veterans who were stationed at sea. Veterans argue the agency is denying benefits to people who could be dying of exposure.
The conflict is a reminder of how difficult veterans can find accessing their benefits, even when the VA acknowledges they're due.
Veterans everywhere are struggling to access Agent Orange-related benefits, regardless of which arm of the military they served in, said John Wells, a retired Navy commander, attorney and executive director of Military Veterans Advocacy.
He said if the campaign to extend the benefits to "blue water Navy veterans" — a colloquial term for Navy personnel who were stationed at sea — is successful, the organization has a bucket list of other groups of veterans they feel are being unfairly denied entitlements.
"Blue water Navy has always been considered the tip of the spear," Wells said.
'We bathed in it'
Tom Ulmer, a Cameron resident, spent parts of 1972 and 1973 off the shore of Vietnam. His ship carried aviation fuel and other critical supplies.
A true blue water Navy veteran, Ulmer never set foot in Vietnam, and so he is not eligible for Agent Orange-related benefits. But he said the crew used distillation to try to purify water that came from shore.
"We bathed in it, cooked our food in it, washed our clothes and everything else," he said.
Whether water distilled from Vietnam and consumed by sailors could have contained toxic amounts of Agent Orange was the subject of a 2002 study out of Australia. VA leaders dispute that the results of the research apply to Navy veterans. And while Ulmer said he has only received high-quality care from the VA Medical Center in Columbia, he has since contracted diabetes and neuropathy, both connected to Agent Orange exposure. 
"They can't prove that we were exposed," he said. "And they can't prove that we weren't."
Having a "service connection" — an established link between an illness and military service — would entitle Ulmer and other veterans like him to bigger checks from Veterans Affairs.
Back-and-forth over benefits
Veterans like Ulmer, who served at sea during the Vietnam War, once did have the benefits they're now arguing for.
Originally, VA allowed all Vietnam veterans to access Agent Orange-related benefits, regardless of which branch of the service they were in. But they changed the rules in 2002 to exclude blue water Navy veterans.
A bill that would reverse that condition passed through the House of Representatives with little turbulence. Representatives voted unanimously for the measure.
But as the proposal reached the Senate Committee on Veterans Affairs, VA leaders voiced their disapproval. There is not enough scientific evidence, they said, to prove the sailors were exposed to Agent Orange. Paul Lawrence, the VA's under secretary for benefits, told senators during a hearing the bill could allow a camel into a multi-billion dollar tent.
VA estimates show the bill costing $6.7 billion over 10 years. The legislation could affect up to 90,000 veterans and the agency would have to revisit 30,000 claims it denied, according to the Military Officers Association of America.
There must be limits on the system, Lawrence argued. The federal government spent more than $24 billion on benefits for Vietnam veterans in 2016, according to an annual VA report.
The bill has continued to stall in the Senate. The offices of U.S. Sens. Tim Scott and Lindsey Graham did not respond to requests for comment on which way the South Carolina senators would vote, if given the opportunity. Graham's office said only, "We look forward to seeing what they are able to pass through the committee."
10,000-mile ride for signatures
Gerry Wright, a Connecticut resident and Army veteran, has heart disease and neuropathy, both linked to Agent Orange exposure. Whether he was in contact with the herbicide would be in little doubt: He said he sprayed the chemical himself while serving two tours in Vietnam from 1969 to 1970, never wearing a hat or gloves. But he could see dead snakes, rats and monkeys where they had sprayed.
"We didn't know it was that poisonous," Wright said.
So, Wright took to the road on a bright orange Honda motorcycle with the words "sprayed and betrayed" and "death followed us home" painted on its trailer. He traveled more than 10,000 miles across the country and earned about 5,600 signatures on a petition. He also started a Facebook page that now has hundreds of followers.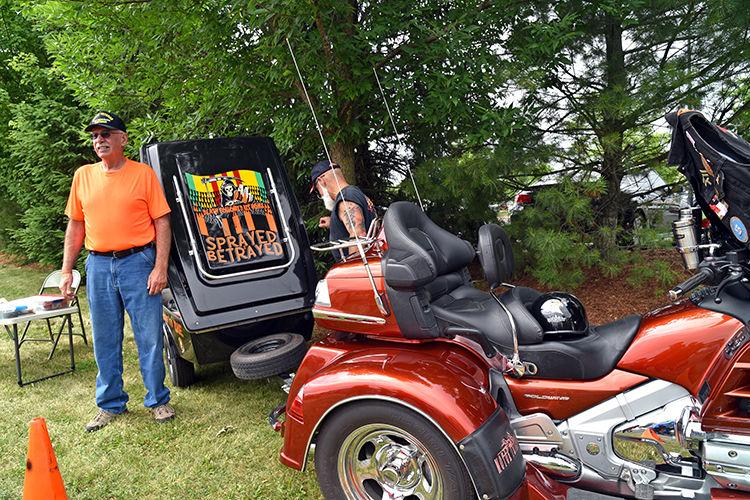 Wright has managed to have a bill introduced that would expedite awarding benefits for Agent Orange exposure to all veterans, regardless of which arm in the military they served. He has bipartisan support and is hunting for more legislators to sign on.
The conversation around Vietnam veterans' benefits is only more urgent as they age and naturally get sicker.
When Jonathan Robinson, a Navy veteran and lower Berkeley County resident, was diagnosed with prostate cancer 10 years ago, he began to wonder if the illness could be connected to Agent Orange and the water he drank while stationed in the South China Sea.
There were always rumors that Agent Orange was being transported on board Navy ships, he said. But he's never seen the rumors confirmed.
"I really don't know what I've been exposed to in the Navy," Robinson said.
Wells, the Military Veterans Advocacy director, said it matters little whether winning benefits for the blue water Navy veterans is done through legislation or the courts system.
"We're looking at it as a race," he said. "But we don't care who gets to the finish line first."