A blue Albuterol rescue inhaler sits on the table in front of Barney Ketchen at the Navigation Center in Charleston, but Dr. Cristin Adams wants to know about the one that is not there — a Spiriva inhaler meant to help manage his lung disease.
"I move around so much," said Ketchen, 77, who was homeless but had a promise of a bed that night and hopefully something more permanent in coming days. "I can't take it everywhere."
But Adams, a family medicine physician at Medical University of South Carolina, convinces him to try to get back on it to manage his chronic obstructive pulmonary disease from years of smoking.
"You should not need to use the Albuterol quite as much," she said.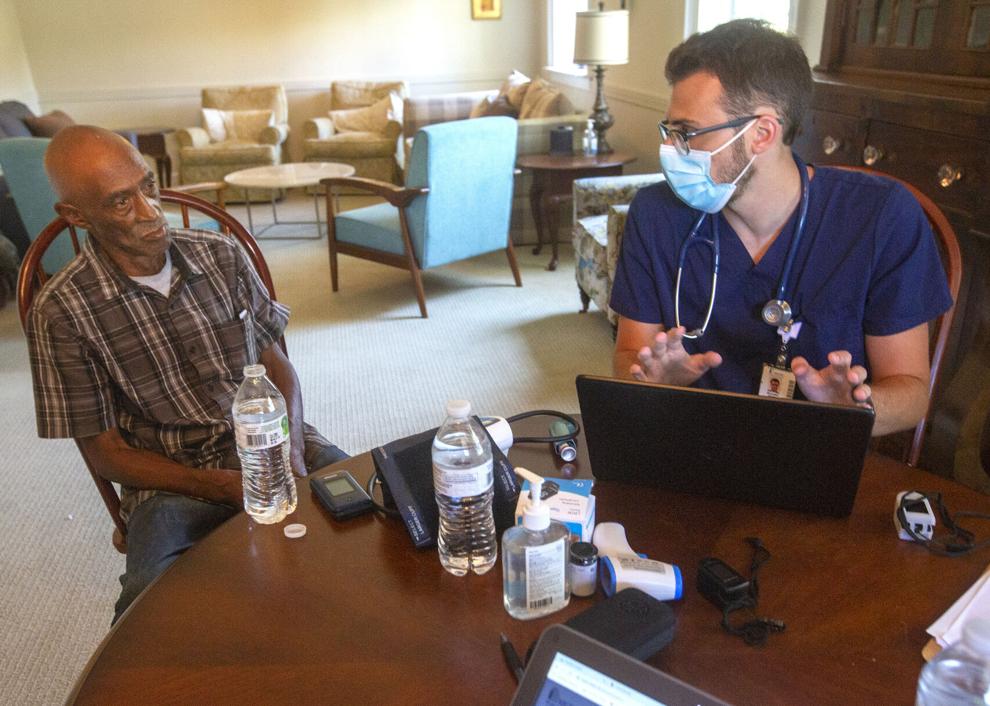 "Thank you," Ketchen said, sounding relieved.
Throughout the whole visit, Adams has been a face on the screen of a laptop sitting in front of Ketchen at the center, which provides services for the homeless at its temporary home at 126 Coming St. The walk-in telehealth clinic has proven quite effective at meeting the needs of this population.
The MUSC program with the Navigation Center was recently awarded a $15,000 Telehealth Equity Catalyst Award from the Association of American Medical Colleges for using the technology to help reach underserved populations.
At its last point-in-time count in January 2020, South Carolina had 4,287 people who were homeless, including 864 who were chronically homeless, according to the U.S. Interagency Council on Homelessness. Many of them have unmet medical needs, but unless it becomes an emergency, "people let their health go by the wayside when they have so many other competing priorities," like shelter or food or even staying dry, Adams said.
The Navigation Center provides a number of other services, so having a telehealth clinic onsite brings care to people who might have difficulty accessing it otherwise, said CEO Marie Elana Roland. Most importantly, it's a walk-in clinic open to anyone who shows up.
"So many other places out there, you have to have an appointment to come in," Roland said. "Especially dealing with the homeless and the folks that are in crisis right now, we can just fit them in."
Ketchen's story is like many in Charleston, especially as rents have been increasing stratospherically. He had been living comfortably in a trailer. In fact, he made it a point to house, feed and clothe others in need.
"That was my mission," he said, what he felt he had been placed on this Earth to do. But then his landlord got an offer, took it, and sold the place.
"They booted everyone out," Roland said.
"I was on the street," Ketchen said. "I had never been on the streets before."
Whatever problems people encounter in Charleston, they are worse for the homeless, Adams said.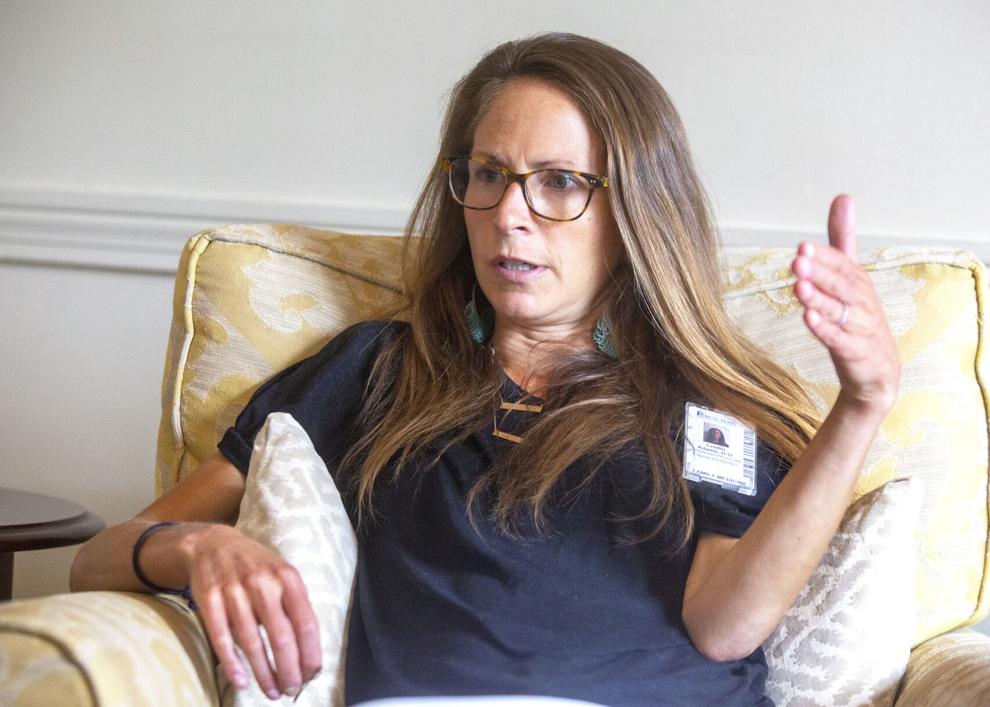 "We all talk about the rain in Charleston, but, my goodness, can you imagine if you didn't have somewhere to go and you lived in a tent?" she said.
Without access to air conditioning in the summer, the unhoused can experience far worse outcomes, said Adams, who directs an MUSC program that does outreach to that population.
"It not only is uncomfortable, but it makes medical issues so much worse," she said.
Being homeless can make routine care more difficult, Adams said.
"It's hard to appreciate that until you see it firsthand, until you see someone try and give themselves insulin and care for a diabetic foot wound when they don't have shoes," she said.
Most insulin should be refrigerated, so at the Navigation Center "we try to give them coolers. You do what you can," Roland said. On recent nights, there were at least five people sleeping in its parking lot, some with open wounds, or catheters, along with a lady who was blind. The center and Roland helped connect her with MUSC, where she got surgery for cataracts in both eyes and can now see, Roland said.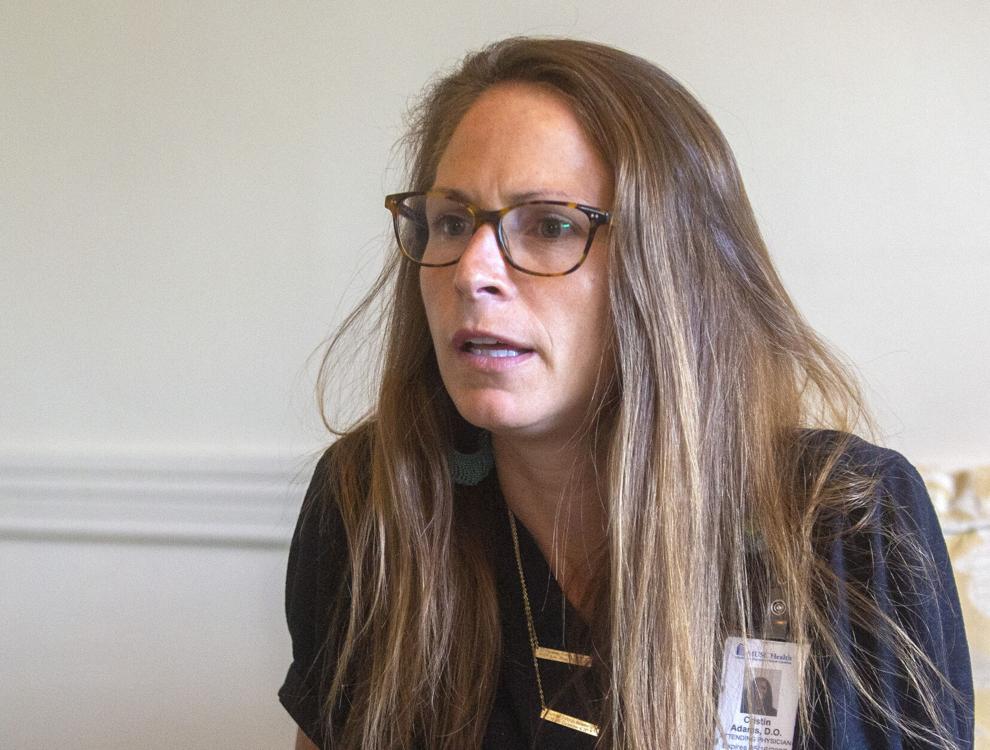 There are many barriers to care, such as lack of insurance, money and transportation, but for the homeless there can also be trust issues, Adams said. That's where the Navigation Center connection helps. Often, the homeless are accessing care in emergency rooms, which is not a good environment for providing primary care and building a relationship with a patient, Adams said.
"Having this partnership and knowing that other needs are being addressed too is really valuable," she said. "We've got this sort of pre-existing trust with the patient as soon as we see them because that has already been established by the Navigation Center."
It often takes a coordinated effort to get their needs met, Roland said. There was an 80-year-old lady sleeping in the center's parking lot who had lung cancer and needed to be in advanced care. But even after she was admitted to the hospital, she was insisting on returning to the street, so Adams needed to help. The patient was there long enough for her family to intervene and get her into hospice care that allowed her "to die with dignity," Roland said.
"If it wasn't for us tag-teaming that, and really making that happen, she would have died on the street," she said.
Mental health needs have skyrocketed during the pandemic and that is especially acute for the homeless, both Roland and Adams said. Mental Health America said the number of people using its online screening tool for depression and anxiety last year increased 500 percent from 2019, and nearly 40 percent reported thoughts of suicide. There just aren't enough providers for them even when they have the resources, Adams said.
"I can't get my insured MUSC patients in to see a psychiatrist or a psychologist for six months," she said. "It's certainly magnified in this (homeless) population and certainly is more limiting without those resources in this population. There's a huge opportunity to use telehealth there. We just need more people."
Adams is writing a grant to help add more mental health services to the telehealth program at the Navigation Center. Another idea is adapting MUSC's e-visit — where patients fill out an online questionnaire and a provider reviews it later and gets back to them with suggestions for care — for the Navigation Center's clients. The client could use a computer at the center to talk about symptoms or needs and a provider could review it. When the client next visits the center, for instance, medication might be waiting for them, Adams said.
The new technologies emphasize "the importance of capturing folks in the moment," she said.
For Ketchen, who also needs a blood thinner after developing a blood clot in his right leg, it is getting those medications and getting back into preventive care. But it also is immediate needs — "a bed where I can sit down and rest my nerves," he said. "I'm on the streets and nobody wants to help me," he said, then he looks up at Roland, "but you all."
"We're going to help you," Roland assures him.