The president of the Medical University of South Carolina on Monday called today's health care system "fractured," "broken," "wasteful" and "duplicative." Then he announced a new partnership he hopes will upend all of that. 
MUSC is embarking on a 10-year partnership with Siemens, the industrial manufacturing giant. MUSC and Siemens executives announced the agreement to MUSC staff and local leaders in a packed auditorium Monday morning.
They told the audience they want to use Siemens' artificial intelligence capabilities across the system. One application will be in predicting the best ways to treat each person using information about how countless other patients fared.
The partnership is a first of its kind for each organization. Leaders said they hope to create a blueprint for more, similar agreements.
"I view the work here that we're doing as a first," said MUSC President Dr. David Cole. "It would be a failure if what happens here stays here."
A spokeswoman for MUSC said no money has changed hands. Moving forward, there may be "co-investments" between the two, though none have yet solidified. Siemens team members will also come to MUSC in person on a regular basis.
Siemens' Healthineers division manufactures a range of technologies, including medical imaging, diagnostics and information technology.
MUSC has been a Siemens customer for about 20 years. The partnership will allow for information sharing between the two organizations. There will be a steering committee with MUSC and Siemens leaders, who will review projects twice a year to make sure they stay on track.
There are about a dozen projects on the drawing board right now. Bernd Montag, CEO of Siemens' Healthineers division, said he wants each of the projects to feature ambitious ideas that couldn't be achieved without both organizations at the table. 
Parts of the partnership remain murky, though Cole said there are about a dozen ideas currently being explored as possibilities, and leaders offered a handful of concrete examples.
First, the new partners hope to reduce the amount of time patients wait before being treated for a stroke. The average wait time is now 90 minutes; 20 minutes will be the goal.
Another is in using patients' health information to better predict what is best for each patient. Using artificial intelligence, clinicians would be able to model different treatment scenarios. The AI can guess what will happen to the person based on their own health information and huge amounts of data about what's happened to patients in the past.
The same technology is already being used to guide the design of MUSC's new Shawn Jenkins Children's Hospital.
Cole and Montag said they hope to see the results of the partnership one day touch every patient who walks on to the MUSC campus. 
"We are building something like the GPS of health care," Montag said. "It should eventually affect everybody."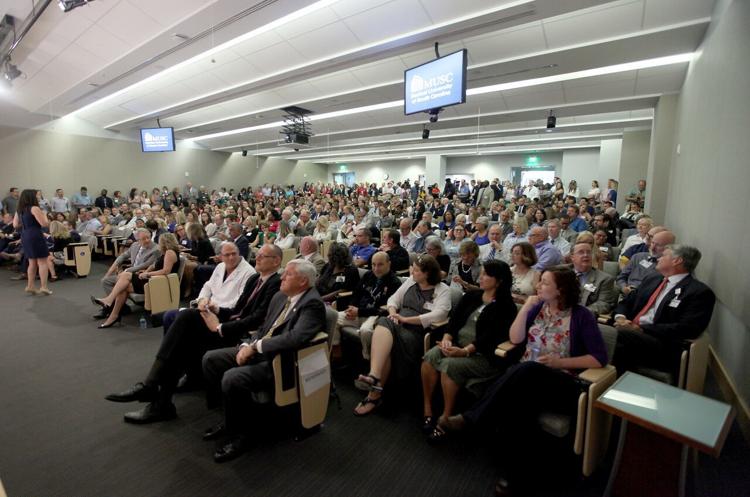 Artificial intelligence is considered a frontier in medical innovation, but not every venture has been successful. IBM's Watson Health division has tried to make AI in health care profitable, IEEE Spectrum reported. But laid-off engineers told the publication IBM has not been able to do so. 
Robert Hartwig, a health care economist with the University of South Carolina, said the partnership may be new for Siemens and MUSC, but it is still in line with what is happening today in the world of health care.
The health industry is in an "era of experimentation," Hartwig said, necessary as health expenditures threaten to engulf a fifth of the country's gross domestic product.
"We're going to see companies that look like strange bedfellows," Hartwig said. "You should expect to be surprised over the next year with nontraditional partnerships."
The opportunity to share huge amounts of information is a common denominator in each of these deals, Hartwig said.
He offered up a deal between the health insurer Aetna and CVS as one instance. Amazon's agreement with Berkshire Hathaway and J.P. Morgan is another example.
Montag said Siemens wants health care groups to view them not just as a technology vendor, but as a key piece in the puzzle of how to deliver better medicine.
"In a partnership, you have many more opportunities to share knowledge, from the medical side and the technology side, and achieve more than in just a commercial relationship," he said. 
Siemens, which is headquartered in Germany, chose MUSC in part because of its size — it's a large institution, but not too big, Montag said. He said Siemens' leadership felt that MUSC is actively looking for ways to prepare for the future of medicine.
And Montag said he hopes the work with MUSC will help Siemens attain similar agreements with other health care companies.