MOUNT PLEASANT — The opioid drug epidemic is "decimating" the Lowcountry, a Drug Enforcement Administration officer told a group of about 300 people who met Monday morning to hear leaders address a drug crisis that President Donald Trump recently called a "national emergency."
The breakfast gathered law enforcement officers, substance abuse specialists and families affected by the opioid epidemic for a discussion at Alhambra Hall that centered on addressing drug abuse among teenagers. The event was organized by WakeUp Carolina, a year-old nonprofit aiming to reduce substance abuse among youth in the community.
The lead DEA officer in the Charleston area, Jason Sandoval, said the community is "urgently seeking" a solution to the crisis. Sandoval drew comparisons to past opioid crises and the crack cocaine epidemic of the 1980s, saying the overdose death rate facing the country now has no precedent.
"Together we will witness the reversal of this dangerous crisis, this outrageous crisis that by historical standards has no equal," Sandoval said.
The DEA agent said opioid death rates in the Lowcountry far exceed national averages. In Berkeley County, he said, the overdose death rate is 200 percent higher than the national average.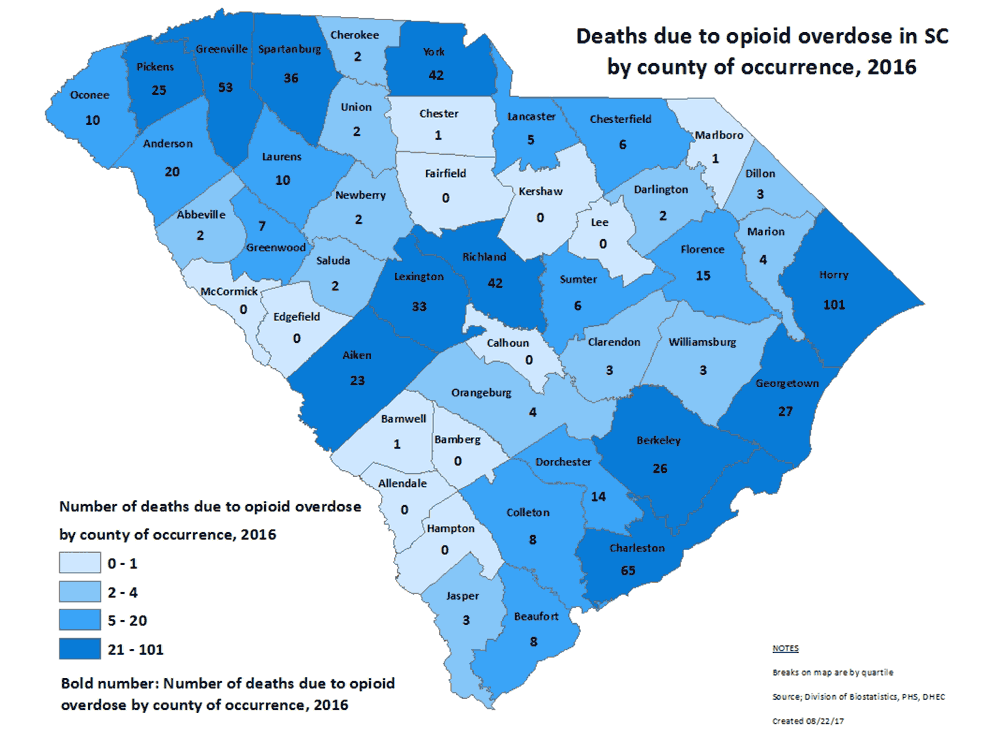 Carl Ritchie, chief of the Mount Pleasant Police Department, said there have been three deaths in the town due to opioids in the past few weeks.
Still, South Carolina has so far avoided the brunt of illegal opioid use compared with other states. In Ohio, where the population is twice the size of South Carolina, there were 1,444 heroin overdose deaths in 2015. By comparison, there were 100 heroin deaths in South Carolina in the same year. But law enforcement say the numbers have started rising here and they have tried to stay ahead of the problem. 
Ritchie said the department has collected 175 pounds of prescription drugs with its campaign that allows people to dispose of their medications. During his speech, Lt. Gov. Kevin Bryant said he hopes to soon announce a "take back" day to encourage people to get rid of their prescription drugs.
Charleston County Coroner Rae Wooten said the number of deaths due to opioids in the county has been "astounding."
"We can't build enough rehab centers. We can't build enough jails to house all the dealers, and we can't hire enough law enforcement officers to identify and arrest," Wooten said. "We've got to better prevention."
She said prevention has to start at a younger age. Even high school may be too late, she said. 
Thirty-eight percent of teens admit to abusing prescription drugs, Ritchie said, and with many parents present, kids were the focus of discussion Monday. 
Advocates said schools in the community have not been receptive to educational efforts. Sandoval said he has personally faced resistance from schools in the community. He said school boards need to "wake up." One school in Mount Pleasant and another on Daniel Island have welcomed the DEA and WakeUp Carolina's educational efforts, he said. Sandoval did not say which schools those were.
The driver of the opioid problem in South Carolina remains misused prescription drugs, something Bryant, who also owns a pharmacy in Anderson, addressed in his keynote speech. Bryant said he has witnessed the number of opioid prescriptions in his own pharmacy triple since he first began practicing. 
"By the sheer number of narcotics that we dispense, it is overprescribed," Bryant said. 
Bryant said he opposed implementing a prescription drug database, but now that one is in place, it should be used to its fullest potential.