GREENPOND — Shakima Stephens stands on the wooden back deck of her one-story ranch home, looking out over the thick and lush forest beyond her backyard. She places a hand on her round belly.
All she hears is silence, and that's the way she likes it. Out here, her high school sweetheart-turned-husband grows fresh vegetables in their yard and takes their two sons hunting and fishing. 
But the isolation of living in rural South Carolina can be dangerous for pregnant women like Stephens. While fewer infants died in South Carolina last year, rates of infant mortality in rural counties still rival those in the developing world, according to numbers published by the S.C. Department of Health and Environmental Control last week.
The Post and Courier published an investigation in 2015 showing that infant mortality rates are persistently high in South Carolina's rural counties. That trend holds true for 2017. 
Last year, an average 6.5 infants out of every 1,000 born in South Carolina died before their first birthday. This marks an improvement over 2016, when an average of 7 infants per 1,000 in South Carolina died. The total number of births declined by about 300 from 2016 to 2017.
Rates were much higher among black babies than white babies. In Calhoun County, for example, the infant mortality rate for black babies was 31.2 — nearly five times the statewide average. 
Across the state, 918 women gave birth after receiving no pre-natal care at all, a particular problem in counties that lack hospitals or OB-GYNs. In Lee County, for example, the 2017 infant mortality rate was 21.3 — the highest in the state. In Charleston, it was only 4.4.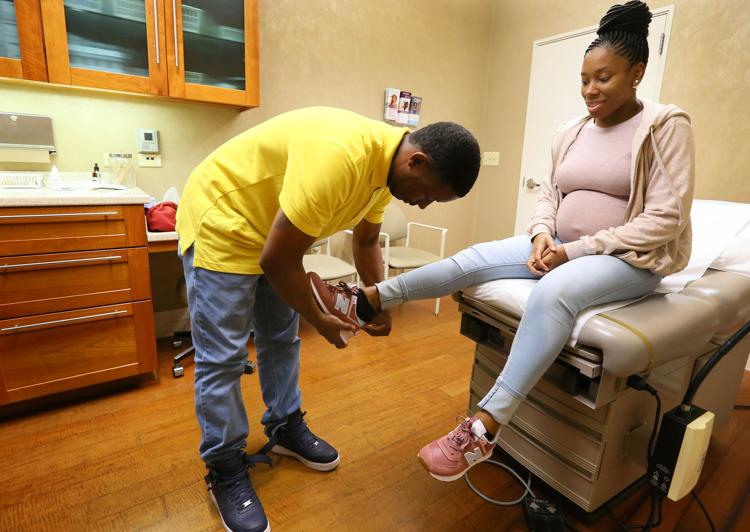 Stephens, 30, pregnant with her fourth child, is due in January. Though Colleton Medical Center is about 15 minutes away from her house, Stephens and her husband have opted for what they believe is superior care in Summerville — a 80-minute drive from their home in Green Pond. At 8:15 a.m. on a recent Monday, the couple strapped in to their black Honda Civic and began the trek to her 9:45 appointment. 
"I don't want to be a statistic," Stephens said. "I don't want my children to be a statistic." 
Inequity of care 
Medical experts agree that prenatal care is vital to the health of the mother and the baby. Not only do these office visits ensure the health of the fetus throughout pregnancy, they also allow providers to address any of the mother's underlying medical conditions, such as high blood pressure, diabetes and obesity, that may jeopardize the life of the baby before or after birth.
But as rural hospitals increasingly discontinue labor and delivery services — or have closed altogether in recent years — OB-GYNs have become a rarity in some parts of the state.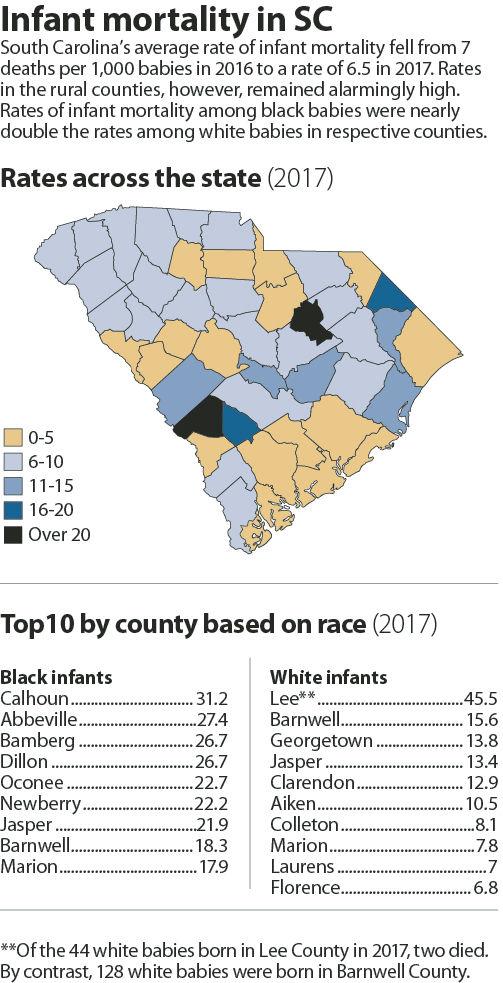 Seven South Carolina counties have no hospitals and 11 counties don't have a single OB-GYN, according to the S.C. Office of Healthcare Workforce. They are largely rural. These gaps force pregnant women in rural pockets of the state to drive much longer to receive their prenatal care. Inevitably, this impacts infant mortality.
While no babies died in Allendale, Edgefield, Hampton, McCormick or Saluda counties in 2017, among the remaining counties that lacked hospitals and OB-GYNs, babies died at an average rate of 13.5. Black babies in these counties died at an average rate of 19.9, more than three times higher than the statewide average.
In fact, regardless of the availability of hospitals or providers, most rural and urban counties saw far higher rates of infant mortality among blacks.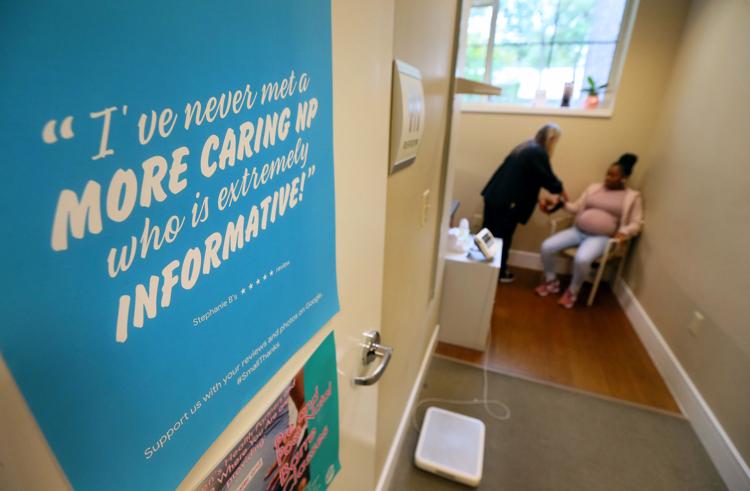 In Jasper County, where 2016 workforce data indicates three OB-GYNs practice medicine, black babies died at a rate of 21.9 last year. Dillon County had a bigger problem, despite the presence of six OB-GYNs. In that Pee Dee county, black babies died at a rate of 23.4.
Berkeley County's overall infant mortality rate was 5.2, the lowest of all the counties that lacked hospitals in the state. Its proximity to Charleston County, where 121 OBGYNs were employed in 2016, likely contributed to its relatively low rate.
And yet, in 2017, 119 women in Berkeley County delivered infants having received fewer than five prenatal care visits before giving birth, and 27 gave birth after having received no prenatal care at all.
Bigger city, better choices
Many mothers don't have the time, money or transportation to drive hours to the nearest provider, said Mary "BZ" Giese, director of the S.C. Birth Outcomes Initiative. It is difficult to get providers into the rural areas where hospitals no longer exist and telemedicine is still years in the future, she said. 
Add to that the pressures of single-parent homes and higher rates of poverty and women are suddenly choosing between prenatal care and economic stability, said Dr. Rick Foster, executive director for the Alliance for a Healthier South Carolina. It's also no coincidence that areas where infant mortality rates are highest are also home to food deserts and higher rates of obesity, he said.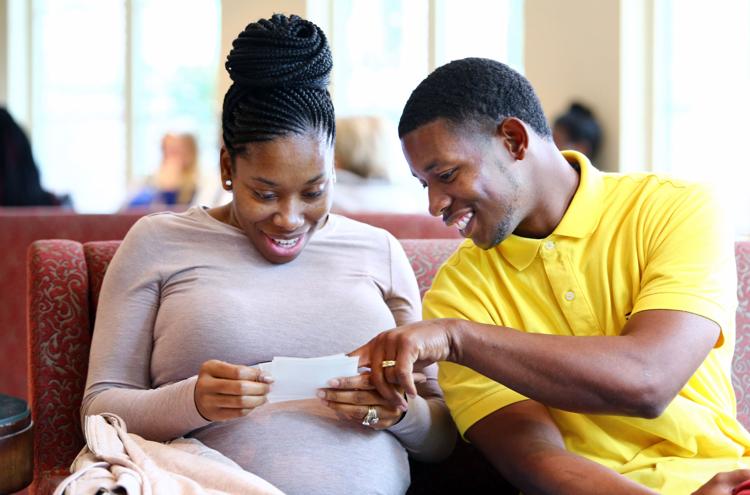 Blacks tend to be less healthy than whites, with markedly higher rates of obesity, diabetes and hypertension, all of which contribute to higher death rates among infants. In South Carolina, 42 percent of blacks are obese, compared with 29.6 percent of whites. 
"Your ZIP code, in some cases, is more important than your DNA code," Foster said. 
Inside Women's Health Partners in Summerville, Teri Halajcsik squeezed warm jelly onto Stephens' stomach. A black-and-white image of baby Grayson's foot lit up the ultrasound screen. At seven months gestation, the baby weighed 2 pounds, 10 ounces. The doctor remembered the respective weights of the couple's previous children. 
"Small, but that's normal for you," she said. 
Here, Stephens said the level of care and attention to patients is much better than what she had experienced at her local hospital. Stephens plans to deliver her baby at Summerville Medical Center in January. Both the Summerville and Colleton hospitals are owned by HCA, a Nashville-based hospital company. 
"In Charleston and Summerville, any corner I throw my rock at, I can choose somebody to help me with my health care and my baby," Stephens said. 
Colleton County has two OB-GYNs staffed at the Colleton Medical Center. Here, the infant mortality rate was 4.4; equal to that of Charleston County. No black babies died in the county in 2017, according to DHEC. 
Dr. Todd Allen is one of those OB-GYNs. He said the medical center battles the perception that his care is inadequate, just because the Colleton Medical center  is in a rural area. The center delivers an average of 300 babies each year. Some moms travel from Hampton and Allendale Counties to give birth here. 
"The patient population here is great and desperate for access to health care," he said. 
Stopping an 'epidemic' 
While rates of infant mortality in rural parts of South Carolina remain high, the overall statewide decrease is promising, Giese said. 
She attributed part of the decrease to a 2013 decision by the South Carolina Medicaid agency and BlueCross BlueShield of South Carolina to stop paying for inductions before 39 weeks unless the physician can offer a valid medical reason for early delivery. Between early 2011 and 2013, the percentage of elective inductions in South Carolina dropped by half, according to a 2013 report. 
The decision by the state's largest public and private insurers to stop paying for those births was groundbreaking and effective, Giese said.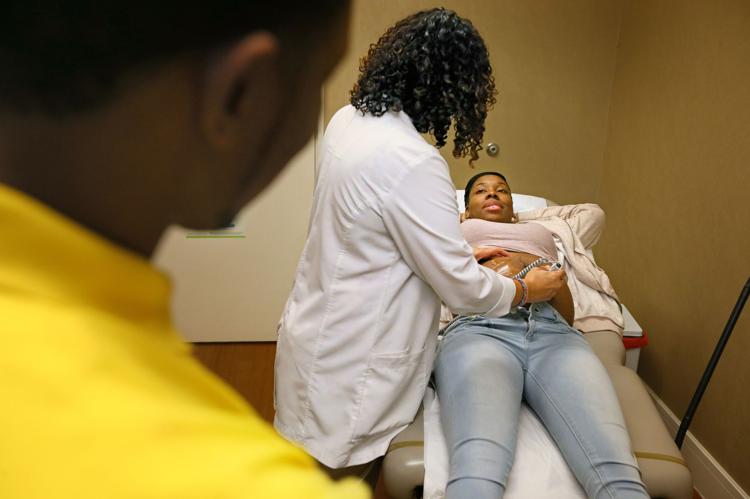 "We are actually bringing our policy to action," she said last week. "It's a very, very big deal."
Giese's organization, the Birth Outcomes Initiative, hopes to see an expansion of prenatal telemedicine. Peer-to-peer support groups for pregnant moms are becoming more popular throughout the state and educating women about their options is crucial, too.
For example, many women don't know that Medicaid will pay for transportation to and from appointments and births. About 55 percent of all births in South Carolina are covered by Medicaid, Giese said. 
"It's OK to ask questions," she said. "Information goes a long way, even if it's simple, short information."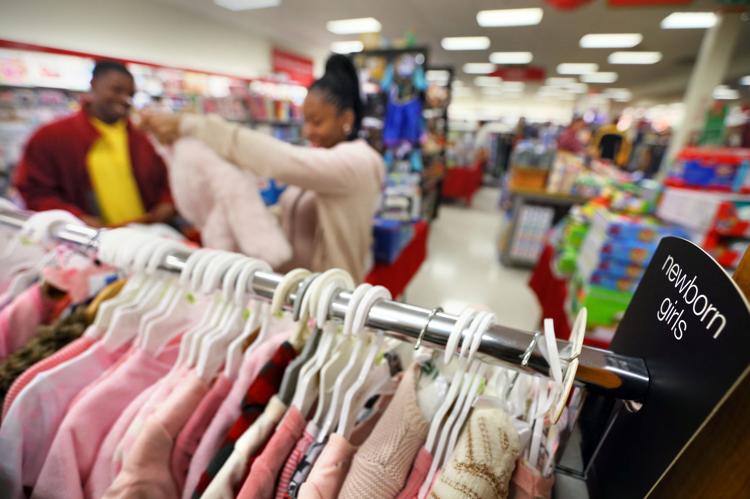 On a mid-week morning in October, state Sen. Margie Bright Matthews, D-Colleton, helped organize a baby shower for pregnant moms in her district. Moms received free gifts as well as a trove of educational information about prenatal care and birth. 
South Carolina's overall infant mortality rate decreased last year, but it remains higher than the national average. 
"Infant mortality is an epidemic," Matthews told the moms. 
Later, she said she hoped to see hospitals reopen in parts of the state where they've closed. Until then, education is key. 
"We have to put money back into educating people on health care," she said. 
This story has been updated.