DANIEL ISLAND — Last summer, Gerald Murphy slipped in the bathtub and badly skinned his left shin.
Murphy, a retired insurance executive, debated whether to treat it himself, but he had an appointment anyway with a local wound care center for a problem with his right leg.
"I told them you're going to have to take a look at my left leg, too," Murphy said.
During five office visits over the next two months, the center's doctor and staff placed a material made from pig placentas over his shin — material Murphy said was about the size of four or five postage stamps. Each visit lasted about 30 minutes, and he was satisfied with the care. Then he got his Medicare statement.
The wound care center billed $101,750, an amount Medicare knocked down to about $71,759, according to statements Murphy shared with The Post and Courier. Medicare and supplemental insurance covered the charges, so he paid nothing out of pocket.
"But I never imagined that it would be so much," he said.
Welcome to the weird and increasingly expensive world of skin substitutes.
Thanks to advances in bioengineering, wound care manufacturers are turning out a dizzying array of new products made of everything from pig placentas to fish skin.
Manufacturers tout these new skin substitutes as a big step forward in healing burns and chronic wounds. But some health experts say it's unclear whether they're truly cost-effective. The stakes are as high as Murphy's eye-popping Medicare statement.
"Skin substitutes definitely have an important place, not just for burn and wound management, but also in reconstructive surgery," said Steven Kahn, chief of the South Carolina Burn Center at the Medical University of South Carolina. "But there's very little high-quality evidence and literature regarding the efficacy of some of these products. A new one seems to come out every day."
There's no doubt about the need for quick and effective treatment of burns and other hard-to-heal wounds.
Left untreated, seemingly minor wounds can lead to infections and worse. People with diabetes are especially vulnerable because the disease can reduce blood flow to sufferers' legs. This slows the healing process and allows wounds to fester. Without treatment, diabetic foot ulcers can lead to amputations and death. All told, chronic wounds affect more than 6.5 million people in the United States every year, a number likely to increase as Baby Boomers age.
Enter skin substitutes.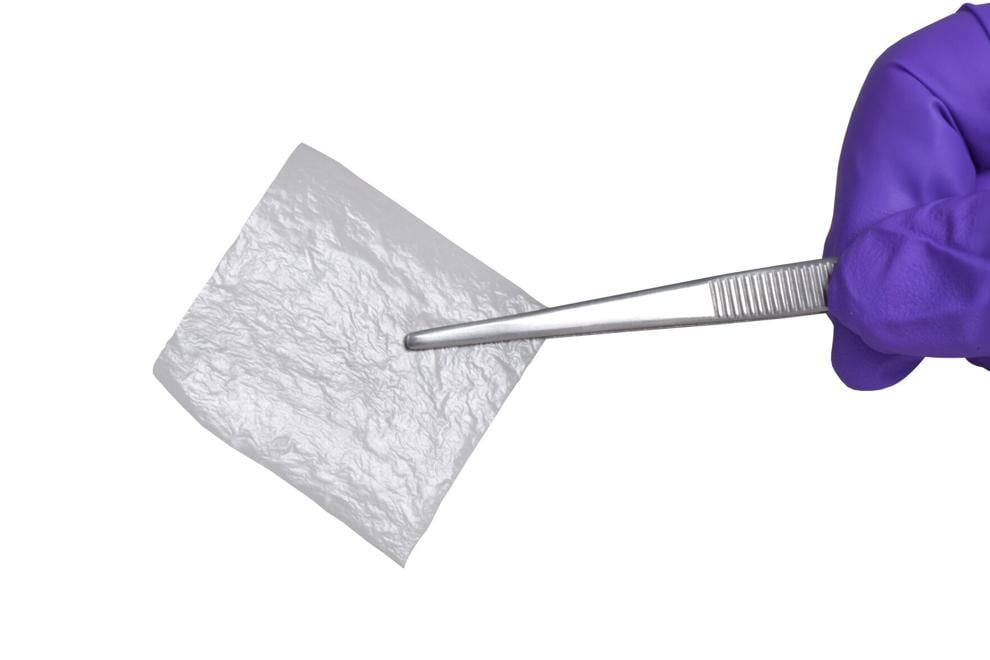 Traditional dressings made of gauze, foam or cloth help protect wounds and allow them to drain. But some skin substitutes mimic functions of natural skin. Like garden trellises, they create structures over wounds for new skin cells to grow.
While many skin substitutes are new, the concept dates back at least 3,500 years when Egyptian healers used frog skins in warmed oil. And doctors have used skin grafts from cadavers for centuries. "We still use cadaver skin for many situations in modern burn care," said MUSC's Kahn.
But dozens of new skin substitutes have hit the market in recent years.
In 2020, researchers with ECRI, a Pennsylvania nonprofit that studies health care technology, identified at least 76 skin substitutes sold in the United States. Manufacturers made them with human placentas, pig intestines, pig bladders, discarded codfish skins from Iceland and heart tissues from horses, to mention a few.
Next, ECRI researchers reviewed studies that measured how well these skin substitutes performed. Here, they found the evidence wanting: Many studies involved relatively small pools of patients; and manufacturers funded roughly 90 percent of the research.
"We found that the studies really didn't follow patients long enough to see if their wounds healed," said David Snyder, senior research analyst with ECRI and co-leader of the federally funded study. "We don't know anything about reoccurrence and how well did the healing hold up."
The group recommended deeper looks into how well skin substitutes do over the long term, as well as more research that compares their performance to traditional treatments. 
The clinical evidence may be lacking, but one aspect of skin substitutes is clear: Their costs can be astronomical.
Pig placentas
In Gerald Murphy's case, his doctor at Charleston Wound Care Center in Mount Pleasant used a relatively new skin substitute called InnovaMatrix. The Medicare-approved rate is $1,030 per square centimeter.
To put that in perspective, a typical U.S. Postal Service "Forever" stamp is about 4.5-square centimeters.
For Murphy, that translated to a roughly $17,000 charge to Medicare for each of his first four visits and a $4,400 charge on his final visit, his statements showed.
"No one told me how expensive this material was," he said. "And no one mentioned it came from pig placentas."
A company called Convatec Group makes the InnovaMatrix product.
Chris Sabatino, Convatec's vice president of medical affairs, said one of the company's founders began thinking hard about five years ago about how to replace human placenta tissues. Human tissues worked well but also came with risks of infections and toxins — the biological baggage that comes with being human.
They honed in on pig placentas because our immune systems tend to be more accepting of pig-based tissues and collagen. "You probably use porcine-based products without even knowing it," Sabatino said. Gel capsules for pills, for instance, are often made with pig-based collagen.
Sabatino said researchers discovered that farmers typically threw away pig placentas. "We were finding a way to monetize a waste stream, so the farmers were happy about that." And the farms themselves could be tightly controlled and monitored. In many respects, those pigs are healthier than ones people eat, he said.
The company washes, disinfects and dries the material and then sterilizes it again. The result is a scaffold for new skin cells, Sabatino said.
The cost? Much like a new pharmaceutical, the company embeds development and research costs into the price, Sabatino said, adding that he hopes the price will go down as more doctors use the materials. And it's typically used only after patients' wounds have failed to heal after four weeks.
He added that the FDA in 2020 cleared the InnovaMatrix product for use. But it wasn't until early 2022 when Medicare issued a special reimbursement code. "That's 14 months we weren't able to sell it, and we had to stay afloat. The dollars behind developing a device are very much on the front side."
His company is based in Memphis, which also happens to be a FedEx hub. Sabatino said workers pack the product in special cartons there and ship them overnight to health care providers across the nation, including Charleston Wound Care Center in Mount Pleasant.
'Everything in your arsenal'
Christopher Michaelis, the doctor at Charleston Wound Care Center who treated Gerald Murphy, acknowledged that the skin substitute was pricey — "so expensive you don't stockpile this stuff."
But he said he has met people who lived with unhealed wounds for years because doctors hadn't used skin substitutes.
"Our patients have been in tears when they left because they were told they were going to lose their leg or toe," he said. "And then they're healed because you used these advanced therapies — everything in your arsenal to heal that person as fast as possible."
Moving fast is more cost-effective, he added. "I've found that for my patients it's better to spend money up front so the person doesn't end up losing their leg, where they can't work anymore, or they're hospitalized. It's just more cost-effective to be aggressive and get these patients healed before they get complications."
He said Murphy's wound was a perfect example of why they use skin substitutes. He'd had hard-to-heal wounds before. He said Murphy's wound healed about 70 percent the first week because of the skin substitute.
And he said his practice isn't getting rich using them. He said most of the money goes to the medical device companies. And he and his staff work with the patients' insurers, including Medicare, so patients don't get socked with a big out-of-pocket bill.
"I explain to all of my patients, 'These things are expensive. Don't get shocked by it.' That's just what the product costs. I have to buy it. And the insurance determines what the value is."
'Everybody just pays'
Gerald Murphy tried to learn more about the charges after he read his Medicare statement. He called Medicare hotlines.
"They just blew me off. They didn't explain anything. They just said that was just the cost."
Penetrating the thicket of Medicare and Medicaid pricing is no easy task.
Medicare and Medicaid farm out their claims to private insurers across the country. And it's these regional companies who end up setting the prices.
In South Carolina, Medicare has a contract with Palmetto GBA, which is affiliated with Blue Cross and Blue Shield of South Carolina.
Rose Dangerfield, a spokesperson, said Palmetto GBA set the $1,030 per centimeter price on its wholesale cost plus 3 percent, according to federal guidelines. She did not respond to requests for more details.
In the meantime, Murphy, the 87-year-old former insurance executive, was left wondering whether he could have saved the federal government some money.
"If I'd known the cost, who knows, I might have backed off a little bit," he said.
"Insurance was my life for 39 years," he added. "So that's why I reacted so much to the billing. There's something out of whack. And my problem isn't about the treatment. It's with Medicare. They just paid, no questions asked. Everybody just pays."