With new COVID-19 boosters approved, many adults seeking that shot may want to see if there are others that can provide valuable protection against diseases like pneumonia and shingles, doctors say.
The Food and Drug Administration approved on Aug. 31 new booster shots from Pfizer-BioNTech and Moderna that are bivalent vaccines, targeting the original strain of the SARS CoV2 virus and the BA.4 and BA.5 strains of the Omicron variant that make up 96.2 percent of all circulating strains. The Pfizer shot is approved for those ages 12 and older and Moderna is authorized for 18 and over, FDA Commissioner Robert M. Califf said. The shots can be given two months or later after the last COVID-19 vaccination, he said. The boosters are being released not only to address the current surge of illness, which is coming down but has plateaued, but also to potentially help blunt a predicted wave in the fall that is modeled to peak around Dec. 1, said Dr. Peter Marks, director of the Center for Biologics Evaluation and Research at FDA.
But this is also the time of year many adults start thinking about and planning for their annual flu shots, said Dr. Alaina Payne, a family medicine physician with East Cooper Internal Medicine, part of Roper St. Francis Healthcare. During the pandemic, people have been eager to "to do anything they could to protect themselves and not get sick," she said.
For those ages 65 and older, or those with compromised immune systems, they may want to get the high-dose flu vaccine that can elicit a more robust response, Payne said.
But there are other shots it's important to ask about, as well, she said. Payne saw two patients with shingles recently who were lamenting that it might have been avoided had they gotten the Shingrix vaccine.
Shingles, the re-emergence of the chicken pox virus in older adults, can cause a wide range of problems, from mild to severe, like itching or a painful rash, fever and fatigue. 
"It can even involve the ear and the eye, leading to deafness and blindness, depending on where you have it," Payne said. "Sometimes that rash and the symptoms can last a few weeks. Other times, it can go on for months, even years, where people have this chronic pain that lingers from shingles."
The vaccine is about 97 percent effective in preventing that, she said.
"I always tell people, if you know anyone that has ever had it, trust me, you don't want it," Payne said. "If you qualify for (the vaccine), then definitely try and get it if you can."
The Centers for Disease Control and Prevention recommends adults 50 and older get the vaccine, which it also recommends for adults 19 and older with weakened immune systems.
There have also been questions from grandparents about the tetanus-diphtheria-pertussis booster, known as Tdap, "to help protect the grandkids from getting whooping cough or pertussis," Payne said.
That one is a little trickier, she said. Most adults need a booster every 10 years, but Medicare might not cover it. Then it becomes a cost-benefit analysis — "is it worth it, have you been in the (Emergency Room) in the last 10 years when maybe they would have given it to you in the ER," she said.
Another one seniors and older adults should ask about is the pneumonia shot. That one got a little easier in the last year or so, Payne said. The Food and Drug Administration approved a vaccine last year against 20 strains of pneumonia that can take the place of the previous two-shot regimen given one year apart.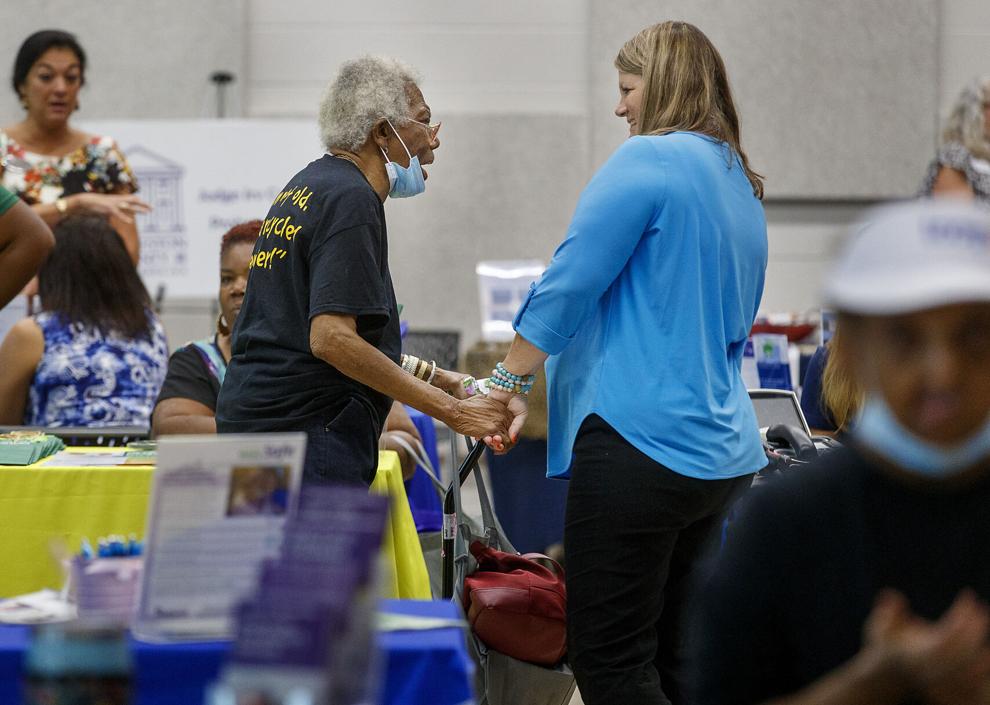 That is "one less vaccination for people, which is nice," Payne said.
Some of these shots, like the flu shot and the COVID-19 booster, can be given at the same time, Payne said.
In fact, at some point, COVID-19 vaccine "will probably become like the flu vaccine," said Dr. Edward Simmer, director of the South Carolina Department of Health and Environmental Control. And patients will routinely get them, "hopefully together," he said.
But as outbreaks of vaccine-preventable diseases such as measles and now even polio show up, a vaccine "only works if people get it," Simmer said.