The staff at Medical University of South Carolina lined the hospital hallway on Feb. 12 when 36-year-old David Massie was transported to the operating room to be a kidney donor. 
He had been involved in a car accident that left him with fatal injuries. The lining of the hallway, or the honor walk, was done to commemorate and thank him for his heroic act of being a donor. 
"It's one of the most special things that I've ever been a part of," said Dr. Natalie Gregory, a local OB-GYN and David's sister. "It was bittersweet." 
The Massie family is one of hundreds of South Carolina families who, in a time of tragedy, get to see a loved one do one final act of kindness. In 2017, Donate Life South Carolina, which manages the states donor registry, reported over 1,200 organ and tissue donations. 
In honor of these South Carolina families, Donate Life SC meets and celebrates April as Donate Life month. Last week, the organization gathered with transplant recipients and donors to commemorate the month at the South Carolina State House. 
"It's a very humbling experience," said Tracey Moore, CEO of Donate Life South Carolina.
Evolving registry 
The purpose of the month is to acknowledge the sacrifice of people like Massie while also raising awareness about organ and tissue donation. One reason is that being registered as a donor in this state wasn't always so straightforward.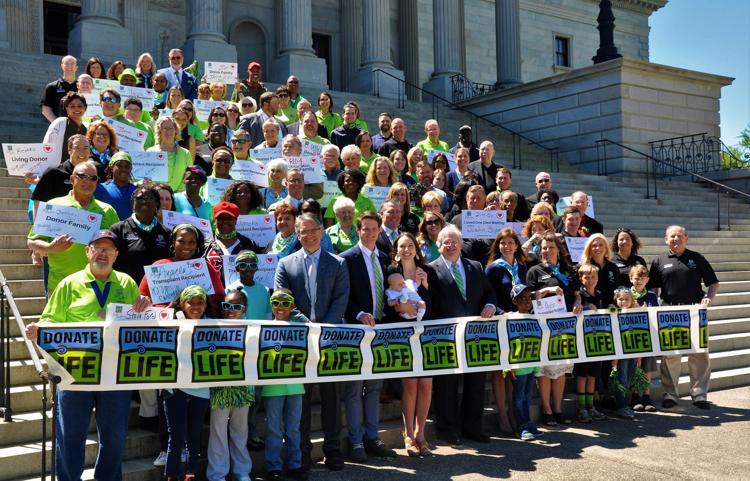 South Carolina, like many other states, had what was called an intent-only registry, Moore explained. What would happen is that residents would go and put on their license that they were an organ donor. 
The issue was that there wasn't a separate registry of donors that was legally binding. The only proof of organ donor status was the mark on a license. 
"That's not a legal form of verification anyway," Moore said.
So it was up to a family to make a final decision in the worst time of their life, she said. If a patient hadn't communicated their organ donor status, then there was a chance it wouldn't happen. 
Massie had used an app called iHealth to officially register as an organ donor. In January 2009, the first person-consent registry was launched in South Carolina. With that, a person registered could have their donor status be legally binding. 
For families who haven't discussed organ donation, Moore saw that it took a lot of pressure off them. 
"They are so relieved to know what their (the donor's) wish and will were," she said.
Between then and now, the registry has grown to nearly 2.2 million registered residents. But as large as that is, there is still a need for more donors. 
Dr. Satish Nadig, director of the Living Donor & Pediatric Transplantation program at MUSC, said nationally there are still more people on the transplant waiting list then there are donors. Nationally, he said there are around 120,000 patients on the waiting list.
He said it's also not uncommon for him to see a patient die while on the list. 
"So there's a complete disparity," he said. 
A common misconception with the public is that they assume doctors don't prioritize the health of patients who are organ donors. The belief is that if they see the organ donor status, they don't do all of they can to heal them. 
"That's truly incorrect," he said. 
That line of thinking prevents other people from having their lives saved, he said. And Gregory completely agrees. With her brother, she saw that doctors did all that they could. 
"Their goal was always to provide the best medical care that they could," she said. "They did not treat him any differently."
Nadig and Gregory emphasize that organ donation isn't even considered until doctors have exhausted all medical actions. In Massie's case, he already was using a ventilator when it was discussed. 
Another thing people sometimes overlook, Nadig said, is that it is possible to donate organs while still alive. With Massie, his death wasn't the first time he had donated a kidney. 
He was able to indirectly help get his nephew a kidney in 2016 with the help of Nadig. Massie ended up donating his kidney to a stranger to kick-start a kidney-transplant chain. 
The chain ended with Massie's nephew getting a kidney from someone from New Jersey. 
"I think that was the thing my brother was most proud of in his entire life," Gregory said.
Beyond organs 
And being a donor doesn't just stop with organs, it includes tissue in varying areas of the body, including the eye. 
When she was 15, Mount Pleasant resident Colleen Santiago was diagnosed with a degenerative cornea condition. 
"My only solution for clear vision was to have a transplant," she said.
At 22, her first transplant was with her left eye. Now 51, she has had a total of five cornea transplants. The most recent was in 2014 for her right eye. The process involves her receiving a portion of cornea tissue from a donor.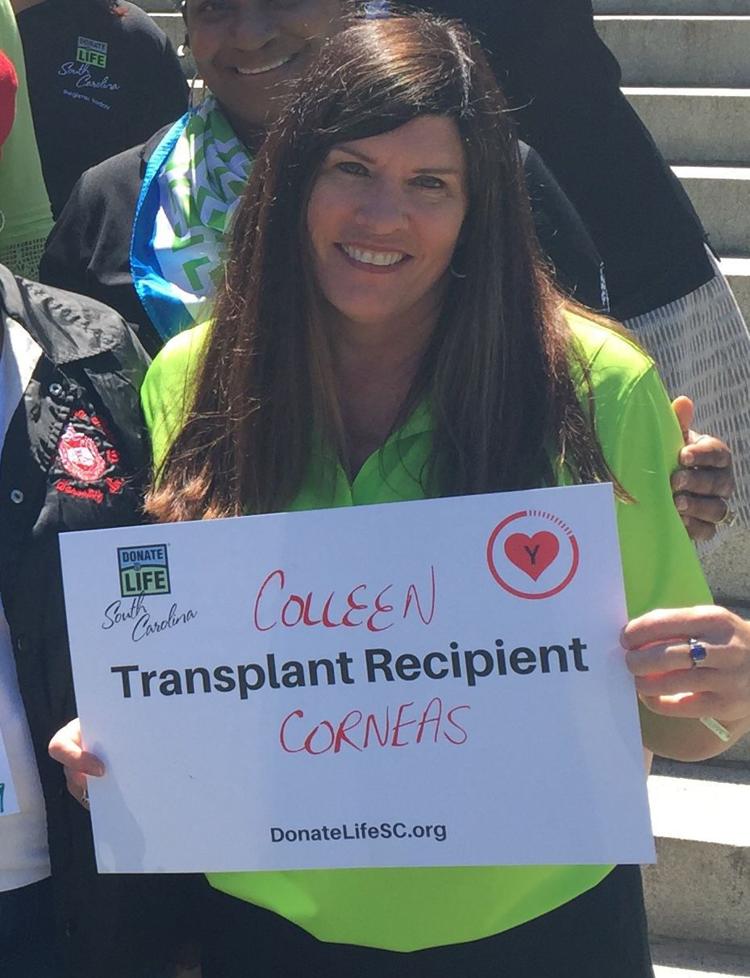 Without the transplant, Santiago wouldn't be able to see. The transplant she got in 2014 held special meaning. 
"I was able to see my daughter's face completely for the first time in my life," she said. 
Moore explained that hundreds and thousands of people are healed by tissue donations. More than 1,000 people like Santiago were given the gift of sight through cornea transplants, she said. 
When Santiago saw all of the families of donors during the Donate Life month press conference, she said she got emotional. It was bittersweet. All the little things she said she is able to do now came from a family losing a loved one.  
She said she doesn't know who her tissue donors were. All she knows is that five people died so she could see. 
"There are no adequate words to thank someone for the gift of my sight," she said. "There are just no words."
When she was walking the halls of MUSC with her brother one last time, Gregory said, it was a lot to take in. She said that they all knew that somewhere it was going to be a life-changing moment for a person in need. 
"That was something that was just an amazing gift that he was able to give," she said.
And the Massie family doesn't know who the recipient of David's kidney was. They do know that it was a South Carolina resident and a father of five. Ultimately, she said they were happy that Massie had made his donor status known.
"It made things way easier for us that he had done that."
She and others encourage families to have conversations about organ and tissue donations. And she herself encourages everyone to be a donor. 
 "You can save someone's life," she said.