Ten years after the state health department granted permission for two competing health systems to build separate hospitals in Berkeley County, the agency decided Monday to approve a third. 
The Medical University of South Carolina may now move forward with plans to break into a quickly growing region with its planned 311,000-square-foot MUSC Community Hospital at Nexton near Summerville. Four health systems already have voiced their opposition to the project.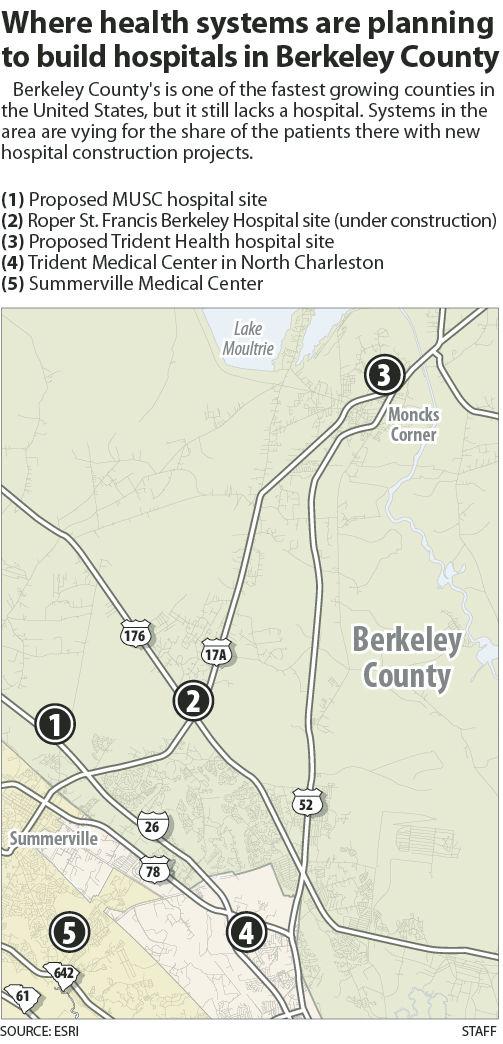 The facility will include 128 inpatient beds and another 12 intensive care beds, bringing MUSC's total number of beds across its system to 841. Construction is expected to start later this year. The $325 million hospital could open in 2022. 
"The Nexton hospital will be a much-needed addition to our health care system," MUSC President David Cole said in a statement. "Our network of MUSC hospitals, clinics and other care facilities is positioned to provide patients with the right care, at the right time and in the right location."
Both Trident Health and Roper St. Francis also hold Certificates of Need to build their own hospitals in Berkeley County. The Roper St. Francis hospital in Carnes Crossroads is currently under construction.
Plans for MUSC's hospital now enter a review period during which affected parties, including the project's opponents, may request a final review. If that request is denied, the opponents may ask for a contested case hearing before the Administrative Law Court.
Otherwise, the S.C. Department of Health and Environmental Control's approval becomes final. Hospitals must apply for a Certificate of Need through DHEC before embarking on major construction or expansion projects. The program's goal is to prevent oversaturation of the same kind of health care services in a single area and to control health spending.  
Charleston's two other major hospital systems, Trident Health and Roper St. Francis, have formally opposed the MUSC project. They are joined by The Regional Medical Center of Orangeburg and Calhoun Counties, a public hospital system, and Colleton Medical Center, which is owned by the same parent company as Trident Health.
DHEC's approval doesn't bar competing hospital systems from taking legal action to stop proposed projects. Roper St. Francis and Trident Health spent nearly a decade litigating each other's plans to build hospitals in Berkeley County. 
In 2008, DHEC granted both hospitals permission to build, but Trident Health long contended that the county could support only one facility. The court system disagreed.
Both Rod Whiting, spokesman for Trident Health, and Roper St. Francis spokesman Andy Lyons said their systems will continue to oppose MUSC's Certificate of Need to build in Berkeley. 
"Berkeley County residents deserve easier access to excellent primary care and specialty services, and Roper St. Francis Healthcare is best positioned to provide that," Lyons said. 
Whiting said Trident Health has provided care to Berkeley County families for more than 40 years. The system is investing about $100 million overall to meet that population's needs, he said in a statement.
Lynn Bailey, an independent health consultant based in Columbia, said competing hospitals sometimes use the state's Certificate of Need process to battle for patients and market share. 
MUSC's application indicates its system is trying to meet its patients where they are, she said.
Berkeley County ranks among the fastest growing counties in the United States. More than 7,000 people moved there between mid-2016 and mid-2017, boosting its population to almost 218,000, according to the Census Bureau. That's 22.5 percent more than in 2010.
Still, it lacks a hospital. Roper St. Francis is scheduled to open its Berkeley County hospital next year. While Trident Health has a freestanding emergency department in Moncks Corner, it has delayed plans to build a full hospital after discovering wetlands on its site. 
MUSC's argument for a new hospital centers around its patients' home addresses: Of the approximately 31,000 patients it served last year, 29 percent lived in either Summerville, North Charleston or Moncks Corner. MUSC also argued in its state application that patients have been unable to reach its downtown hospital during major floods. A hospital closer to Summerville would lessen this problem, hospital leaders argue. 
MUSC's Board of Trustees approved the hospital's construction in December.