Every couple of weeks since school was canceled, Wesley Stewart has a "eureka" moment that sends him rushing out of his bedroom, laptop in hand.
The second-grader at Round Top Elementary in Blythewood has to show his mom what he just learned. On a recent Friday, for example, he picked up computer coding well enough to recreate the classic Pong video game on his laptop, programming a virtual paddle to smack a ball across the screen.
Along with 787,000 other students in South Carolina's K-12 education system, Stewart's schooling was derailed in March by the coronavirus pandemic. And when schools closed, so did most of their extracurricular activities, clubs and programs.
But not STEM for Kids, the science-focused after school program Stewart joined last fall. The program was created two years ago by a Richland Two School District parent, Gaurav Sangal, an engineer who was concerned about the lack of hands-on science programming for kids in the Columbia area.
Sangal built STEM for Kids into a profitable business that has spread to nine Richland Two schools and one private academy. Sangal and his team of instructors — usually students from the University of South Carolina — would take up residence in a school's classroom for two hours every two weeks.
During in-person labs, students would build Lego robots and test scientific concepts, such as Newton's laws of motion.
The sessions were hands-on by design. So when the pandemic hit, Sangal had to redesign his program to keep it alive.
Now, Sangal has completely shifted to online instruction, using only concepts that can be explained and drilled virtually. Over a video call hosted on Google Meet, he teaches his students computer animation, coding and app design. Students like Stewart can pick up new skills with each class and practice them until the next one.
"We had to kind of innovate a little bit," said Sangal.
With schools closed this spring, Sangal's classes have helped keep young students engaged with science and possible careers in engineering and technology. The biweekly video chats also have provided a sense of community among kids who no longer get to see their classmates in person.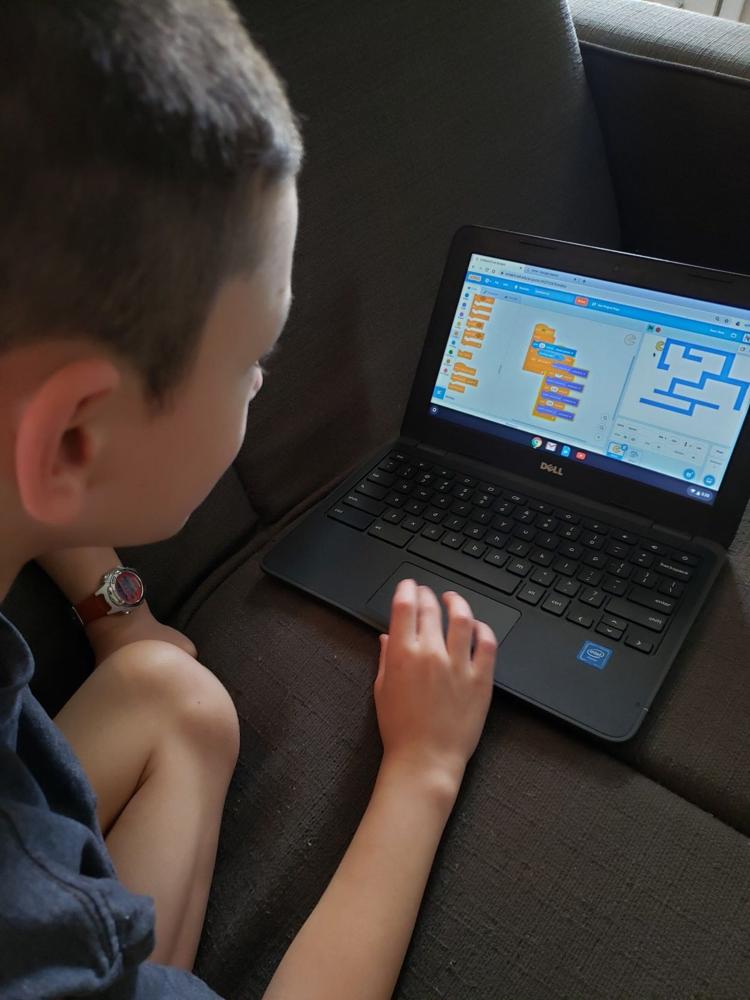 "It's such a great social outlet because there aren't a lot of opportunities like that right now," said Wesley's mother, Stephanie Stewart, who signed him up for the program after seeing a flyer in the school's carpool line.
Sangal, who worked technology jobs in Chicago, Dallas and the San Francisco Bay area before landing in Columbia, said the early success of the classes also make him hopeful about the possibility of expansion.
Previously, he didn't have the staff to go beyond the Columbia area. But with online instruction working so well, Sangal sees room — and a need — for growth. He plans to continue the online classes throughout the summer, instead of his usual in-person summer camps.
Students across South Carolina need to be introduced to lucrative careers in science, engineering and technology at a young age, Sangal said.
"If we don't get this kind of education on a much broader level for the kids, there will be a lot of missed opportunities," Sangal said.
Programs like STEM for Kids fill a big need at the right time, said Rashad Adams, principal of North Springs Elementary.
"It is important to have a program like this to engage kids in learning during these challenging times," Adams said. "Students in my school community who are in STEM for Kids deserve access to engaging, meaningful and relevant learning even after school facility closures. This program affords that opportunity."
Stephanie Stewart said the classes have taken root with her son, who has long been interested in video games and technology. He spends hours practicing coding, and he is working to recreate Pac-Man, which is more challenging than Pong.
He talks about his own ideas for video games and hopes to one day become a game designer, Stewart said.
"He's demonstrating and learning skills that he really loves," his mother said, "and he has someone to coach him."