Chelsea-Rae Sane tried to teach her 6-year-old son, Brody, after his school closed in March in response to the coronavirus pandemic. It failed miserably.
Brody could easily tackle concepts he had already been taught by his kindergarten teacher, but he struggled and lost interest with new material sent home by his school, Sane said.
Sane, a 28-year-old stay-at-home mom and occasional substitute teacher, tried to get through to her son with YouTube videos and educational games. But most of their lessons ended with little accomplished and Brody slipping further behind on his schooling.
Sane is aware of the threat posed by the coronavirus, which has infected nearly 64,000 South Carolinians and killed more than 1,050. But if her son's school in Lancaster reopens this fall for face-to face-learning, she plans to send him.
"I want this to all end, honestly," Sane said. "I feel like I am doing him a disservice by not allowing him to go."
Hundreds of thousands of South Carolina parents are wrestling with the same question as the state's 79 school districts finalize their plans for a fall semester in the midst of a worsening pandemic.
The issue took center stage in the Palmetto State on Wednesday as Gov. Henry McMaster called on every public school to reopen and offer parents the option of face-to-face learning for five days a week this fall.
McMaster's request was quickly blasted by teachers' groups, education associations, school districts and lawmakers. They said the risks are too high to require schools to reopen full time. State Education Superintendent Molly Spearman refused McMaster's invitation to attend the press conference and support his plan, insisting districts need to make their own decisions.
The situation has left parents of South Carolina's public school children torn. The day after McMaster's controversial announcement, The Post and Courier interviewed more than two dozen parents and received comments from dozens more. Their responses were colored by their children's experiences this spring with at-home learning, their perceptions of the severity of the pandemic and the health conditions that shape their level of risk.
Some, citing the chasm in effectiveness between in-person and virtual learning, said they felt compelled to send their kids to school this fall. Others said they wouldn't allow their kids to return to school until the state reins in its daily infection and death counts, a benchmark that remains out of sight.
Almost all expressed frustration that South Carolina's inability to contain the COVID-19 outbreak has left them picking between prioritizing their families' health and their children's educational outcomes.
South Carolina parents talk about sending their children back to classrooms as COVID-19 cases rise.
Health concerns
Even before McMaster's announcement, the state's parents were split on whether to send their kids back to school.
A late-June survey by Columbia public relations agency Chernoff Newman found about a third of South Carolinians felt comfortable sending their children to school, camp or daycare during the school year, or even the summer. Another 43 percent said they expected to feel comfortable within the next three to 12 months. About 22 percent said it would take at least another year.
The day before McMaster's announcement, researchers at the University of South Carolina's Social Media Insights Lab analyzed more than 3,300 tweets from S.C. residents and found more skepticism on reopening schools than support.
In the 24 hours after McMaster's press conference, analysts found overwhelming negativity on social media toward the idea. Only 3 percent of posts expressed support for reopening schools.
"Social media users are asking whether masks will be used, if social distancing is possible and whether teachers will be safe," said Jack Landess, an Insights Lab analyst. "There are specific concerns over whether schools in low-income and minority communities will be hard hit, and some call reopening an attack on the working class."
Some parents told The Post and Courier they are skeptical schools can put adequate protections in place to enforce social distancing and mask use, especially since many businesses have already tried and failed.
Ronan Sturgis, a teacher who has an 8-year-old at Ocean Bay Elementary School in Myrtle Beach, said the rising case counts in tourist-crowded Horry County show it is unsafe for local students to return to school.
"If I lived in Wyoming I might feel differently," Sturgis said.
West Ashley parent and healthcare worker Francis Marion Beylotte noted the state's daily COVID-19 case and death tallies are far higher now than they were when schools closed in mid-March to slow the virus' spread.
"My daughter still sneezes and doesn't cover her mouth," he said. "I don't mean to put her on blast but she's 8 years old, and if you get 10 8-year-olds in a room, do you really think they're all going to wear their masks and sneeze properly?"
Bess McCullough, an Aiken resident who has a third grader at a public school and a kindergartner in private school, said she is terrified to send either of her kids back to a school at full capacity.
"If it happens to be my children bringing COVID into the classroom, how do I explain to them it's not their fault their classroom is shut down again or that they got their friend sick?" McCullough asked. "How does a parent explain to their child that a beloved teacher died simply from doing their job?"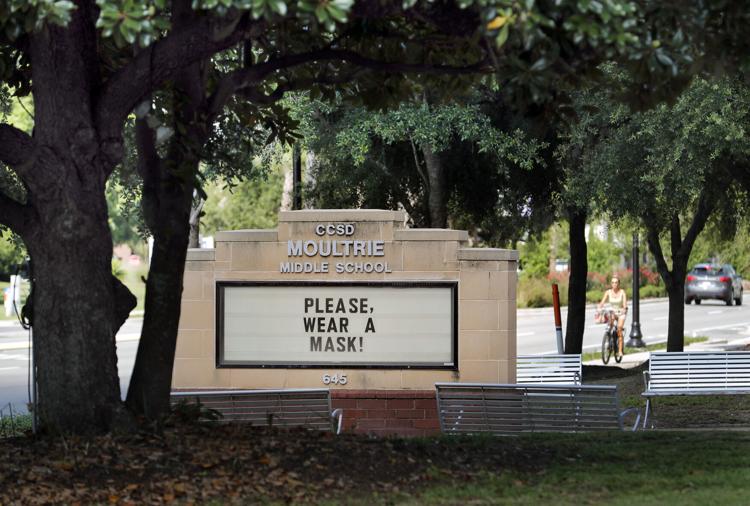 'My kids did not thrive'
Still, parents worry about the efficacy of virtual instruction in the fall. Lawmakers this week offered a blistering review of the state's effort to teach students after schools closed, saying more than 10,000 students fell out of touch with their teachers and many more fell behind without face-to-face instruction.
Republican President Donald Trump and U.S. Education Secretary Betsy DeVos have already voiced their support for schools reopening this fall. Florida Gov. Ron DeSantis announced the Sunshine State would open schools at full capacity next month.
Adrienne Colantuoni, a Charleston County School District budget supervisor, was strongly considering sending her children to private school this fall if they were unable to return to their regular classrooms for in-person learning.
Her twins, rising eighth graders at Marrington Middle School of the Arts in Berkeley County, both struggled with the shift to online learning.
"My kids did not thrive in that, especially my daughter," she said. "I just felt like there was not very much learning going on … That's why I'm intending to send them face-to-face, back to the schools."
Colantuoni says she knows COVID-19 cases are rising in the area and one of her children could bring the virus home. But she thinks it's unlikely any of her family members would become seriously ill from the disease, which preys on the elderly and people with preexisting conditions.
Jonathan Bost, a shipping and logistics worker from Lexington, said he plans to send his fifth grader and kindergartner to school in Lexington School District 1 based on what many pediatricians have said about the virus. Children can become infected with COVID-19 and carry the disease back home, but they are far less likely to die from it than adults.
Last month, the American Academy of Pediatrics encouraged face-to-face learning in schools this year, emphasizing the social and educational downfalls of children continuing to miss school. The organization recently softened its stance, saying local schools and districts should make that call based on data and health guidance. But the group's preference is still in-person instruction.
"I don't feel as comfortable as I would have last August sending them back," Bost said. "But it's also a scary thought of kids falling behind in their education."
As a special education teacher and lacrosse coach at Greenville's J.L. Mann High School and a parent of public school children, Rob Searfross thinks the positives of returning to school outweigh the risks.
He said he sees firsthand how children are suffering without the one-on-one, face-to-face interaction that school provides — and how parents are struggling to balance providing for their children's needs in addition to providing them an education at home by default.
Searfoss tells the story of a former student who contacted him to share her story. She explained that she has two small children, her husband left the family and she doesn't know how to work two jobs and keep them at home, he said.
"It's been breaking my heart to see the kids who are suffering," he said. "There's so many kids who need to be at school who need that one-on-one contact with teachers. School is one of the safe places they can go to. They say it takes a village to raise a kid. Being in school is part of helping raise them."
Dewayne Lawson, a teacher at Edwards Middle School in Central, said there would be no benefit in keeping his 13-year-old son home while he goes to school to teach.
Lawson said his son, Jacob, thrived at online learning in the spring, but added the teenager also needs the social experiences that come with in-person schooling.
"He's got all of the things going for him that a successful student would have, but he's missing out on the things like conflict resolution, that awkward relationship with a friend or a girl," Lawson said.
'No good options left'
For months, South Carolina's parents have waited for a solution that hasn't appeared. Restrictions on businesses and public life this spring didn't contain the virus, and warm weather in the summer hasn't stopped case counts from reaching new, record heights.
Now, many parents are frustrated — with government, with their neighbors — for letting the pandemic run rampant with the school year fast approaching.
For many, McMaster's insistence that schools reopen five days a week only exacerbated those frustrations.
"McMaster has recklessly mishandled the state's COVID-19 situation from day one," said Michelle Ross, a 32-year-old Irmo resident who plans to enroll her seventh-grade son in a virtual program at Dutch Fork Middle School, rather than in-person classes.
Kym Smith, whose child is in ninth grade in Lexington County School District 2, blames the governor for making parents pick between their families' health and their kids' education.
"The government here is putting us in a position where we have to make these decisions for our kids," Smith said. 
Sturgis, the Horry County resident with a student at Ocean Bay Elementary, is skeptical. He thinks McMaster's primary reasoning for reopening schools is so parents can have childcare and go to work to avoid a deeper economic recession. He said the governor has put local school boards and administrators in a tough spot, as they will be blamed for any outbreaks once students return. To him, the individual school administrators are who he trusts to make the best decisions for students and staff.
"Nobody wants to open up," Sturgis said of his child's school. "The teachers and administrators over there are top-notch. I think they would rather do the lower-quality remote learning and be safe than have kids in class."
James Island parent Kenley Young said school officials would be in a better position if stores, restaurants and businesses were forced to remain closed for longer and if the governor had implemented a statewide mask ordinance.
"Because of the groundwork we've laid over the past three or four months, there are no good options left on the table," Young said. "Anyone could have seen that this was a disaster waiting to happen."
Adam Benson, Jenna Schiferl, Tyler Fleming, Anna B. Mitchell, Eric Connor and Conor Hughes contributed to this article.