HILTON HEAD — Concerned that an RBC Heritage without fans might dent local interest in the longtime PGA Tour stop, someone from Harbour Town Golf Links phoned Hollywood.
Hello, Izzy?
Need a favor.
A new star.
Someone my audience can really relate to.
Not just a former University of South Carolina golfer but someone raised in South Carolina. Someone with an appreciation for the sport. Some kind of tie to other tour pros from the state. And the Masters, maybe?
And a love story, Izzy. Something with golf involved.
Matthew NeSmith, direct from central casting, shot a first-round 66 on Thursday to put himself in early contention. The Gamecocks' career scoring average leader is a North Augusta native who just moved into a new home in Aiken with his new wife, a former standout on the South Carolina equestrian team.
Nice job for a PGA Tour rookie still trying to shake off the rustiness of a 13-week coronavirus break that included moving the RBC Heritage from its usual April date. The tour came back last week with the Charles Schwab Challenge in Fort Worth.
"Got off to a little bit of a slow start," said NeSmith (pronounced KNEE-smith). "Missed a probably four or five-footer on 13, and that kind of got my round kick-started. Birdied the next three in a row and played solid golf all day."
Still, it was far from NeSmith's best performance at Harbour Town. He won the Junior Heritage played here in 2012, the same year he won the prestigious Azalea Invitational at the Country Club of Charleston.
The syrupy-sweet script also insists that NeSmith, 26, proposed to the former Abigail Pait at Harbour Town. It happened on the 18th green in March of 2018 after she rode around in a cart with him during a late-afternoon solo round.
"I started to have a little bit of a panic attack around 14," NeSmith recalled Thursday. "I didn't think we were going to finish in time because there was tons of people on the golf course."
Palmetto State flavor
It's splendidly fitting that Abigail, from Sparta, N.J., excelled in the Horsemanship category for four years at South Carolina; the Harbour Town course is adjacent to Lawton Stables, where guests can saddle up and ride amid 605 acres within the Sea Pines Resort.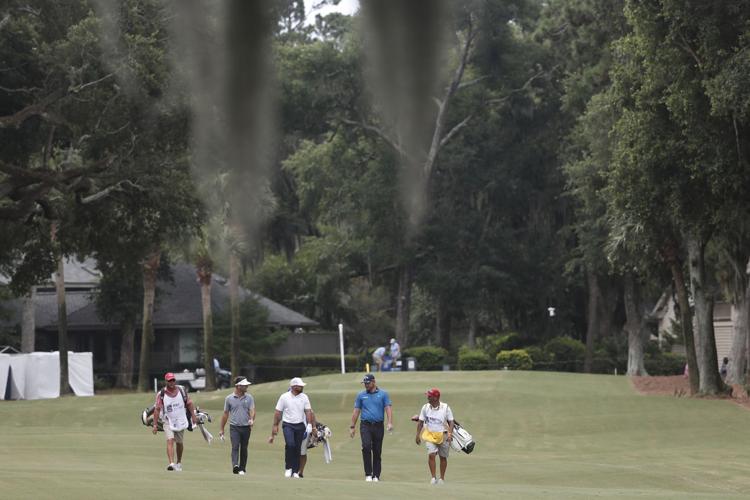 More perfect stuff: This guy not only builds bicycles for needy families, he spends time with Curing Kids Cancer, where Abigail worked while living in Atlanta.
Of course, we shouldn't get ahead of ourselves.
"There's a lot of golf to be played," NeSmith pointed out.
But let's get behind ourselves.
There is recent plaid jacket history here. It's something in the salty Calibogue Sound water.
Wesley Bryan, who left a starry stint on the South Carolina golf team just before NeSmith arrived in the fall of 2012, got his first PGA Tour victory at the 2017 RBC Heritage. Bryan, 30, and his wife Elizabeth celebrated at a Taco Bell near their home in Augusta.
NeSmith grew up in North Augusta attending the Masters every April. That first Augusta National memory endures in a photo of 8-year-old NeSmith and Bernard Langer, who won the Masters and Heritage back-to-back in 1985 and the Masters again in 1993.
If that's not enough Palmetto State flavor, consider that NeSmith credited two other PGA Tour pros living in Aiken, Kevin Kisner and Scott Brown, for his dazzling Thursday round. The threesome played regularly in Aiken over the last few months, and NeSmith and Brown were in a grouping with Matt Every on Thursday.
Kisner and Brown
"Just being able to kind of push each other, play a lot together, keep everybody accountable and kind of learn from two guys who have done it for a really long time and extremely successful," NeSmith said.
Hollywood loves loyalty in a leading man. NeSmith as the winner of the Junior Heritage in Bluffton in 2015 earned an amateur exemption to play in the 2016 RBC Heritage.
But that conflicted with the SEC Championship tournament, which made it an easy call for NeSmith.
On to Friday's second round at Harbour Town.
"This course fits my game nicely," NeSmith said, "especially if I play well."
If the RBC Heritage doesn't work out this year, Mr. and Mrs. NeSmith will always have the 18th green.
Follow Gene Sapakoff on Twitter @sapakoff