The cases began as a trickle at first, popping up sporadically in rural pockets and urban centers across the state. But the arrival of the novel coronavirus had us worried all the same. 
Since its emergence in China late last year, the virus had marched quickly and steadily across Asia and into Europe, unleashing a sprawling campaign of sickness and death with ruthless efficiency. By the time it reached South Carolina in early March, it had already begun to terrorize communities from Washington state to New York City.
It all seemed unthinkable back in January, when the Centers for Disease Control and Prevention warned of a new infectious disease outbreak in Wuhan, China, then deemed the risk to the American public to be low. But less than 30 days after the Palmetto State recorded its first case on March 6, the number of infections had climbed to more than 1,000, with 22 lives lost.
So we closed up and locked down, shuttering much of our economy. The streets emptied and time turned a little elastic as people holed up inside their homes. It seemed to work, and the outbreak slowed. Comparing our numbers to the virus-ravaged Northeast, we began to think we had dodged the worst of the pandemic.
So we opened up once again, swarming to beaches, restaurants, shopping malls and parks to shake off the clouds of captivity. Now, the virus has come roaring back, putting up numbers that dwarf the tallies we saw while hunkered down at home. The state topped 1,000 new cases on Friday alone, passing a milestone that took us a month to reach at the start of the outbreak.
It's hard to believe at times that this has all taken place in a little over 100 days. Our perceptions of the virus have changed rapidly and drastically along a tight timeline that has played out this way:
March 6: 2 cases
Health officials announce two people have tested positive for the virus: an elderly woman from Kershaw County and a staff member from the Medical University of South Carolina who recently returned from a trip to Italy and France. Officials stress proper hygiene but urge people to go about their lives as usual.
March 13: 13 cases
Following the lead of 35 other governors and President Donald Trump, Gov. Henry McMaster declares a state of emergency in South Carolina. Health officials stress the state shows no signs of widespread transmission and South Carolinians should continue their daily routines.
March 15: 28 cases
McMaster orders schools and colleges closed until March 31 and urges communities to limit gatherings to 100 people or less. He assures residents there is no shortage of testing capabilities in state and private labs.
March 16: 34 cases and first death
Charleston, North Charleston and Mount Pleasant join other cities in declaring states of emergency as public confusion and frustration mount over access to testing for virus.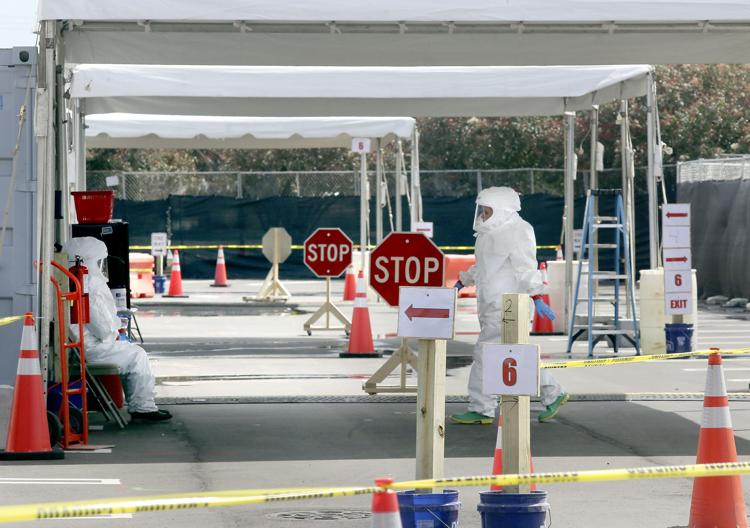 March 17: 47 cases
McMaster bans gatherings of 50 or more people and orders bars and restaurants to end dine-in service. In Charleston alone, nearly 1,600 layoffs are announced by two restaurant groups and carriage tour companies.
March 19: 82 cases
New unemployment claims in South Carolina skyrocket by more than 400 percent during the week.
March 23: 298 cases and 5 deaths
McMaster encourages South Carolina residents to take social distancing seriously and directs law enforcement officers to prohibit or disperse any people gathering in groups of three or more, unless authorized in a person's home.
"South Carolina is making great progress," McMaster said. 
March 24: 342 cases and 7 deaths
The city of Charleston becomes the first community in the state to issue a work-or-home order, closing city parks, shutting down non-essential businesses and requiring people to stay indoors as much as possible. McMaster says his call for voluntary action accomplishes much the same thing.
March 26: 456 cases and 9 deaths
McMaster says a statewide work-or-home order is unnecessary because people are voluntarily complying with his earlier orders and requests to avoid gatherings and maintain social distancing.
"I've got great faith in the common sense, the wisdom, the resilience and the commitment of the people of our state," he says.
March 28: 660 cases and 15 deaths
Hundreds flock to Folly Beach after the city lifts restrictions to its shoreline in response to a non-binding opinion from Attorney General Alan Wilson's office stating that only the governor has the power to issue work-or-home orders. Edisto Beach does the same. After consulting with attorneys, Folly officials reverse course and lock down again by nightfall.
McMaster orders state schools to close through April.
March 31: 1,083 cases and 22 deaths
McMaster orders closing of non-essential businesses to curb coronavirus outbreak, following the lead of at least 40 other states.
Mount Pleasant joins Charleston and Columbia in issuing a work-or-home order for residents.
April 2: 1,554 cases and 31 deaths
The state posts another record-breaking increase in cases as the virus is now confirmed in all 46 of South Carolina's counties.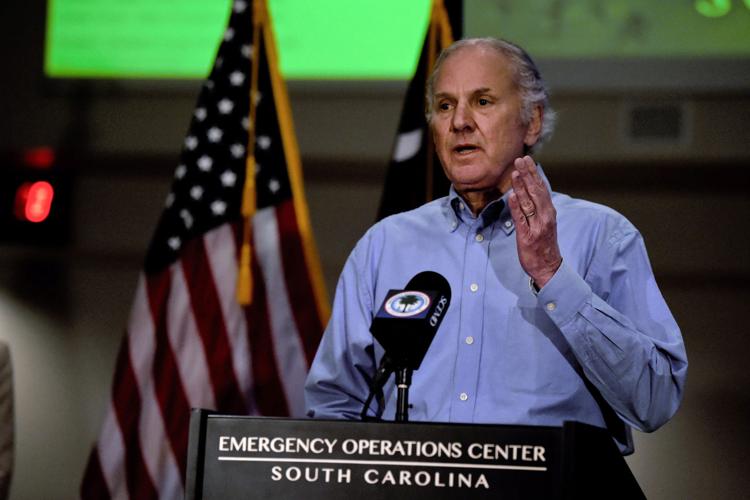 April 6: 2,332 cases and 48 deaths
McMaster issues a "work or home" order, asking residents to stay home starting 5 p.m. the next day. The executive order is mandatory, he says, as his office's previous recommendations and suggestions have not been heeded by residents.
"We hope this order today will reduce the rising number of infections," he say.
April 7: 2,417 cases and 51 deaths
The growth rate in cases is accelerating, and DHEC says the state is headed toward what it expects to be a late April peak in deaths and hospitalizations from COVID-19.
Meanwhile, New York City's death toll tops 3,200 from the virus and British Prime Minister Boris Johnson lands in intensive care, becoming the first major world leader to be hospitalized with the virus.
April 9: 2,792 cases and 67 deaths
DHEC says African Americans have been disproportionately impacted by the virus. In South Carolina, 38 percent of those who have contracted the virus are African American, along with 44 percent of those who've died after testing positive. According to the U.S. Census Bureau, African Americans make up just over 27 percent of South Carolina's population.
Meanwhile, federal statistics show a staggering 16.8 million Americans lost their jobs in just three weeks.
April 10: 3,065 cases and 72 deaths
South Carolina adds 1,000 new cases in just five days, as White House officials point to hopeful signs that the spread of the coronavirus could be slowing.
April 13: 3,439 cases and 87 deaths
Just days after the U.S. death toll from the virus surpasses Italy for the highest in the world, a series of tornadoes rake South Carolina, killing nine people, South Carolina's unemployment rolls continue to balloon, stressing an already overwhelmed system and frustrating thousands of workers.
McMaster says the state is working on a rejuvenation plan to restart its economy. "The virus is going to go away, but we need an infrastructure and an economy to go back to. This situation is not going to last forever."
April 16: 3,931 cases and 109 deaths
A day after the state records its lowest tally of new cases since March 23, McMaster says he is issuing an executive order reopening boat ramps for fishing and recreation.
"It's too early to celebrate," McMaster says. "The end is in sight, the mission is going as well as expected (but) we cannot let up."
April 18: 4,246 cases and 119 deaths
New calculations indicate that South Carolina has passed the peak of coronavirus related hospital usage and deaths. According to the updated projection, the state can expect 217 coronavirus patients to die by August — a fraction of the 680 deaths predicted earlier in the week.
As protests grow around the country over closures, McMaster's chief of staff reveals he is beginning efforts to unravel the restrictions he ordered, opening up access to rivers and lakes  and to clothing, jewelry and furniture stores.
April 22: 4,761 cases and 140 deaths
Officials say cases and deaths are leveling off, and the latest data shows South Carolina's peaked in deaths on April 9.
Some businesses begin to reopen, but others choose to stay closed, with some merchants wary of opening their doors too soon.
New data shows eight out of 10 Americans have concerns about returning to dine-in restaurants. Another survey shows Americans remain overwhelmingly in favor of work-or-home orders and other efforts to slow the spread of the coronavirus.
April 23: 4,917 cases and 150 deaths
Unemployment in the U.S. swells to levels last seen during the Great Depression, with 1 in 6 American workers losing their job during the pandemic. The House passes a nearly $500 billion spending package to help businesses and hospitals.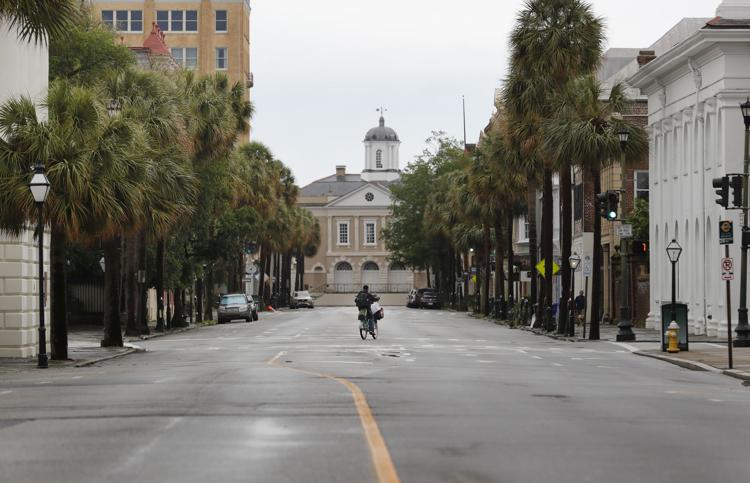 April 24: 5,070 cases and 157 deaths
Barbershops, nail salons, gyms and a few other businesses reopen in neighboring Georgia as the governor eases a monthlong shutdown despite warnings from health experts of a potential new surge of coronavirus infections. As some customers venture back to these venues, the confirmed number of COVID-19 deaths in the United States surpasses 50,000 and the global death toll approaches 200,000.
April 26: 5,490 cases and 174 deaths
McMaster reveals plans to issue a new state of emergency order.
"We're not out of this yet. We went into this in a smart way with targeted hot spots, so we do not have the burden that some other states have, but we're still facing a very serious disease and contagion," the governor says.
April 28: 5,735 cases and 192 deaths
More than 1 in 5 deaths from the virus in South Carolina are coming from residents or workers at the state's nursing homes and other long-term care facilities, state health officials reveal. Known outbreaks among the state's nursing homes, rehab centers and other long-term facilities has grown to 595 cases at 62 locations. 
April 30: 6,095 cases and 244 deaths
In Myrtle Beach, authorities allow hotels and short-term rentals to resume service. And in Charleston, city parks prepare to reopen.
May 2: 6,489 cases and 267 deaths
Across the state, beach and mountain parks teem with visitors, the first weekend they've been open since the statewide restrictions began in March.
May 4: 6,757 confirmed cases and 283 deaths
Restrictions begin to ease as McMaster's work-or-home order is no longer mandatory and outdoor dining is allowed to resume at restaurants.
Isle of Palms votes to reopen its beaches to non-residents after Charleston County Council Chairman Elliot Summey sends a letter threatening legal action for blocking access to state roads and county parks.
Meanwhile, numbers show the rest of the U.S. outside of the New York metropolitan area is moving in the wrong direction on the virus, with the known infection rate rising even as states move to lift their lockdowns.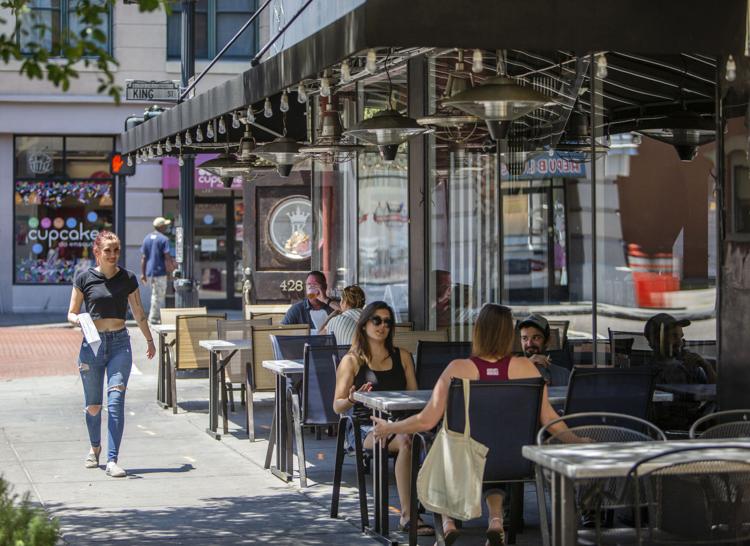 May 6: 6,936 cases and 305 deaths
South Carolina's public health agency announces plans to test nearly a quarter million people for COVID-19 over two months. As part of that new strategy, the state Department of Health and Environmental Control will quickly test all 40,000 residents and employees of South Carolina's nearly 200 nursing homes. At least 84 nursing home residents and employees have died so far from COVID-19 in the Palmetto State.
May 8: 7,367 cases and 320 deaths
Charleston County files a lawsuit against Folly Beach, saying the city's restrictions on beach access and short-term rentals violate statewide coronavirus directives. Folly will soon capitulate.
The coronavirus crisis has sent the U.S. unemployment rate surging to 14.7 percent, a level last seen during the Great Depression, when President Franklin D. Roosevelt told Americans that the only thing to fear was fear itself.
May 10: 7,653 cases and 331 deaths
Outdoor dining spots fill with customers as people turn out to celebrate Mother's Day with a mix of social distancing, increased sanitizing and occasional masks.
May 11: 7,792 cases and 346 deaths
Despite a record-tying 15 daily deaths, McMaster says he will soon lift restrictions on close-contact services such as barber shops, nail salons, hair salons, tanning salons and tattoo, and massage parlors.
"We've said since sometime in March that the virus has been chasing us, but now we're chasing the virus," McMaster says, referencing the increased contact tracing in the state.
May 12: 7,927 cases and 355 deaths
Dr. Anthony Fauci, the infectious-disease expert who's guided much of the country's coronavirus response, says in a Senate Health committee meeting Tuesday that he would "almost want to clone" the Palmetto State's response to COVID-19.
"You have put things in place that I think would optimize your capability of reopening," Fauci says.
May 15: 8,407 cases and 380 deaths
With coronavirus cases and deaths plateauing, the Summerville YMCA and other facilities announce plans to reopen pools and gyms within days, but officials also move to cancel the Cooper River Bridge Run for the first time in its 43-year history. The race is the largest participation sporting event in South Carolina, with more than 29,000 runners and walkers crossing the finish line in 2019.
Across the nation, businesses continue to reopen despite an overwhelming majority of states still falling short of the COVID-19 testing levels that public health experts say are necessary to safely ease lockdowns and avoid another deadly wave of outbreaks, according to an Associated Press analysis.
May 16: 8,661 and 380 deaths (zero new deaths reported)
For the first time since March 25, South Carolina doesn't record any deaths among coronavirus patients in a reporting day, despite the number of cases jumping by 276 in 24 hours.
Crowds flood the Isle of Palms, clogging roads and filling the beach, with the mayor describing crowding as the worst he'd ever seen.
"We're overwhelmed," Mayor Jimmy Carroll says. "Our police can't keep up with it, our residents are up in arms, there's nobody social distancing."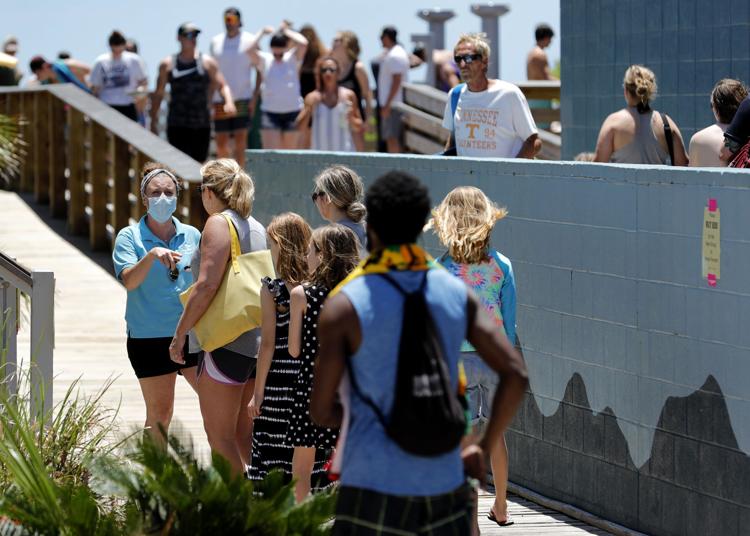 May 18: 8,942 cases and 391 deaths
DHEC's projections indicate that around 283 South Carolinians with coronavirus could die by early August.
Drugmaker Moderna announced encouraging results in very early testing of an experimental coronavirus vaccine, prompting a rally on Wall Street.
May 20: 9,175 cases and 407 deaths
A national poll finds strong fear among Americans about a new wave of infections spreading as states loosen restrictions and continue reopening. South Carolina officials prepare for a massive influx of crowds to beaches, state parks and other sites over the long Memorial Day weekend.
May 22: 9,638 cases and 419 deaths
Newly released numbers show the unemployment rate skyrocketing to 12 percent as South Carolina shed 272,000 jobs. Unemployment hits its highest point in the state in 44 years.
New projections suggest surges in the South, including south Florida and Texas. New infections also are accelerating across Latin America, with Brazil and Mexico leading the way.
May 23: 9,895 cases and 425 deaths
Memorial Day weekend begins with beachgoers flocking to the coast. More than a thousand vehicles head to Isle of Palms each hour between 10 a.m. and 2 p.m., while Sullivan's Island sees at least 800 for each hour in that time. 
Similar crowds are seen across the U.S., risking a resurgence of the virus that has killed nearly 100,000 Americans.
May 27: 10,623 cases and 466 deaths
As South Carolina set a new daily record number of coronavirus deaths with 20, DHEC Director Rick Toomey resigns from his position, citing the need to stay healthy after getting his blood pressure under control and be in Beaufort full time with his first grandchild.
May 29: 11,131 cases and 483 deaths
Amid concerns about the virus' spread, most cities cancel fireworks displays for July 4th.
Concerns over the virus' reach across the nation grow as thousands take to the streets in Minneapolis, Atlanta and other cities to protest the May 25 death of George Floyd, who died after a Minneapolis police officer knelt on his neck for nearly 9 minutes.
May 30: 11,394 cases and 487 deaths
Hundreds march peacefully in close quarters to demonstrate against police brutality before night falls and the scene devolves into smashing, burning and looting by an angry mob, mostly centered on Charleston's Upper King Street. Police eventually disperse the crowd with tear gas, leaving a scene that resembles a war zone.
The huge crowds here and elsewhere send shudders through the health community, sparking fears of a new surge in coronavirus cases.
May 31: 11,861 cases and 494 deaths
Daylight reveals extensive damage to dozens of downtown Charleston businesses from rioting, delivering a gut-punch to merchants already reeling from many weeks of closure during the pandemic. 
"We've been bleeding for three months now and then this happens," says Brian Lucier, owner of King's Leaf Cigar Lounge on King Street, which had its front windows bashed in.
June 1: 12,148 cases and 500 deaths
Weekly virus cases hit a state record as a worrisome spike emerges in Greenville County, where new cases over the past few days are more than three times the numbers seen in Richland and Charleston counties.
"We think we are seeing some of the consequences of these social gatherings around the state," says State Epidemiologist Dr. Linda Bell.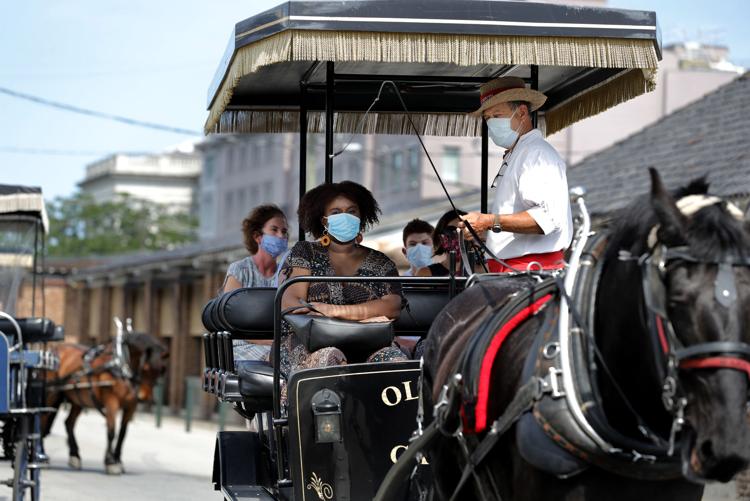 June 4: 13,005 cases and 525 deaths
After health officials warn of a "true increase" in coronavirus cases, McMaster urges people to follow safety guidelines but resists shuttering the economy a second time or mandating masks. "You can't lock down an economy forever," he says.
June 8: 14,800 cases and 557 deaths
Another daily record is set with 542 new cases of the virus, marking the ninth consecutive day the seven-day average has swelled. DHEC officials say it's too early to panic or even know whether the numbers signal the arrival of a second wave. The number of people hospitalized with the virus in South Carolina rises above 500 for the first time.
June 9: 15,228 cases and 568 deaths
The turnout for state primaries exceeds expectations, leaving voters standing in line for hours in locations such as Richland County, where cases of the virus have soared in recent days.
Fauci, the nation's top infectious disease expert, tells a conference that the pandemic is his "worst nightmare" and isn't close to over.
June 10: 15,759 cases and 575 deaths
With new diagnoses of reported COVID-19 cases climbing to record highs, McMaster makes his strongest plea yet for South Carolinians to wear masks in public," but he makes it clear he will not reclose businesses.
"It's disappointing to go to places and see people all jammed up in crowds ... exposing themselves and possibly others. The ultimate price of this lack of care is death," he says. "Another word for it: Be smart. There's a lot of stupid floating around out there. A lot of reckless and careless activity." 
June 11: 16,441 cases and 588 deaths
The rate of new cases appears to be rising faster than neighboring states in recent days, driven by a raging hot spot in Greenville, where Hispanics account for about a third of all infections.
Meanwhile, an Associated Press analysis shows that cases are rising in nearly have the states as they roll back lockdowns and ease restrictions. On a wider scale, the world is seeing more than 100,000 newly confirmed cases every day, according to data from Johns Hopkins University.
June 12: 17,170 cases and 593 deaths
As South Carolina sets another new record with 770 positive COVID-19 cases, McMaster lifts more restrictions, allowing bowling alleys to reopen and ending occupancy limits on retail stores.
June 15: 19,378 cases and 602 deaths
The state logged nearly 2,000 more cases in a week's time than health officials projected. DHEC is now projecting that confirmed cases will approach 32,000 by July 4, and experts are predicting nearly 2,400 will die by Oct. 1 from the virus.
U.S. Rep. Tom Rice, a Myrtle Beach Republican, confirms he is on the mend after he and his family were infected by the virus.
June 16: 19,990 cases and 607 deaths
As Greenville, Horry, Richland and Charleston counties lead the state in new case growth, South Carolina passes Florida in the rate of new cases per resident. Texas, Arizona, Tennessee and Oklahoma also see surges.
Since the virus emerged in China, more than 8 million cases have been confirmed worldwide and over 440,000 deaths, including more than 116,700 in the United States.
June 19: 22,608 cases  and 639 deaths
Health officials announced that more residents under the age of 30 are testing positive for COVID-19, as daily case numbers rise above 1,000 for the first time. People between 21 and 30 years old now account for some 18.4 percent of cases, leading officials to conclude they are not taking social distancing seriously."