COLUMBIA — Retailers who opened last weekend found some shoppers were eager to support the stores, according to the president of the Five Points Association, even as some received complaints online over their decisions to open.
Retailers found that Saturday's business was not too far from normal in terms of the amount of sales, said Steve Cook, president of the Five Points Association and owner of Saluda's restaurant in the area.
"They are just glad to be back to some kind of sales," Cook said.
While the number of shoppers in Five Points was much lower than on a typical Saturday, those who were out were eager to buy, Cook said. Consumers certainly were motivated by a wish to help the small-business owners who had elected to reopen amid the coronavirus pandemic, he said.
Some retailers have gotten grief over the decision to reopen. Loose Lucy's, the hippie boutique on Saluda Avenue in Five Points, had to deal with unhappy comments on its Facebook page and deleted some remarks.
Cook sees a double standard between how people treat huge businesses such as the big-box retailers, which never had to close amid the coronavirus outbreak. Those businesses have operated with little pushback from the public, while small retailers seem to get scrutinized, he said.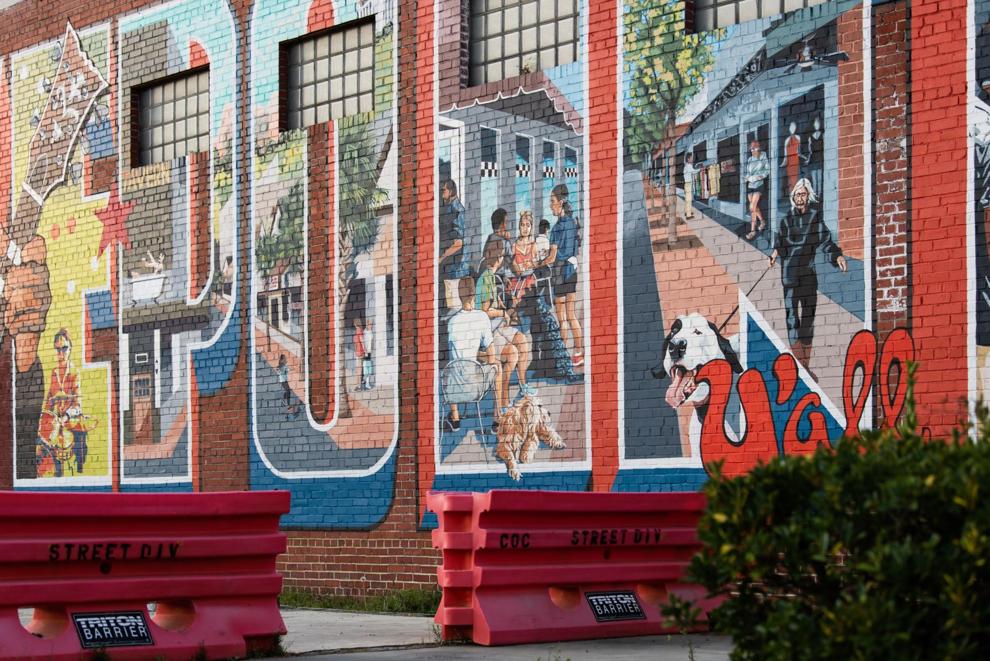 Gov. Henry McMaster began rolling back restrictions on businesses last week, allowing retailers such as jewelry, shoe and furniture stores to open statewide as of 5 p.m. Monday. But other close-contact businesses, including hair and nail salons and dine-in restaurants, must remain closed.
Because of the uncertainty of the situation and the way the coronavirus discourages people to come out and shop, it poses a special threat to mom-and-pop companies, he said.
"This scenario could not be a more perfect design to kill the smallest businesses," Cook said.
Other business owners in Columbia will come to the conclusion that it's time to go ahead and close, as did the owners of Yesterdays restaurant, Cook said. Businesses that were facing challenges before the coronavirus outbreak are most likely to close, he said.
Cook's high-end restaurant, Saluda's — like many in the industry — is staying open for carryout. But that's a slim substitute for a restaurant's regular business, with the loss of cocktail service particularly damaging to the bottom line, Cook said.
Restaurants like his are keeping as many people employed as they can until the situation changes. Not knowing when that will happen is particularly hard.
"The uncertainty is what kills us," Cook said.
As for the association's key event, the St. Patrick's Day Festival, Cook sees little prospect that it will be revived this fall, though he does not rule out the prospect entirely if the virus situation were to change remarkably.
"There's certainly no energy putting on a fall festival right now," Cook said.
Doors remain closed at Mast General Store
Mast General Store, an anchor on Main Street in both Columbia and Greenville, remains open only for online shopping and has set no date to reopen its locations, even as South Carolina allows retailers to reopen under restrictions. 
"We look forward to the day when we can serve our customers beyond our online doors. At present, we don't have a re-opening date, but we hope to be ready to welcome customers in some capacity soon," Mast Store president Lisa Cooper said in a statement.
Mast Store dates back to a general store opened in Valle Crucis, N.C., in 1883. It now has 10 locations in city centers across the Southeast. 
License extension 
To help businesses dealing with shutdowns related to the coronavirus, the City of Columbia has extended the deadline for businesses to renew their licenses from April 15 to May 15. The business license office remains closed for now, and there could be delays in processing applications for new business licenses, according to a city statement.
Closings
Specialty retailer The Cigar Box on State Street in West Columbia has closed. Previously, the specialty cigar shop and lounge had two outposts, one on the 1600 block of Main Street and another in Rosewood. ... The Vista location of Sabor Latin Street Grill, a fast-casual restaurant chain out of Charlotte, closed late last month amid the coronavirus' impact on area restaurants.
David Clarey contributed to this report.
Do you know of a retail business in the Midlands that is opening, closing or expanding? Reach Mike Fitts at mfitts@postandcourier.com.