Parts of South Carolina's economy have been put on hold as the fallout from the coronavirus pandemic spreads, and Charleston is likely to feel the brunt of that slowdown as the public health response drags on. 
On Monday, city leaders in Charleston, Mount Pleasant, North Charleston and other communities in the Lowcountry declared states of emergency and announced restrictions on large gatherings of people. And on Tuesday, Gov. Henry McMaster shut down all dine-in services at restaurants throughout the state.  
Joseph Von Nessen, a research economist at the University of South Carolina, said the spread of the virus and the public health measures being enacted are unlike anything the nation has experienced before. 
"The American economy has been paused in many sectors," Von Nessen said. "This is relatively unique. I don't think we have seen anything like this, at least in modern times." 
The entire state is likely to see an economic contraction as jobs are cut, hours are reduced, travel is restricted and consumers rein in discretionary spending.
Von Nessen said the Charleston and Myrtle Beach areas are more susceptible to the pandemic because of their reliance on the tourism and hospitality industries. That's a problem when many consumers are steering clear of restaurants and other businesses that require up-close interactions.
The fallout began to reach the job market Tuesday, when two local restaurant operators and three carriage tour companies announced a combined 1,600 layoffs. 
Meanwhile, the Charleston Museum didn't have to worry about capping the number of visitors inside the Meeting Street attraction on Tuesday. Director Carl Borick said there weren't enough people to worry about keeping distance between the visitors. Up the street, the Gibbes Museum of Art said it will be closed through March 31 out of an abundance of caution.
Across the harbor in Mount Pleasant, one the region's most popular attractions, Patriots Point, has also seen a drop in attendance, though spokesperson Chris Hauff said there were more visitors over the weekend than he had expected. 
As of Monday, the maritime museum's attendance was down 15 percent for the month. Typically, at this time of year, attractions are making up for slower visitor traffic over the winter with robust spring attendance. 
This year will be different. 
At Page's Okra Grill in Mount Pleasant, open seats were everywhere mid-morning Tuesday.
"We are already seeing it," general manager Tammy Hinson said when asked what kind of economic hit the restaurant was expecting. "We are normally packed in here. People have started staying home."
The Coleman Boulevard eatery closed early Tuesday so that Hinson could prepare new menus and give employees time to take care of personal business.  Starting Wednesday, Page's, like every other restaurant still operating in South Carolina, will be open for pickup and delivery only. 
"People can order online, and we will have a limited menu," Hinson said.
While updated Charleston-area lodging figures won't be available until later this month, they're likely to show a downturn, said Wayne Smith, chair of the College of Charleston's Department of Hospitality and Tourism Management.
And while many hotels and restaurants continue to operate, the decrease in traffic also typically means a difference in take-home pay for workers. 
Employees who work for tips, such as servers, bartenders, bellhops and housekeeping staff, will almost certainly see less money in their pockets, even if their hours don't change. 
"I always feel terrible for hourly workers at this point," Smith said. "They have to make some really tough decisions." 
The local suppliers for Charleston's crowded restaurant scene are also concerned. Anthony Mirisciotta, the general manager of GrowFood Carolina, said the situation is best summed up in one word: uncertainty. 
GrowFood Carolina, which helps local farmers with sales, marketing, logistics, warehousing and distribution, expects to see a decline in the amount of produce it is selling to restaurants in downtown Charleston and other parts of the state. 
That's a problem, Mirisciotta said, since many crops like strawberries, asparagus and spring grains are just coming into season. 
"We're doing everything we can at GrowFood to keep the doors open and keep farmers in business and keep the community nourished," he said. 
With the demand from the restaurant scene expected to decline, GrowFood is looking to expand sales among the local grocery stores and other retail chains the food hub does business with. They include Harris Teeter, Whole Foods, Earth Fare, Veggie Bin and 14 Carrot Whole Foods in Lexington.
Even in the hardest hit areas of the country, grocery stores are remaining open to feed communities. Mirisciotta said he and his workers need to make sure they are redirecting the locally grown produce into that market to meet the increased demand. 
"As long as the grocery stores stay open, I think we can continue to see an uptick on their side," Mirisciotta said. "Now is a better time than ever to share some local food and great meals with your family." 
At Pivotal Fitness sites throughout Charleston, the gyms remain open, but all classes were canceled Monday and hours have been scaled back so that employees can give the workout equipment a deep clean.
"We have been fogging every night for about a week and wiping everything down as well," said Laura Seeley, manager of the Pivotal Fitness location on Johnnie Dodds Boulevard in Mount Pleasant.
Instructors are putting workouts online for those who took classes and anyone can watch them to keep up their routine, Seeley said.
"Until they tell us we have to close, we are staying open," Seeley said.
Gold's Gym remained open Tuesday.
Other local gyms opted to shut their doors, moving their services either outdoors or online. HYLO, which has two locations — in West Ashley and in Mount Pleasant — temporarily closed its studios but said it would start hosting workouts outside for a limited number of people. 
Yoga studios, like Holy Cow in West Ashley, moved to a live online class schedule. 
Movie theater chains across the U.S. announced widespread temporary closures, citing an inability to meet recommendations to limit gatherings.
Regal Cinemas, which runs Palmetto Grande and Cinebarre in Mount Pleasant and Azalea Square in Summerville, darkened its screens Tuesday.
The independently owned Terrace Theater on James Island still planned to stay open as of Tuesday, according to a post on Facebook. But it has had to adjust to the pandemic: Occupancy has been cut down by half, and seatings will be limited to 48 moviegoers, two fewer than the city's limit, according to the post.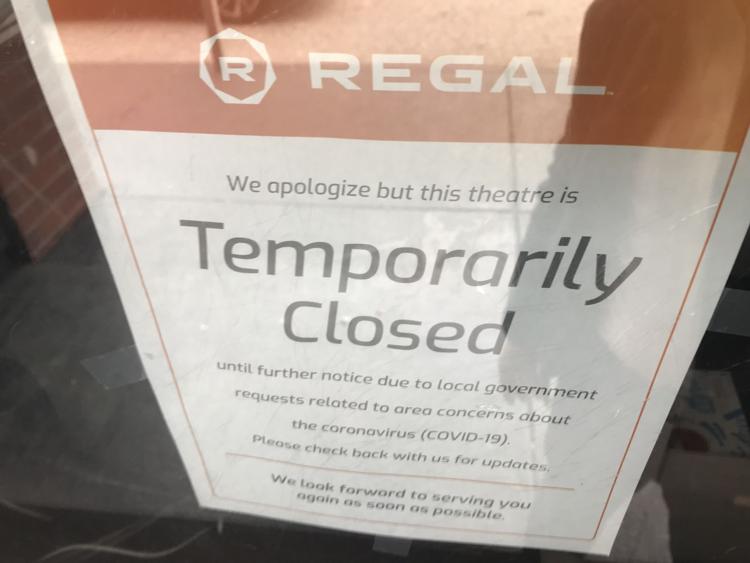 Charleston-area business organizations encouraged people to support each other's ventures to ease the pain. 
Charleston Metro Chamber CEO Bryan Derreberry suggested in an email blast Tuesday that members buy gift cards and order takeout from local restaurants and book "staycations" at nearby hotels. 
Smith of the College of Charleston said hospitality businesses are going to need to figure out how to best help the industry as a whole — including hourly employees — to weather the downturn. 
"This is an industry that's always about taking care of people," he said. "It's time to take care of some of our own." 
For many employees and businesses, the biggest question is when people can return to their pre-pandemic lives. That's what Von Nessen of USC and other economists are trying to figure out, too. 
"That's the big unknown," he said.