COLUMBIA — Essential employees working in person, anyone 55 and over and people with certain underlying health problems in South Carolina will become eligible for COVID-19 vaccines beginning March 8.
The announcement March 2 by Gov. Henry McMaster adds an estimated 2.7 million people to the eligibility list, greatly expanding what the state's public health agency had listed for inclusion in Phase 1B.
They join the 1.3 million South Carolinians already eligible, which includes anyone 65 and older, health care workers and medical first responders. About 667,000 residents had received at least their first shot as of March 2, according to the state Department of Health and Environmental Control.
That leaves out few adults in a state of roughly 5 million people. Vaccines could be available to all South Carolinians starting in May, state public health leaders said.
"We are now in a position to make the majority of South Carolinians eligible to receive the vaccine," said McMaster, who had been rejecting calls to make K-12 educators eligible sooner.
The transition to the next eligibility phase means teachers can get vaccinated, as they're among essential workers who must work in person. But they will not get the priority status they've sought over the last month. 
Still, teachers willing to get a shot should be able to get one soon under arrangements school districts have made with local providers, McMaster said.
The announcement largely consolidated what was supposed to be the next two eligibility phases, essentially meaning all South Carolinians remotely considered high risk can sign up. 
Instead of defining eligible workers by their profession, industry or title, eligibility is based on whether someone can socially distance while working. People qualify if they must work in person and can't stay at least 6 feet away from others while on the job for at least 15 minutes at a time. Beyond educators, day care workers, grocery store clerks, bus drivers and others already expected to be part of Phase 1B, soon-to-be eligible employees also include restaurant and retail workers. 
Not only did McMaster broaden eligible work categories, he added 55- to 64-year-olds and anyone 16 and older with certain health conditions. Those include cancer, kidney disease, lung disease, diabetes, heart disease and obesity. 
The transition is "a very giant step forward for us," DHEC Director Edward Simmer said. 
Last week, he estimated the next phase would start in mid-March. 
What's enabling that to be sooner is an increasing supply of vaccines, combined with vaccine providers getting available doses in arms faster and a decrease in seniors waiting for appointments, Simmer said.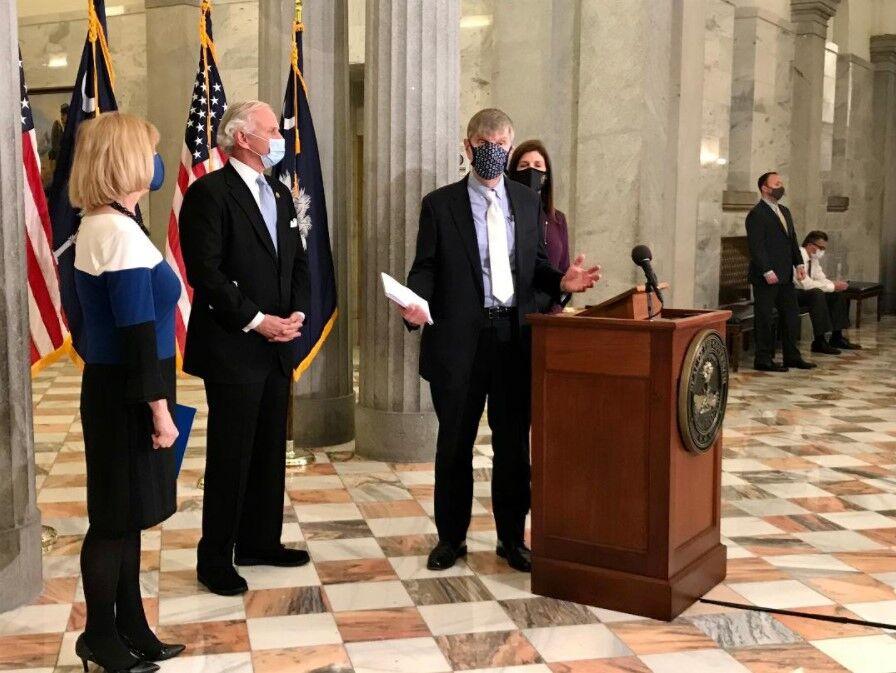 "We see in the very near future we won't be filling all our appointments with people from the 1A group," he said. 
Online vaccine appointments can be made at scdhec.gov/vaxlocator. DHEC also has a COVID-19 vaccine information line operating seven days a week, from 7 a.m. to 7 p.m., at (866) 365-8110.
The expansion follows federal authorization of a third COVID-19 vaccine.
South Carolina is slated to receive 41,000 doses this week in its first allocation of the Johnson & Johnson vaccine, which requires a single shot, unlike the Moderna and Pfizer vaccines, which require two doses several weeks apart for full immunization.
That's a big jump in the state's weekly allocation of those vaccines, currently about 98,000 for first doses. And those numbers should rise, too, with boosts in manufacturing, Simmer said.
The state's 560 providers currently offering shots include hospitals, doctor's offices, pharmacies, urgent care centers and county health clinics. Simmer expects that number to rise significantly in the next couple of weeks, providing greater access in rural areas.
Schools can also help with that, said state schools Superintendent Molly Spearman, who encouraged providers to use schools as mass-vaccination sites after inoculating K-12 employees. A community may not have a hospital or doctor's office close by, but it has a school with a large parking lot, she said.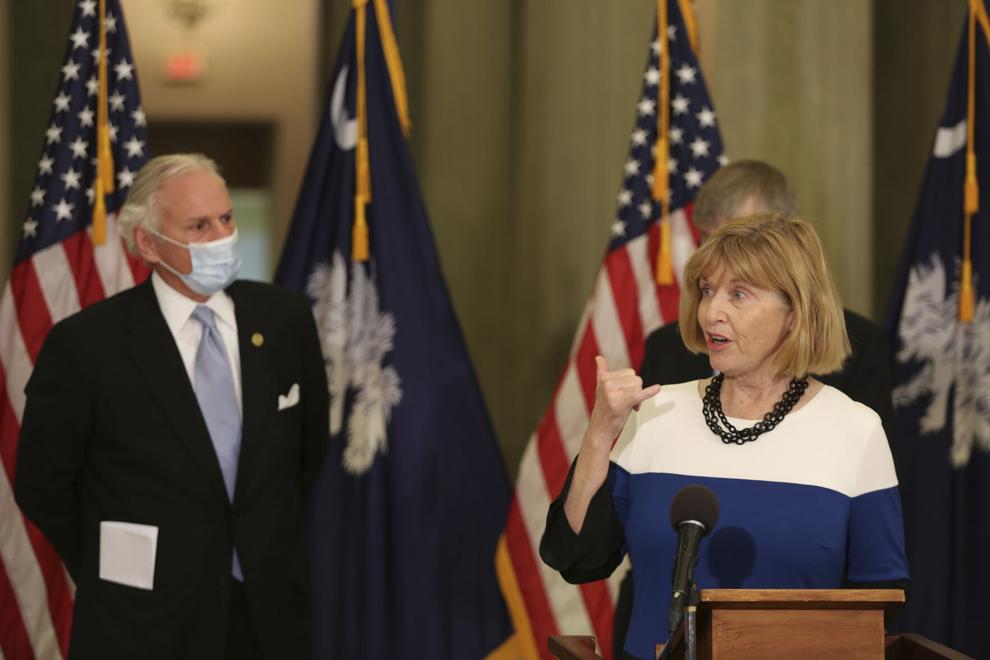 She asked providers to put prearranged plans with school administrators into motion quickly, not only to help schools fully reopen to in-person learning — and stay open — but also to increase willingness in the broader community to get a shot.
"Everybody loves their principals and teachers, and they trust them, so when vaccines are given they can be the great example we're needing, and the vaccines will stabilize school operations, which impacts the work and life of almost every family in South Carolina," Spearman said.
Greenville County, which has the state's largest school district, plans to start vaccinating employees as early as next week through its partnership with a local hospital. About 6,200 of its employees, or 62 percent, have so far signed up as wanting one.  
Manufacturers have also paired with providers. 
The Manufacturers Alliance is partnering with the Medical University of South Carolina to hold eight regional mass vaccination events for workers in 50 factories, starting next week. Other companies are working directly with providers to host smaller, private events for their employees, said the alliance's president, Sara Hazzard.  
DHEC, which has been vague about its rollout timeline, attached dates to future eligibility phases. 
Based on vaccine supplies, DHEC anticipates the next eligibility phase will start around April 12. That will wrap in anyone age 45 to 54 who doesn't already qualify because of their job or health conditions. The final phase, adding anyone else 16 and older, should start around May 3. 
Simmer continued to ask South Carolinians not to jump the line in front of others more vulnerable.
"We do ask people to still wait their turn in line if you're not in the 1B group. Please don't jump ahead," he said. "What we're working on here is identifying people with the greatest risk and vaccinating them first."
Of the nearly 8,600 South Carolinians to die with COVID-19 since it was first detected here a year ago, 94 percent of them were 55 and older. And 65 percent of those who died had other health problems, with heart disease and diabetes the most common. 
But DHEC's threat to penalize providers for not following eligibility rules is gone. Also no longer necessary is detailed proof of eligibility.
DHEC leaders have been discussing what identification workers would need to prove they qualify and said a prescription bottle or doctor's note could serve as proof of a medical condition. But the announcement nixes all of that, which many considered too complicated anyway.  
"If you're 55 and older, you can simply show an ID that shows your age," Simmer said. Otherwise, "we're going to trust South Carolinians to tell the truth and say, 'Yes, I have this medical condition,' or 'Yes, I'm in an employment situation that meets the criteria.' So we'll trust South Carolinians to do that and I think the vast majority will be honorable."
Conor Hughes contributed from Greenville and Jessica Holdman from Columbia.