Two high-profile historic sites in Charleston have reopened to visitors after closing because of the coronavirus pandemic, but, for now, operations will be limited to outdoor self-guided tours.
Magnolia Plantation and Middleton Place both had a "soft opening" on Friday. Visitors were allowed to tour their grounds and gardens. The historic houses at both sites remain closed, and guided tours aren't allowed.
All 47 of South Carolina's state parks also reopened Friday. A visitor limit, set by the number of vehicles that will be allowed to enter, has been posted for each park. Charles Towne Landing in West Ashley, for example, will allow up to 295 cars. 
Tracey Todd, the CEO of the Middleton Place Foundation, said the plan to resume operations at state parks was what motivated him to reach out about reopening Middleton Place, which is off Highway 61. 
The S.C. Department of Commerce, which has been fielding all inquiries from businesses wondering whether or not they can reopen, said it was OK to move forward with the limited opening, Todd said.
"They basically considered Middleton Place much like a state park," he said. 
Visitors have access to the site's 65 acres of gardens, but indoor areas remain closed. Signs direct them to practice social distancing and walk around in groups of no more than three people. 
Face masks are encouraged, according to Middleton's website. 
Nearby Magnolia Plantation has put out similar messaging for potential visitors. Employees will wear face shields and gloves, and all staff members and visitors will be scanned with no-contact thermometers. 
Admission is being offered 20 percent off online to encourage visitors to buy in advance. Magnolia is also giving away buy-one-get-one-free adult tickets to anyone who brings a canned good to donate to the Lowcountry Food Bank.
House tours are still suspended, and the cafe, gift shop, garden center and carriage house also remain closed. There are about 120 acres of grounds and gardens open for self-guided tours.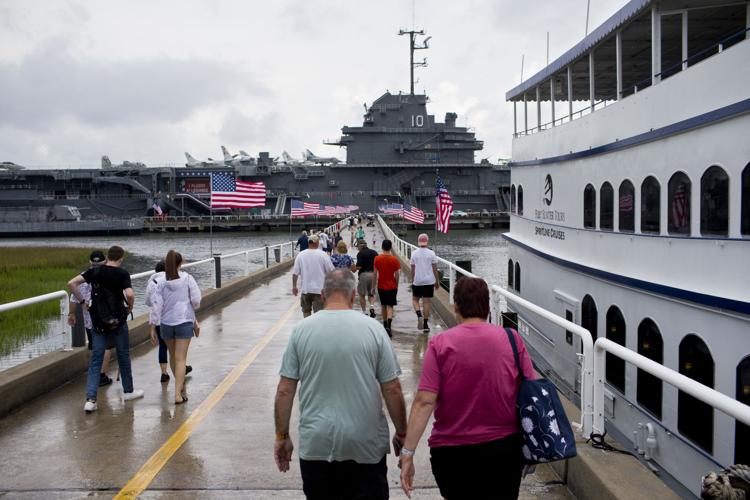 Another major attraction, state-owned Patriots Point Naval & Maritime Museum in Mount Pleasant, announced Friday that it plans to reopen on May 15. Like Magnolia and Middleton, only self-guided tours would be allowed, and educational programs and overnight camping operations will remain suspended. 
Since an executive order directing tourist attractions to close remains in effect, the planned reopening could be contingent upon what guidance is handed down by the state in the next two weeks. 
Patriots Point spokesman Chris Hauff said the waterfront military museum had communicated its reopening plan to Gov. Henry McMaster's office before announcing it publicly on Friday. 
The date is "still subject to change," and the museum will follow any instructions given by the governor, he said. 
More guidance will be coming to attractions soon, state tourism director Duane Parrish said late last week. But issuing reopening instructions for tourist attractions will have its challenges, given the range of businesses that entails. 
Outdoor attractions will require different guidance from indoor attractions, Parrish said. 
Last week, a reopening task force formed by the Myrtle Beach Area Chamber of Commerce and the Myrtle Beach Area Hospitality Association issued a set of recommendations for local attractions to use once they're allowed to resume operations. 
Some are broken down by the specific type of attraction. Theater attractions, for example, were advised to use assigned seating to enforce social distancing.