Emma Haynes Barnette, 10, takes the tiny orange tool and saws an eye in the side of a pumpkin as hand surgeon Charles Daly watches.
"Cutting away from yourself, that's great," he tells her.
About 2,000 people nationwide are injured every year carving pumpkins, most of them in October, and many are teenagers or kids Emma's age, new research at Medical University of South Carolina found.
In a study published this month in the American Journal of Emergency Medicine, Daly and colleagues at MUSC looked for pumpkin-related knife injuries in the National Electronic Injury Surveillance System. Between 2012 and 2021, there were 20,579 reported to emergency departments at hospitals throughout the country, the study found.
"And that probably didn't capture all of them because some of these people would go to urgent care centers or go to their regular doctor," said Daly, the medical director of musculoskeletal quality at MUSC Health and senior author on the study.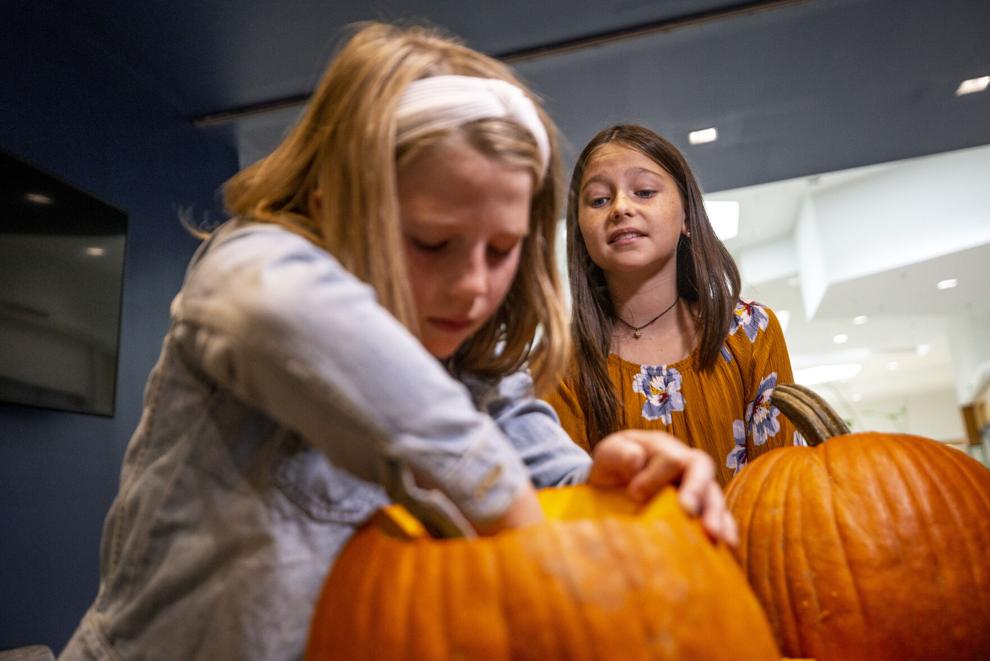 The vast majority of those injuries — 87.6 percent — were to the hand, led by cuts to the thumb (33.5 percent) and to the index finger (25 percent). Nearly 84 percent of injuries happened in October, with the peak day on Oct. 30, just before Halloween. ER doctors know the holidays by their signature injuries and this is the one that brings people in around for Halloween, said Dr. Kenneth Perry, assistant medical director for the Emergency Department at Trident Medical Center. 
Those most likely to be injured were teens and children under age 10, like Emma, and her sister Sophia, 8, who were there at MUSC West Ashley to help demonstrate how to carve a pumpkin safely. Kids want to carve the pumpkins themselves and parents might be inclined to let them, but they need to be cautious, Daly said.
"Pumpkin carving is a fun activity for all of the kids and everybody loves to do it, but not ending up in the Emergency Room is probably one of the priorities that should be on your list," he said.
A good rule is to always cut away from yourself, not toward the hand steadying the pumpkin, and to work your way around carefully, Daly said. Many of the pumpkin carving kits include smaller knives that are easier to handle and are serrated, so they don't have to be as sharp and would be less likely to cause injury, he said. 
Part of the problem is the pumpkin itself, with its hard shell outside but soft and slimy interior, Daly said.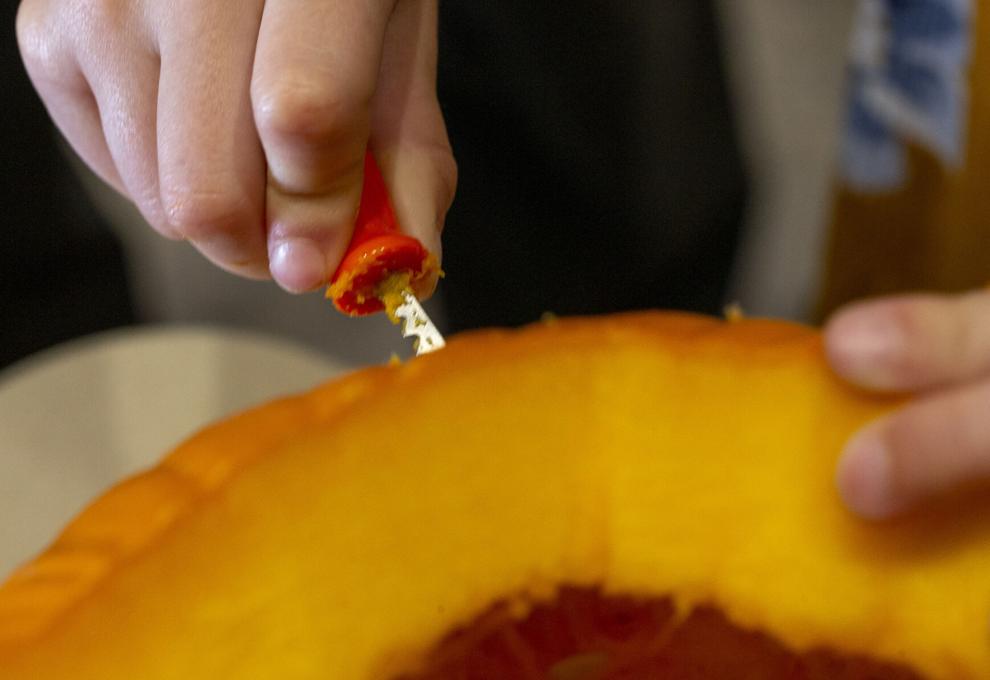 That adds to the carving challenge, Perry said. After that first cut punctures through to the slick interior, "by the time you're making that next cut, you've got all of that stuff all over the knife, which is making it really precarious, especially if you end up getting it on your hand, which slips off the handle," he said.
People in the Charleston area should be familiar with this scenario, Perry said.
"Living here in the Lowcountry, if you've ever shucked an oyster, you understand the idea of having a difficult exterior shell with a very soft interior that you need to be careful with," he said. That is why many take precautions before shucking.
"They have the special knife, they put the glove on the other hand, they make sure they've got the towel holding the oyster," he said. Similar precautions could help with carving pumpkins safely, Perry said.
If you don't want to cut at all, painting a face on the pumpkin might be an alternative, particularly for families with younger kids, Daly said.
"I would hate to be the guy that votes against pumpkin carving because I think it is a fun activity," he said. "But I do think painting is probably safer and an equally fun, entertaining activity, probably a better activity for those younger age groups who really aren't ready to handle a knife."