About a year after his stepfather threw a punch at him at his graduation party, Anthony Waite walked into a Texas shopping mall and chose the Navy. It was on a whim, but one that came after years of gritting his teeth through tough circumstances.
Now 15 years later, the lieutenant says it is more than good luck that made his career in the military unfold the way it has. Waite started off molding prosthetics for warfighters who had lost parts of their faces, wound up on President Barack Obama's medical executive team, made his way to nursing school, then came to work in Charleston at the Naval Health Clinic. 
But first, his adolescence in Texas would expose him to violence, alcoholism and the foster care system. For years, Waite said he was guarded about his past. Now, he tries to use his story to help youth who lack a father figure. 
Trouble started for Waite at 2 years old, when his father left the family. His mother struggled with her mental health, and Waite and his siblings were put in foster care. 
Waite doesn't sugarcoat the experience. It wasn't nice. When things went wrong in the foster homes, the children were usually blamed. When they got older, Waite and his siblings moved back in with their mother. Still, they moved a lot. 
"I never had my feet on solid ground, it seemed like," he said. 
Graduation came. Like many other 17-year-olds celebrating their new lease on life, Waite had a party at his house. His mother's husband, who struggled with alcoholism, became too drunk, and punched the teen in the face. Waite left, and didn't come home. For the next year, he bounced from couch to couch. 
"He was set up to fail in that environment," Waite's uncle, Luis Villarreal, said. "There was a whole lot of nothing to do except get into trouble."
For Waite, the couches, and his situation, became uncomfortable. 
He resolved, all of a sudden, to join the military. And if he was going to do it, he thought it should be the Marines. Like in so many small towns across the U.S., their recruiting offices were in the shopping mall. In Texas City, stalls for the Army, the Navy and the Marines faced each other across a water feature and benches, where Waite said he sat for hours, waiting for the Marines' office to open.
He called Villarreal, with whom he had always been close. It was the best decision he had made in years, Villarreal said he told his nephew. But he did leave Waite with a piece of advice: He told the teenager if he was going to join the military, he had to make the system work for him as much as possible.
Waite waited at the mall for another hour. The Marines office never opened its doors. So he walked into the Navy office, and within days, he was off to boot camp. It was 2004. Wars in Afghanistan and Iraq were full-blown. 
He said he did well in corpsman school, where he trained to be a medic. But then another graduation party took a bad turn. The new corpsmen were out celebrating, eating Mexican food. Someone bought Waite a beer. 
Coming back to base, the driver of the car he was in was stopped for driving drunk. Everyone was breathalyzed. Waite wound up with an underage drinking charge, and was knocked down a rank. 
The incident would dog Waite for years. He worried it would show up on his record, and limit his opportunities in the military. The mistake made him only more determined.
He found a specialty in prosthetics when he was first sent to the Walter Reed National Military Medical Center in Bethesda, Maryland. There, he worked with head and neck surgeons to repair mangled faces.
On his way to Japan in 2007, he wound up at a boot camp again, taking eight weeks to learn everything about the Marines Corps and how to care for its service members. 
In Okinawa, he was leading petty officer of the prosthetics lab. 
Yet when he was offered the chance to work on Obama's medical executive team, he said no. 
There would be background checks and an FBI interrogation. He felt sure his underage drinking ticket would come up. And it wasn't the first time he turned down a chance at advancement because he was afraid to fail, and prove that he couldn't overcome his upbringing.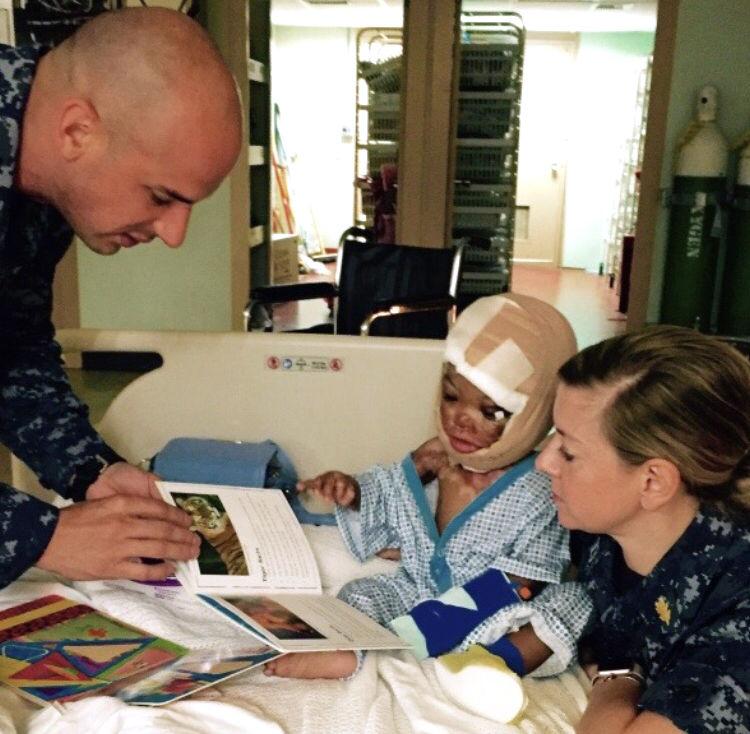 "I hid behind the rank. I didn't tell people where I came from," he said. "People saw me as this motivated person, who was running and gunning and making rank." 
Still, he was pushed to take the opportunity on the president's medical team, and the hiccup from his past ended up mattering little. He found himself in Washington, D.C., in 2009, performing physicals on Obama and tending to his daughters. About two dozen serve on the team.
After his his time at the White House ended, Waite enrolled in nursing school. It was Washington Adventist University, a Christian school, and he found himself developing in faith as he worked toward his bachelor's degree. 
Later, he would move to San Diego, and his now-wife followed him there. Then about a decade into his military career, he earned his status as a lieutenant in 2014. The young couple wasn't done with the demands of the military, however: Waite was sent to Southeast Asia on a hospital ship for his second deployment in 2016, when his wife was pregnant with their second son. 
This February, he was named Naval Health Clinic Charleston's junior officer of the year. On the side, he mentors through "Guys in Ties," a program that tries to give young men without a father figure exposure to a strong, male presence. And he has 2- and 3-year-old sons. He and his wife take the kids on regular family vacations. Waite wants them to have some of the experiences he missed.
Waite has never been back to his hometown in Texas, Bacliff, then a city of only several thousand. He's heard his high school has grown by hundreds of students. The field he played football on once has turf and a Jumbotron now.
But he'll finally return in October. His high school plans to name him a distinguished alumni, and has invited him to give a speech to its students.