GREENVILLE — Close to a dozen hefty trophies line the darkened front hallway of Rockstar Cheer and Dance just outside of Greer. They represent some of the highest honors that exist in the world of competitive cheer, titles that include a World Championship and mark the ascendancy of the Upstate gym into the elite ranks of the sport.
In the years since Rockstar Cheer opened in 2007, it cultivated a reputation of excellence that brought young athletes from around the country to train beneath its roof and paved the way for 15 more locations in cities such as Las Vegas, Atlanta and Pittsburgh. But in the course of a few days this August, a brand known as an international contender developed a much darker reputation in the wake of founder Scott Foster's suicide. 
On Aug. 22, the man who built the Rockstar Cheer empire, and was in large part credited with its success over the past 15 years, drove his car to Paris Mountain State Park just outside of Greenville. There, he shot himself in the head amid a U.S. Department of Homeland Security investigation that encompassed allegations that he had sexually abused minor athletes.
In the weeks since his death, accusations that he and coaches under him had been preying on the children in his care for years began to come to light. Two lawsuits have since been filed in relation to those allegations, as Homeland Security's investigation moves forward.
Allegations have grown to include more than a half-dozen coaches and the organizations that oversee virtually all of competitive cheer across the country. Attorneys for the reported victims say more lawsuits are coming. The gym has been shuttered indefinitely as the accusations continue to build.
But who was Scott Foster, the man at the center of the ballooning allegations of sexual abuse at Rockstar Cheer?
Here's a look at the trajectory that brought him to South Carolina and to prominence in the cheer community before his death last month.
The main website for Rockstar Cheer Greenville includes a message from Foster that offers details of his life, beginning with his childhood in a small town in northern Kentucky. From there, he went to the University of Louisville, which is where he said he first began to cheer.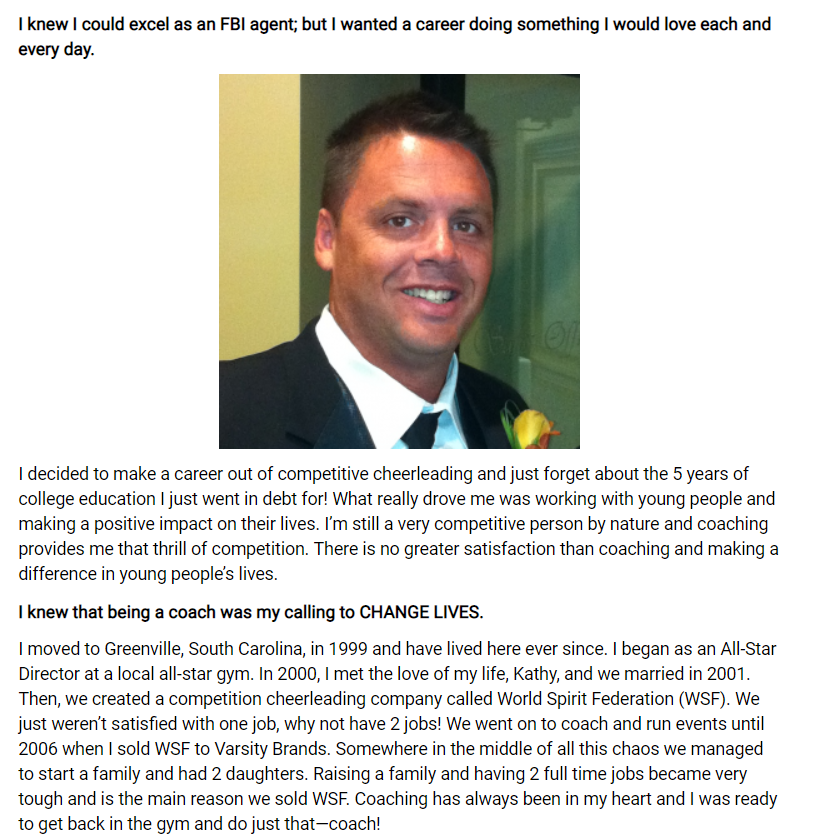 He walked on to the school's junior varsity squad, where he competed for 18 months before moving to the varsity team and receiving an athletic scholarship, according to the website. He wrote that he won three national championships and a partner stunt championship during his time with the squad between 1995 and 1999. During that span, he began coaching young athletes in 1996. He began pursuing a graduate degree after receiving a bachelor's in criminal justice with the goal of becoming an FBI agent before ultimately becoming a fulltime cheer coach, the site stated. 
John Karman, a spokesman for the University of Louisville, said the school's records show that Foster graduated in 1998 and only competed on the cheer squad from 1996 to 1997.
"Our records are pretty solid," Karman said. "There's always a chance there could be something that's off, but that's what we've got to stand by."
The University of Louisville, a national powerhouse in collegiate cheer, is also the alma mater of Kenny Feeley, an internationally known cheer coach and Foster's reported protégé. Feeley has also been accused in a recent lawsuit of sexually abusing a teen Rockstar athlete.
According to the federal complaint, filed by the Columbia-based Strom Law Firm on behalf of nine anonymous plaintiffs, Foster came to Greenville in 1999 and began coaching youth cheerleading in the area soon after with Carolina All-Stars.
He married his wife, Kathy Foster, in 2001 and the two started a competition cheer company called World Spirit Federation. In 2006, the federal suit states, they sold WSF to Varsity Spirit, the for-profit organization that dominates the world of competitive cheer. The following year, the Fosters founded Rockstar Cheer.
"We knew there could be a competitive cheerleading gym that could train athletes to be the best they could be while teaching them values, work ethic and life lessons," Scott Foster wrote on the gym's website.
In the years that followed, Rockstar Cheer "earned over 430 national titles," the website states, including seven medals at the Cheerleading Worlds competition and 17 Summit Medals before claiming a world championship in 2018.
The following year, the U.S. All-Star Federation, the nonprofit governing body of competitive cheer which is owned by Varsity Spirit, suspended Foster after a video emerged in which he could be seen drinking alcohol with underage athletes. According to the federal complaint, Foster continued coaching and attending sanctioned events throughout his suspension.
Rockstar's success on the mat drew athletes from around the country to Greenville and brought business growth for the Upstate training facility. By the time of Foster's death, there were 16 gyms operating under the Rockstar brand across the country.
As more allegations have come out against Foster and others in his circle, those gyms have distanced themselves from the company by changing their names and disavowing Foster's reported actions.
A public relations firm working on behalf of 10 of the former Rockstar gyms said each was independently owned and had only loose business ties to the original location and Foster. They reportedly took on the Rockstar name to be associated with the brand's growing success and to save on uniforms and other merchandise sold by Varsity Spirit. Those items can often cost parents thousands of dollars a year.
"To be clear, all of our gyms have always operated our individual businesses with full independence and with zero management, franchise relationship, or direction from any other gym or program, beyond sharing the Rockstar brand and name, which we each previously paid a licensing fee to use," a group of the gyms said in a joint written statement.
According to the state and federal lawsuits filed against Foster's estate, he used his position of authority to victimize the children in his care as his gym rose to prominence. According to the legal complaints, he sexually abused male and female teens both at the Greenville gym and while traveling for competition.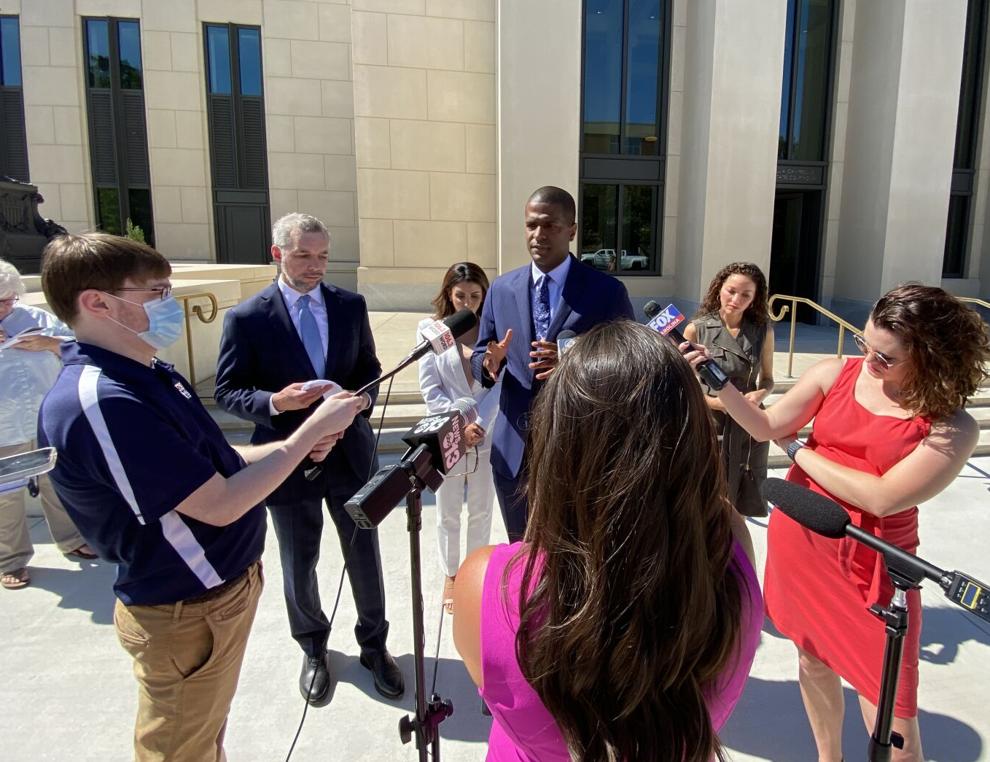 Bakari Sellers, an attorney with Strom Law, said the abuse spanned two decades. His firm is representing both minors and adults who were allegedly abused in years past. Strom Law has received more than 100 calls from people in multiple states describing sexual abuse in relation to the case in the wake of Foster's death, Sellers said.
Attorney Jim Bannister, who is representing at least one plaintiff in a state case against Rockstar Cheer, said Foster killed himself several weeks into the Homeland Security investigation against him.
"It was like a dam breaking and I think he (Foster) knew that's what was coming," Bannister said.
In the short time between Foster's death and the public emergence of the allegations against him, there was an outpouring of grief from parents and athletes who knew him.
"Thank you so much Scott Foster for believing in me and giving me the best 3 years of my life!! The gym will not be the same without you!!" one athlete posted on Facebook.
"I was shook just the same as all of you today when I heard the news of Scott Foster's passing. I'm saddened for so many athletes that Scott has mentored over the years and most of all I'm saddened and heartbroken for Scott's family," another Facebook user wrote. 
As the accusations of sexual abuse became public, those posts were overtaken by messages of shock and horror from people within the cheer community, along with questions about how such a prominent figure's reported conduct could have continued for so long.
Both the Strom Law Firm and Greenville-based Bannister, Wyatt and Stalvey have said they plan to file additional lawsuits in the near future and another South Carolina attorney intends to file a complaint on behalf of additional plaintiffs soon.