GREENVILLE — Everyone who rides the bus has a reason. Sometimes, Erin Predmore's reason is to record a podcast.
Premore is the executive director of Greenville Connects, a public transportation advocacy group that loosely started in 2019 before organizing and hiring Predmore earlier this year.
Often when she hops on a Greenlink bus, smartphone in hand to choose a route, check arrival times or pay her fare, she has an end goal in mind. Early on, it was to spend time on a route she hadn't tried yet. Now, it's often to take community stakeholders or decision-makers on a ride to see how vital public transportation is to a growing segment of the Upstate population.
She also records audio conversations with local leaders aboard a bus for "Bussin' — the Greenville Transit Podcast." Episodes include interviews with Greenville County Councilman Chris Harrison and Greenville Chamber of Commerce CEO Carlos Phillips.  
Greenville Connects started as an area of emphasis for the Piedmont Health Foundation, a local private philanthropic foundation focused on improving health in Greenville County. The foundation is run by a board that selected mobility and transportation as a critical need in the county to improve the overall health of residents.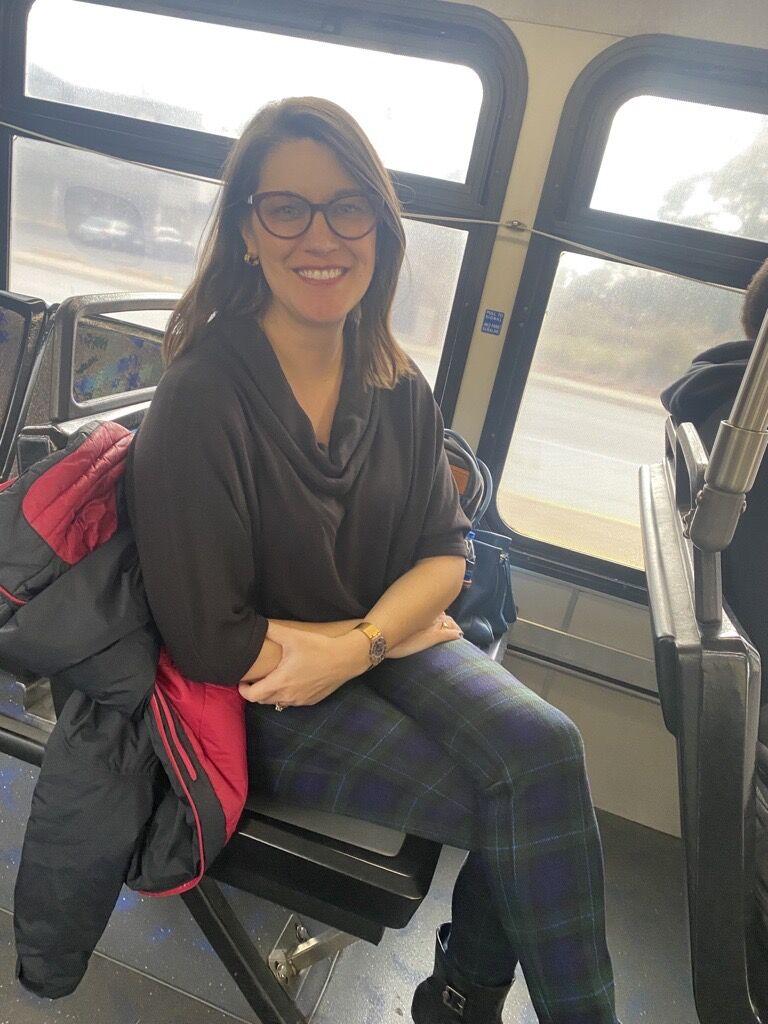 Its work began with a partnership with GreenLink in 2015 that called for the completion of an operational analysis and transit development plan. Since then, the foundation has continued to expand its advocacy through studies and surveys to understand the mobility needs in the county. Then it began Greenville Connects, first as a youth-driven organization, which is in the process of seeking status as a 501(c)3 nonprofit organization. Predmore was hired in January as the group's first executive director and employee. The Community Foundation of Greenville is a fiscal sponsor of Greenville Connects.
Predmore is from Seneca and returned to her roots in Greenville. She began her career in social work and last served as the executive director of the Bloomington, Ind., Chamber of Commerce. Her husband Andrew is the executive director of the Shi Institute for Sustainability at Furman University.
Predmore's job now is to advocate for the expansion of mobility options in Greenville County. Her main focus is to see the expansion and implementation of the latest GreenLink Transit Development Plan, which calls for expansion of services throughout the county. The largest obstacles to a wider use of public transportation is the time spent waiting for buses and access to employment opportunities close to bus routes, Predmore said.
Implementation of the full transit development plan would double the number of residents in the county with access to tens of thousands of jobs, she said. Business leaders, including the Greenville Chamber of Commerce, have been involved in studying ways to further expand service.
A recent survey of business leaders showed 33 percent called access to public transportation for employees their top issue.
Greenville Connects isn't connected with GreenLink, but Predmore discusses needs and ways to improve the system frequently with GreenLink's leadership team. Now, she's working to reach local officials and stakeholders to spread awareness of just how many residents and businesses rely on the bus system daily for work, groceries, errands, health care and entertainment.
"Transit is part of infrastructure," Predmore said. "It's about convenience, access to health care in an emergency, time and quality of life, and the ability to do other stuff that improves lives."
For decades, Greenville's public transportation system was woefully underfunded and lacked the size, number and frequency of routes to provide reliability. The county has now stepped up to match the city of Greenville's investment in the shared system and GreenLink has expanded access, cut wait times and added features. It recently won a $5.8 million federal grant to improve hundreds of bus shelters.
On a recent afternoon, Predmore sat in the nearly full bus No. 507 as she chatted with a woman seated next to her while the bus made its way from the GreenLink Transit Center downtown toward Augusta Road.
Some riders held bags of groceries. Others came from jobs downtown and made their way home. One carried a pizza box. At one point, a rider placed a bicycle on the bike rack on the front of the bus and boarded.
Predmore said leaders who have taken a ride on the bus with her have been receptive toward the needs of the system. Whether they view those needs as critical will be seen in the days ahead as the community grapples with how to fund the system's expansion.
She hopes more business leaders and local officials will hop aboard and take part in what she calls Greenville's "shared prosperity."