GREER — The name of House 509 Bistro and Wine Bar packs a deep meaning for Jessica Charles and Guichard Ulysse, the couple who recently opened the Greer eatery.
The number "509" has serendipitously popped-up several times — as their house number, the country code of Ulysse's home country of Haiti, and the date he moved to South Carolina — May 2009.
When written in the traditional European orientation, it also represents his mother's birthday, Sept. 5 or 5/09.
Ulysse's mother inspired him to become a chef. When growing up in Haiti, he watched his mom cook in the kitchen from early in the morning to late in the evening, making food not just for their house but the entire neighborhood. The culinary field felt like a natural choice for Ulysse.
"That's where I feel comfortable," he said. "That's where I feel happy."
Both Charles and Ulysse have spent two decades in the hospitality industry. Now, they are pouring their talents into House 509 Bistro and Wine Bar, a restaurant within the 195-acre O'Neal Village neighborhood in Greer that specializes in flight-style entrees and wine pairings.
The restaurant opened on Nov. 5. Its menu has charcuterie appetizers along with four entree flights and three dessert flights. Each flight comes with three small portions of different dishes along with a recommended wine trio. After Thanksgiving, the menu will expand to include a vegetarian flight and other dishes.
Ulysse wants diners to have an experience where they "build the flavor for every bite." Servers can guide eaters through the meal, encouraging them to go in a specific order to "have the full experience."
Food is Ulysse's love language, Charles said.
"It's the way he shows he takes care of you," she said. "That's kind of what he's doing for the community here. We've had a lot of people say it's rare that you see the chef really involved in every aspect, but he just loves sharing food as a way of himself."
The signature dish is "The House 509" for $35. It is composed of Coq au Vin Blanc, bourbon salmon and chimichurri steak. The recommended wine flight is called the Sonoma Coast.
"Sonoma, that's where we went for our honeymoon," Ulysse said. "We want to make sure everything is about, this part is about, our story."
Their story
Ulysse moved to the United States to earn a hospitality management degree the North Miami campus of Johnson and Wales. He worked for seven years in Florida at hotels and restaurants as a sous-chef, server and busboy.
Charles grew up on a farm in Upstate New York — a hotbed for the wine industry. Her parents experimented with growing and fermenting Riesling and Niagara grapes into wine but eventually ended the small business.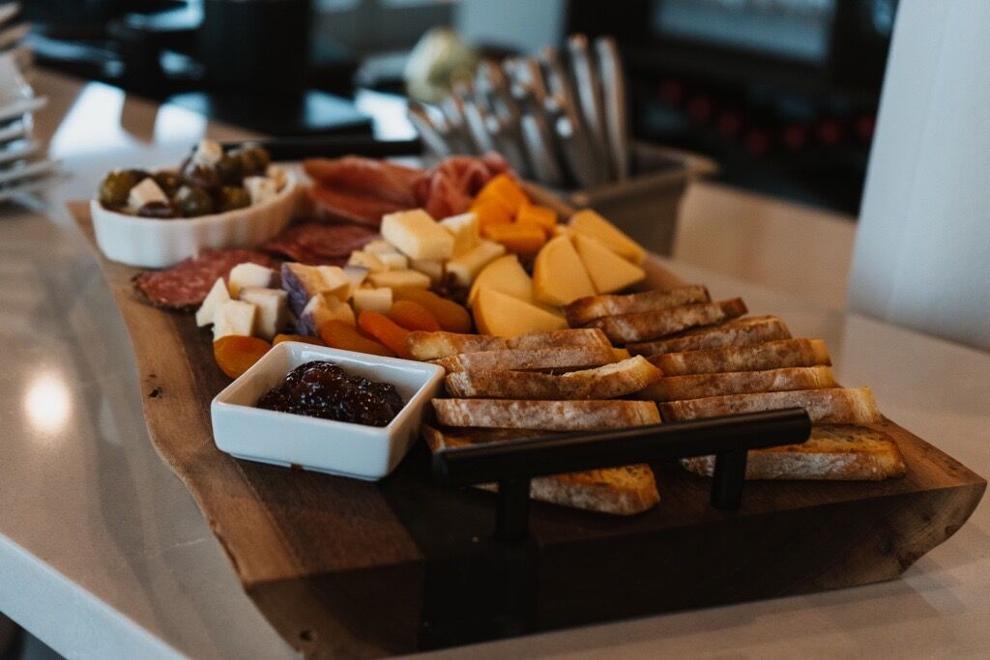 Meanwhile, Charles got her start in the hospitality industry at 16 years old as a dishwasher. Later, she studied sports nutrition and dietetics. She worked in hospital systems and schools. Now, she is a menu planner for a food services and facilities management company.
The couple met while working at the same company. Charles lived in Beaufort at the time as a regional dietician. Ulysse lived in Clemson working as a regional chef.
Her family's short stint as vintners piqued Charles's interest in wine, which expanded when she met Ulysse. Together, the couple has visited more than 75 wineries.
"We just love exploring wines from different areas," Charles said. "As we went into this venture, and we thought about food and wine pairings, we really wanted to think about how do we bring something outside of normal."
The couple contracted their home in August 2020 in the 708-lot O'Neal Village community — about six miles outside downtown Greer and 14 miles from Greenville. When they drove into the neighborhood, the store they now occupy was empty. Ulysse asked Charles: "If you had to do anything with that building, what would it be?"
The original concept was a wine bar accompanied by cheese boards and some desserts. The couple inquired about the space in September 2020 and signed for it around January 2022.
"As we're getting into that process, our idea is growing with us," Ulysse said. "And, we start seeing the vision to be bigger."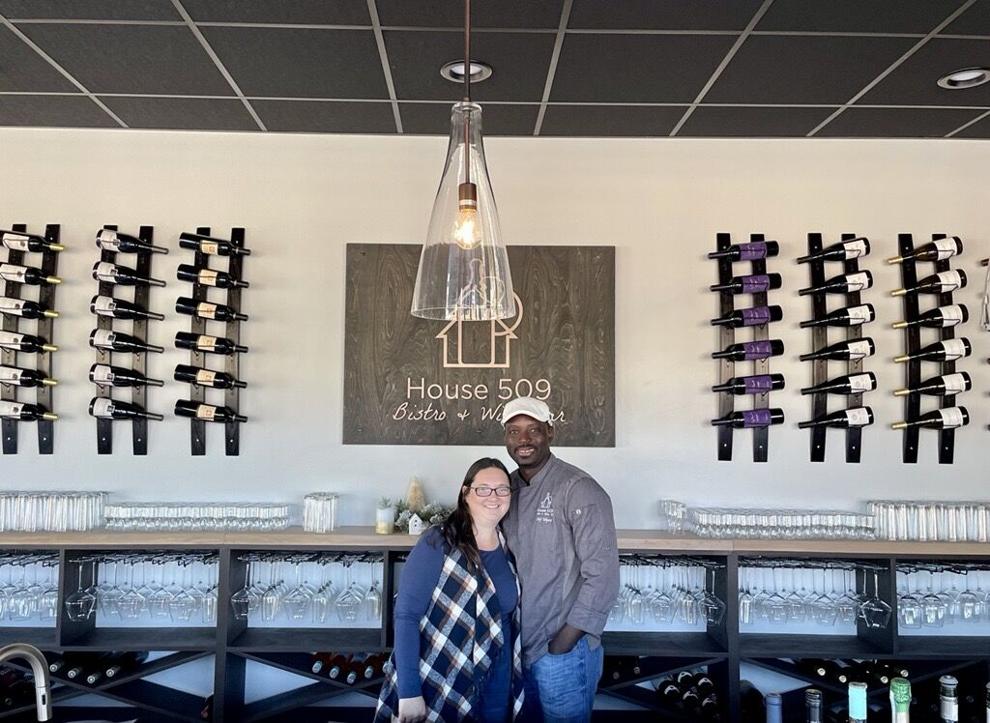 Ulysse, the restaurant's head chef, can make shrimp and grits a number of ways. But when Charles asked him which version he would put on a menu, he couldn't decide. She suggested they pick three and turn it into a flight of food. From there, they wondered what else they could turn into a flight alongside wine pairings, "you couldn't get in the grocery store," Charles said.
They tasted over 200 wines in preparation for creating the menu. Each food was tried with at least three different wines to form the perfect recommendations. Diners can select other wines by the glass or bottle or non-alcoholic beverages if they are disinterested in the pairings. The wine inventory has been pared-down to 50 choices from New York, Oregon, Washington, California and beyond.
All desserts are made in-house by a pastry chef. One option is a carrot cake, red velvet and snickerdoodle caramel whoopie pie trio recommended with a bubbly wine flight.
House 509 Bistro and Wine Bar has 42 seats with additional tables on the patio for the warmer months. It is open for dinner Tuesday and Thursday from 4:30 to 9 p.m., and Friday and Saturday from 4 to 9:30 p.m. at 100 Wicker Park Ave. in Greer. Reservations can be made online.