GREENVILLE— The second location for an Upstate-based brewery and the first South Carolina spot for an ax throwing center are two of the latest tenants at the Judson Mill redevelopment project on the southwestern outskirts of downtown.
Magnetic South Brewery and Stumpy's Hatchet House both anticipate opening in early March, joining a slew of other retailers like rock climbing gym BlocHaven, food hub Feed and Seed, music venue The Foundry, co-working space JudHub and more.
Judson Mill on Easley Bridge Road closed in 2015 when it was only one of two remaining operational mills in Greenville County. Two years later, North Carolina-based developer Belmont Sayre Holdings purchased the property and later Taft Family Ventures, another North Carolina real estate developer, signed on to transform the mill into apartments, offices and other retail uses.
Magnetic South's 2nd spot
Paul Cain, Adam "Cuzzin" Willier and Tanner Coombs formed the idea for the brewery more than four years ago. After the pandemic caused a hiccup in their initial plans, they opened the inaugural spot on Main Street in downtown Anderson.
The next location is slated for Judson Mill. The new 10,000-square-foot, 136-seat taproom will be the largest of the three locations, with Anderson being about 300 square feet smaller.
Similar to its sister location, the Judson Mill taproom will serve beer, food and have arcade options like Skee-Ball and pinball. Light and dark lagers, IPAs, session beers and sours along with sandwiches, rice bowls and some vegetarian options will be on the menu.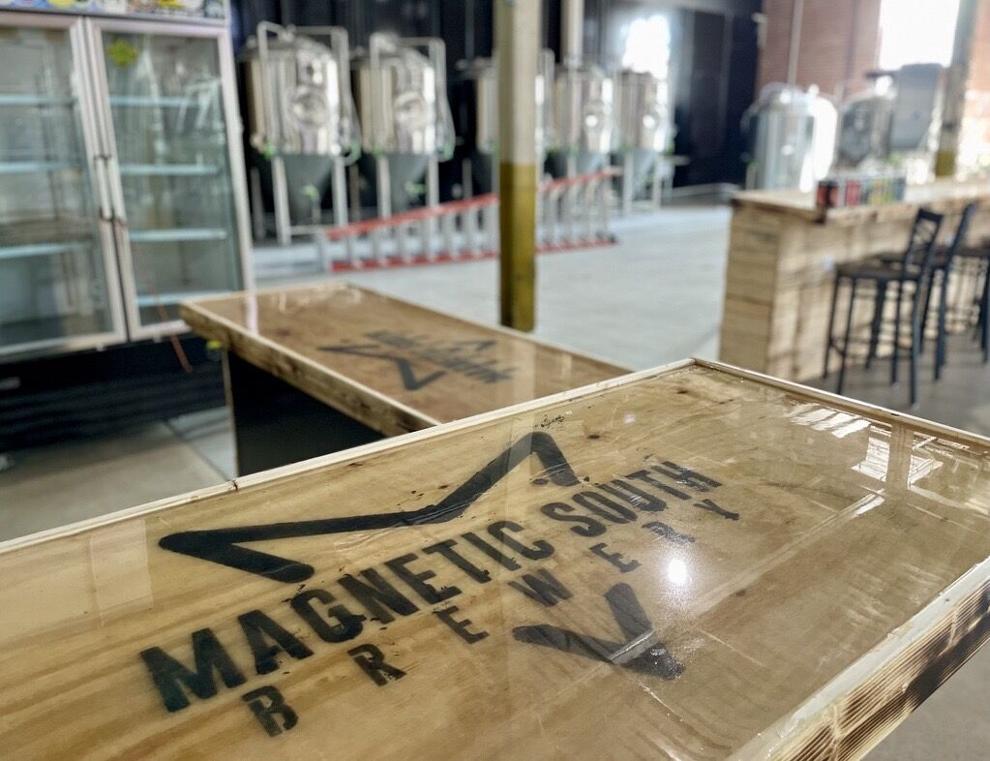 Like Anderson, the Greenville brewery will have a 10-barrel brewing house, producing 310 gallons per batch. 
Production will be greater in Anderson to support the expansion locations and canning and future distribution "when we decide to go into that model," Willier said. Greenville's production will sustain itself.
Willier, who previously served as Thomas Creek Brewery's head brewer, met Cain in January 2018 through a mutual friend. The two collaborated to open the first Magnetic South in the old Astro Theater on College Ave. in Clemson, where Walk-On's is now.
They brought Coombs on in May 2019 as he was independently trying to launch his own brewery in Pendleton. When the pandemic began, the partners pulled out of the theater space and returned to the drawing board for real estate.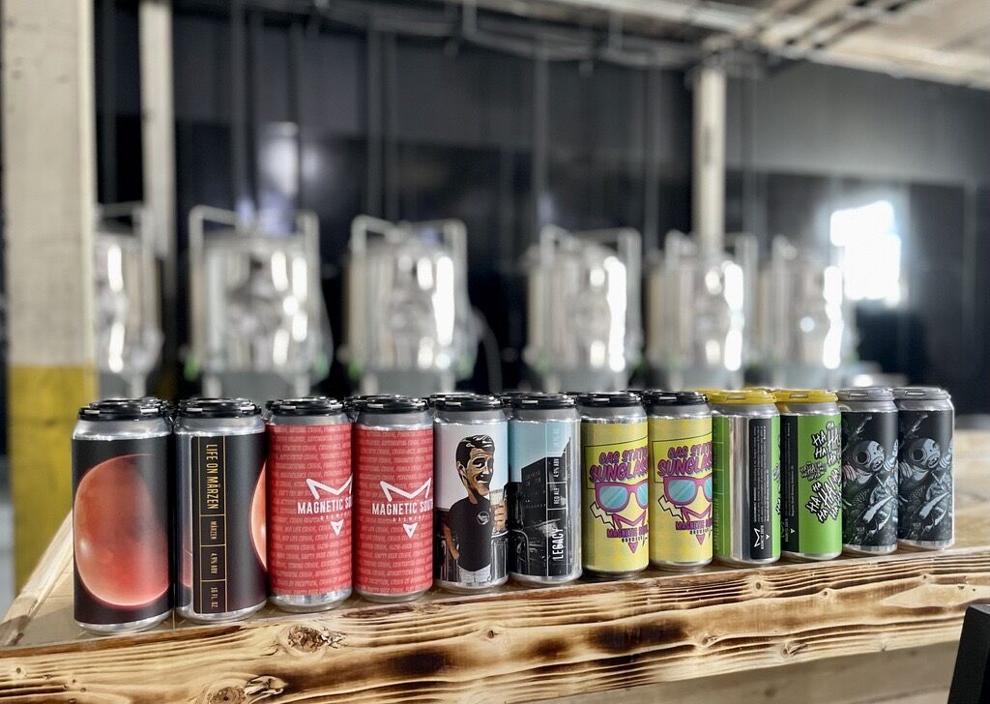 The partnership, which now includes John Wright Jr., was then introduced to the former A&P grocery store in downtown Anderson as part of a larger public/private redevelopment project between the city of Anderson and commercial real estate company McCoy Wright.
The buildings at the intersection of Calhoun and Main streets in Anderson were empty and unused for years. The 1.4-acre site had a parking lot, an old service station that doubled as a taxi stand, a vacant A&P grocery store and a former restaurant called The Den.
McCoy Wright acquired the properties and started to redevelop them nearly three years ago. The developers donated the parking lot to the city and in exchange, the city created the plaza and added grass, benches, tables, lights and a fountain.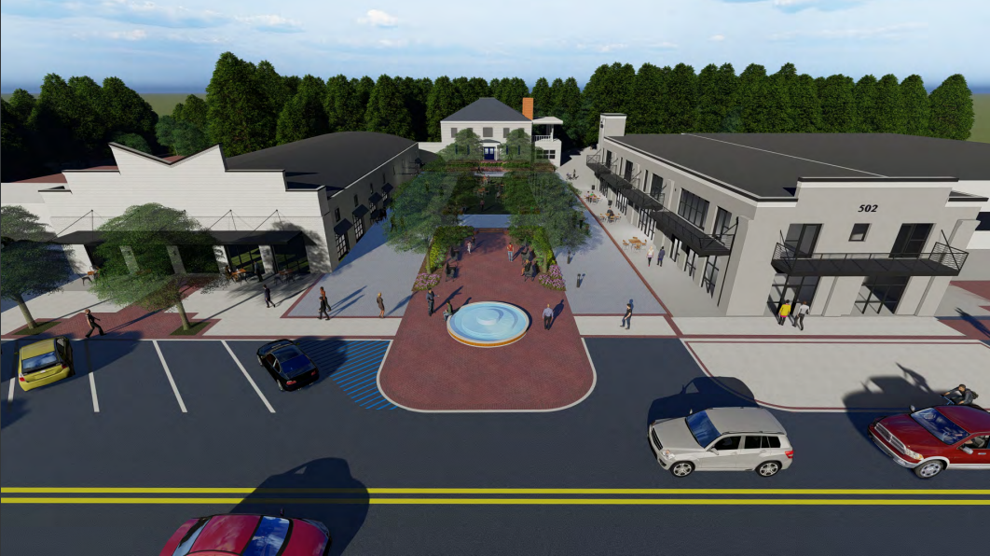 Magnetic South filled the former grocery store and the two-story old restaurant space was transformed into a space for micro-retail tenants.
Shortly after signing on to the Anderson location, the Magnetic South owners entered into agreements for both Judson Mill and the forthcoming Dockside Development location in Clemson.
"We had three leases signed before we had one place open," Coombs said.
Anderson opened in September 2021. Willier said he feels "somewhat comfortable saying before football season" for when the Dockside location will open. Unlike the other two sites, Clemson will have a smaller, more experimental brewing operation.
SC's first Stumpy's Hatchet House
Mark and Trish Oliphant along with Stuart and Kelly Josberger founded the first location of Stumpy's Hatchet House in 2016 in Eatontown, N.J. There are more than 30 locations.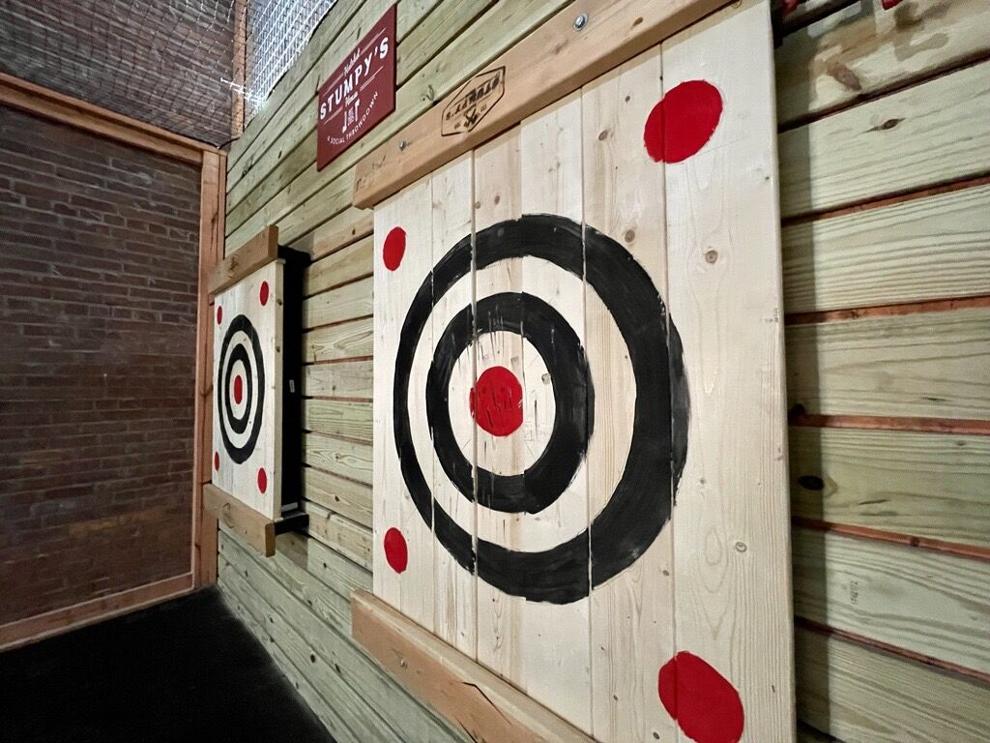 The first South Carolina franchise will soon open in the Judson Mill. The Oliphants also operate two locations in Eatontown and Greenville in North Carolina.
Stumpy's has a log cabin feel with an antler chandelier in the lobby, tree bark lining the walls and a vintage beat-up truck where photos can be taken.
In the 7,000-square-foot space there are 11 pits with 22 total targets. Each pit has its own name like "Pitstop," "Bottomless Pit" or "One Pit Wonder" and a bell for visitors to ring when they make a bull's-eye. Other games like giant checkers and Jenga are sprinkled throughout.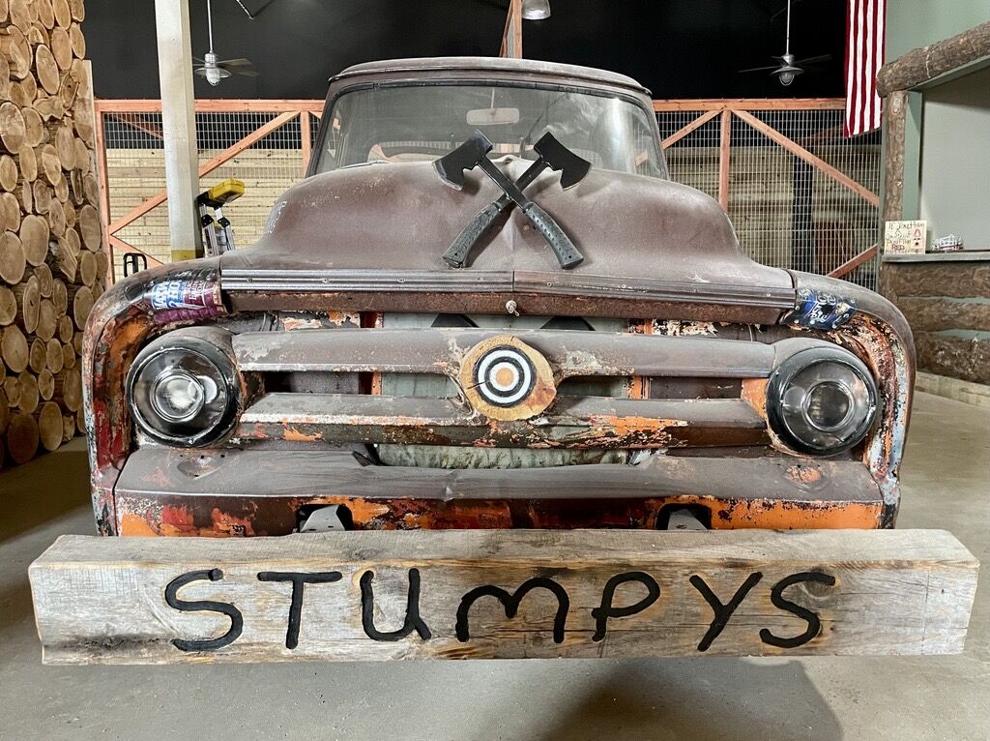 The bar will serve beer, wine and small bites. Visitors can also bring their own food or have it delivered.
Guests 13 to 17 years old will need to be accompanied by an adult. After 8 p.m., all visitors must be ages 18 or above. Costs range from $25 to $40 per person with options for one- and two-hour time slots. A pit can hold about four to five people.
When they first arrive, visitors check-in, sign a liability waiver and review the rules. The throwers then learn how to safely hurl an ax at a target with the help of a trainer.
The hours will be from 5-10 p.m. Wednesday and Thursday, 5 p.m.-midnight Friday, noon-midnight Saturday, and 1-8 p.m. Sunday.